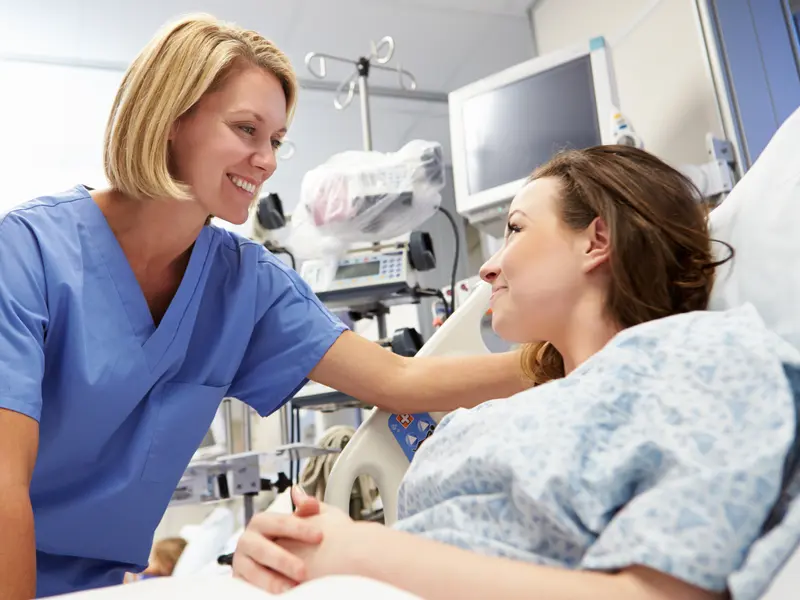 Critical care capabilities in the emergency department can make the difference in the patient's recovery
Baylor Scott & White Medical Center – Irving is committed to providing very good care to meet your emergency healthcare needs.
Physicians and specialists on our medical staff, along with nurses and technicians, fully staff our emergency department (ED) 24 hours a day, seven days a week.
Newly expanded emergency department in Irving
The nearly 50,000-square-foot emergency department in Irving now includes 55 patient beds, new guest lounges and spacious reception area, dedicated laboratory, pharmacy and 64-slice CT scanner and telemedicine technology for patients experiencing stroke symptoms.
The ED at Baylor Scott & White Medical Center – Irving is more equipped to handle the demands of the many patients who seek emergency care in Irving each year.
Irving ED expansion and enhancements
A 64-slice CT scanner with advanced capabilities for CT angiograms to help diagnose stroke
A clinical observation unit in our Irving ER for people undergoing testing, reducing the need to admit them to the hospital
Screening and treatment that begins in the triage area to help reduce delays
Adjustable lighting for people with migraines and for children
An ERD design that supports efficient processes
Spacious and comfortable guest lounges and reception area
Speakerphones for interpretation services
Computers in every patient room for documentation
Telemedicine capabilities for timely treatment for patients coming into our ED in Irving who are experiencing stroke symptoms
All universal patient rooms with observation/privacy glass
What to expect when you visit our Irving emergency department
Some people may think going to the emergency department is frightening. That's why at Baylor Scott & White – Irving, we want to ease your fears by letting you know what to expect when you come through our ED doors.
Depending on the severity of your symptoms you may be taken immediately to a treatment room or be asked to wait until one becomes available. Patients with minor medical symptoms such as coughs, fever, earaches or minor injuries may be treated in our minor emergency area. This area allows our staff to see and treat all minor ailments more quickly.
Before you see one of our emergency room physicians, a staff member will ask questions including general information, medical history and medications you may be taking. This gives our physicians the information they need to provide quality care for you.
After you have been evaluated by an ER physician you may need lab tests or X-rays to help diagnose your medical problem. Lab tests and X-rays may take an hour or two to process. At Baylor Scott & White – Irving, we will make sure you are as comfortable as possible while you wait in the ER.
Your physician will return after the results are in to re-evaluate you. Depending on your condition a physician specialist may be consulted to help with your care. If you need to be admitted to our hospital in Irving, our staff will assign you a bed. Your care will continue in the emergency department until you are transported to your hospital room.

Visitors are welcome
We understand that no one likes to go the emergency department alone. Our emergency staff in Irving will do their best to accommodate your visitor(s) during your emergency department visit.
Please keep in mind we have limited space and we want to make sure that the privacy of all of our patients is maintained.
After your visit
After your emergency department visit is complete and you are ready to go home, you will be given instructions regarding your diagnosis. It is very important that you understand what to do when you leave our hospital in Irving. Your personal physician may be contacted regarding your visit to the emergency department. Also, before you leave a staff member will ask for your name, address, telephone number and insurance information. This gives us the information we need to contact you if we need to after you leave our emergency department.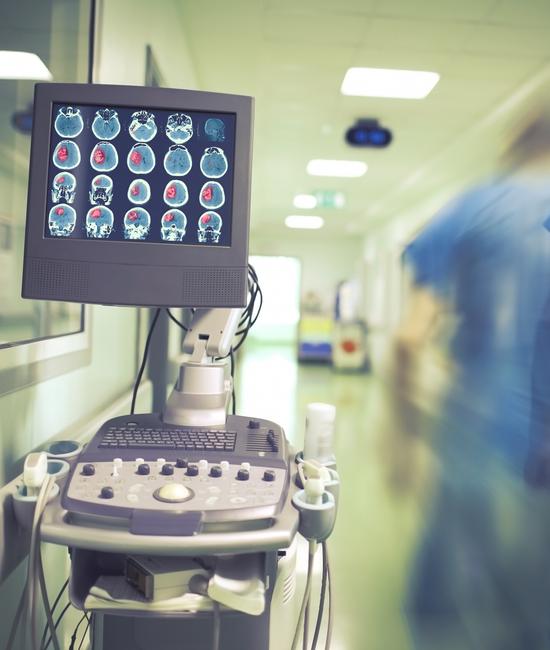 Telemedicine technology for the diagnosis and treatment of emergent stroke patients
When someone's brought into the emergency room for acute ischemic stroke – or a blocked artery to the brain – a neurologist is called in to determine treatment. Calling in a neurologist can take time – time that these patients do not have. The solution was a telemedicine program using laptop cameras and a robotic device to save crucial time in providing treatment.
The emergency department at Baylor Scott & White Medical Center – Irving offers emergent stroke services in collaboration with Baylor University Medical Center, part of Baylor Scott & White Health. This technology can link an emergency department physician with a specialist within the system.
"Brain attack" protocols (treatment plans the medical community has determined to be appropriate treatment) help provide eligible patients with the "clot-busting" therapy called TPA without delay to restore blood flow to the brain.
Neurology consultations are conducted via our telemedicine robot and our laboratory and radiology services all operate 24 hours a day for stroke patients. Transcranial doppler ultrasound is available to rapidly identify where the blood vessel is blocked and monitor response to treatment in real time.
All of these resources enable Baylor Scott & White – Irving to diagnose and treat stroke patients during the three hour golden window.
We are a primary stroke center
Baylor Scott & White – Irving has received advanced certification as a primary stroke center by the Joint Commission.
This certification demonstrates that our stroke program follows national standards and guidelines proven to significantly improve outcomes for stroke patients.
Additionally, it recognizes that the services provided to our patients at Baylor Scott & White – Irving have the critical elements to achieve long-term success and meet the unique and specialized needs of our stroke patients.