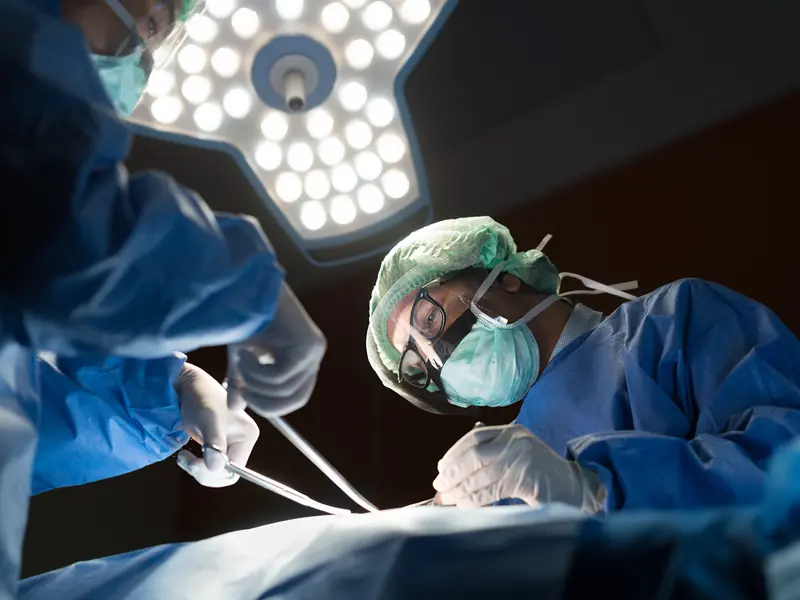 Experience to treat complex and high-risk heart conditions
The vascular physicians on the medical staff at Baylor Scott & White The Heart Hospital take a special interest in the treatment of thoracic aortic surgery to treat tears (aortic dissection) or ruptures (aortic aneurysms) in the aorta and in the abdominal and chest region.
The physicians on our medical staff also specialize in both open and endovascular aortic repair using aortic endograft and branched or fenestrated aortic graft. Besides a robust portfolio of minimally invasive vascular surgery interventions, we offer non-invasive studies of arteries and veins and always attempt non-surgical treatments when possible.
Vascular conditions we treat
​​​​​​​​​​​​​
Baylor Scott & White The Heart Hospital treats a range of vascular conditions from venous disease and vascular disease to complex aortic cases and thoracic aneurysms.
Skilled surgical and endovascular specialists work closely with you and your physician to determine the course of treatment best suited to help treat your vascular condition. Our staff works diligently to maintain consistent communication with your referring physician about your progress.
Abdominal aortic aneurysm
We are one of the few hospitals in the region to use a new implant—fenestrated endovascular aneurysm repair (FEVAR)—that broadens the range of abdominal aortic aneurysms (AAAs) that can be repaired using less-invasive techniques. Benefits of this abdominal aortic aneurysm treatment include less bleeding, pain and complication.
Watch video
Carotid artery care
Carotid endarterectomy to remove plaque build-up is one of the many specialized vascular procedures we offer. Compared to more than 800 facilities nationwide, our patients' length of stay in the hospital for the carotid artery procedure is much less than the national average.
Peripheral artery disease
Surgery is one effective treatment approach for peripheral artery disease (PAD). However, we prefer to take a minimally invasive approach first, like peripheral angioplasty. Our quality outcomes for peripheral artery disease treatment surpass national averages.
Thoracic aortic disease
We use advanced technology and imaging techniques to detect thoracic aortic disease earlier in the disease process, resulting in early treatment and intervention before a potentially life-threatening emergency, such as a thoracic aortic dissection.
Our vascular treatments
The vascular surgery specialists on our medical staff perform open surgery, as well as minimally invasive techniques.
Aortic and thoracic endografts
Aortic aneurysm surgery
Balloon angioplasty and stent placement
Carotid artery stenting
Complex lower extremity revascularization (also known as limb salvage)
Endovascular bypass
Vascular surgery
Laser ablation and sclerotherapy for venous disease
Medical management
Percutaneous thrombectomy
Peripheral angioplasty
Stent graft repair
Surgical bypass
Thoracic aortic dissection
Thrombolysis
Vascular and wound care
Explore Baylor Scott & White The Heart Hospital
Discover the resources that set us apart from other heart hospitals. Here's what choosing us can do for you and your loved ones.