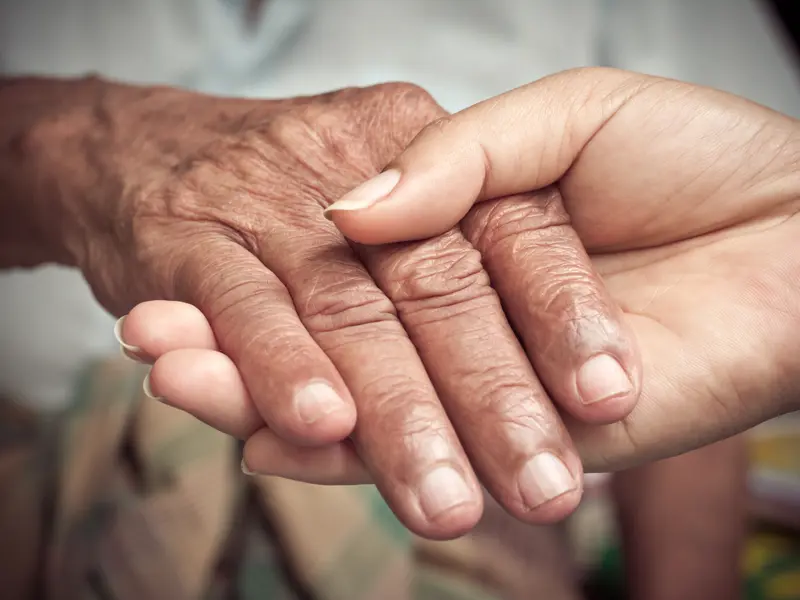 Advance care planning for the future
We all hope to prevent illness when possible and take appropriate treatment when necessary if we become ill. Let's call prevention and treatment your Plan A. But what if your Plan A hasn't worked and you become so ill you can't communicate? It's important to have advanced directives in place.
Living Will—Texas directive to physicians, families and surrogates

The best and most preferred way to ensure your wishes are followed. Select whether to withhold or continue treatments, designate your medical decision-makers (if you do not have a Medical Power of Attorney), and outline any additional requests.

Simplified advanced care planning guide and living will

This document gives a quick overview of advanced care planning and includes an easy-to-fill-out living will form.

Medical power of attorney

Designate a trusted adult to be your medical decision-maker in the event that you cannot speak for yourself. If you do not complete a medical power of attorney form, Texas law will appoint a family member for you.

Out-of-hospital do-not-resuscitate form

Fill out this form if you choose to forgo resuscitation and prefer a natural death with peace and dignity.
Additional materials
The following documents also will help you understand some of the issues and treatments that all patients and their families need to know, especially when making medical decisions in the face of serious illness or injury.
Consider these questions
​​​​​​​​​​​​​
Have you put your wishes in writing?
Unexpected end-of-life situations can happen at any age, so it's important for all adults to have an advance care plan for healthcare. It's a smart thing to do. Like all planning for the future, it involves thinking ahead. Baylor has prepared a guide to Advance Care Planning to help you plan for the unexpected. No matter what your age, whether you're 18 or 80, by documenting your wishes in advance, you relieve your family from having to make heart-wrenching decisions about your care later. Advance directives describe what treatment you want or don't want if you are faced with a serious accident or illness. These legal documents speak for you when you're not able to speak for yourself. Having written instructions can help reduce confusion or disagreement. Any competent person age 18 or older may prepare advance directives. There are four basic types of advance directives in Texas.
In Texas, the Living Will or Directive to Physicians and Family or Surrogates is a legal document that helps you communicate your wishes about medical treatment when you are unable to make your wishes known because of illness or injury. This living will spells out the types of medical treatments and life-sustaining measures you do and don't want, such as mechanical breathing (respiration and ventilation), tube feeding or resuscitation. If you prefer, you may communicate your wishes using the Simplified Advance Care Planning tool, which also is a directive to physicians and family or surrogates.
The Medical Power of Attorney (MPA)—(español) is a legal document that designates an individual to make medical decisions for you in the event that you're unable to do so. A medical power of attorney is sometimes called a durable power of attorney for healthcare. However, it is different from a power of attorney authorizing someone to make financial decisions and transactions for you.
An Out-of-Hospital Do-Not-Resuscitate (DNR) Order—(español) is a request to not have electrical shocks, a tube in your throat, and/or chest compression if your heart stops or if you stop breathing. This is separate from a living will or a medical power of attorney. It is the only legal document that will prevent paramedics from attempting a resuscitation should your heart and breathing stop outside the hospital. Because attempts at cardiopulmonary resuscitation usually do not work when a person has a terminal disease or very advanced age, this type of document can be very important in preventing suffering at life's end.
A Declaration for Mental Health Treatment allows you to make decisions in advance about mental health treatment. The instructions that you include in this declaration will be followed only if a court believes that you are incapacitated to make treatment decisions. Otherwise, you will be considered able to give or withhold consent for the treatments.
Would your loved one​s or doctors kno​w your Plan B?
Someday almost all of us will have a serious illness. And 80 percent of persons with serious illness at some point lose the ability to communicate and make their treatment preferences known. For families who must make tough medical decisions for their loved ones without the guidance of a living will, these can be some of the most difficult burdens they have ever had to bear.
And what about the patient? We know from the evidence that patients who have a serious illness experience less pain and other suffering, receive treatment more consistent with their personal values and experience lower costs of care when they have documented their treatment preferences in a living will.
A living will helps you tell others how you wish to be treated if in the future you are so sick that you can no longer communicate.
So help your family and help yourself by thinking about your advance care plan and then documenting your desires with a living will or other advance directive today!
Free resources are available to help you make a living will or other advance directive.
Baylor Scott & White Health provides information on issues associated with serious illness as well as the Texas Living Will and other advance care planning documents. You can find and download these documents below.
If you prefer an online approach, go to MyDirectives.com.
Here you will find an online advance care planning tool allowing you to create a universal digital advance directive. Once you create your living will with this service, you may digitally sign it, have it witnessed, store it online and share it with your care providers via electronic means.
Thank you for choosing a Baylor Scott & White facility for your healthcare needs. Our goal while you are a patient in our hospital is to help you have the best possible experience from your stay here. This requires everyone—you, your family and your healthcare team—to all work together and communicate clearly. So Baylor Scott & White has prepared A Guide to Your Care to help you work with your healthcare team to achieve the best possible outcome. These guides also help you understand what your rights and responsibilities are while you or a family member is a patient at Baylor Scott & White and provide you with important contact information.
Although we try to always communicate clearly, we know that hospitals can be confusing places, especially in the setting of a serious illness. We hope you will always take any questions or concerns you might have first to your physicians, nurses and other members of the treatment team. The information contained on this Web site provides access to additional useful information, especially if you or your loved one is facing a serious illness.
If a serious illness is present, it will be helpful to read our Information about Serious Illness handout. This information cannot replace direct conversations with your healthcare team, but it may further guide you and your family through this difficult time. It is every doctor's and nurse's goal to first help their patient recover and get well and to always relieve suffering as much as possible. Sometimes though, our hopes for recovery are not realized. Because none of us can live forever, it is wise to plan for a time in the future when we may be so ill that we cannot communicate or make our wishes known and we cannot recover.