October 17: Surgical waiting area relocation
Beginning Tuesday, October 17, patients and visitors with a final destination of Surgical Services should visit the first floor Information Desk upon arrival to the medical center. To get to the new waiting area, please use the elevators located in the adjacent 302 University Clinic. Feel free to ask staff for assistance with wayfinding during this temporary relocation.
June 27: New temporary Emergency Department entrance opens; valet parking to be introduced
The plan to expand our hospital and renovate our Emergency Department (ED) is underway, with the opening of a temporary entrance to the ED on June 27. As part of this phase of construction, a new valet parking system will begin July 3.
This free service for patients and visitors will be available 24-hours-a-day, seven days a week. When arriving on campus seeking emergency care, drivers should follow the ED directional signage to the valet drop-off area. This will benefit those requiring mobility assistance and enhance the convenience of accessing the new entrance area.
This part of the renovation will augment patient care and allow for more space and new technologies. Construction is anticipated to be completed in 2025.
In addition to renovations outside, this portion of the construction project will also change how patients and visitors reach their final destinations to/from the ED inside the medical center campus. Please pay close attention to wayfinding signs when arriving on campus, and don't hesitate to ask any staff member for assistance.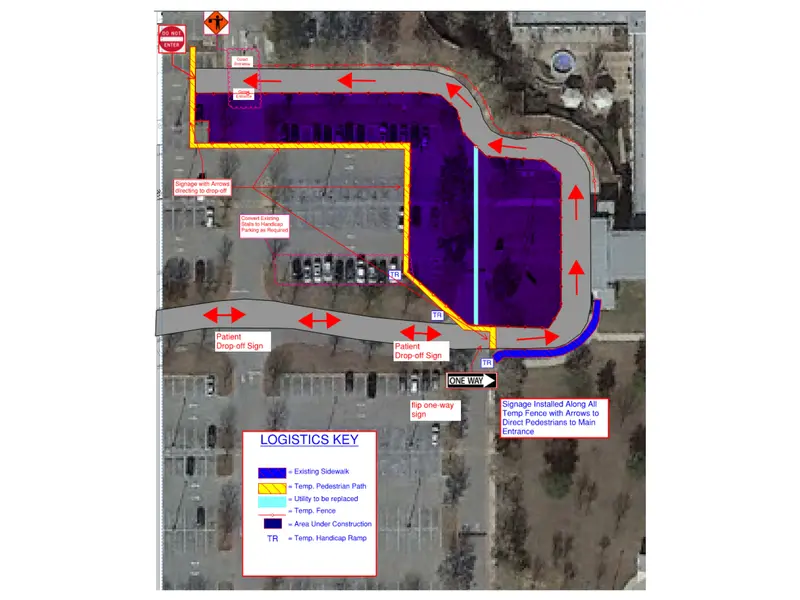 April 17: Revised traffic flow at medical center entrance
On April 17, traffic flow in front of the medical center will be reconfigured. Drivers will still be able to access the drop-off/pick-up loop at the main entrance, but should look for new directional signage as exiting the loop will become a one-way traffic flow. Pedestrian walkways around the construction site will also be marked. This reconfiguration will not impact the number of ADA parking spots or the pathway to access the medical center.
April 3: Physician parking update
On April 3, current physician parking will be closed and relocated to a new lot in the northeast corner of campus. This relocation of parking will not decrease the number of spots available for our patients and visitors. Additionally, outdoor dining and the adjacent healing garden will also close on April 3. A temporary outdoor dining option with picnic tables will be available at the 302 University Blvd. clinic entrance area.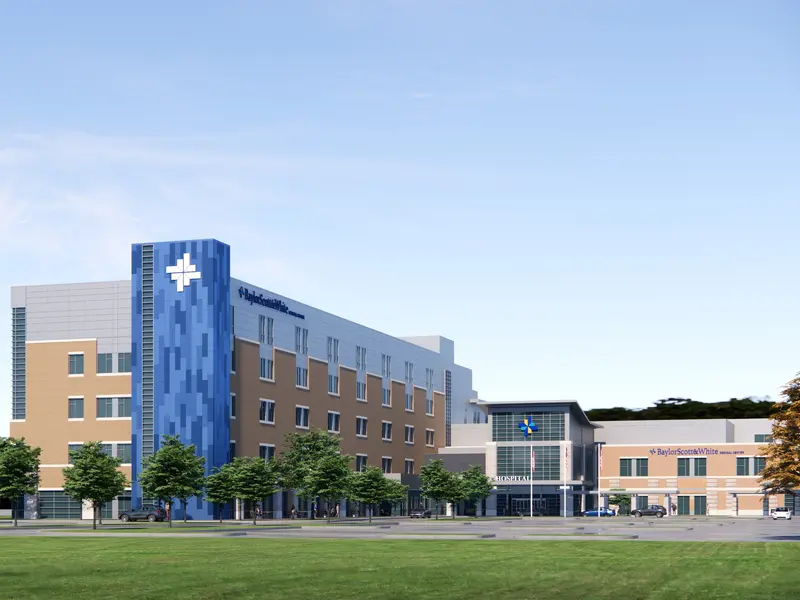 Check construction updates before your next visit to campus
Baylor Scott & White Medical Center – Round Rock has embarked on a multi-phase construction and renovation project.
Plans include a Neonatal Intensive Care Unit, additional labor and delivery rooms, new surgical suites, additional cardiac cath labs, new endoscopy suites and new med-surg rooms. With improvements come inconvenience, and these enhancements will sometimes affect access to areas on campus.
Thank you for your patience during this exciting time of getting Better.
Print out a campus map before your next visit to make navigation easier.