We are a full-spectrum, advanced care facility focused on serving women and children.
Currently the only dedicated women's hospital in Fort Worth, Andrews Women's Hospital delivers almost 6,000 babies annually—more than any other facility in Tarrant County and in the Baylor Scott & White Health System. Andrews Women's Hospital offers a variety of labor and delivery services, including maternity, high-risk pregnancy care and a level III neonatal intensive care unit among others.
Our 63-bed neonatal intensive care unit (NICU) in Fort Worth is designed to care for the tiniest infants dealing with the most serious medical challenges. It is one of the largest NICUs in North Texas with a highly skilled team of neonatologists on our medical staff, neonatal nurse practitioners, respiratory and occupational therapists, dietitians, pharmacists, social workers, chaplains and registered nurses working together to care for your whole family.
Andrews Women's Hospital has recently been designated as a Level IV maternal care center. A Level IV designation is awarded to hospitals that provide the highest possible comprehensive care and underscores the facility's ability the most complex cases.
More about us
---
Enhanced visitor precautions

Learn more about our COVID-19 safety precautions.

Family members and friends are welcome to visit.

Open visitation hours - 8:30 AM - 9:00 PM
Try to keep to only two people at any given time.
Adults are required to accompany any children under 12.
If you have a cold, flu, or other contagious disease please wait until you are well for your visit.
If you want to bring food to a patient, please check with the nursing staff. Some diets are restricted.
No smoking on campus.

Note: Visitation times for special care units (critical care units, emergency department, women's services, rehab and behavioral health) are determined by each individual special care unit. There is no visitation in the post anesthesia recovery unit or special procedure areas. A lounge is available on each patient floor, allowing family members to accept visitors and stay close without compromising the patient during their recovery.

Valet parking is available Monday - Friday, 5:00 AM - 9:00 PM
Self-parking is available at no cost 24/7
Security escorts are available 24 hours a day; please call our Department of Public Safety at 214.820.4444.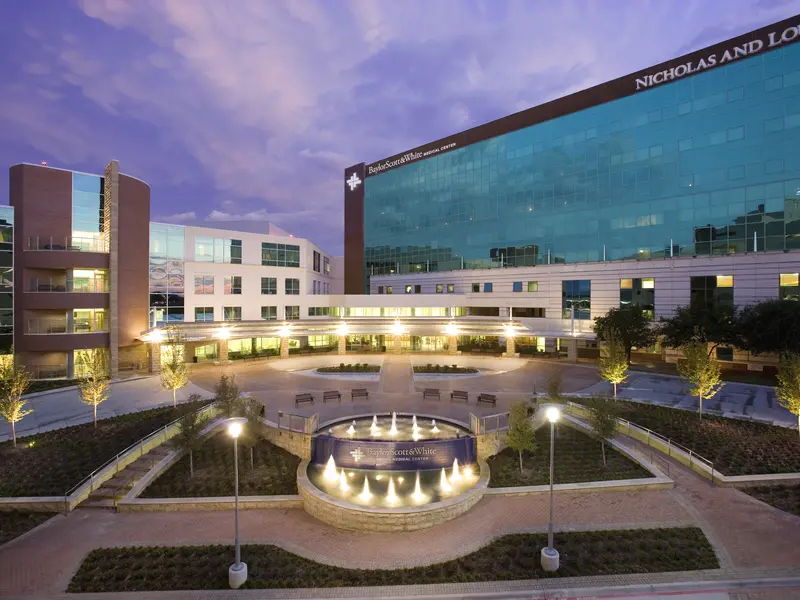 Comprehensive women's health services
From screening for common conditions that affect women to advanced medical and surgical care, the women's health providers at Baylor Scott & White provide the comprehensive services you need as a woman.
Insurances accepted
Baylor Scott & White has established agreements with several types of insurance to ensure your health needs are covered.
Insurance listings are subject to change without prior notice. Please call the hospital or health plan to verify coverage information before scheduling your visit/procedure.
Aetna Signature Administrators

Blue Cross Blue Shield - (3)

Blue Essentials

Blue Premier

ParPlan

LocalPlus

Open Access Plus

American Airlines Employee Benefit Plan

ACCEL Network

Preferred Network

ChoiceCare

Humana Preferred

National POS

Medical Development International - (1)

Midland Memorial Hospital - (1)

Superior Health Plan - (1)

Superior HealthPlan - (1)
We're sorry!
We couldn't find any results for ""
Take a tour of our facility
Mobile makes it easy
Just like we make it easy to get care when your child is sick or injured, our top-rated app, MyBSWHealth, can simplify keeping them healthy. The app lets you book appointments, message your pediatrician, view your child's medical records and schedule virtual same-day care from your computer, smartphone or tablet.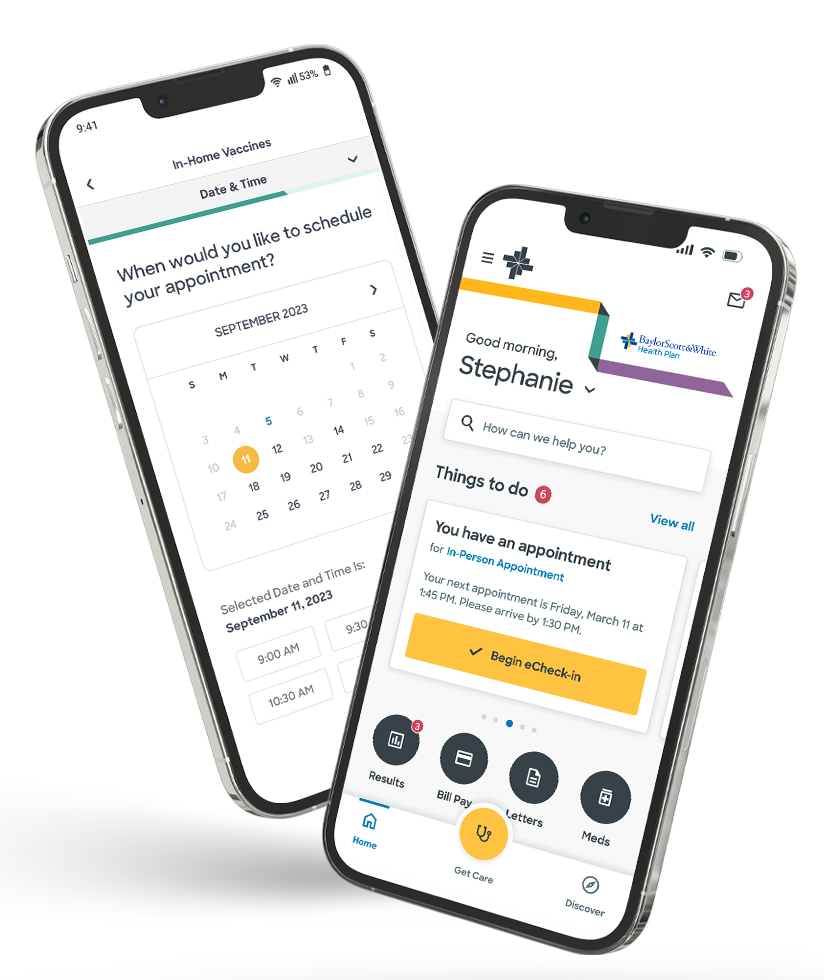 More helpful information
​​​​​​​​​​​​​Here's more information to help with your visit to our campus.
ATMs
An automated teller machine (ATM) is located on the first floor of Moncrief Tower (Building B).
Concierge and information desk
Concierge desks are located near the main entrance, in Martin Tower Atrium, in the Moncrief Tower (Building B) and at Andrews Women's Hospital main entrance. The information desk at Andrews Women's Hospital is staffed 24/7. Our staff can assist you with general information, maps and local eateries/hotel listings.
Dining options
All Saints Café
Hours
Monday-Sunday: 6:30 AM - 3:00 PM
Which Wich
Hours
Monday-Friday, 10:00 AM - 8:00 PM
Saturday and Sunday, Closed
C-Store
Hours
Monday-Friday, 8:00 AM - 9:30 PM
Saturday and Sunday, 10:30 AM - 9:30 PM
Starbucks®
A Starbucks® is located along the Atrium corridor.
Hours
Monday-Friday, 6:30 AM - 7:00 PM
Saturday and Sunday, 6:30 AM - 5:00 PM
Estimate your cost of care
Baylor Scott & White Health is an advocate for greater healthcare pricing transparency and patient affordability. We provide a self-service price estimation tool to help you obtain accurate out-of-pocket expense estimates, along with other helpful resources to help you make more informed financial choices about your care.
Estimate your cost of care
Gift shop
Please note: Magnolia Gift Shop featuring Simply Moms has temporarily relocated to the C-Store as we undergo renovations to better serve you. Hours of operation remain the same.

Magnolia Boutique is a unique specialty shop offering a wide variety of baby gifts, candles, beautiful flowers and other incredibly stunning items. The boutique is located in the Martin Tower Atrium.

Visitors should check with the nurse before bringing patients food or drinks to ensure they are appropriate for the patient. In intensive care units, please check with nurses regarding any gifts.

Hours: Monday-Friday 10:00 AM - 6:00 PM, Saturday 10:00 AM - 6:00 PM, closed Sunday
Medical records
You can request copies of your medical records by completing an Authorization for Release of Information form and returning to the facility at which you received care.
Patient guide
This guide will provide you with a list of important resources and amenities available to you during your stay.
Spiritual care
There are two chapels on the Baylor Scott & White All Saints – Fort Worth campus and both are open 24 hours a day, seven days a week, for prayer and contemplation.

Chaplains are available during normal business hours Monday through Friday and for emergent concerns after hours and on weekends. Please ask your nurse to contact the Chaplain after normal business hours.
Expert advice from our blog
Scrubbing In® is a place where hands-on healthcare discussions are happening every day with the people whose own hands are on the front lines of patient care—the doctors, nurses and medical staff who are saving lives and advancing medicine.