Staying physically fit can ward off a host of diseases and conditions and help you feel your best. Come workout with the fitness experts at the Carter Rehabilitation and Fitness Center. They can help you get in peak physical condition—and stay there.
We take a comprehensive approach to fitness and nutrition, with a range of services.
On-site amenities
Indoor heated pool and spas
Indoor track
Complete lines of cardio respiratory and resistance training equipment
A multi-disciplinary team including dietitians, exercise physiologists, massage therapists, personal trainers, physical therapists and more
Exercise classes including yoga, Pilates, and water and land aerobics classes led by fitness instructors
Community and employee wellness memberships
Fitness testing
Fitness education programs including comprehensive cardiac, pulmonary, stress management and nutritional counseling programs
Services
​​​​​​​​​​​​​The Carter Rehabilitation and Fitness Center takes a comprehensive approach to fitness and nutrition, with a range of services.
Aquatics
Our aquatic services include a heated pool for lap swimming or water exercise, therapy pool, hot tub, aquatic exercise classes and swim lessons.
Exercise programs and fitness center
The Carter Rehabilitation and Fitness Center (CRFC) is not just a neighborhood gym. As a hospital-based fitness center located on the Baylor Scott & White All Saints Medical Center – Fort Worth campus, it's a beacon of health and wellness for the entire community.
Whether you're looking to get back into an exercise routine after years of inactivity or wanting to train for a triathlon, our advanced facilities and programs can help you achieve your fitness goals quicker.
Facilities and Capabilities Group Exercise—CRFC offers group exercises classes throughout the week in our group exercise room.
Gym—Our gym area features both cardiovascular and strength training equipment.
Pool—Swim laps in our 17-meter pool or participate in one of our aquatic group exercise classes.
Indoor track—Find your stride on our cushioned indoor track.
Whirlpool—Revitalize your body in our whirlpool after a tough workout.
Kids programs
Fish Factory
In our Fish Factory Swim School, kids ages two and up train in small groups with low student/teacher ratios where they learn to be safe, love the water and swim like fish. Our highly experienced staff uses gentle encouragement to overcome the fears of even the most timid child.
Fish Factory is a monthly program. Program cost $150.
Classes available:
Monday and Wednesday, 3:30 - 4:00 PM
Monday and Wednesday, 4:15 - 4:45 PM
Monday and Wednesday, 5:00 - 5:30 PM
Baby Bears
Baby Bears is our parent/child water exploration class. We will teach you how to work with your child and explore floating, kicking, and other water skills crucial for swimmers! Baby Bears is for children ages 6 to 36 months old. Classes are held Saturday mornings and last 45 minutes.
Baby Bears is a monthly program. Program cost $80.
Classes available:
Saturday 9:00 - 9:45 AM
Saturday 10:00 - 10:45 AM
Fish Factory and Baby Bears are open to members and non-members. For more information contact Stephen Raikes at 817.922.7068.
Private Lessons
One-on-One Instruction
Private lessons are the fastest way to develop individual, specific swim skills. Lessons are offered to anyone 6 months of age and older. Whether the goal is learning to swim, swim team preparation, individual skill coaching or even triathlon training, our coaches are ready to help your child attain their goal in the water! Lessons are scheduled at your convenience.
Types of private lessons

| Lesson type | 1/2 hour | 1 hour |
| --- | --- | --- |
| Private: 1 Swimmer | $40 | $75 |
| Semi-Private: 2 Swimmers | $60 | $75 (45 Minutes) |
| Split: 2 Swimmers from different families | $60: $30 for each child. Payment will be charged to both families. | |
| Small Group: 3 kids at the same time | $150 for 6 lessons | $200 for 6 Lessons |
Small group sessions
Looking for a class that fits perfectly with your schedule?
Create your own small group class, 3 participants minimum. Your private group class can be set up to accommodate your schedule Choose between 30 minute lessons or 60 minute lessons. You will receive six classes per session. Ages 6 months and up; $150 per person for 30 minute lessons, $200 per person for 60 minute lessons.
Medical programs
Physical therapy, pulmonary and cardiac rehab on site. Supervised exercise program to help you get back to a healthy life style. In addition, we offer fitness education programs including comprehensive cardiac, pulmonary, stress management and nutritional counseling programs.
Nutrition
Nutrition counseling available with licensed nutritionists.
Orthopedic care
From sports medicine to joint replacement, the team of specialists on our medical staff can help get you back to the activities you enjoy. From the first sign of an injury to the first day back on the court, our extensive diagnostic, surgical and rehabilitative services can get you back to feeling like yourself again.
Pilates
Pilates increases core strength, improves balance, coordination and flexibility, and relieves both mental and physical stress.
Private 55-minute Lessons
Intro to Pilates Package (One time use), 3 sessions, $150
Individual Session, $70
Package of 10 Sessions, $650
Package of 20 Sessions. $1,200
Semi-Private 55-minute Lessons
Duet, $40 per person
Trio, $30 per person
Mat classes
Fundamentals, Wednesday at 6:30 AM
Yogalates, Thursday at 9:00 AM
Mat 1, Friday at 12:00 PM & 5:00 PM
No additional cost for members. For non-members it is a $10 drop in fee.
For more information contact Karisa Karsten at 817.922.1061
Karisa has a BS in Kinesiology Exercise Science from Texas Women's University, Certified ACSM Clinical Exercise Specialist, Pilates Mat 1 & 2 Certification through Balanced Body, Yoga Fundamentals 1 & 2 Specialty Certification.
Post-rehabilitation services
A wide range of post-rehabilitation services in Fort Worth are offered at the Carter Rehabilitation and Fitness Center.
Our self-pay post-rehab programs include:
Aquatic exercise
Personal training
Balance training
Massage therapy
Comprehensive wellness physicals
Voice enhancement
Nutritional counseling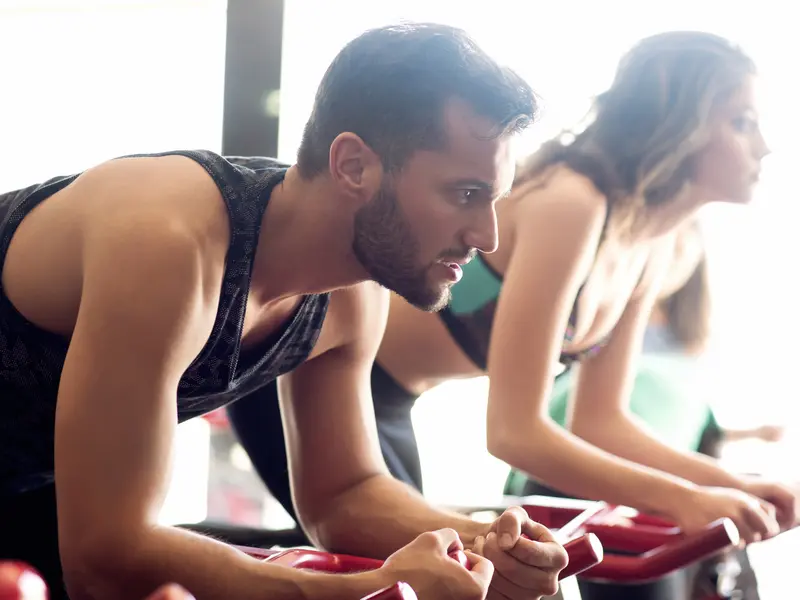 Class schedule
At the Carter Rehabilitation and Fitness Center, we offer pool and group exercise classes that range from water aerobics and children's swim classes to Pilates and cardio.
Bryce Larson
Exercise Physiologist
Bryce has his bachelor's of science in Kinesiology from Tarleton State University. He focuses on functional strength and mobility training. He is a Sports Nutrition Specialist and Exercise Therapy Specialist through the International Sports Science Association. Bryce likes to work with people of all ages and abilities.
Jordan Larkin
Exercise Physiologist
Jordan Larkin currently has a Master's of Science degree in kinesiology with an emphasis in health and wellness from Tarleton State University. With a passion for exercise, he focuses on overall general strength and conditioning training. Jordan began his career as an exercise physiologist working with clients in one-on-one training and in cardiac rehabilitation. Therefore, he's worked with a variety of ages and special populations. Jordan's hobbies include being active, spending time with his dog, and bartending.
Lauren McBride
Aquatics instructor
Phillips Ross
Exercise Physiologist at the CRFC since 2004. Phillip earned his B.S. in Exercise Science at the University of Texas (Arlington) in 2004 and is certified through the American College of Sports Medicine (ACSM). Phillip teaches aquatics, strength classes, does personal training and fitness assessments for the fitness center. Phillip has managed the CRFC's bariatric weight loss program (SHED), cross trained with PT as a tech and has experience working with patient/clients who are recovering from neurological disorders and balance related issues. In his free-time Phillip loves to run, bike/mountain bike and go hiking.
Bryce Hules
Aquatics instructor
Karissa Karsten
Neurokinetic Therapist/Pilates