Quality healthcare and a compassionate medical home for patients with limited access to medical care
Selecting a primary care doctor is an important first step in managing your health. A primary care doctor is your first stop when you are sick or in need of healthcare services—including your annual physical, immunizations and prescription refills. Your primary care doctor promotes your overall well-being and makes sure you are up to date on your preventive health services.
At Baylor Scott & White Community Care – St. Philip's we treat patients patients from infants through 18 years old.
Primary care services
Prenatal interviews
As new parents, it is important to find a pediatrician for your child with whom you feel comfortable and confident. Prenatal interviews are intended for pregnant moms (and dads) who are looking for a pediatrician. It is an opportunity for soon-to-be new parents to meet the pediatrician, ask questions, and become acquainted with the office. It is a free visit with no obligation.
Well visits
In addition to taking your child to the physician when your child is ill or needs an examination to participate in a particular activity, routine well-care visits are recommended.
Newborn care
Newborns born at Baylor University Medical Center, part of Baylor Scott & White Health, will be cared for by the in-house hospital pediatrician, and arrangements should be made to follow up with us in the office within one to three days of going home from the hospital. Please bring hospital discharge papers with you to your first appointment.
The newborn check-up is usually done in the office within one to two days of leaving the hospital when your baby is 3-5 days old. This check-up is important to assess the baby's feeding habits, assist with breastfeeding, and check for weight loss and jaundice. If all is going well, the next newborn check-up is usually at 2 weeks of age.
Immunizations
Immunization is key to preventing disease among the general population. Vaccines benefit both the people who receive them and the vulnerable, unvaccinated people around them because the infection can no longer spread through the community if most people are immunized. In addition, immunizations reduce the number of deaths and disability from infections, such as measles, whooping cough, and chickenpox.
Sports physicals
The sports physical is known as a preparticipation physical examination. The exam helps determine whether it's safe for you to participate in a particular sport. We recommend that kids and teens have a sports physical before they start a new sport or begin a new competitive season.
Patient qualifications for services
Our expertise is based on the knowledge of our patients in the context of their community. This community has a very high incidence of uninsured residents, many of which suffer from chronic diseases such as diabetes.
To receive medical services, you must bring:
Proof of residency (driver's license, lease agreement or utility bill)
Proof that family income does not exceed 200% of the federal poverty level (check stubs, income tax return or letter from employer)
Mobile makes it easy
Just like we make it easy to get care when your child is sick or injured, our top-rated app, MyBSWHealth, can simplify keeping them healthy. The app lets you book appointments, message your pediatrician, view your child's medical records and schedule virtual same-day care from your computer, smartphone or tablet.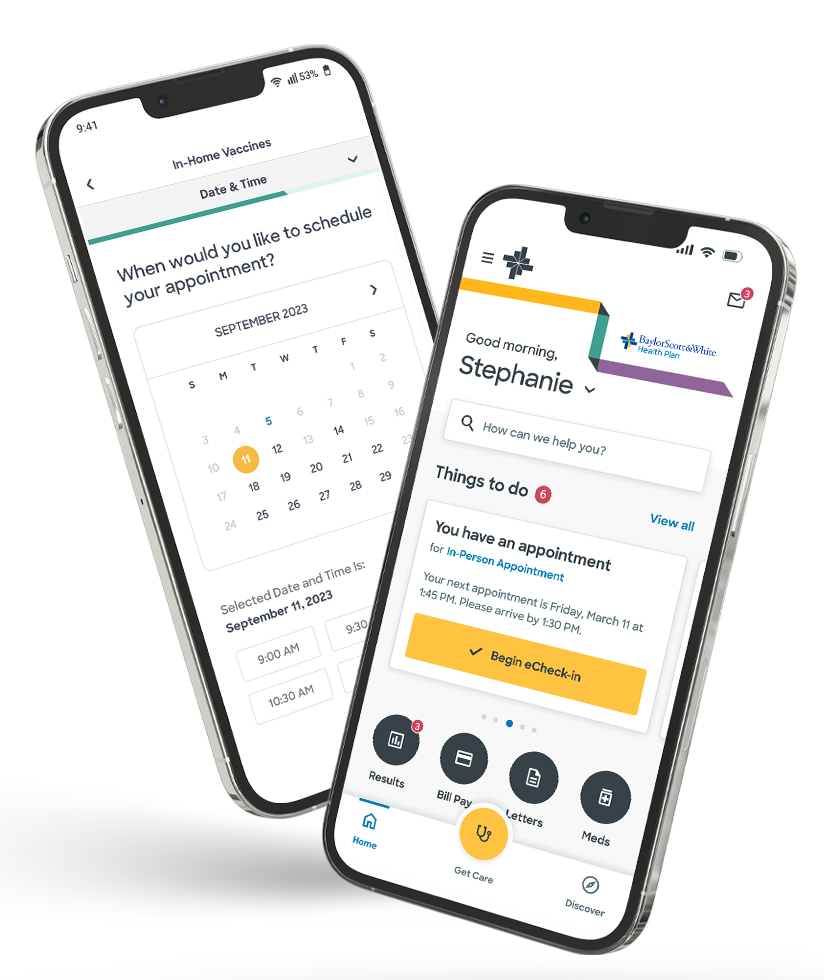 Patient forms
To ensure that your visit to our office is as convenient and efficient as possible, we are pleased to offer our registration forms online. The patient registration form may be completed electronically and printed for better legibility or completed manually.