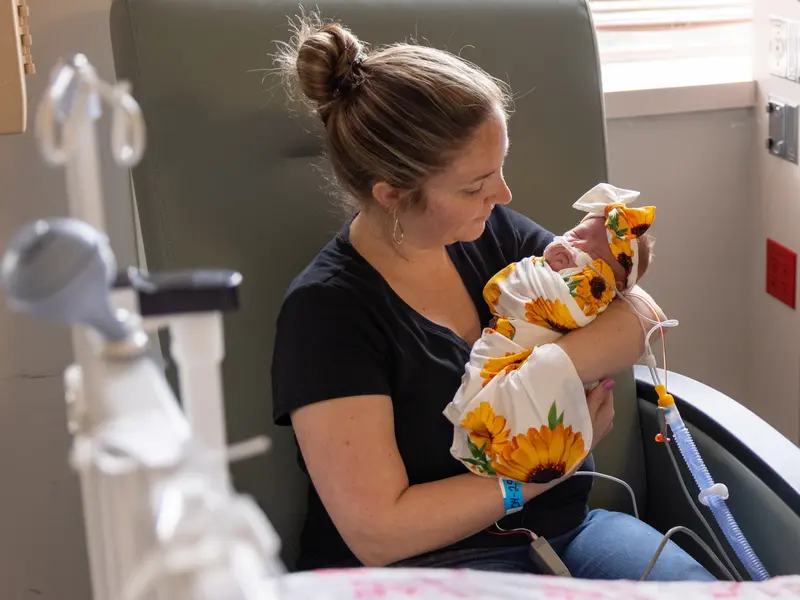 Family-centered neonatal intensive care in Dallas
When your baby requires special care, we're here to support your family every moment of the way
Our level IV neonatal intensive care unit (NICU) at Baylor University Medical Center, part of Baylor Scott & White Health offers advanced life support services for premature and seriously ill newborns, with care ranging from full-term newborns with complex conditions to micropremies born at 24-weeks gestational age.
In the NICU, your baby receives care from a team of specialized registered nurses, neonatal nurse practitioners, neonatologists and several other skilled staff. Our NICU team is present during high-risk deliveries to care immediately for the baby and offers access to pediatric surgical specialists for prenatal consultation and surgical planning when needed.
Parents are at the heart of their baby's care team to bond with their newborn and feel empowered to care for their baby when it's time to go home.
Level IV Neonatal Care designation
Baylor University Medical Center, part of Baylor Scott & White Health is a Level IV Neonatal Facility designated by the Texas department of state health services for offering the highest level of care for newborns. The designation was awarded for Baylor University Medical Center's advanced care capabilities for neonatal patients in Dallas, which encompasses:
Ability to care for all gestational ages
Availability of medical subspecialist for neonates
Availability of surgical subspecialist for neonates
A team to transport patients from referring facilities
Excellence in quality improvement
Advanced NICU services in Dallas
Along with specialized technology and expert care, we offer numerous services to help your baby thrive
Nutrition
Occupational therapy
Speech pathology for feeding
Respiratory therapy
Case management and social work
Surgical services
Ophthalmology
24-hour in-house neonatologist


What to expect in the NICU
​​​​​​​​​​​​​With our family-centered approach, our staff helps you understand your baby's care and keeps you involved in every step.
Support as you go home
We want you to feel confident when your baby leaves the NICU. To help you prepare to care for your baby, we offer:
Classes and bedside education for parents before discharge
Case management services
Review of any equipment or medications you'll need to use at home
Feeding education, including lactation consultants
Visitors and safety
We take special precautions to keep your baby healthy and safe. Our NICU is a secured unit, and visitors are required to follow safety guidelines, such as bringing a photo ID and handwashing. Your baby's nurse will talk with you about visiting, safety and bonding with your baby.
NicView camera system
We want you to stay connected to your baby wherever you are. When you can't physically be in the NICU, we offer a NicView camera system. This secure system lets you—and those you designate—see real-time views of your baby 24/7.
NICU terms
When you have a baby in the NICU, you may hear many unfamiliar terms. But we don't want this to prevent you from being a part of your baby's care. We can provide you with information about common terms and tests. If you don't understand something, please let us know.
Your baby's goals
Your baby's care team will provide specific goals for your baby while in NICU. We'll work to help your baby meet these goals before he or she goes home. These may include:
Breathing goals, such as being off oxygen
Feeding goals, such as bottle-feeding or breastfeeding
Regulating body temperature
Reaching a specific weight
Consistent heart rate
Car seat test
Our Tiniest Texans™ program
Dedicated to the care of micro-preemies
The Tiniest Texans™ program at Baylor University Medical Center is dedicated to the care of micro-preemies, which is what we call a baby born at less than 28 weeks or weighing less than 1000g. Micro-preemies are at higher risk for a multitude of complications such as brain bleeds, improper eye development, developmental delays and chronic lung disease. The care these babies receive in their first hours, weeks, and months of life can have a permanent impact on their lives.
The Tiniest Texans™ program within Baylor University Medical Center's Level IV Neonatal Intensive Care Unit is focused on offering a comprehensive approach to caring for micro-preemies that incorporates the following components:
A tailored environment, that is quieter and provides less stimulation
A specially trained care team, with special certifications and expertise to care for small babies
Advanced equipment, with the latest technology to reduce complications, and protocols designed to support the most vulnerable newborns
Family-centered support and healthcare information to encourage bonding between parents and their babies
For these tiny babies, a brighter future becomes possible by being born somewhere that can provide them with the highest quality of care. The Tiniest Texans™ Program offers care that is well-beyond what is available in the typical NICU setting, helping to reduce babies' developmental delays, chronic medical problems, and support long-term quality of life.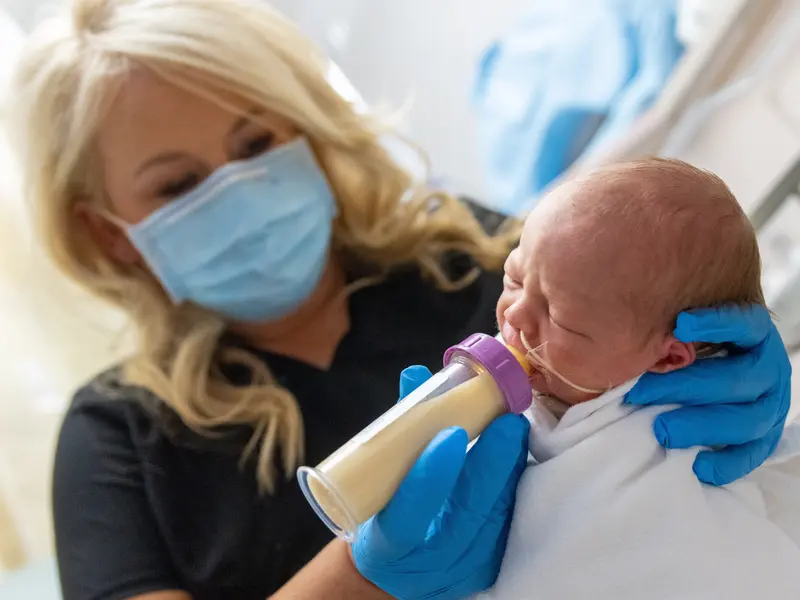 Support for feeding and swallowing
It's common for babies in the NICU to need special help with feeding and swallowing.
We collaborate with Baylor Scott & White Institute for Rehabilitation to care for feeding or swallowing difficulties. You'll have access to support from specialists trained in speech-language pathology, rehabilitation therapy, and ear, nose and throat conditions in infants and premature babies.