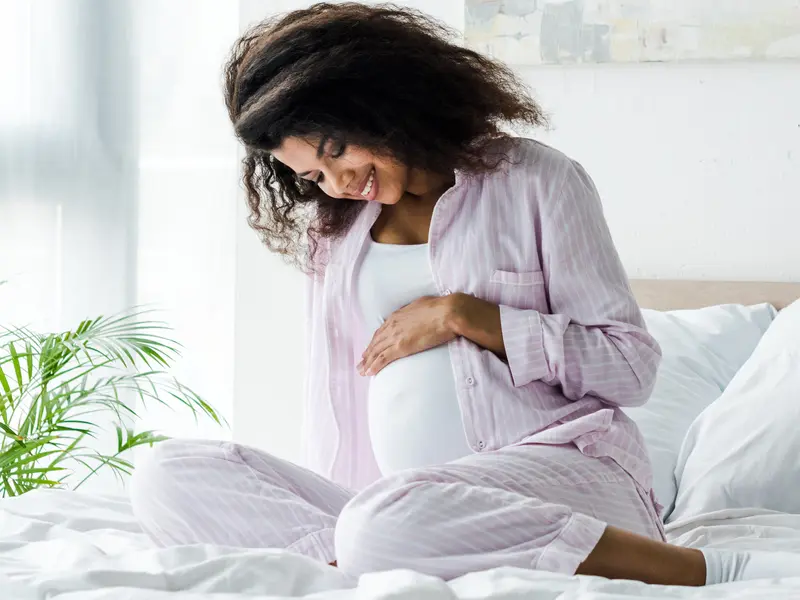 Specialized care and expertise for high-risk pregnancies
Maternal-Fetal Medicine services at Baylor University Medical Center, part of Baylor Scott & White Health provides access to testing, support and treatments—all designed to help you better manage a high-risk pregnancy and prepare for delivery. This specialized care can identify conditions before your baby is born, provide preventive care for chronic conditions that may complicate pregnancy and help you carry your baby longer or to term.
The Maternal-Fetal Medicine physicians on the medical staff are highly specialized OBGYNs in Dallas who completed additional training in complex pregnancies, and they work alongside your general OBGYN as part of your care team to care for you and your baby.
If your baby has an anomaly or condition requiring an advanced level of neonatal care, our Dallas Maternal-Fetal Medicine team works hand-in-hand with the skilled team in our Level IV Neonatal Intensive Care Unit to prepare for your baby's needs after delivery. Our Dallas NICU team is present during high-risk deliveries to care for the baby immediately and offer access to pediatric surgical specialists for prenatal consultation and surgical planning when needed.
Complex pregnancy conditions
Your OBGYN may refer you to Maternal-Fetal Medicine if you, your baby or both need specialized care during pregnancy.
Some conditions include:
Diabetes during pregnancy
Lupus during pregnancy
Birth defects detected via prenatal ultrasound
Genetic conditions
Early labor
Multiple gestations (twins, triplets, etc.)
High-risk pregnancy services
​​​​​​​​​​​​​
We provide complete services to care for your high-risk pregnancy, including many advanced tests beyond those offered in general OBGYN care.
Amniocentesis
You may have an amniocentesis to evaluate prenatal conditions like chromosomal abnormalities or neural tube defects.
During this procedure, your doctor uses ultrasound to guide a needle through the abdomen and take a small sample of amniotic fluid.
Amniocentesis is typically used at or after 15 weeks of pregnancy.
Cell-free DNA screening
After 10 weeks of pregnancy, you may have a cell-free DNA screening (cfDNA)
This maternal blood test screens for Down syndrome, trisomy 13, trisomy 18 and other chromosome conditions.
It's important to note that cfDNA is a screening, not a diagnosis. It is possible to have a false positive or negative, and additional testing may be needed.
Chorionic villus sampling
Chorionic villus sampling (CVS) takes a small sample of your placenta for testing. It's used between 11 and 13 weeks of pregnancy to test for abnormalities or specific genetic conditions. Depending on your pregnancy, your doctor may perform CVS either cervically or abdominally.
Insulin management
If you have diabetes, your pregnancy may be considered high risk.
Maternal-Fetal Medicine specialists on the medical staff have experience caring for the needs of moms-to-be with diabetes.
Our team can help manage insulin and adjust doses as needed to keep you and your baby healthy.
Outpatient Nutrition Counseling program
Maternal-Fetal Medicine collaborates with Baylor Scott & White Health Outpatient Nutrition Counseling at Baylor University Medical Center to provide nutrition support and education during pregnancy.
You may receive these services if you have certain medical conditions, such as diabetes.
Through this program, you'll have access to certified dietitians who support your well-being and nutrition needs.
Ultrasound monitoring of baby
Ultrasound uses sound waves to provide your doctor with images of your baby's features and other information about your pregnancy.
Most moms-to-be have ultrasounds during their regular OBGYN visits.
If you have a high-risk pregnancy, you may have additional ultrasounds with a Maternal-Fetal Medicine specialist.
Lifesaving care for placenta complications
Your placenta typically detaches from the wall of your uterus after your baby is born. However, in rare cases, the placenta grows too deeply—or even through the uterine wall—and fails to detach. When this occurs, it causes a potentially life-threatening condition for women known as morbidly adherent placenta.
Morbidly adherent placenta can cause preterm labor and heavy bleeding after delivery.
To care for this condition, we have a dedicated morbidly adherent placenta team that offers support to help safely deliver your baby and provide lifesaving care when needed.
Zachary Rubeo, MD
Dr. Rubeo is the Medical Director of Maternal-Fetal Medicine at Baylor University Medical Center and board-certified in obstetrics and gynecology and maternal-fetal medicine.