Baylor Scott & White Digestive Diseases and Medical Weight Loss has locations in Carrollton and Plano and provides gastrointestinal consultation services from a board-certified gastroenterologist and performs routine endoscopies including EGD and colonoscopy.
Insurances accepted
Baylor Scott & White has established agreements with several types of insurance to ensure your health needs are covered.
Insurance listings are subject to change without prior notice. Please call the hospital or health plan to verify coverage information before scheduling your visit/procedure.
Aetna Signature Administrators

Blue Cross Blue Shield - (3)

Blue Essentials

Blue Premier

ParPlan

LocalPlus

Open Access Plus

American Airlines Employee Benefit Plan

ACCEL Network

Preferred Network

ChoiceCare

Humana Preferred

National POS

Superior Health Plan - (1)

Superior HealthPlan - (1)
We're sorry!
We couldn't find any results for ""
Medical services
​​​​​​​​​​​​​Baylor Scott & White Digestive Diseases and Medical Weight Loss offers gastroenterology expertise and treatment options conveniently located near you in Carrollton and Plano.
Conditions we treat
Abnormal liver enzymes
Achalasia
Barrett's esophagus
Celiac disease
Colitis
Colon polyps
Constipation
Crohn's disease
Diarrhea
Diverticulitis
Endoscopy
Eosinophilic esophagitis
Fatty liver
Fissures
FODMAP sensitivity
GERD
Heartburn
Hepatitis
Hiatal hernias
H. pylori
Inflammatory bowel disease
Irritable bowel syndrome
Lactose intolerance
Liver disease
Malabsorption
Non-alcoholic fatty liver disease (NAFLD)
Overweight and obesity
Pancreatitis
Swallowing difficulties
Ulcers
Ulcerative colitis
Weight gain after bariatric surgery
Services and procedures
Our board-certified gastroenterologist in Carrollton and Plano can help you, providing a full spectrum of GI care for patients with concerns involving the esophagus, stomach, small bowel, colon, rectum, gallbladder, pancreas and liver.
We offer the following GI services and procedures:
Abdominal ultrasound
Colonoscopy
Endoscopy services and diagnosis of gastroesophageal reflux (GERD)
Flexible sigmoidoscopy
Management and treatment of diarrhea and constipation
Management and treatment of pancreatic diseases
Medical evaluation of liver transplant candidates
Percutaneous liver biopsy
Placement of external feeding tubes (gastrostomy)
Polypectomy
Studies of esophageal problems, such as difficulty swallowing
Fecal transplant
Diagnosis and treatment of Crohn's disease and ulcerative colitis
Diagnosis and treatment of gastroesophageal reflux
Treatment of achalasia
Open access program for colonoscopies
The Open Access Program allows healthy patients (no Significant gastrointestinal symptoms) to skip the office visit and receive the potentially life-saving procedure. By eliminating this office visit, you save time AND a co-pay.
Program qualifications
Patients with strong family history of colon cancer
Patients between the age of 50-74
Weight of 350 lbs and under
How to schedule
Once a referral form is submitted, the Open Access Team will review and contact the you to set up procedure and/or office visit.
Participation in the Open Access Program is contingent upon pre-procedure insurance approval and medical history.
Mobile makes it easy
Just like we make it easy to get care when your child is sick or injured, our top-rated app, MyBSWHealth, can simplify keeping them healthy. The app lets you book appointments, message your pediatrician, view your child's medical records and schedule virtual same-day care from your computer, smartphone or tablet.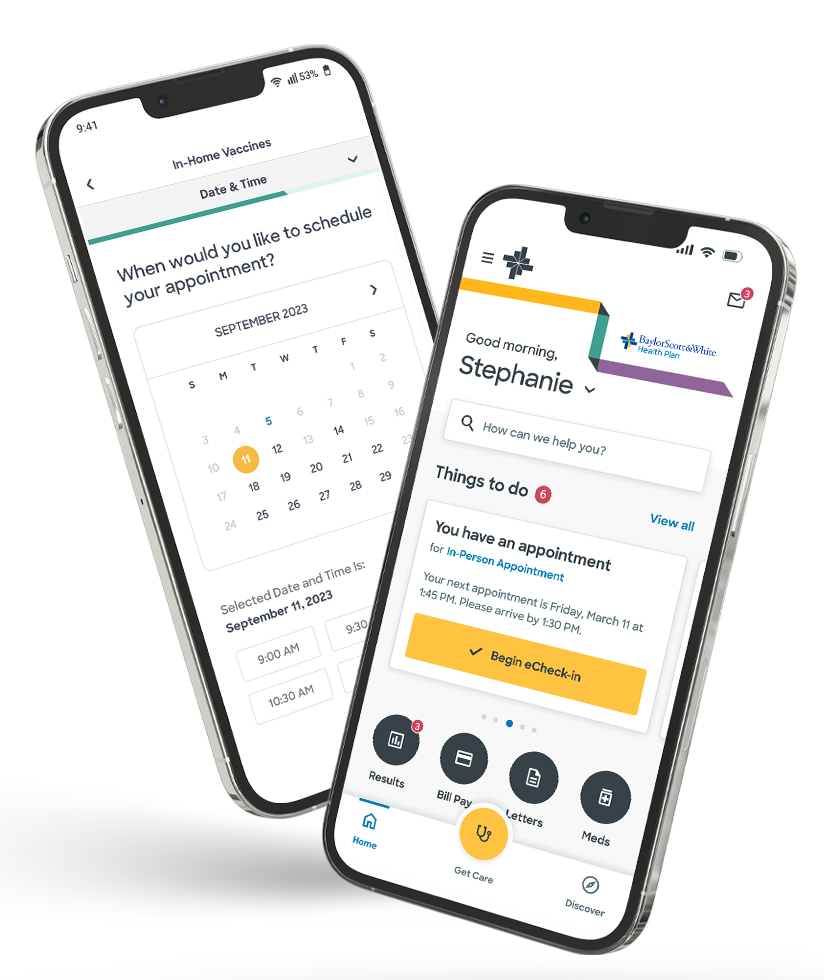 Patient forms
To ensure that your visit to our office is as convenient and efficient as possible, we are pleased to offer our registration forms online. The patient registration form may be completed electronically and printed for better legibility or completed manually.
More helpful information
​​​​​​​​​​​​​Here's more information to help with your visit to our GI and weight loss clinic in Carrollton or Plano.