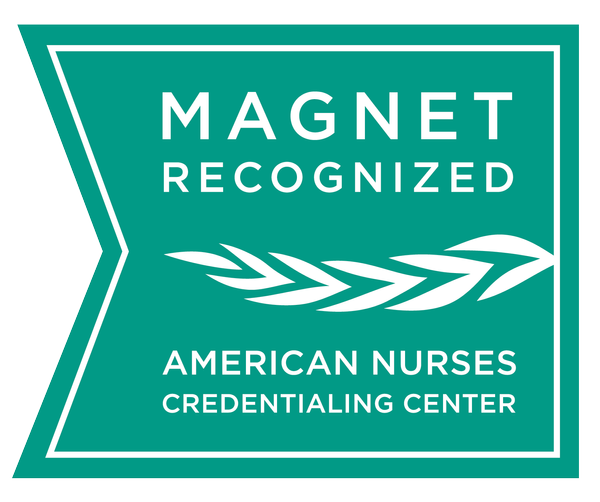 Nursing accomplishments
At Baylor Scott & White Medical Center — Hillcrest, our nurses are dedicated to the care of a diverse community of patients. As members of our frontline care team, they take pride in seeking opportunities to provide a higher level of care. The nursing staff at Baylor Scott & White Medical Center-Hillcrest work together with other disciplines to deliver exceptional care.
The Magnet® Recognition Program designates organizations for nursing excellence and improved patient outcomes. In 2018, Baylor Scott & White Medical Center – Hillcrest achieved its first Magnet® designation. We will submit the redesignation documents in October 2022. Our clinical nurses and leaders are committed to the development of nursing excellence, a healthy work environment, interdisciplinary collaboration, and nursing education.
Transformational leadership
Nursing Leadership puts the patient first in care that emphasizes safety and best outcomes
NICU developed mentoring program in collaboration with CMO
Nurse leaders participate in the Foundations of Nursing Leadership Program (FNL), which focuses on the development of nursing managers and supervisors
Nurses at every level are engaged in committees with hospital leaders
Nursing leadership and frontline nurses opened Regeneron Infusion Center to improve access to our COVID-19 patients.
BSN Rate – 74%
Certification Rate – 34%
Wetona Mayfield Nursing Scholarship presented to two Baylor Scott & White Medical Center – Hillcrest nurses
The DAISY Award® recognition for nurses continues recognize nurses demonstrating extraordinary and compassionate care to patients
The DAISY Leader award initiated to recognize nurse leaders who create an environment where attributes of trust, compassion, mutual respect, continued professional development and ethical behavior are modeled and supported
Exemplary professional practice
Re-designated Level II Major Trauma Center by the Texas Department of State Health Services and verified by the American College of Surgeons.
Re-designated as a Texas Ten Step facility by the Department of State Health Services
Designated Level III Maternal Care Center by the Department of State Health Services
Received the 2022 AHA Get with the Guidelines "Stroke GOLD PLUS with Target: Stroke Honor Roll Elite and Target: Type 2 Diabetes Honor Roll" Award.
Nurse Family Partnership obtained over $8 million grant help countless first-time mothers in McLennan County establish happy and healthy families. The grant will allow expansion of the program to Falls and Limestone counties
NICU achieved 500 days CLABSI free November 19, 2021.
New knowledge, innovations and improvements
​​​​​​​​​​​​​
Awards
Texas Nurses Association 25 Outstanding Texas Nurses 2022 Award:
o Kyle Carter, RN, Surgical ICU (SICU)
2022 BSWH CTX Top 30 Nurses:
o Darla Gerik, BSN, RN, Operating Room o Jackie Packwood, RN, Endoscopy
o Kyle Carter, RN, Emergency Department o Samantha Terrell, BSN, RN-BC, 5 South
o Sheila Hunt, BA, RN, OCN, McClinton Cancer Center
2022 Wetona Mayfield Nursing Scholarship Recipients:
o Celeste Trejo-Torres, BSN, RN, 5 South
o Alysa Blasingame, BSN, RN, 4 South
2022 The DAISY Leader Award® presented to Megan Washington, MSN, RN, CNML, Nurse Director
Temporarily opened Regeneron Infusion Clinic in August 2021, to better serve the community and patients receiving treatment for COVID-19
Research studies
Comparison of Patient Satisfaction and Length of Second Stage of Labor among women who received clear liquid diet and those kept NPO Completed 3/2021
Moral Distress Among Nurses in the Environment of a Pandemic: A Survey Study completed 6/2021
Code Elevation: A Code Blue Alternative for Patients with DNR-COT Directives.
Evaluation of Nurse's Caring Behaviors through Building a Compassionate Culture Education
Determining the relationship between attitudes and perceptions on breastfeeding of NICU nurses of different generations
Noise Levels in the operating room and the effect of a noise reduction instructional program
Evaluation of emergency department registered nurses' knowledge and attitudes about substance abuse disorders through a survey
Publications
Thompson, A., Jones, T., Patterson, P., Kirby, D., Brown, G., Cluke, A., & Scoggins, M. (2021) Fighting Cancer, Ice Storms, and COVID-19: Developing a Crisis Response During Winter Storm Uri at a Community Cancer Center.
Academy of Oncology Nurse and Patient Navigators, November 2021 Vol 12, No 11
Posters/Abstract
Good Catches: Promoting a Culture of Safety, Transparency and Engagement by Becky Hartley, DNP, RN, CPAN, NEA-BC, was accepted for poster presentation at the 2021 American Organization of Nursing Leaders (AONL) conference in July 2021
Spotlighting A Specialty: Bringing Rehab to Nursing Schools by Abigail Mawhirter, BSN, RN, CRRN, was accepted for poster presentation at the 2021 Association Rehabilitation Nurse (ARN) conference in November 2021