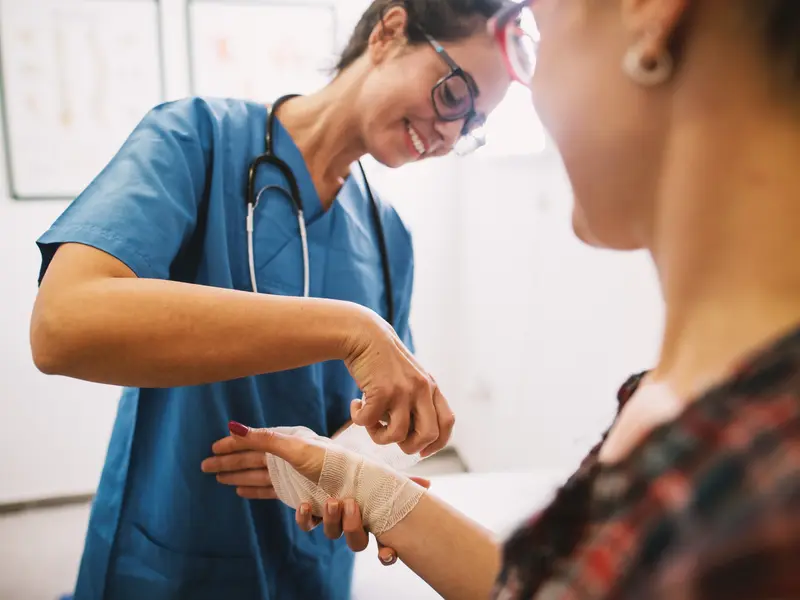 Evaluation and treatment of chronic wounds in Irving
The Comprehensive Wound Center at Baylor Scott & White Medical Center – Irving focuses on the evaluation and treatment of chronic wounds using advanced wound care technologies, as well as traditional medical and surgical therapies.
The Comprehensive Wound Center at Baylor Scott & White – Irving is nationally accredited by the Undersea and Hyperbaric Medical Society (UHMS). The UHMS accreditation program was implemented in 2002 to raise the standards by which qualified hyperbaric facilities operate.
For more information about wound care treatment in Irving, one call does it all.
The types of wounds we treat in Irving
Abdominal stomas
Pressure ulcers
Chronic wounds
Diabetic ulcers
Venous ulcers
Arterial ulcers
Other hard-to-heal wounds
Specialized wound care services
Conveniently located at Baylor Scott & White – Irving's north campus off Interstate 635 and MacArthur, the Comprehensive Wound Center provides a broad array of specialized wound treatments, including:
Enterostomal therapy
Doppler evaluation
Hyperbaric oxygen therapy
Transcutaneous oxygen monitoring
Wound care and debridement
Negative pressure therapy
Nutrition counseling
Diabetes counseling
Pain management
Comprehensive Wound Center
400 W I-635
Ste 130
Irving, TX 75063
Focused on quality care
The multidisciplinary team of the Wound Care Center at Baylor Scott & White – Irving consists of physicians on the medical staff, nurses, technicians, dietitians and care coordinators.
When a patient transitions from an inpatient to an outpatient setting, arrangements will be made to promote continuity of care.
In addition, a case manager works with the patient and family to help ensure the treatment plan is clearly understood.
The case manager stays in contact with the wound care patient between visits, works with home health providers or nursing home staff, and facilitates communication between the physician on the medical staff of the wound care center and the referring physician.
Quality outcomes
A database of outcomes within the Comprehensive Wound Center is used to evaluate process improvement activities, demonstrate the impact of treatment plan changes and provide data to measure against national benchmarks.
The outcome measurements that facilitate benchmark measuring include:
Healing time (from the first time the patient is seen in the wound
care center until a physician provides written documentation
that the wound is healed).
Amputation rates (the number of patients that receive an amputation despite aggressive wound care treatment by the wound care team).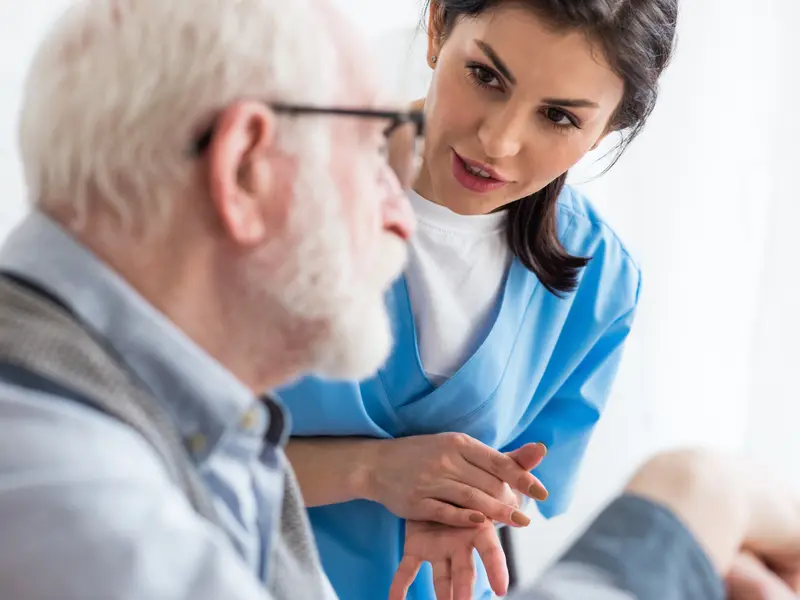 Dedicated wound care environment
The Comprehensive Wound Center at Baylor Scott & White – Irving provides inpatients and outpatients with specialized wound care services close to home in a dedicated environment.
Research has shown that comprehensive wound care programs can reduce the risk of infection or other complications, possibly decreasing the length of a hospital stay.
Key components of our Comprehensive Wound Center in Irving include:
Standardized, evidence-based clinical practice guidelines
A multidisciplinary team trained in wound care
A delivery model that supports continuity of care, including a strong discharge program and post-acute referral process.
Patient and staff education
A database to measure improvement, benchmark and drive quality outcome measurements
And, outreach programs that include home health, rehabilitation, long-term acute care and nursing homes