In an emergency, our Lakeway ER is nearby
The 23-bed emergency department at Baylor Scott & White Medical Center – Lakeway is equipped to treat critical and life-threatening conditions in patients of all ages.
The department's emergency room (ER) in Lakeway has the additional support of Baylor Scott & White's multidisciplinary team, providing access to specialists in a full range of care, ensuring you receive quality medical care during the times you need it most.
Our Lakeway emergency room physicians and trauma-trained nurses are board-certified, and we have specialty physicians on call 24 hours a day for general surgery, urology, nephrology, neurosurgery, orthopedics, neurology, cardiology, nuclear medicine, and internal medicine.
We are specially equipped and trained to handle the treatment of severe heart attacks, including STEMI (acute ST-elevation myocardial infarction). Through collaboration with area first responders and hospital personnel, we have the ability to rapidly provide patients with definitive heart muscle-saving treatment.
What sets us apart
Primary stroke center
Level IV Trauma Center equips us to care for most orthopedic injuries and certain head injuries
Chest Pain Team (actively pursuing chest pain center status)
Official STEMI designated center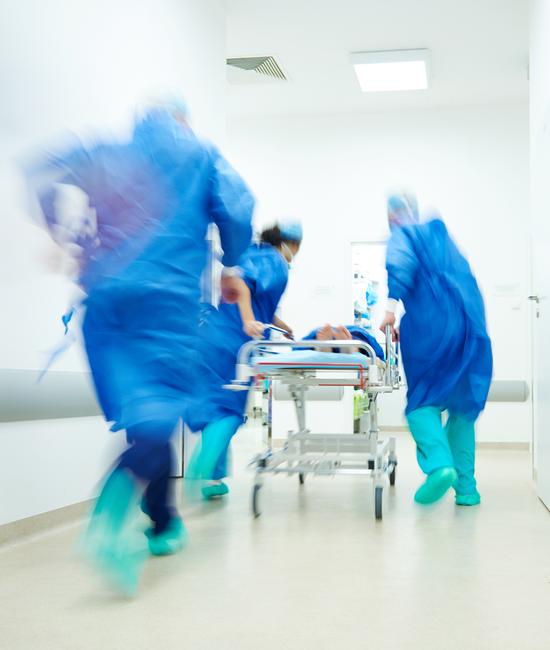 When should I visit the emergency department in Lakeway?
An emergency is defined as a serious situation or symptom caused by an injury or sickness, or mental illness, which arises suddenly and requires immediate care and treatment to avoid death or disability. An emergency may include but is not limited to:
A suspected stroke
A suspected heart attack
Deep wounds
Poisoning
Complicated fractures
Vomiting/coughing up blood
Severe burns
Major head injury
Extreme difficulty breathing
Severe allergic reactions
Frequently asked questions
How should I prepare for an emergency situation?

To expedite treatment during an emergency, keep an insurance card, photo identification, Social Security card and information card on you at all times. The information card should include the following:

Name and telephone number of your primary care physician
A list of current medications (including over-the-counter, supplements and herbal remedies) and dosages
Advance directives: living wills, Do-Not-Resuscitate orders, power of attorney, etc.
List of known allergies and medication reactions
List of surgeries
List of medical conditions
Telephone numbers of family, friends or next of kin
Pharmacy name and telephone number

The triage process is a medical term referring to the process of prioritizing patients based on the severity of their condition. It includes personal and medical history information and vital signs (blood pressure, temperature, heart rate, etc.). Critical and more severely injured patients will be treated first in our Lakeway ER.

An empty waiting room does not mean that the emergency department is not busy assisting patients. Patients who arrive in an ambulance come through a different entrance. There are also many other "behind the scenes" activities that take place in the emergency department in Lakeway that patients do not always see, such as processing lab and other test results.

Who will be caring for me?

You will be cared for by a team of highly skilled professionals, including a medical doctor (MD/DO), who has overall responsibility for your care in our Lakeway ER, and a registered nurse (RN), who will assess and monitor your physical condition, give you medication, maintain IVs, and keep you and your family informed of any tests and procedures.

What happens to me after discharge from the emergency department?

After discharge instructions have been given, your information is maintained in a database so that if future treatment is required, the registration process will be quicker next time you visit our ER in Lakeway.

What happens to me if I must be admitted to the hospital?

If you are admitted to the hospital after seeing the emergency room doctors and nurses, you will be moved to a hospital room as quickly as possible so that you are more comfortable and treatment or additional testing can begin.

How can I obtain copies of my medical records?

The Health Information Management department provides copies of medical records and diagnostic imaging to the patients upon request.

Who can request medical records?

A photo identification with name is required to obtain medical records from Baylor Scott & White Medical Center – Lakeway. A signed release of Information (ROI) form is required identifying the patient and/or the entity allowed to pick up the information on the patient's behalf.

ROI forms may be obtained from and requested records picked up at the front Information Desk located through the main entrance of the hospital.

Medical records may be picked up Monday - Friday between the hours of 8:00 AM - 4:30 PM.

Please call 512.654.1226 for more information.

What types of bills can I expect to receive?

If you are seen in the emergency department during your hospital visit, you and or your insurance carrier will receive bills from both Baylor Scott & White Medical Center – Lakeway (the Hospital) and any rendering physician/specialist- including the emergency physician professional group, Lakeway Regional Emergency Physicians (the ER Doctors).

While hospital charges represent utilization of hospital equipment, technical personnel and supplies, the bill that you receive from the emergency physicians represents the fees associated with your physician exam, physician interpretation of your tests, exams and procedures.

You may also receive a bill from a specialist (anesthesiologist, cardiologist, etc.) if your visit warrants a consult.

If you have any questions concerning your Lakeway Regional Emergency Physician (LREP) bill, please call: 800.378.4134.

If you have any questions concerning your Baylor Scott & White Medical Center – Lakeway bill, please contact Patient Financial Services: 800.778.0354, Monday through Friday between the hours of 8:00 AM - 4.30 PM.

You are encouraged to contact both entities about your account, check current balances, update insurance information, find out the current status of your insurance claim, request an itemized copy of your charges or pay your bill. We look forward to assisting you in any way we can.