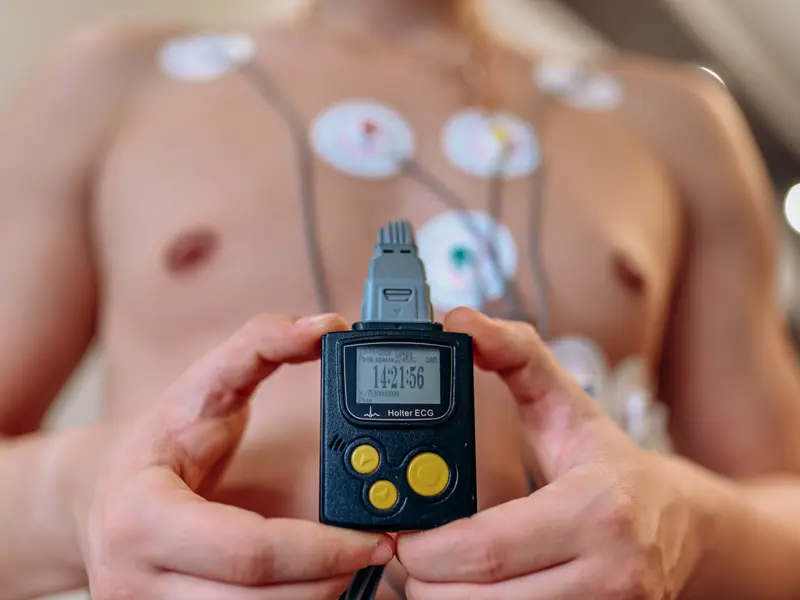 Holter monitoring
A Holter monitor is a 24-hour electrocardiogram taken during a patient's daily activity. It looks for evidence of transient cardiac problems—that is, problems that come and go and that are not apparent when a standard ECG is performed as part of heart monitoring.
Ambulatory monitoring is particularly useful in diagnosing transient heart arrhythmias, and transient cardiac ischemia.
Baylor Scott & White Legacy Heart Center offers Holter monitors to referring physicians and hospitals.
What to expect during Holter monitoring
With the Holter monitor, electrode leads are applied to the patient's skin (similar to the leads used in recording a standard ECG), and then they are attached to a lightweight monitor.
The patient wears the heart monitor, which records the ECG for a 24-hour period on a digital flash card or cassette tape.
The Holter monitor will show the doctor every one of the patient's heart beat for a continuous 24 – 48 hour period. If any abnormal beats or heart arrhythmias occur during that time, they will be identified.
When the Holter monitor study is completed, the patient returns to the office. This data is then uploaded and transmitted to our heart monitoring laboratory for scanning analysis. A report is generated by a certified cardiac technician using Rozinn electronic equipment. The data is then relayed to the ordering physician by email, fax and or priority mail.
With capabilities of the Internet, we can offer same day service when results are paramount.
Diagnosing silent ischemia with Holter monitoring
The Holter monitor can give information about changes in the ST segment of the ECG during the monitoring period.
Some patients who have cardiac ischemia will not actually experience symptoms during their ischemic episodes. (This condition is called "silent ischemia.")
By analyzing changes in the ST segment, silent ischemia can often be diagnosed by Holter monitoring.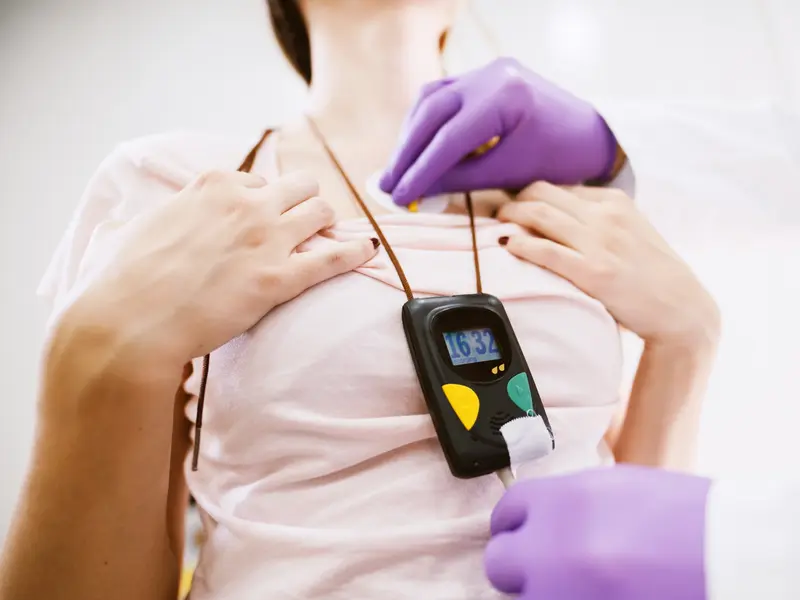 Cardiac event monitoring
Cardiac event monitoring is used to record a patient's heart rhythm when he or she is experiencing symptoms.
It is activated by the patient when he or she is experiencing symptoms such as dizziness, palpitations, shortness of breath, fainting spells or chest pain to discover what is causing the symptoms.
For instance, heartbeats that are too fast or too slow may cause light-headedness or fainting.
Since an irregular heart beat might not last long enough to show up on an electrocardiogram, cardiac event monitoring can help pinpoint the cause when the heartbeat irregularity occurs.
What to expect during cardiac event monitoring
How cardiac event monitoring works
Like Holter monitoring, event monitoring involves wearing a very small, portable, EKG recorder over a period of time that can vary from weeks to months.
When a patient is having an event, he or she just pushes a button to record what is happening with the heart.
The recorded data can be sent over the phone to your doctors for analysis.
There are different kinds of heart event monitors. They can be worn like a wristwatch, carried in a purse or pocket or worn like a beeper. The heart monitor may or may not be attached to a patient's chest using wires and adhesive patches.
During the time the monitor is worn, patients are encouraged to go about their usual activities, but they will be asked to record the dates and times for activities, such as walking, resting and eating when medication is taken and when symptoms occur.
A cardiologist will review the heart monitoring recordings and inform the patient about the results at the next visit or sooner, if needed.