Quality care for all of your OBGYN needs in Rockwall and Rowlett
Our dedicated team of OBGYN professionals in Rockwall and Rowlett is devoted to the medical specialties of obstetrics and childbirth. We also provide quality women's health for all of your gynecological needs from puberty through menopause. We're with you every step of the way through diagnosis, treatment and aftercare.
From the moment you enter our state-of-the-art facility, you'll be treated with the warmth and respect you deserve. We invite you to be part of our growing OBGYN practice where every patient is unique. Contact us today to discover the Baylor Scott & White Health difference.
Insurances accepted
Baylor Scott & White has established agreements with several types of insurance to ensure your health needs are covered.
Insurance listings are subject to change without prior notice. Please call the hospital or health plan to verify coverage information before scheduling your visit/procedure.
Medicare Advantage Plans

Aetna Signature Administrators

Aetna Medicare Freedom Preferred Plan (PPO)

Managed Choice

QPOS

STAR

Group Retiree Medicare PPO - Limited to Exxon/Mobil

Aetna Medicare Choice Plan (PPO)

Aetna Medicare Eagle Plan (PPO)

Aetna Medicare Eagle II (PPO)

Open Access Elect Choice

Open Access Managed Choice

Open Choice PPO

Aetna Medicare Prime Plan (HMO)

Health Network Only

Aetna Medicare Dual Complete Plan (HMO D-SNP)

Aetna Medicare Freedom Plan (PPO)

Choice POS II

HMO

Aetna Medicare Value Plan (HMO)

American Health Advantage of Texas - (1)

American Health Advantage of Texas HMO I-SNP

Blue Cross Blue Shield - (25)

Blue Advantage HMO

Blue Choice PPO

Blue Premier

Blue Premier Open Access HMO

Medicare Advantage - Oncor

ParPlan

Traditional

Indemnity

Blue Essentials

Blue Choice

HealthSelect

Blue Premier Access

Federal Standard Option

Federal Basic Option

Blue Essentials Access

TRS-Care Standard

Blue Advantage - Bronze

Blue Advantage - Silver

Blue Advantage - Gold

Consumer Directed HealthSelect

Blue Cross Medicare Advantage Dual Care Plus (HMO SNP)

Blue Cross Medicare Advantage (HMO)

Blue Advantage Plus - Silver

Blue Cross Group Medicare Advantage (PPO)

Blue Advantage Plus - Gold

Children's Medical Center Employee Plan

City of Dallas Employee Plan

LocalPlus

Open Access Plus

Cigna Medicare Advantage

Cigna HealthSpring

Point of Service Open Access

Open Access Plus In-Network

Open Access

LocalPlus In-Network

BSW Extended PPO

Choice Fund

American Airlines Employee Benefit Plan

First Health/Coventry - (1)

First Health/Coventry Network

ACCEL Network

Preferred Network

ChoiceCare

Humana Preferred

National POS

Commercial PPO Plans

HumanaChoice (Regional PPO)

HumanaChoice (PPO)

Humana USAA Honor with Rx (PPO)

Humana Honor (PPO)

Humana Gold Plus (HMO)

Humana Gold Choice (PFFS)

PPO

Humana Gold Plus SNP-DE (HMO D-SNP)

Nebraska Furniture Mart - (3)

Parkland Community Health Plan - (4)

CHIP Medicaid

HealthFirst Medicaid

STAR - HealthFirst

CHIP

Scott & White Health Plan - (2)

Cigna PPO Network - Out-of-Area Member Plan

McLane Group Network

Superior Health Plan - (6)

STAR+PLUS

Ambetter Core EPO - Gold

Ambetter Core EPO - Silver

Wellcare

Ambetter Core EPO - Bronze

Wellcare by Allwell

Superior HealthPlan - (3)

Medicare/Medicaid Dual Needs Plan: Advantage HMO SNP

Medicare/Medicaid Plan

STAR+PLUS

Charter

Charter Plus

Choice

Choice Plus

Core

EDGE

Nexus ACO - Referral Required

Options

Select Plus

AARP Medicare Advantage SecureHorizons Plan 1 (HMO-POS)

AARP Medicare Advantage SecureHorizons Plan 2 (HMO-POS)

AARP Medicare Advantage Walgreens (PPO)

UnitedHealthcare Medicare Advantage Choice (Regional PPO)

Navigate Plus

Navigate Balanced

Core Essential

Charter Balanced

All Savers

AARP Medicare Advantage Patriot (HMO-POS)

AARP Medicare Advantage Choice (PPO)

Nexus ACO - Open Access

Navigate

University Mary Hardin-Baylor - (1)
We're sorry!
We couldn't find any results for ""
Women's health services
​​​​​​​​​​​​​Baylor Scott & White Obstetrics & Gynecology – Rockwall and Rowlett offers women's health and OBGYN expertise and treatment options conveniently located near you.
Conditions treated
Abnormal uterine bleeding
Endometriosis
Pelvic pain
Polycystic ovarian syndrome
Uterine fibroids
Menopause
Infertility
Ovarian cysts
Urinary incontinence
Urinary tract infections
Sexual dysfunction
Vaginitis
Gynecological care
Physicals
Menstrual disorder treatment, including NovaSure® for heavy periods
Contraceptive counseling
HPV vaccinations
Premenstrual Dysphoric Disorder (PMDD)
Infertility causes and concerns
Contraception, including Essure® and Mirena® IUD
LEEP
Sexuality issues and concerns
Hysteroscopy
Fibroids
Endometriosis
Mammography referrals
Minimally invasive surgery
Ovarian cysts and polycystic ovarian syndrome
Diagnosing and managing menopause symptoms
Osteoporosis screening and treatment
Various types of cancer screenings
Obstetrical care
Family planning
Pre-pregnancy visits
Fertility counseling
General obstetrical care
Convenient labs, mammography, bone mineral density scanning and ultrasound available on-site
Regularly scheduled doctor's appointments
Onsite tests and blood work
Genetic screening
Ultrasonography evaluations 3D and 4D
Management of high-risk pregnancy
Natural childbirth options
Cesarean and vaginal delivery
Close attention to diet, exercise and a healthy lifestyle
Physical exams
Breast exam
Pelvic exam
Rectal exams
Assessment for additional physical concerns
Procedures
LEEP/Cone biopsy for abnormal pap tests
Endometrial biopsy
IUD (intrauterine device) insertion/Mirena®, Skyla™ and Paragard®
NEXPLANON insertion
Tubal sterilization
Hysteroscopy
Endometrial ablation
Laparoscopy
Robot-assisted laparoscopy
Hysterectomy
Myomectomy
Pelvic organ prolapse repair
Screening and preventive services
Annual well-woman exams
Teen and adolescent care
Mammogram referrals
Bone density test referrals
Pap tests
Colposcopy for abnormal pap tests
HPV (human papilloma virus) vaccination
Birth control
Sexually transmitted infection screening
Surgeries
Endometrial ablation (including the NovaSure® procedure)
Laparoscopy (minimally invasive surgery)
Treatment of prolapse
Oophorectomy
Hysterectomy
Treatment of some forms of urinary incontinence
Mobile makes it easy
Just like we make it easy to get care when your child is sick or injured, our top-rated app, MyBSWHealth, can simplify keeping them healthy. The app lets you book appointments, message your pediatrician, view your child's medical records and schedule virtual same-day care from your computer, smartphone or tablet.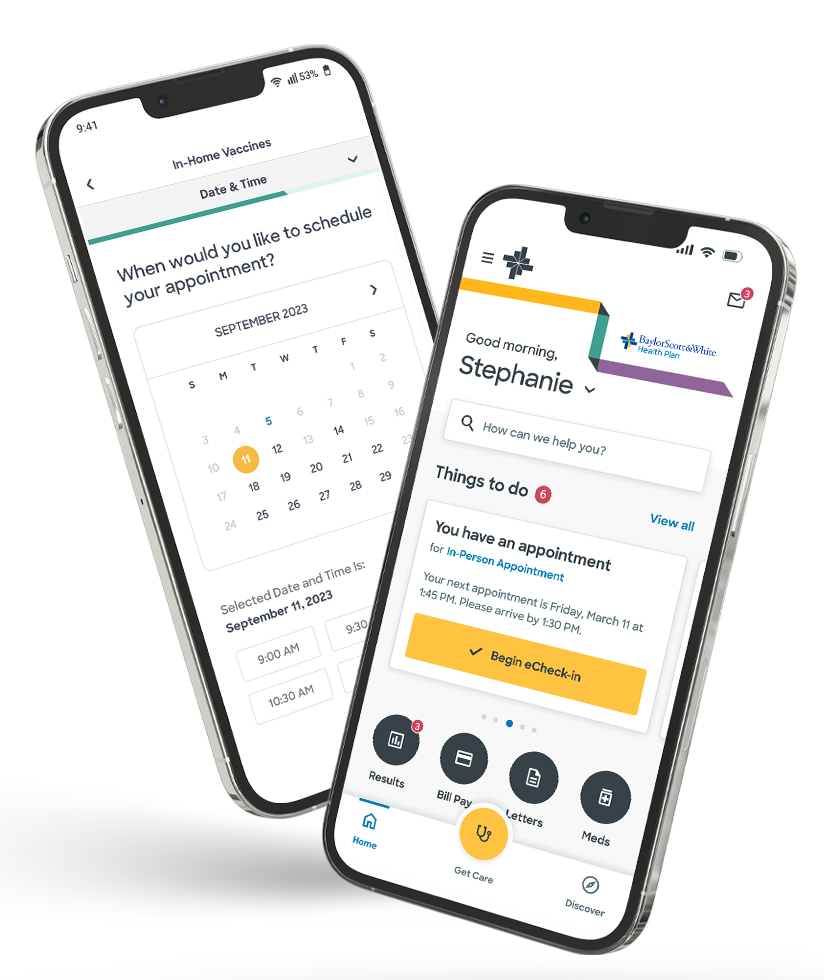 Patient forms
To ensure that your visit to our office is as convenient and efficient as possible, we are pleased to offer our registration forms online. The patient registration form may be completed electronically and printed for better legibility or completed manually.