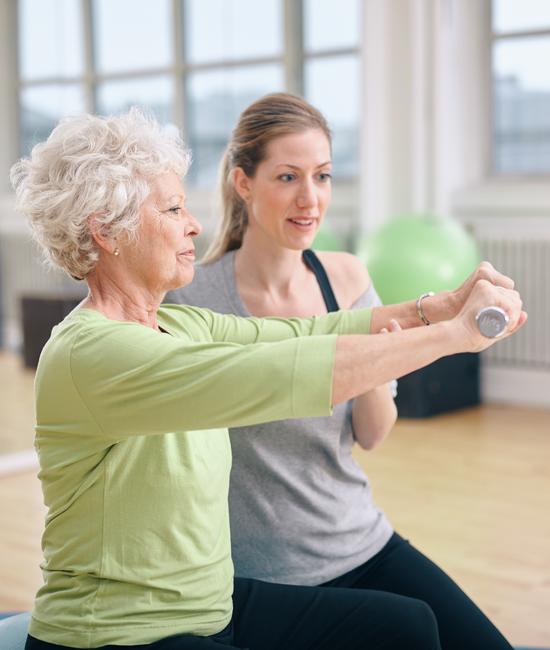 Cardiac rehabilitation treatment plan
Cardiac rehabilitation's main goal is to assist you in developing a healthy lifestyle plan.
Your plan will include major components of physical activity, education, stress management and nutrition counseling.
Monitored physical activity allows you to increase the efficiency of your heart and lungs, strengthen your body's muscles and at the same time, help you gain the confidence you need to return to the daily activities you most enjoy.
Activity sessions are designed to meet your personal needs, interests and abilities.
Benefits of cardiac rehabilitation
Based upon each individual's personal goals, the benefits received from cardiac rehabilitation may vary. Your benefits may include:
Strengthening and conditioning of your heart and lungs
Controlling your weight and lowering your total cholesterol levels
Understanding your medications, the signs and symptoms of heart disease and when to seek medical attention
Increase your self-confidence
Laying the groundwork for the development of a healthier lifestyle
Reducing your symptoms and chances of experiencing another cardiac event
An earlier return to work and daily activities
Developing coping and stress reduction skills, as well as relaxation techniques
Providing emotional support for you and your family
What to expect
Our program is carefully designed to accommodate the individual needs of every cardiac patient.
Participants typically spend three to 12 weeks in cardiac rehabilitation, attending three sessions per week. The length of your program may depend upon your goals, the progress of your recovery or your physician's recommendation.
During the activity sessions, the cardiac rehabilitation program team will monitor you with an electrocardiograph (ECG) telemetry unit that will keep them informed of how you and your heart are reacting and adapting to activity.
You'll also learn how to take your pulse, determine your exercise intensity and exercise at a level that allows you to receive maximum benefits.
For assistance with your cardiac rehabilitation program, contact us:
Physician referrals
Entrance into the cardiac rehabilitation program requires a physician referral.
If you feel you could benefit from Baylor Scott & White – Round Rock cardiac rehabilitation services, discuss the program with your physician or call to request a referral.