The Ted and Sue Getterman Sports and Orthopedic Center in Waco is a 106,000-square-foot, four-story, freestanding facility on the Baylor Scott & White – Hillcrest campus.
This center houses physicians from Baylor Scott & White Southwest Sports Medicine & Orthopaedics, the official team physicians for Baylor University Athletics, along with sports therapy/physical rehabilitation, advanced imaging equipment and an orthopedic surgery center in Waco.
Medical services
​​​​​​​​​​​​​
The Ted & Sue Getterman Sports and Orthopedic Center offers expertise and treatment options conveniently located near you.
Comprehensive care
Orthopedic sports medicine surgeons in Waco on the medical staff are skilled at treating and repairing all types of injuries resulting from participating in sports or even injuries that result from everyday life.
The sports and orthopedics center features:
Orthopedic surgery center, located conveniently in the same complex as medical practices and rehabilitation services
Procedure rooms
Advanced imaging
48 exam rooms
Outdoor sports performance area where team members can analyze the movement of athletes of all ages to improve strength, conditioning and performance with a focus on safety
Administrative areas with conference and classrooms
Services
Primary sports medicine services
Orthopedic and sports medicine clinics with specialists offering both surgical and nonsurgical solutions to pain in hand/wrist, elbow, foot/ankle, spine and total joint
Physical rehabilitation with indoor and outdoor sports therapy area
Fusionetics performance health system, a sports science clinical program that provides effective solutions focused on decreasing injury, optimizing performance and enhancing recovery
Sports therapy
Sports concussion treatment
If you are experiencing pain or have aggravated a previous injury, speak to your doctor and find a rehabilitation location convenient for you.
Sports medicine and orthopedic care
The Ted & Sue Getterman Sports and Orthopedic Center is designed to be the broader Waco region's premier destination for diagnoses and treatments, surgical excellence, rehabilitation therapies, and most importantly, injury prevention. This innovative facility will help attract and retain even more expert sports medicine and orthopedic specialists, enhance patients' wellbeing, and increase process efficiencies in sports and orthopedic services.

The primary care sports medicine physicians and orthopedic specialists in the Center are a part of Baylor Scott & White Southwest Sports Medicine and Orthopaedics, the team physicians for Baylor University athletics.
Sports therapy and physical rehabilitation
Baylor Scott & White Sports Therapy is an outpatient physical therapy and athletic training department located inside the Ted & Sue Getterman Sports and Orthopedic Center.
Mobile makes it easy
Just like we make it easy to get care when your child is sick or injured, our top-rated app, MyBSWHealth, can simplify keeping them healthy. The app lets you book appointments, message your pediatrician, view your child's medical records and schedule virtual same-day care from your computer, smartphone or tablet.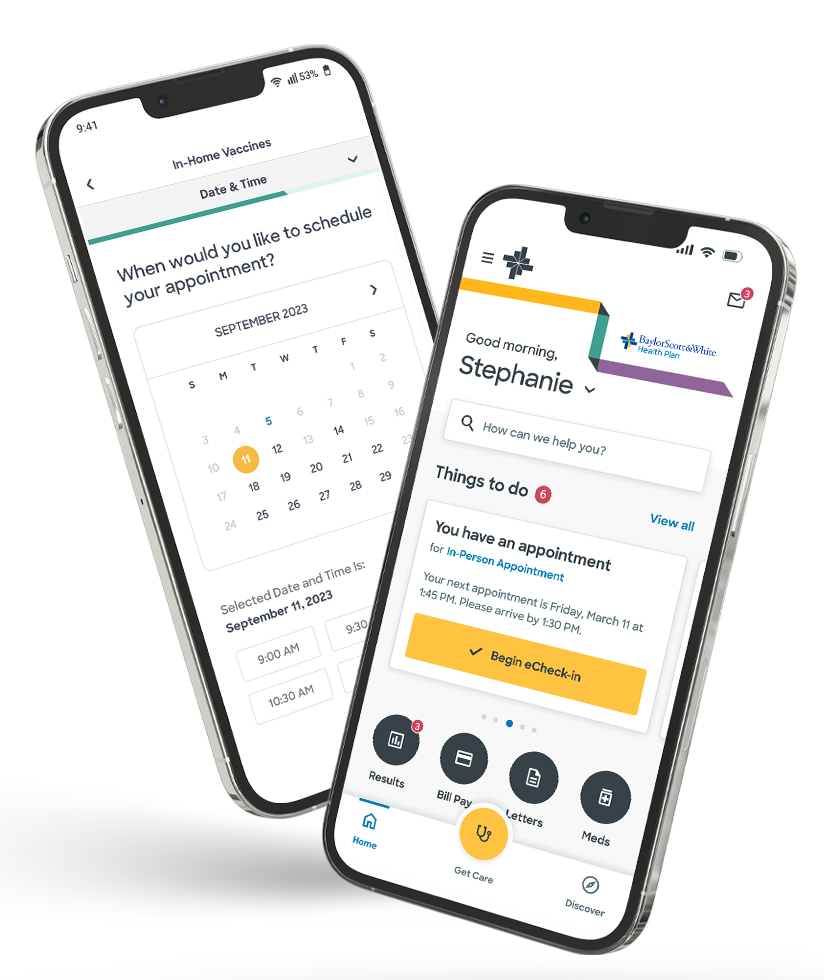 Facility photos
Providing expert care, injury prevention, orthopedic services and surgeries for athletes of all ages.