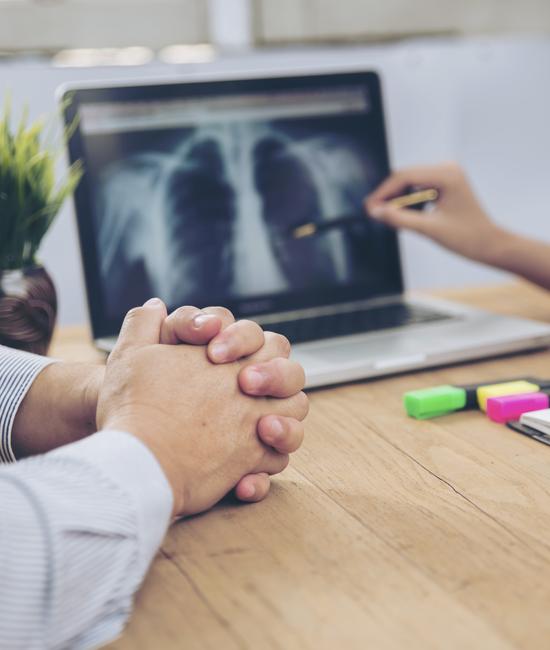 Comprehensive thoracic surgery for a variety of chest disorders
At Baylor Scott & White Medical Center – Temple our team of highly experienced thoracic surgeons and healthcare providers treat a variety of chest disorders, including benign and malignant conditions.
All our surgeons are board-certified by the American Board of Thoracic Surgery and have had years of training and experience.
Our system provides innovative care and technology, including minimally invasive techniques, such as:
Video-assisted thoracoscopic surgery (VATS)
Laparoscopic surgery
Mediastinoscopy
Endoscopy
Robotic surgery
Our thoracic surgery program in Temple, Texas, serves central Texas, allowing easy access for patients from College Station, Round Rock, Waco, Killeen, Marble Falls and other associated areas.
Thoracic conditions we treat
​​​​​​​​​​​​​Our thoracic surgery program provides treatment for the following chest disorders:
Lung diseases
Lung cancer
Lung nodules
Pancoast tumor (superior sulcus)
Emphysema
Chronic obstructive pulmonary disease (COPD)
Lung failure
Esophageal conditions
Esophageal cancer
Esophageal tumors
Benign esophageal diseases
Paraesophageal (hiatal) hernias
GERD requiring fundoplication
Esophageal stenosis
Achalasia
Zenker's diverticulum
Epiphrenic diverticulum
Airway conditions
Tracheal cancer
Tracheal stenosis
Tracheal tumors
Diaphragm conditions
Paralyzed diaphragm
Diaphragm eventration
Chest wall disorders
Pectus deformities
Chest wall cancers or malignancies
Chest wall tumors
Chest wall defects requiring reconstruction
Rib fractures requiring rib plating
Pleural disease
Mesothelioma
Malignancy
Infection
Mediastinum conditions
Mediastinal tumors
Neurogenic tumors
Thymic cancers
Thymomas
Thymic cysts
Myasthenia gravis
Mediastinal cysts
Thoracic outlet syndromes
Neurogenic
Venous or arterial
Thoracic procedures and treatment options
Flexible bronchoscopy
Rigid bronchoscopy
Bronchial balloon dilation/stent
Esophageal balloon dilation/stent
EGD
Cervical mediastinoscopy
Thoracotomy
Pulmonary decortication
Lobectomy
Pneumonectomy
Video-assisted thoracoscopy surgery (VATS)
Video assisted thoracotomy
Robotic surgery
Minimally invasive surgery
Minimally invasive thymectomy
Minimally invasive esophagectomy
Thymectomy
VATS thymectomy
Rib resection
Endoscopic thoracic sympathectomy
VATS pleural biopsy
VATS pleural drainage
Pleurectomy
Extrapleural pneumonectomy (EPP)
Lung volume reduction surgery (LVRS)
Tracheal resection and reconstruction
PEG
Tracheostomy
Minimally invasive Nissen fundoplication
Minimally invasive esophageal myotomy
Esophageal repair
Minimally invasive PEH repair
VATS diaphragm plication repair
Esophageal diverticular repair/Resection
Minimally invasive pectus repair VATS (Nuss Bar and Ravitch)
What to expect
While our team approach is centered on the patient, we work closely with the patient's other physicians in a multidisciplinary fashion.
We collaborate with the referring physicians, as well as the other subspecialties to provide complete comprehensive care, from diagnosis to treatment, through recovery and beyond.
Our thoracic surgery team here in Temple is always focused on compassionate care and treating the patient like a family member. We also maintain a firm commitment to provide the highest level of care to our patients and to obtain the highest quality outcomes.
Our team provides limitless access to our physicians before and after surgery. This access allows for plentiful information for the patient about the disease process. It also allows for navigation though diagnosis, through surgery, and through post-hospital recovery.
We believe this grand team effort provides the means to ensuring high quality outcomes, such as faster recovery, less overall pain, decreased length of hospital stay, and fewer complications.
Our thoracic surgery team
All thoracic surgical patients are cared for from the preoperative visit through the hospitalization and the post-discharge follow-up by a dedicated staff who report directly to the surgical faculty and who are charged with keeping patients and their families completely informed of the patient's progress and long term follow up with their respective primary medical doctors. This dedicated thoracic surgery team in Temple includes:
Coordinators
Physician assistants
Nurse practitioners
Nurse navigators
Physician assistants
Nurses
Surgeons
Pulmonologists
Critical care intensivists
Radiologists
Anesthesiologists
Operating room team staff members
Social worker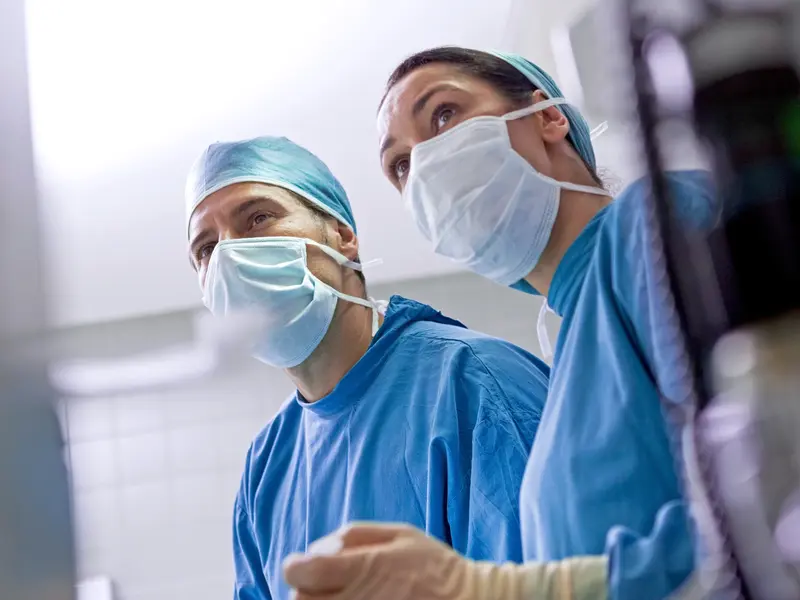 Why choose Baylor Scott & White - Temple
Baylor Scott & White – Temple is a 640-bed major teaching and referral center for critical surgical diseases. It has a long tradition of excellence not only from its physician faculty but also from the ancillary and nursing staff.
Thoracic surgery is a team endeavor with staff from several disciplines interacting to provide optimal care for the patient.
Our physicians collaborate across disciplines and have established open lines of communication between the surgeons, pulmonologists, anesthesiologists, intensivists, nurses, other ancillary staff and hospital administration such that they collectively form the surgical team.