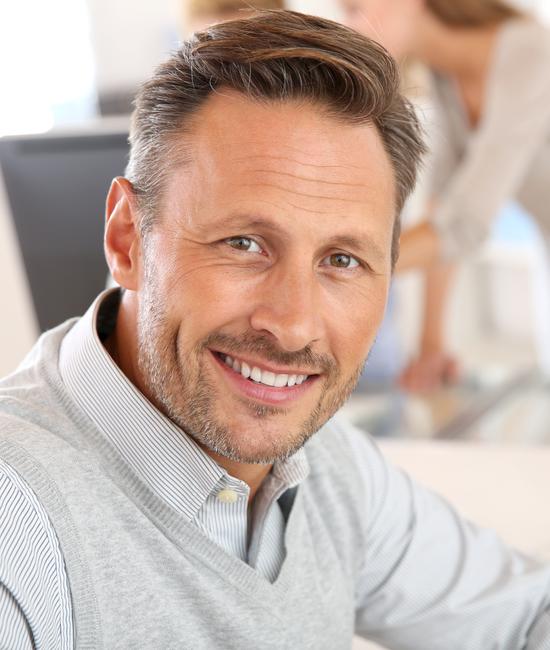 An alternative to traditional microsurgery vasectomy reversal
Fibrin glue vasectomy reversal®
Baylor Scott & White Medical Center – Temple uses fibrin glue during the reversal, which reduces operative time and the number of required sutures. Because the procedure requires less time in the operating room, it is considerably less expensive than traditional microsurgery.
This vasectomy reversal surgery is offered only at our Temple hospital.
Appointment scheduling options
Option #1: Come in for a consultation visit and schedule the vasectomy reversal surgery at a later date. The cost for the surgery will need to be paid at the time of check-in for the appointment. If the patient decides to schedule the surgery for later, the fee will be deducted from the amount of the surgery since it has already been paid.
Option #2: Select a surgery date and come in the afternoon before for the preoperative appointments.
There are three mandatory preoperative appointments that the patient will need to attend prior to the procedure.
Discussing the procedure and sign the consents
Business office to make the full payment
Anesthesia/day surgery assessment
Patients who are over 50 or have other health problems such as heart disease, lung disease, high blood pressure or diabetes will need to come with a note of clearance from their primary care provider.
Patients must be off aspirin, ibuprofen or any blood thinners 10 days before their vasectomy reversal procedure in Temple.

Sperm cryopreservation
If the patient wants to save sperm (cryopreservation), he will also need to meet with the Andrology department.
If sperm cryopreservation is desired, the patient must inform Baylor Scott & White prior to the procedure so it can be added to his schedule.
Additional fees apply.
How much does vasectomy reversal cost?

Insurance will not pay for vasectomy reversals performed to restore fertility. As a result, vasectomy reversals are considered elective surgeries and require prepaid arrangements similar to plastic surgery procedures.

Is there a money-back guarantee?

No. The current package price is similar to the expected residual after refund of the surgeon's fee in other package prices.

Why is the vasectomy reversal price at Baylor Scott & White so inexpensive?

Total operative time is a major determinant of cost. Our method reduces the total operative time while maintaining good results.
Payment
For all questions regarding payment, please contact the office at 254.724.6935 or 1.800.792.3710, extension 6935. This office handles all of the payments for the procedure.
Payment must be made in full before the procedure can be performed.
A cancellation fee will be billed to the patient if a scheduled procedure is canceled without rescheduling, canceled or rescheduled within 10 days of the scheduled procedure, or if a patient does not show for the scheduled preoperative appointments and/or procedure.
What to expect
During surgery
A typical vasectomy reversal will take 90 minutes. If a vasoepididymostomy (VE) is required, this will add an additional one or two hours.
With a standard vasectomy, six to 10 sutures are placed; however, we require only three to four. Fibrin glue is then added to seal the anastomosis.
Fibrin glue is an FDA-approved product for surgical hemostasis (stoppage of bleeding) called TISSEEL VH Fibrin Sealant. It has also been used for many years for a variety of procedures—plastics, pediatric, trauma, orthopedics and reconstruction. In more than 20 years of use, there have been no cases of hepatitis A, B or C or HIV caused by fibrin glue. Similar to other medical products and devices, allergic reactions are possible but are very rare.
Vasoepididymostomy (VE)
A standard vasectomy reversal is where the two ends of the vas deferens are microscopically sutured back together and sealed with fibrin glue.
Rarely, the fine drainage tubules of the epididymis (the top part of the testicle) can become blocked. If optimal results are desired, the patient may elect to undergo a vasoepididymostomy and "bypass" the blockage by making the connection higher up.
After surgery
Following the vasectomy reversal surgery, patients can expect:
More pain and swelling compared to a vasectomy
A plastic gauze will cover the scrotum and should be left on for at least three days. Blood staining on the gauze is normal and expected
An ice pack should be applied to the scrotum for the first 12 hours
Patients may shower after two to three days. Tub baths are not allowed until the incision has completely healed and hot tub baths are prohibited
Prescribed pain medication and antibiotics will be administered
Notify the urologist if there is increasing redness around the incision, progressive swelling, fever or other emergent concerns
Refrain from strenuous activity (running, jogging, biking, etc.) and any heavy lifting (anything over 30 pounds) for four weeks. The patient should also refrain from sexual activity for three weeks
Procedure success and follow-ups
Ultimately, the goal is for couples to experience a pregnancy through natural conception.
Patients remote from vasectomy (over 10 to 15 years) and spouses with advanced maternal age may require assisted reproductive technology that is not included in the package.
After the vasectomy reversal procedure is performed, patients are asked to provide a semen analysis every three months until a pregnancy is achieved. This analysis will allow the patient to see the results of the procedure
Fibrin Glue Vasectomy Reversal is a registered trademark. Unauthorized use is prohibited.