Interventional radiology provides minimally invasive treatment for complex conditions
Interventional radiology procedures require a collaboration of interventional radiologists on the medical staff, radiology nurses and radiologic technologists—all trained specialists in their fields.
Interventional radiologists on the medical staff at Baylor Scott & White Health use their expertise in interpreting X-rays, ultrasound, MRI, CT and other diagnostic imaging studies to understand, visualize, diagnose and treat the full scope of a disease. This allows the interventional radiologist to map out the procedure and tailor it to your individual needs.
Conditions treated
Baylor Scott & White Health offers patients of all ages a full range of interventional radiology treatments, including sophisticated diagnostic and therapeutic procedures for heart disease, cancers, uterine fibroids, deep vein thrombosis and more.
Venous ulcers and leg varices
Abdominal aortic aneurysm
Uterine fibroids
Bone, breast, kidney, liver and lung cancer
Pelvic congestion syndrome
Pleural effusions
Interventional radiology procedures
By using long, thin tubes called catheters inserted through small incisions and guided through the body with advanced imaging technology, interventional radiologists can deliver treatment without open surgery.
Balloon angioplasty
Embolization
Thrombolysis
Central venous access catheter (CVAC)
Endovenous laser treatment
Vertebroplasty
Kyphoplasty
Chemoembolization
Biliary drainage and stenting
Gastrostomy
Hemodialysis access maintenance
Radiofrequency vertebral augmentation and tumor ablation
TIPS (transjugular intrahepatic portosystemic shunt)
Fallopian tube catheterization
Uterine fibroid embolization
Varicocele embolization
Inferior vena cava (IVC) filter placement and retrieval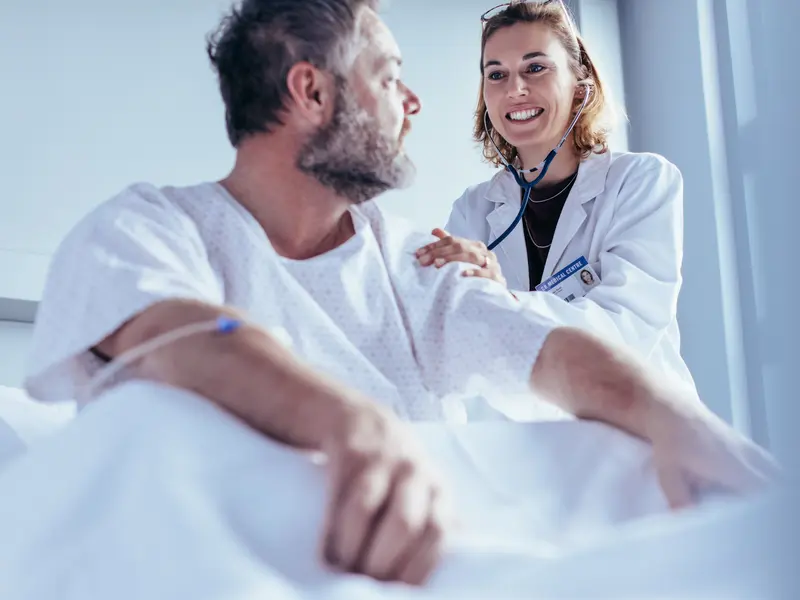 Less risk, better results
Interventional radiology treatments offer less risk, less pain and shorter recovery time, and often deliver the same or better results without surgical risks and long hospital stays.
IR technology is patient-friendly
Outpatient or brief hospital stays
Tiny incisions minimize scarring
Less pain and blood loss
Quick recovery time
Often less expensive than traditional surgery