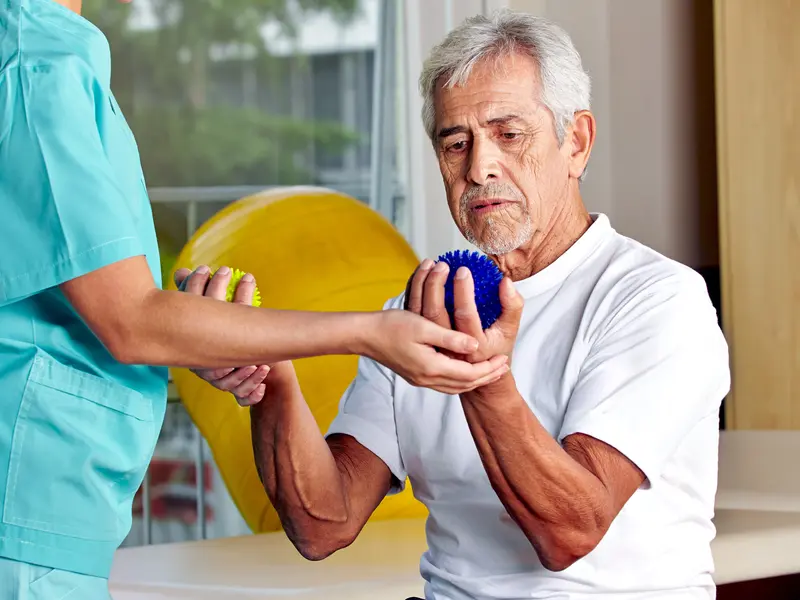 Occupational therapy helps you manage the challenges of everyday life
Occupational therapy services are designed to help you participate more fully in work, family and social settings; recover from injury or disability; develop or regain skills; and improve self-esteem and communication.
Occupational therapists work in a variety of settings with people of all ages. They may help people who have had strokes, brain injuries, spinal cord injuries or amputations. They also provide occupational therapy (OT) to children who have developmental disabilities, sensory impairments or emotional difficulties that interfere with the ability to participate fully in life.
Conditions treated by an occupational therapist
Our licensed occupational therapists use occupation-based, patient-centered treatments to develop, recover or maintain your activities of daily living and work-related skills.
Some of the diagnoses we work with:
ALS
Brachial plexus injuries
Cerebral palsy
Complex shoulder injuries
CRPS
Crush injuries
CVA
Essential tremors
Generalized UE weakness
Guillain-Barré
MS
Orthopedic injuries
Pain management
Parkinson's disease
Peripheral nerve injuries
Rheumatoid arthritis
Spinal cord injuries
Sports injuries
Stroke
TBI
Occupational therapy services and programs
To assist you in regaining skills and abilities for work and everyday living, some of the services that occupational therapy helps with include:
Neuromuscular retraining and re-education, including range-of-motion exercises, strengthening, balance, stretching and sensory re-education
Assessment of need for adaptive equipment
Assessment of need for equipment for home safety
Cognitive assessment and retraining
Training for self-care activities
Wheelchair assessment and fitting
Orthotic fitting
Training in post-op weight bearing and other precautions
Developing post-op home programs for patients, family members and caregivers
Hand therapy
Driving safety and assessment
Handwriting
What to expect
Occupational therapy begins with a patient intake process, which includes completing a health history and meeting with members of the occupational therapy team to discuss personal goals. Careful planning is necessary for this type of therapy, so patients can be referred to any other services needed to support them.
Occupational therapists teach people how to do everyday tasks. For example, they help patients who have lost vision or hearing learn how to cook safely and independently. Or, after a stroke or brain injury, patients might be guided through hand exercises to help them move their arm again.
In some cases, the patient will do the activity with the occupational therapist. In others, patients practice by themselves. Occupational therapists are creative, patient teachers who motivate their clients to reach goals that may seem impossible at first.

Driving after a brain injury
For Keith McWilliams, getting people back behind the wheel is kind of his thing.
Frequently asked questions
What is the difference between occupational therapy and physical therapy?

Occupational therapy helps patients participate in daily activities, or occupations, such as work and hobbies; whereas, physical therapists help patients gain or restore maximum mobility after injury or a serious medical condition.

What kinds of activities do occupational therapists help people with?

Occupational therapists work with their patients to discover what they are interested in doing and help them develop the skills to do the activity safely. For example, an occupational therapist might help a child learn to write and hold a pencil, offer tips for safe sitting and standing at home or work, or teach someone with arthritis exercises to reduce pain and improve strength.

Can occupational therapy help people who have had a stroke?

Yes. Stroke survivors may need occupational therapy to help them with everyday tasks like bathing, dressing and cooking in order to keep their independence. They might also use hand exercises to help with their fine motor skills, which can be weakened after a stroke.