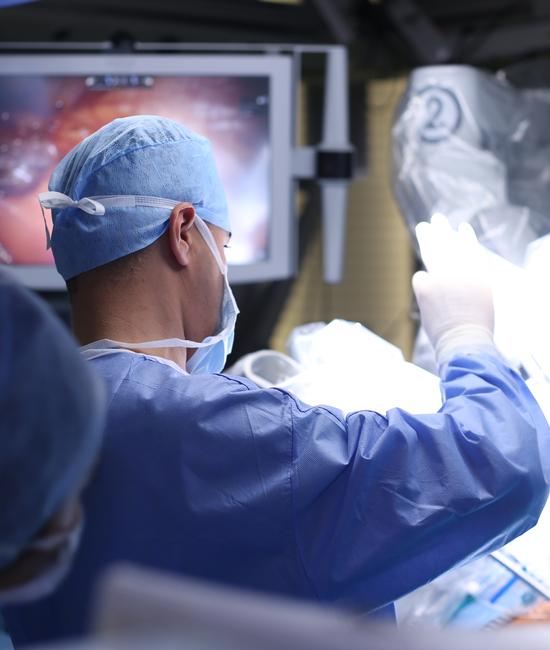 Effective and precise minimally invasive robotic surgery
Robotic surgery—also called robotic-assisted surgery—is a proven technique in which a surgeon performs minimally invasive surgery using a computer console to control very small instruments and a high-resolution camera attached to robotic arms.
Some benefits of robotic surgery may include shorter hospital stays, less pain and a lower risk for infection due to the less invasive nature of the procedure.
Several Baylor Scott & White Health Medical Centers offer robot-assisted surgery services, including da Vinci robotic surgery, a major breakthrough in minimally invasive surgical capabilities, that uses the da Vinci® Surgical System.
Conditions treated
Robot-assisted surgery is available as an alternative to traditional open and laparoscopic surgeries for many conditions.
Colon cancer
Rectal cancer
Diverticulitis of the intestine
Rectal prolapse

Adrenal gland tumors (benign)
Gallbladder disease
Gallstones
Hernia repair (hiatal and inguinal hernias)
Obesity

Endometriosis
Abnormal bleeding
Uterine conditions requiring a hysterectomy
Uterine fibroids (benign tumors)
Vaginal prolapse

Some kinds of lung cancer
Esophageal cancer
Esophageal diverticula (pouches)
Gastroesophageal reflux disease (GERD)
Achalasia (swallowing disorder)
Mediastinal cysts and tumors (in the middle of the chest area)
Myasthenia gravis (an autoimmune disorder)

Kidney recipient transplantation
Living liver donation
Living kidney donation
Living uterus donation

Prostate cancer
Kidney cancer
Urinary obstruction
Bladder cancer
Bladder diverticulum
Benefits of robotic surgery
Robot-assisted surgery gives your surgeon greater precision and control over the surgical instruments than is possible with human movement alone. Compared to open surgery, benefits of robotic surgery can include:
Less pain and blood loss
Less scarring, due to tiny surgical incisions
Shorter recovery time and hospital stay
Quicker return to your daily activities
Lower rate of surgical complications
More precise implant placement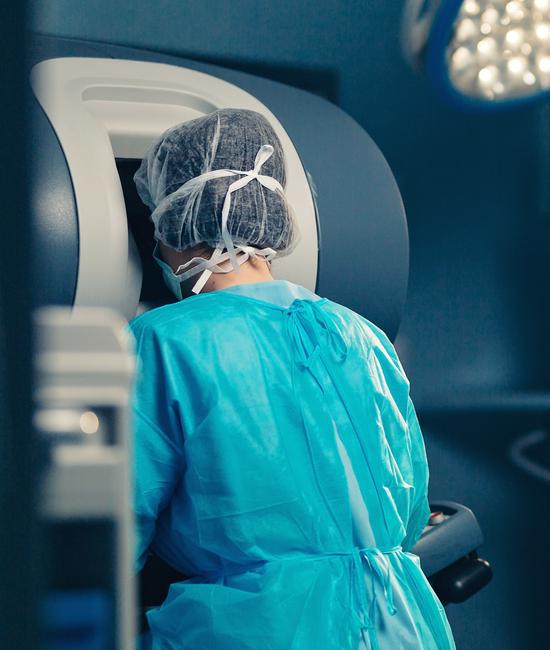 da Vinci surgical system for minimally invasive treatment of complex conditions
The da Vinci Surgical System is used for minimally invasive surgeries treating complex conditions, such as cardiac, thoracic, gynecological, urologic, and head and neck procedures.
The da Vinci system has four arms to hold a camera, two instruments, a 3D high-definition vision system and foot pedals.
During a da Vinci robotic surgery, the surgeon manipulates the arms and instruments with controls that can be adjusted by small degrees of precision. Each instrument contains a tiny camera that can bend and rotate, which enables the surgeon to view low-visibility areas.
Mako robotic-arm assisted surgery addresses partial and full joint replacements
Mako robotic-arm assisted orthopedic surgery is used for orthopedic surgeries that involve partial and full joint replacements.
The technology is used to cut away damaged bone and cartilage, and when needed, replacing joints with artificial components comprised of metal alloys, polymers, and high-grade plastics.
Before surgery a tomography (CT) scan is done to assist in planning how much bone should be removed. The scan also aids in maximizing the accuracy of the alignment and placement of the implant.
Mako robotic-arm assisted surgery provides tactile, visual and auditory feedback to assist the surgeon in achieving the desired orientation, resulting in enhanced stability and mobility.