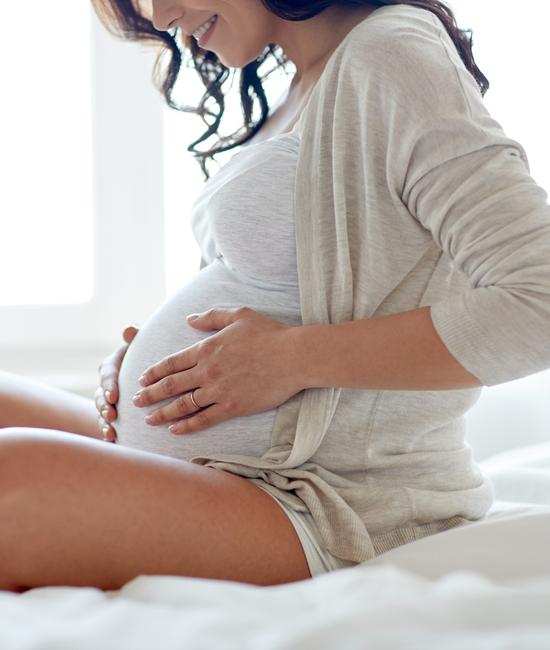 Our Lakeway maternity center offers a boutique birthing experience
Wherever you are in the pregnancy journey, the experienced childbirth specialists here in Lakeway are with you every step of the way. At Baylor Scott & White Medical Center – Lakeway, we want you to feel safe, comfortable and supported throughout pregnancy, delivery and beyond.
When the time comes, our local labor and delivery team is ready around the clock. Whether you are a first-time mom or a delivery room veteran, we are here to provide you with a childbirth experience as individual as the new baby on the way.
Our birthing suites
Take a tour
Six private labor and delivery rooms
Eighteen postpartum beds
Two surgical suites located within labor and delivery to accommodate caesarean (C-section) births
Secured unit for your safety and the safety of your newborn baby
Open visitation 24 hours a day when mom and baby are in labor and delivery
Plenty of room for birthing partner to stay with mother and baby in our large suites
Private bathroom with shower
Phone and cable TV
Wi-Fi access available throughout the hospital
Certified lactation consultants to assist with breastfeeding
Parent education classes and resources
​​​​​​​​​​​​​
Meet and greet with doctors
We offer opportunities to meet all of our doctors and tour our facility. To schedule a tour of the labor and delivery unit, please call 512.654.5200.
Childbirth classes
To help you prepare for this chapter in life, Baylor Scott & White Medical Center – Lakeway offers group classes in pregnancy and childbirth.
Topics include information on:
Breastfeeding
Car seat safety
Newborn care
Safe baby academy
Learn about car seat safety, infant CPR, home safety, water safety and safe sleep practices at this free event presented by Baylor Scott & White Health and the Austin-Travis county EMS.
Childbirth frequently asked questions
When do I come to the hospital?

Always check with your doctor regarding when you should come to the hospital.

Where do I go when I come to the hospital?

Always call your doctor prior to coming to the hospital. There is reserved parking on the ground floor of the parking garage for expectant parents.

Upon arrival at Baylor Scott & White – Lakeway, please stop at the Emergency Room Registrar. Once you have checked in, you will be escorted to Labor and Delivery.

What are the visiting hours?

Due to the nature of labor and delivery, visitation is allowed on an individual basis. Children of the family may visit; please be sure children are supervised at all times.

You may want to pack two small bags for the hospital. The first hospital bag will contain things needed during labor and delivery, and the second hospital bag should include things you'll need after childbirth. These hospital bags should be packed approximately four weeks prior to your due date. A hospital bag checklist of items includes:

Photo ID, insurance card and hospital paperwork
A birth plan
Eyeglasses
A bathrobe, slippers, socks and a nightgown
Personal toiletries
Comfortable nursing bras
Baby book
Snacks and change for vending machines
A camera/video camera, batteries/charger, extra memory card, computer
A notepad/journal and pen/pencil
A going-home outfit for mom and baby
A receiving blanket
An approved, installed car seat (visit Safe Riders for ratings)
Supporting your every moment
Our experienced care team is here to help you prepare for your big moment — and every little moment along the way. Get the answers you need for a safe pregnancy and delivery.
Helping you prepare every step of the way at our labor and delivery hospitals
If you find yourself asking, "what is the best labor and delivery hospital near me?" our experienced care teams are here to help you prepare for your big moment—and every little moment along the way, including all the stages of labor. Tell us a little about where you are in your journey and get the answers you need for a safe pregnancy, labor and delivery near you.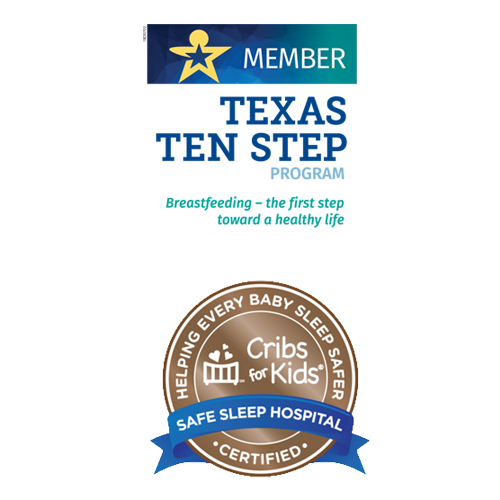 Accolades
Texas Ten Step Designation
Baylor Scott & White Medical Center – Lakeway has received Texas Ten Step Program facility designation from the Texas Department of State Health Services for improving the health of newborns and infants. The Texas Ten Step Program encourages breastfeeding as the preferred method of feeding for newborns and infants, and designated facilities provide information and tools to support new mothers and their decision to breastfeed.
The Cribs for Kids® National Safe Sleep Hospital Certification
Recognition given to hospitals that demonstrate a commitment to reducing infant Sleep-Related Deaths by promoting best safe sleep practices and by educating on infant sleep safety. By becoming certified, a hospital is demonstrating that it is committed to being a community leader and is proactively eliminating as many sleep-related deaths as possible.