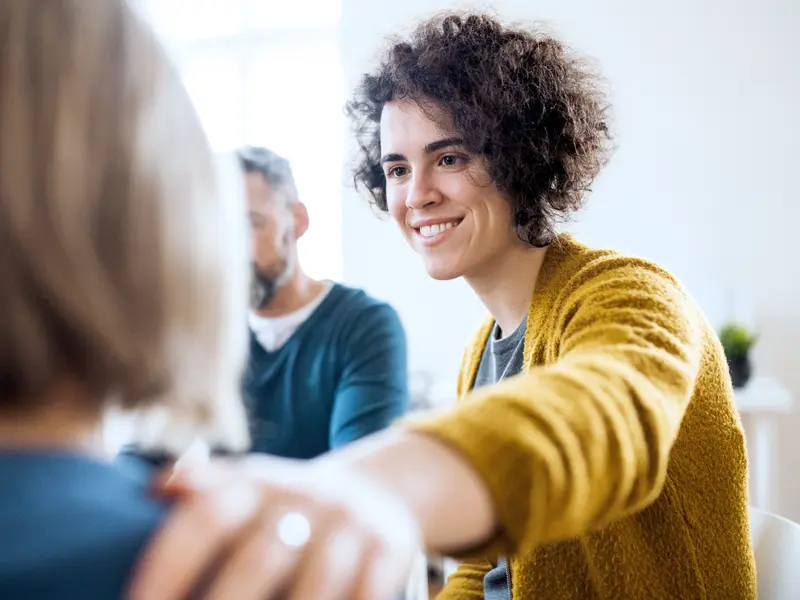 For patients, families and caregivers, cancer education and support are an important part of the cancer treatment process.
Baylor Scott & White Charles A. Sammons Cancer Center – Dallas offers several programs through the Patient Resource Center to help you and your loved ones understand and manage the physical, emotional and spiritual challenges of cancer.
The Patient Resource Center staff includes a program manager, chaplains, genetic counselors, art therapist, music therapist and practitioner and trained cancer survivor volunteers. Read below to learn more about cancer education and cancer support programs in Dallas offered at Baylor University Medical Center, part of Baylor Scott & White Health.
Cancer education and support programs
​​​​​​​​​​​​​
Learn more about cancer education and cancer support programs in Dallas.
Arts in Medicine
This program incorporates arts and music as therapeutic tools. Music and art therapy are evidence-based healthcare professions. Services are available at the bedside or in individual or group settings. We also provide music practitioners who play at the bedside enhancing the healing process. All services in Arts in Medicine are offered a no cost. For more information, call 214.820.2609.
Cancer boutique
Ernie's Appearance Center
Ernie's is a specialty boutique located in the Baylor Scott & White Charles A. Sammons Cancer Center – Dallas, Ste 280. The center features compression garments as well as a collection of beautiful and unique clothing and gifts.
FitSTEPS for LIfe
FitSTEPS for Life is an exercise program developed to tailor exercise to patient's specific diagnosis and physical capabilities. The program was initially designed for cancer patients.
FitSTEPS for Life operates in multiple locations in the Dallas-Fort Worth area including the Baylor University Medical Center. The program permits patients to benefit from a gym-like experience for free. A family member or friend is also allowed to join the exercise program at no cost.
In every location, exercise specialists help patients establish an exercise program according to individual goals. After an initial visit, FitSTEPS has an open gym policy and participants may continue utilizing the facilities for the lifetime of the patient. The goal is to establish and maintain a healthy and active lifestyle during and following cancer treatment.
Ask your oncologist for a referral to join FitSTEPS for Life and fax to: 1.877.931.7975. Once your referral is received, you will be contacted by phone to schedule your first visit.
Healthy cooking
Healthy cooking demonstrations offer cancer support by providing tips on topics such as Summer Sweets, Gluten-Free Favorites, Vegetarian 101 and Diabetic Delight.
Cooking during cancer treatment