The ENT specialists here provide ear, nose and throat care for allergies, sinus disease, nasal obstruction and hearing loss. Matthew Branch, MD, at Baylor Scott & White ENT Specialists – Waxahachie specializes in treating ear, nose and throat (ENT) conditions in a comprehensive caring environment. Dr. Branch is currently accepting new patients and provides the quality care you would expect from a leading name in healthcare.
Insurances accepted
Baylor Scott & White has established agreements with several types of insurance to ensure your health needs are covered.
Insurance listings are subject to change without prior notice. Please call the hospital or health plan to verify coverage information before scheduling your visit/procedure.
Aetna Signature Administrators

Health Network Option

Aetna Medicare Eagle II (PPO)

Group Retiree Medicare PPO - Limited to Exxon/Mobil

Aetna Medicare Eagle Plan (PPO)

Aetna Medicare Value Plan (HMO)

Aetna Medicare Prime Plan (HMO)

Aetna Medicare Freedom Preferred Plan (PPO)

Open Access Managed Choice

Open Access Elect Choice

STAR

Choice POS II

Aetna Medicare Choice II Plan (PPO)

Aetna Medicare Choice Plan (PPO)

Open Access Select

CHIP

HMO

Managed Choice

Blue Cross Blue Shield - (15)

Blue Essentials

Blue Premier

ParPlan

Blue Advantage Plus - Bronze

Blue Advantage - Silver

Blue Advantage - Gold

Blue Advantage - Bronze

TRS-Care Standard

TRS-ActiveCare Primary HD

Blue Advantage Plus - Silver

Blue Advantage Plus - Gold

Blue Cross Group Medicare Advantage (PPO)

Blue Cross Medicare Advantage (HMO)

Blue Choice

Blue Essentials Access

LocalPlus

Open Access Plus

BSW Extended PPO

Open Access Plus In-Network

Open Access

LocalPlus In-Network

Cigna HealthSpring

American Airlines Employee Benefit Plan

ACCEL Network

Preferred Network

ChoiceCare

Humana Preferred

National POS

Humana Gold Choice (PFFS)

HumanaChoice (Regional PPO)

Humana USAA Honor with Rx (PPO)

Humana Gold Plus (HMO)

PPO

HumanaChoice (PPO)

Humana Honor (PPO)

Nebraska Furniture Mart - (2)

Parkland Community Health Plan - (1)

Superior Health Plan - (1)

Superior HealthPlan - (1)

Choice Plus

UnitedHealthcare Medicare Advantage Choice (Regional PPO)

AARP Medicare Advantage SecureHorizons Plan 1 (HMO-POS)

AARP Medicare Advantage Patriot (HMO-POS)

Select Plus

Nexus ACO - Referral Required

Core Essential

Choice

Charter Plus
We're sorry!
We couldn't find any results for ""
Ear, nose and throat services
The ear, nose and throat doctors here in Waxahachie provide expertise and ENT treatment options conveniently located near you.
Baylor Scott & White ENT Specialists – Waxahachie is pleased to introduce balloon sinuplasty, the newest procedure offered by Dr. Matthew Branch. Balloon Sinuplasty is a safe and effective alternative to traditional surgery that offers relief for patients suffering from chronic sinusitis. Oftentimes, over-the-counter medications and antibiotics are unsuccessful at completely relieving chronic sinusitis symptoms. Using catheter-based instruments, Balloon Sinuplasty opens blocked sinus cavities to flush out unwanted fluid causing pressure and pain.
Areas of expertise the Waxahachie ENT specialists here provide include, but are not limited to:
Sinus disease and surgery
Thyroid and parathyroid surgery
Endocrine surgery
Nasal obstruction and surgery
Tonsillitis and surgery
Oral cavity cancers
Sinonasal and sleep disorders
Perforated and infected ears
Ear lobe repair
Allergy testing
Allergy treatment
Audiometric diagnostic testing—all Ages
Hearing loss
Hearing aids and assistive listening devices
Custom ear molds
Custom swim molds
Balloon sinuplasty
Mobile makes it easy
Just like we make it easy to get care when your child is sick or injured, our top-rated app, MyBSWHealth, can simplify keeping them healthy. The app lets you book appointments, message your pediatrician, view your child's medical records and schedule virtual same-day care from your computer, smartphone or tablet.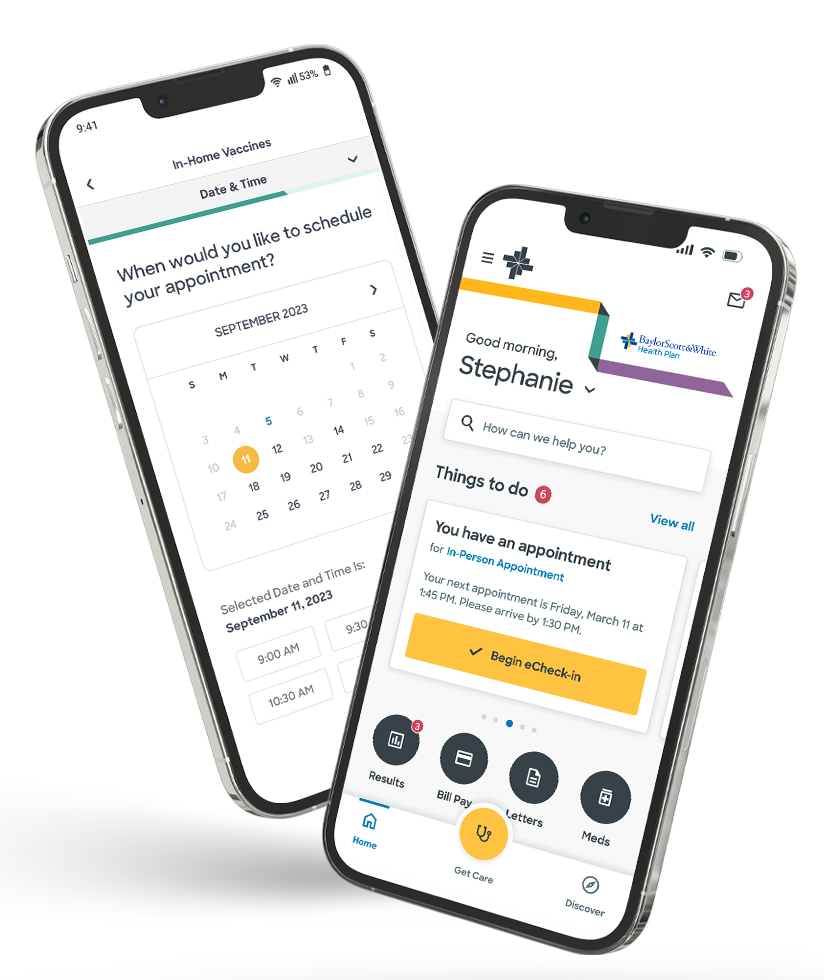 Patient forms
To ensure that your visit to our office is as convenient and efficient as possible, we are pleased to offer our registration forms online. The patient registration form may be completed electronically and printed for better legibility or completed manually.