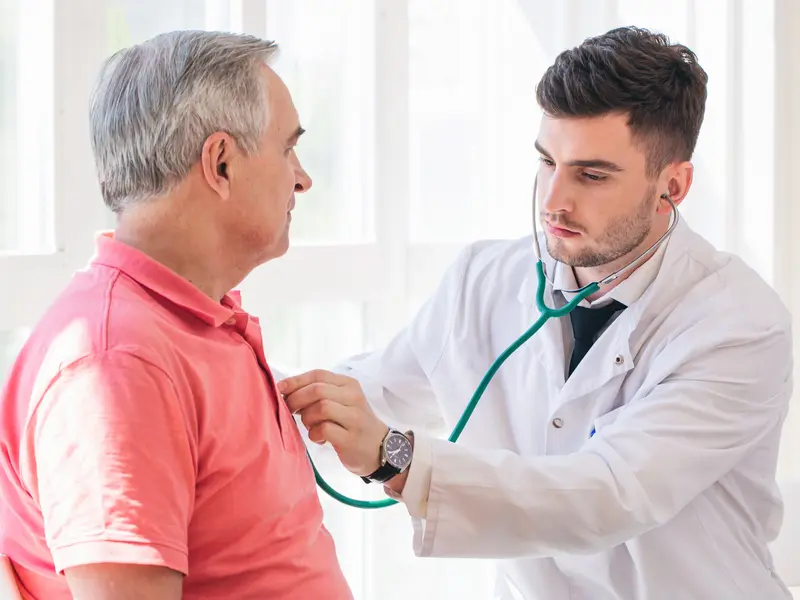 Coronary artery disease is the leading cause of death of Central Texans
Committed to offering comprehensive heart and vascular care to area residents, Baylor Scott & White Medical Center – Hillcrest is growing its investment in keeping hearts healthy in the region.
Experienced and respected cardiologists, cardiovascular surgeons and interventional cardiologists on the medical staff lead our Waco hospital's heart and vascular team. They use the expertise they have gained from treating thousands of heart patients coupled with:
Advanced diagnostic testing
Onsite congestive heart failure clinic
Cardiopulmonary rehabilitation to enhance recovery
Innovative digital imaging technology
A wide variety of heart treatment options
Heart and vascular conditions treated
Abdominal aortic aneurysm (AAA)
An abdominal aortic aneurysm occurs when the large blood vessel (aorta) that supplies blood to the abdomen, pelvis and legs becomes abnormally large or balloons outward. The rupture of an abdominal aortic aneurysm is a medical emergency. Call 9-1-1 and seek immediate medical attention if you have extreme pain in your belly or back that does not go away.
Arrhythmia
An arrhythmia, also called a dysrhythmia, is an abnormal heartbeat. An arrhythmia occurs when the electrical system that regulates a steady heartbeat becomes impaired, causing the heart to beat too fast, too slow or irregularly.
Learn more about arrhythmia
Arteriosclerosis
Commonly called hardening of the arteries, arteriosclerosis is a heart condition that includes a variety of conditions that cause artery walls to thicken and lose elasticity.
Congestive heart failure (CHF)
Congestive heart failure (CHF) results when blood flow out of the heart slows, causing blood returning to the heart through the veins to back up and create congestion in the body's tissues. Baylor Scott & White – Hillcrest offers a Congestive Heart Failure Clinic, bringing together the expertise of heart physicians required to successfully manage this heart condition.
Learn more about congestive heart failure
Heart attack (myocardial infarction)
A heart attack, or myocardial infarction, occurs when the heart muscle experiences a severe or prolonged lack of oxygen caused by blocked blood flow. Cardiologists on the medical staff use a wide variety of approaches to treat a heart attack, including medication, minimally invasive and traditional surgery approaches, and lifestyle changes.
Learn more about heart attacks
Hypertrophic cardiomyopathy (HCM)
Hypertrophic cardiomyopathy occurs when heart muscle cells enlarge and cause the walls of the ventricles (usually the left ventricle) to thicken. The ventricle size often remains normal, but the thickening may block blood flow out of the ventricle. Cardiologists on the medical staff use lifestyle changes, medications and surgery to address this heart condition.
Peripheral artery disease (PAD)
Vascular surgeons on the medical staff of Baylor Scott & White – Hillcrest successfully diagnose and treat hundreds of heart patients annually for a variety of PAD—atherosclerosis of the peripheral arteries. They use the latest digital imaging technology, minimally invasive surgical techniques and pharmacological approaches to treat PAD.
Transient ischemic attack (TIA)
The American Stroke Association defines transient ischemic attack (TIAs) as temporary blockage of blood flow to the brain. A TIA should not be ignored, as it may be the precursor to a major stroke. Baylor Scott & White – Hillcrest's Emergency Center houses the stroke center, which has been awarded the Joint Commission's Stroke Gold Plus Award in recognition of having all necessary elements to provide top-tier care for stroke patients, including evaluation and treatment of TIAs
Heart and vascular services in Waco
Non-invasive cardiology
Preventive and therapeutic adult cardiovascular medicine
Management of coronary artery disease, congestive heart failure, cardiomyopathies, cardiac vascular disease and cardiac devices
Exercise and pharmacologic stress testing, including nuclear and echocardiographic testing
Echocardiogram and EKG interpretation
Invasive cardiology
Diagnostic cardiac catheterization
Transesophageal echocardiogram
Elective cardioversions
PA catheter placement
Pacemakers, including temporary, single/dual-chamber and generator changes
Implantable loop recorders
Interventional cardiology
Angioplasty
Stenting
Atherectomy
Lower extremity angiography
Percutaneous revascularization
Your heart. Your team.
From precise diagnostics to minimally invasive interventional procedures and complex cardiovascular and thoracic surgeries, Baylor Scott & White – Hillcrest is the destination of choice for Waco-area residents seeking advanced heart care for a variety of conditions.
Jonathan Balagna, MD
Cardiovascular Disease
120 Hillcrest Medical Blvd, Ste 305
Waco, TX 76712
254.297.0480
Ebere Chukwu, MD
Cardiovascular Disease
120 Hillcrest Medical Blvd, Ste 103
Waco, TX 76712
254.202.9950
Phuong Tram Le, MD
Cardiovascular Disease
120 Hillcrest Medical Blvd, Ste 305
Waco, TX 76712
254.297.0480
Christopher McCoy, MD
Interventional Cardiology
120 Hillcrest Medical Blvd, Ste 305
Waco, TX 76712
254.297.0480
Matt Rogers, MD
Interventional Cardiology
120 Hillcrest Medical Blvd, Ste 305
Waco, TX 76712
254.297.0480