Baylor Scott & White Medical Center – Buda is proud to be the first full-service hospital in the City of Buda. The medical center offers 24/7 emergency services, imaging and radiology, and surgical services. The medical center also contains a multi-specialty and primary care clinic. From allergies, cold and flu symptoms to headaches and broken bones and other orthopedic issues, we're here to help Buda and surrounding communities, as well as South Austin get back on the road to recovery. As the communities we serve grow, so will we to ensure that you and your family get better close to home. Conveniently located off I-35 on Overpass Road across from Cabela's Drive in Buda. Financial counselors are available and we accept most insurance. We can't wait to meet you!
Baylor Scott & White Clinic – Buda Medical Center has received Pathway to Excellence® designation from the American Nurses Credentialing Center (ANCC). The Pathway designation is a global credential that highlights commitment to creating a healthy work environment where nurses feel empowered and valued. Nurses at these facilities are an integral part of the healthcare team, with a voice in policy and practice. Pathway nurses are engaged, resulting in higher job satisfaction, reduced turnover, improved safety, and better patient outcomes.
More about us
---
Enhanced visitor precautions

Learn more about our COVID-19 safety precautions.

Regular visiting hours are 10:00 AM - 8:00 PM. Visiting hours may vary in certain units. Please check with the nurse in charge.
Medical services
​​​​​​​​​​​​​Baylor Scott & White Health offers expertise and treatment options conveniently located near you.
Insurances accepted
Baylor Scott & White has established agreements with several types of insurance to ensure your health needs are covered.
Insurance listings are subject to change without prior notice. Please call the hospital or health plan to verify coverage information before scheduling your visit/procedure.
Aetna Signature Administrators

Blue Cross Blue Shield - (4)

Blue Essentials

Blue Premier

ParPlan

STAR Kids

Open Access Plus

LocalPlus

American Airlines Employee Benefit Plan

Galaxy Health Network - (1)

ACCEL Network

Preferred Network

ChoiceCare

Humana Preferred

National POS

Independent Medical Systems - (1)

Midland Memorial Hospital - (1)

Superior Health Plan - (1)

Superior HealthPlan - (4)

CHIP Perinate

Foster Care

STAR

STAR+PLUS

Three Rivers Network - (1)
We're sorry!
We couldn't find any results for ""
Mobile makes it easy
Just like we make it easy to get care when your child is sick or injured, our top-rated app, MyBSWHealth, can simplify keeping them healthy. The app lets you book appointments, message your pediatrician, view your child's medical records and schedule virtual same-day care from your computer, smartphone or tablet.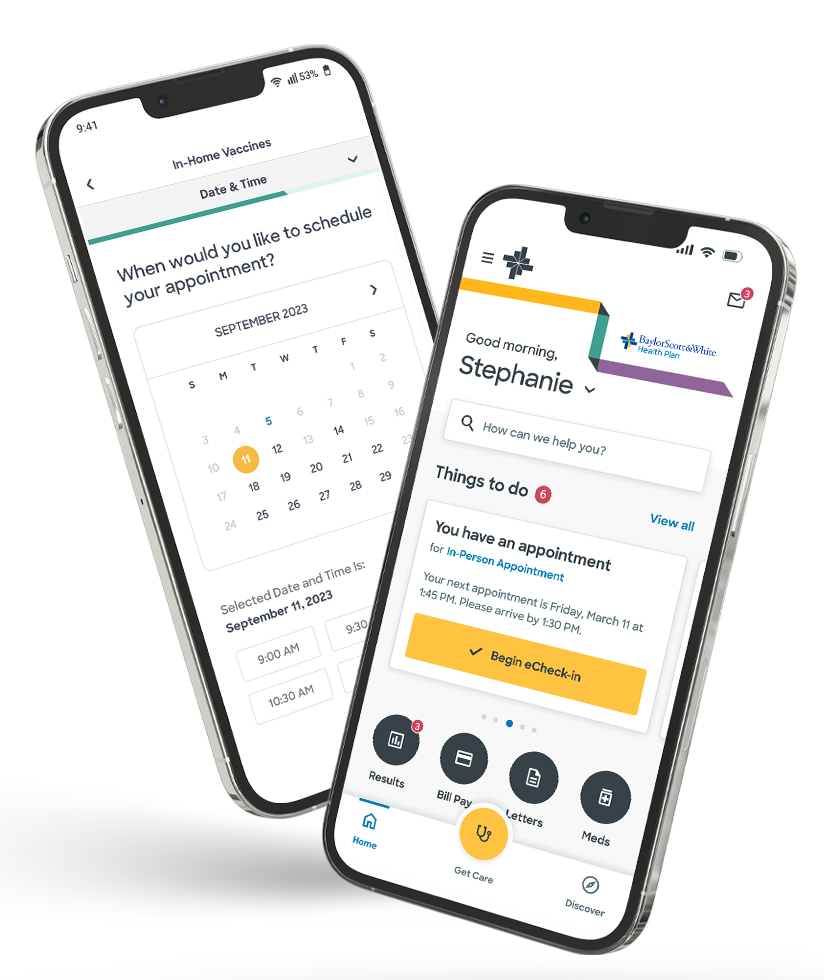 More helpful information
​​​​​​​​​​​​​Here's more information to help with your visit to our campus.
Community involvement
We are proud to be a part of Baylor Scott & White Health, a system invested in improving community health by addressing identified community health needs.
We invite you to read our hospitals' reports on community benefit to find out more about our financial stewardship and how we fulfill community needs as part of this exceptional network of hospitals.
View our community benefit report
Concierge and information desk
Visitor information/concierge desks are located in the main entrance of the medical center, where staff can assist you with general information, wayfinding and local eateries/hotel listings.
Dining options
Café
Monday-Friday, 7:00 AM - 1:30 PM
Located on the first floor, the café offers a wide variety of hot and cold meals, snacks and drinks
Self-service checkout is available 24/7
Accepts cash and/or credit cards
Estimate your cost of care
Baylor Scott & White Health is an advocate for greater healthcare pricing transparency and patient affordability.
We provide a self-service price estimation tool to help you obtain accurate out-of-pocket expense estimates, along with other helpful resources to help you make more informed financial choices about your care.
Estimate your cost of care
Medical records
You can request copies of your medical records by completing an Authorization for Release of Information form and returning to the facility at which you received care.
Request your records
Recognize an employee
Because our staff cares so deeply for those we help, there are those who often go beyond the call to provide great care.
Nominate an employee
Spiritual care
Chaplains are available in the hospital for patients and visitors.
Patients and visitors also are welcome to visit the chapel located on the first floor of the medical center.
Visitor lounges
There are designated lounges for visitors in the main lobby and on the second floor outside of the operating room. Specific areas have been designated for guests in other areas.
If you are in a large group, we ask for your consideration of other patients' families when seating is limited.
Wireless laptops can be used in most areas by connecting to our visitor wireless network. Charging stations and outlets are also available in select areas.
The use of wireless communication devices, such as cell phones, notebooks and laptops, can interfere with medical equipment and is restricted in all patient care areas. Please restrict your use of these devices to visitor lounges and non-patient care areas.
Volunteer with us
We rely on our generous volunteers to provide several special services.
Every volunteer enhances the patient experience in some way by supporting our culture of customer service. Join the ranks of our volunteers to get involved and make a difference.
Become a volunteer