Personalized care for metabolic and weight loss problems
Baylor Scott & White Center for Medical & Surgical Weight Loss Management provides a multi-disciplinary approach to achieving quality results for patients suffering from weight issues and metabolic diseases such as type 2 diabetes, hypertension and high cholesterol.
Founding medical director, bariatric surgeon Dan Davis, DO, along with Christina Ulbrich, DO, Sully Drotar, DO and their team of advanced practice providers and registered dietitians, are pleased to offer patients highly specialized evaluations, advanced treatment options and procedures to help patients achieve quality weight loss results.
Watch welcome video message from Dr. Davis
Insurances accepted
Baylor Scott & White has established agreements with several types of insurance to ensure your health needs are covered.
Insurance listings are subject to change without prior notice. Please call the hospital or health plan to verify coverage information before scheduling your visit/procedure.
Aetna Signature Administrators

Medicare Advantage Plans

Blue Cross Blue Shield - (9)

Blue Essentials

Blue Premier

ParPlan

Blue Advantage HMO

Blue Choice PPO

Blue Premier Open Access HMO

Medicare Advantage - Oncor

Traditional

Indemnity

LocalPlus

Open Access Plus

Children's Medical Center Employee Plan

City of Dallas Employee Plan

American Airlines Employee Benefit Plan

ACCEL Network

Preferred Network

ChoiceCare

Humana Preferred

National POS

Commercial PPO Plans

Superior Health Plan - (1)

Superior HealthPlan - (3)

STAR+PLUS

Medicare/Medicaid Dual Needs Plan: Advantage HMO SNP

Medicare/Medicaid Plan

DART ACO Flex

DART ACO Flex Plus

Parkland Community Health Plan - (2)

CHIP Medicaid

HealthFirst Medicaid

Scott & White Health Plan - (16)

HMO Network - Individual/Family

EPO Network - Individual/Family

2019 BSWH Employee Network - PPO & HSA

2019 BSWH Employee Network - SEQA & EQA

SeniorCare Advantage HMO

SeniorCare Advantage PPO

HMO Network - Group

TRS - Active Care Participants Network

PPO Network - Group

PPO Choice Network

PPO Choice Preferred Network

Cigna PPO Network - Out-of-Area Member Plan

Texas Statewide PPO

PHCS/ARGUS - PPO Network - Out-of-Area Member Plan

EPO Network - Group

McLane Group Network

University Mary Hardin-Baylor - (1)
We're sorry!
We couldn't find any results for ""
Medical and support services
​​​​​​​​​​​​​
Surgery is a tool for weight loss, not a quick fix. A personalized plan of care will be developed to meet your weight loss and long-term maintenance needs.
Bariatric weight loss surgery
Weight loss surgeons on the medical staff of Baylor University Medical Center, part of Baylor Scott & White Health, have performed more than 8,000 weight loss procedures since the program began in 2001. A majority of the procedures are performed robotically or using a minimally invasive approach, often on an outpatient basis. Most patients go home within 24 hours, which reduces time off from work, lessens the risk of infection and promotes a speedy recovery.
The types of weight loss surgery we offer include:
Adjustable gastric band removal
Duodenal switch
Gastric sleeve
Gastric bypass
For most patients, the most significant weight loss is experienced during the first six to 12 months. Of course, individual results may vary. With substantial weight loss, medical complications associated with obesity, including diabetes and hypertension (high blood pressure) significantly improve or resolve completely.
Metabolic surgery
We offer metabolic surgery for those struggling with Type 2 diabetes, high blood pressure, high cholesterol and sleep apnea. The American Diabetes Association has adopted metabolic surgery as the new standard of care for patients with Type 2 diabetes who are overweight.
Metabolic surgery is similar to traditional bariatric surgery, but unlike bariatric surgery, this type of surgery focuses on affecting the underlying metabolic disease in addition to weight loss.
Metabolic surgery is appropriate for patients with BMI of 30 or higher.
Watch video: Surgery for Type 2 diabetes
Revisional surgery
Revisional surgery is an option for patients who have already undergone a weight loss procedure and may need another one to repair complications from the first procedure or for patients who have gained weight or not lost sufficient weight. Most revisional procedures at Baylor University Medical Center are performed using minimally invasive laparoscopic methods.
You may be a candidate for revisional surgery if:
You have not lost enough weight after your first surgery
You regain enough weight that medical problems such as diabetes or gastric reflux have returned
You regain weight to a point where you no longer have lost 50 percent of your original excess weight
Your BMI is 40 or above
Watch video: Is revision surgery right for you?
Nutrition counseling
A registered dietitian who specializes in bariatric nutrition works one-on-one with weight loss surgery patients during this time. Because weight loss surgery changes the digestive process, nutritional counseling is essential to learning new techniques for eating.
The dietitian provides education and tools about food intolerances and avoiding nutritional deficiencies. The techniques you learn from the Baylor University Medical Center dietitian and nutrition classes are lifestyle changes that assist you the rest of your life. Whether you're dining out or cooking at home, if you become discouraged or need clarification, the dietitian is available to create or modify your individual eating plan.
Upon approval for the surgery, you will attend a nutrition class that focuses on post-surgery nutritional guidelines. Additional classes are available at six weeks, six months and one year after surgery. You may attend classes as often as desired and one-on-one nutritional counseling is available.
Nutrition and Weight Management Center
The medical weight management program is a comprehensive, multidisciplinary program with a lifestyle change focus.
The program provides:
Group and individual lifestyle support
Registered dietitian visit
Comprehensive physician consultations
Behavioral health specialist available for consultation
A 12-week program where participants learn how to eat healthy, plan meals, work on being active, manage stress and stay motivated
Other referral criteria include:
BMI 30 or greater
BMI 27 or greater and one or more of the following:

Elevated waist circumference

Males: Greater than 40 inches
Non-pregnant females: Greater than 35 inches

Medical co-morbidities associated with obesity (i.e., diabetes, prediabetes hypertension, coronary artery disease)
Education and support groups
Baylor University Medical Center Weight Loss Surgery Program is pleased to provide patients, family and friends with educational and support tools to help you maintain a healthy lifestyle.
Support groups offer continued education through distinguished speakers and other post-surgery patients. The groups build a community for mentoring, additional support and accountability.
Support group educational and fun events are coordinated by a licensed therapist. These groups can help you learn what to expect before, during and after your surgery. Baylor University Medical Center offers in-depth educational workshops on such topics as body image, weight maintenance skills and relapse prevention. Specific groups for men, singles, couples and families are offered.
Fun and interesting events planned on a semi-annual basis may include fashion shows, cooking demonstrations, food shopping tips, a field trip and holiday celebrations. For your convenience, evening support groups are held at several locations in the Dallas area. You may attend these support groups as often as you'd like at no charge.
Escape Diabetes
Mobile makes it easy
Just like we make it easy to get care when your child is sick or injured, our top-rated app, MyBSWHealth, can simplify keeping them healthy. The app lets you book appointments, message your pediatrician, view your child's medical records and schedule virtual same-day care from your computer, smartphone or tablet.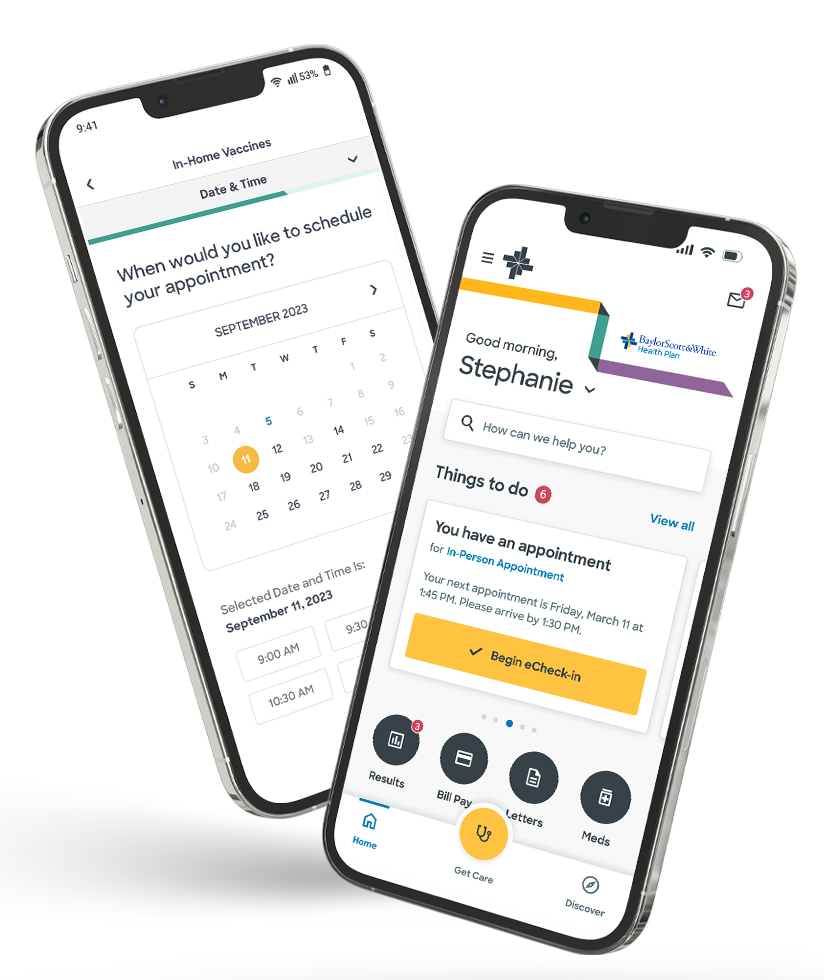 Patient forms
To ensure that your visit to our office is as convenient and efficient as possible, we are pleased to offer our registration forms online. The patient registration form may be completed electronically and printed for better legibility or completed manually.