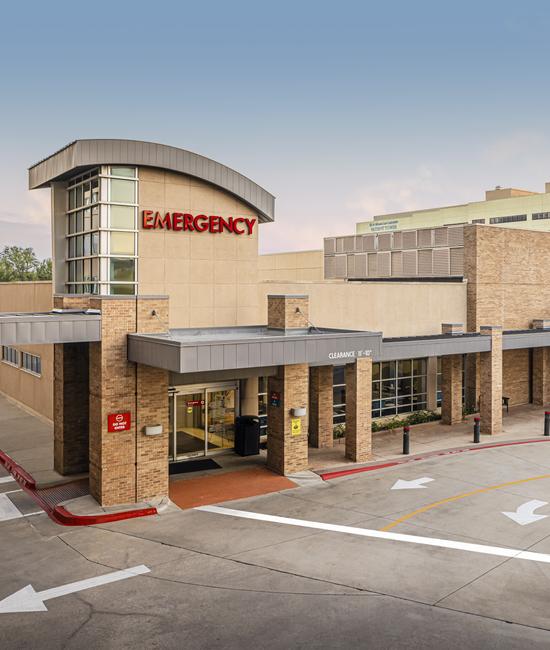 We're here when you need us for emergency care in Grapevine
By definition, emergencies take you by surprise. But when they do, our Grapevine ER is ready 24 hours a day, seven days a week. From minor injuries to life-threatening conditions, you can trust Baylor Scott & White Medical Center – Grapevine to provide the emergency care you need.
The highly skilled team in the Grapevine Emergency Department (ED) diagnoses and treats patients quickly. The emergency care facility includes large patient rooms, streamlined processes and advanced imaging equipment.
To provide quality care during an emergency it takes a responsive and dedicated team of board-certified emergency medicine physicians and registered nurses trained in trauma and critical care.
Grapevine emergency care services
We offer emergency care in Grapevine at full-service hospital located right off 114 (John Carpenter).
All of our emergency care services are available 24 hours a day, seven days a week. These are some conditions we treat:
Abdominal pain
Bleeding that won't stop
Chest pain
Extensive or complicated cut or laceration
Fainting or head injury with loss of consciousness or disorientation
Fever in infants younger than 3 weeks
Loss or change of vision
Major fracture that breaks the skin
Procedures requiring CT scan or sedation
Seizure
Serious burn
Snake bite
Spinal injury
Sudden change in mental status
Sudden shortness of breath/difficult breathing
Vaginal bleeding
Vomiting or coughing up blood

Why choose us for emergency care?
Digital imaging suite, including a 64-slice CT scanner in the ED with advanced capabilities for CT angiograms to help diagnose stroke and a state of the art 3T MRI available for emergent needs.
Certified as a Primary Stroke Center by The Joint Commission, including national recognition by the American Heart Association for performance metrics in the top 4% nationally achieving 'Get With the Guidelines' Target Stroke Honor Roll Elite Plus. This certification demonstrates that our stroke program follows national standards and guidelines proven to significantly improve outcomes for stroke patients.
Certified as a Chest Pain Center by The Joint Commission for achieving national quality standards proven to significantly improve outcomes for cardiac patients.
Designated Level II Trauma Center
Trauma care from a Level II Trauma Center
In the event of a serious injury, having quality, capable medical care nearby to Grapevine, Southlake and Colleyville can make all the difference. To enhance the availability of trauma care close to home, Baylor Scott & White – Grapevine has been verified as a Level II Trauma Center by the American College of Surgeons.
Our Level II Trauma Center in Grapevine is capable of initiating care for all injuries and provides:
24/7 immediate coverage by trauma surgeons and prompt coverage by numerous other surgical specialties.
Trauma prevention programs for the community.
Ongoing comprehensive quality assessment program for continuous improvement in caring for severely injured patients.
Hopefully, you will never need trauma care. But if you do, Baylor Scott & White – Grapevine is always ready with emergency care physicians, nurses and support staff.
What to expect during your visit to our ER in Grapevine
Some people may think going to the emergency department is frightening. That's why at Baylor Scott & White Medical Center – Grapevine, we want to ease your fears by letting you know what to expect when you come through our doors.
Severity of your symptoms
Depending on the severity of your symptoms you may be taken immediately to a treatment room or be asked to wait until one becomes available. Patients with minor medical symptoms such as coughs, fever, earaches or minor injuries may be treated in our minor emergency area.
Gathering of information
Before you see one of our physicians, a team member will ask questions including general information, medical history and medications you may be taking. This gives our physicians the information they need to provide quality care for you.
Lab tests or X-rays
After you have been evaluated by a physician you may need lab tests or X-rays to help diagnose your medical problem. Lab tests and X-rays may take an hour or two to process. At Baylor Scott & White – Grapevine, we will make sure you are as comfortable as possible while you wait.
Re-evaluation/Admission
Your physician will return after the results are in to re-evaluate you. Depending on your condition a physician specialist may be consulted to help with your care. If you need to be admitted to the hospital, our team will assign you a bed. Your care will continue in the emergency department until you are transported to your hospital room.
Ready to go home
After your emergency department visit is complete and you are ready to go home, you will be given instructions regarding your diagnosis. It is very important that you understand what to do when you leave the hospital. Your personal physician may be contacted regarding your visit to the emergency department. Also, before you leave a staff member will ask for your name, address, telephone number and insurance information. This gives us the information we need to contact you if we need to after you leave our emergency department in Grapevine.

What should I bring to the emergency room?
Although trips to the Emergency Room can be unexpected, it's important to try to be prepared in case of an emergency. Here are a few important items to have on hand for your visit:
Name and phone number of the patient's primary care physician
Identification and insurance card
List of all medications, including doses and how often they're taken (Note: If a list of medications is not available or known, bring a bag containing the patient's medications)
List of any over-the-counter medications and supplements being taken, such as pain relievers, vitamins and herbal products
Next few doses of the patient's medications
List of all known allergies and any chronic medical conditions
Any special medical equipment needed
Pharmacy name and location
If necessary, a friend or family member that can help interpret or provide additional information about the patient's history or illness
Please avoid bringing valuables to the ED