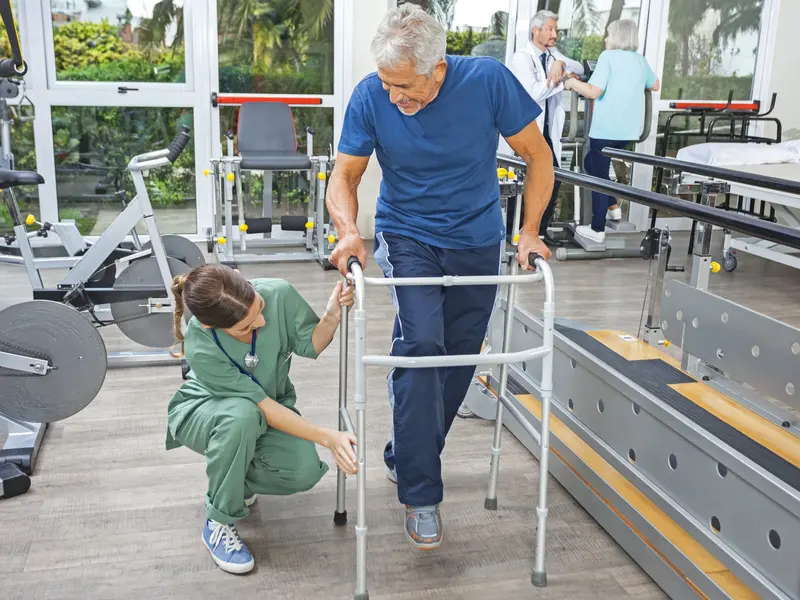 Returning you home is our specialty
Baylor Scott & White Medical Center – Hillcrest's rehabilitation services in Waco include the market's most comprehensive CARF-accredited inpatient rehabilitation facility and a network of outpatient rehabilitation centers. We also provide a network of outpatient rehabilitation centers.
Experienced physical medicine and rehabilitation physicians on our medical staff, therapists and rehabilitation nurses are supported by specially trained technicians and aides to help you attain your maximum level of wellbeing and functioning to successfully transition to home or another care setting.
Please give us a call for more information about Rehabilitation Services at Baylor Scott & White – Hillcrest.
Specialized rehabilitation programs in Waco
​​​​​​​​​​​​​
We offer a variety of specialized rehabilitation programs near you to help you overcome challenges from specific illnesses or injuries:
Brain injury rehabilitation program
Our Brain injury rehabilitation program has a dedicated team of healthcare professionals helping patients who have experienced traumatic brain injuries improve their balance, walking, talking, judgment, reasoning, patterning, safety and other cognitive skills.
Occupational and hand therapy
Occupational and hand therapy uses specially trained occupational hand therapists who work with an individual whose injury or disease has resulted in wounds, scars, burns, injured tendons or nerves, fracture or amputation of the finger, hand or arm.
The goal is to restore function, prevent dysfunction and/or reverse the progression of disorders impacting the upper limb.
Orthopedic rehabilitation program
Orthopedic rehabilitation program specializes in improving strength and function for orthopedic patients after traumatic accidents or surgeries.
Parkinson's disease physical therapy program
Parkinson's disease physical therapy program uses rehabilitation specialists at Baylor Scott & White – Hillcrest who have developed special expertise in individualized therapy by working with hundreds of patients with Parkinson's disease.
There is increasing evidence that people with Parkinson's disease often find physical therapy can improve strength and flexibility and decrease pain and stiffness. In fact, physical therapy is becoming an increasingly important part of many treatment plans.
Spinal cord injury rehabilitation program
Spinal cord injury rehabilitation program helps patients who have suffered a spinal cord injury regain as much function as possible in the affected limbs.
Stroke and neurological rehabilitation program
This program uses a targeted, individually tailored care plan to help each patient experiencing a stroke or neurological problem to overcome the effects of the illness.
The Baylor Scott & White – Hillcrest stroke program has been recognized by The Commission on Accreditation of Rehabilitation Facilities (CARF) for meeting the specialty standards it has established for stroke patient care.
Jim Carpenter: Stroke rehab gave me back the words to tell my story
Jim Carpenter's stroke left him literally speechless as well as unable to walk unassisted. "I had to learn to talk and walk all over again."
He spent the next five weeks in inpatient rehab working with his team of therapists. With speech, physical and occupational therapy sessions every day, he improved rapidly, continuing to made steady progress after transitioning to outpatient therapy. "I love my therapists. They got me going, and they keep me going."
Jim returned to his construction management job part time, while attending rehab sessions twice a week. "I'm not back to where I was yet, but with this team, I know I'll get there."
A multidisciplinary team of rehabilitation professionals
Our program has a proven history of admitting patients earlier than other providers, taking care of higher-than-average complex patients and returning a greater percentage of patients home. From the moment you enter our doors, we partner with you and your family to plan for your successful discharge.
Our multidisciplinary team of rehabilitation professionals in Waco includes:
Physical medicine and rehabilitation physicians
Physical therapists
Occupational therapists
Speech-language pathologists
Hand therapists
Rehabilitation nurses
Pharmacists
Psychologists
Recreational therapists
Case managers
Social workers
Dietitians
Pastoral care
Orthotics/Prosthetics specialists