Baylor Scott & White Medical Center – Hillcrest is a full-service, fully-accredited not-for-profit hospital serving the residents of McLennan County and the surrounding Central Texas region. Baylor Scott & White – Hillcrest is focused on being the best place to give and receive safe, quality, compassionate healthcare.
The 260-bed hospital offers advanced medical services that include trauma and acute care, orthopedics and sports medicine, a level Level III neonatal intensive care unit and the most comprehensive freestanding cancer center in the region.
More about us
---
Enhanced visitor precautions

Learn more about our COVID-19 safety precautions.

Critical care units

Visitation hours are 9:00 AM - 1:00 PM, 4:00-6:00 PM and 8:00-10:00 PM.

Non-critical care units

Visitation hours are from 9:00 AM - 9:00 PM

Free Parking is available for each facility on campus
RV parking spaces are found at the northwest corner of the parking lot outside the Emergency Center

The desk immediately inside the ambulatory (walk-in) entrance can assist with an RV parking pad
Our sites are equipped with electricity, water and sewer hook-ups
Medical services
​​​​​​​​​​​​​Baylor Scott & White Health offers expertise and treatment options conveniently located near you.
Insurances accepted
Baylor Scott & White has established agreements with several types of insurance to ensure your health needs are covered.
Insurance listings are subject to change without prior notice. Please call the hospital or health plan to verify coverage information before scheduling your visit/procedure.
Choice POS II

Open Access Elect Choice

Open Access Managed Choice

Select SM

Aetna Signature Administrators

Elect Choice

Health Network Option

HMO

Managed Choice

Open Access Select

Open Choice PPO

QPOS

Aetna Whole Health/BSWQA

Baylor Scott & White Health Plan - (16)

HMO Network-Individual/Family

EPO Network-Individual/Family

BSWH Employee Network - PPO & HSA

BSWH Employee Network - SEQA & EQA

BSW SeniorCare Advantage HMO

BSW SeniorCare Advantage PPO

HMO Network-Group

PPO Network-Group

PPO Choice Network

PPO Choice Preferred Network

Cigna PPO Network - Out of Area Member Plan

PHCS/OPTUM - PPO Network - Out-of-Area Member Plan

EPO Network-Group

McLane Group Network

BSW Preferred HMO Network - Group

BSW Preferred PPO Network

Blue Cross Blue Shield - (12)

Blue Advantage HMO

Blue Choice PPO

Blue Essentials

Blue Essentials Access HMO

Blue Premier

Blue Premier Open Access HMO

Medicare Advantage - EFH Retirees

Medicare Advantage - Oncor

ParPlan

Traditional

Indemnity

STAR Kids

Brookshire Brothers - (1)

Self-Insured Employee Plan

Cigna Choice Fund

EPO

HMO

HMO Open Access

HMO/POS

LocalPlus

LocalPlusIN

Network

Network Open Access

Network POS

Open Access Plus

POS

POS Open Access

PPO

Consolidated Association of Railroad Employees - (1)

Self-Insured Employee Plan

Coventry Workers' Compensation - (1)

Coventry Workers' Compensation

American Airlines Employee Benefit Plan

Galaxy Health Network - (1)

ACCEL Network

Preferred Network

ChoiceCare

Humana Preferred

National POS

Commercial PPO Plans

Commercial HMO Plans

Medicare Advantage Plans (exclude Southwestern Health Resources Network)

Independent Medical Systems - (1)

Injury Management Organization (IMO) - (1)

Injury Management Organization (IMO)

Midland Memorial Hospital - (1)

Mother Frances Hospital Regional - (1)

Self-Insured Employee Plan

Occupational Networks of Texas, Inc.

Prime Health Services - (1)

Scott & White Health Plan - (1)

RightCare STAR Medicaid Network

Sedgwick Preferred Network f/k/a Southwest Medical - (1)

Superior Health Plan - (5)

STAR

STAR+PLUS

CHIP

CHIP Perinate

Foster Care

Superior HealthPlan - (4)

CHIP Perinate

Foster Care

STAR

STAR+PLUS

Texas Workforce Commission - (1)

Department of Assistive and Rehabilitative Services

Three Rivers Network - (1)

Tricare Extra

Tricare Prime

Tricare Select

Charter HMO

Charter EPO

Charter POS

Choice HMO

Choice +HMO

Choice EPO

Choice Plus POS

Core HMO

Core EPO

Core Choice Plus POS

Navigate EPO

Navigate HMO

Navigate HMO+

Navigate POS

PPO

Options PPO

Select +

Select HMO

Select EPO

Select Plus POS

AARP Medicare Complete

Dual Complete Medicare Advantage

Medicare Complete

Medicare Gold

Medicare Silver

Group Medicare Advantage

STAR

STAR+PLUS

CHIP

STAR Kids

University Mary Hardin-Baylor - (1)
We're sorry!
We couldn't find any results for ""
Mobile makes it easy
Just like we make it easy to get care when your child is sick or injured, our top-rated app, MyBSWHealth, can simplify keeping them healthy. The app lets you book appointments, message your pediatrician, view your child's medical records and schedule virtual same-day care from your computer, smartphone or tablet.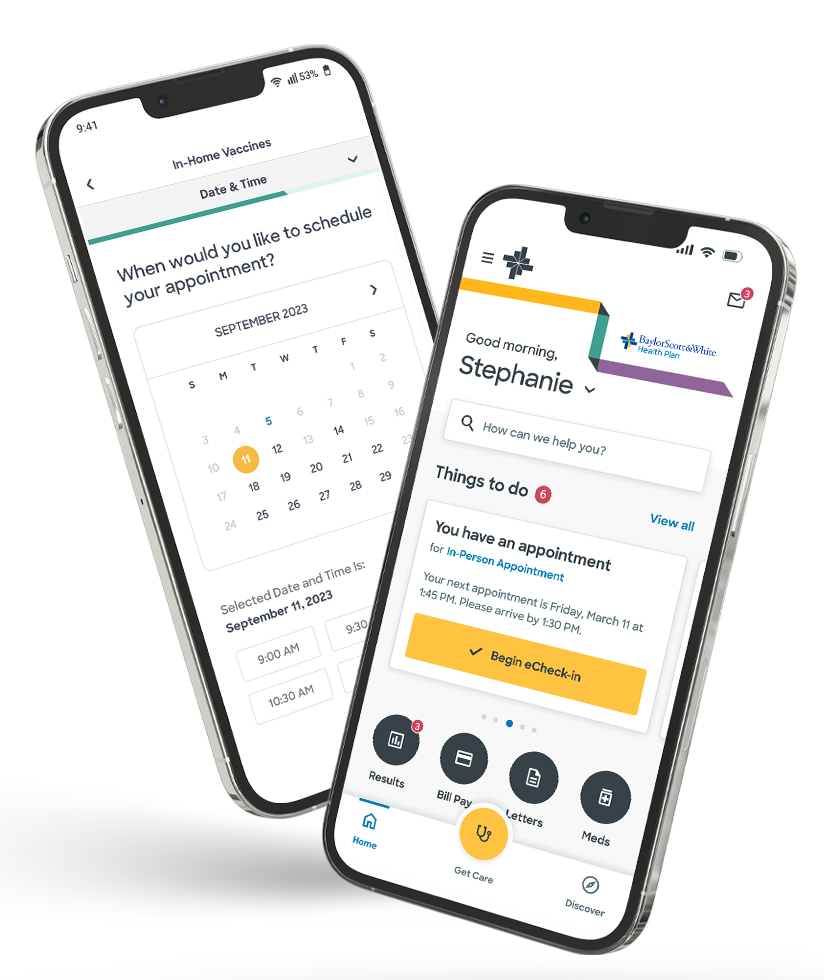 More helpful information
​​​​​​​​​​​​​Here's more information to help with your visit to our campus.
ATMs
An automatic teller machine (ATM) is available inside the Emergency Department's waiting area.
Bear Care Program
Designed to assist out-of-areas family members of Baylor University students, Bear Care Program helps parents navigate their college student's care during emergency situations.
Learn more about the Bear Care Program
Community involvement
We are proud to be a part of Baylor Scott & White Health, a system invested in improving community health by addressing identified community health needs. We invite you to read our hospitals' reports on community benefit to find out more about our financial stewardship and how we fulfill community needs as part of this exceptional network of hospitals.
View our community benefit report
Concierge and information desk
Guest Services is headquartered at the information desk inside the Baylor Scott & White – Hillcrest main lobby.
Guest Services representatives are also stationed inside the Emergency Department's ambulatory entrance and in the lobby of Office Building I, as well as on the hospital's third floor where they serve families visiting the Surgical Intensive Care and Medical Intensive Care units.
Dining options
From coffee bars and on-the-go snacks to full-service cafeteria style dining, we offer visitors and family members a variety of options for on-site refreshments.
Weekdays
Grab & Go and Pizza Station

Breakfast: 6:30 - 10:00 AM
Lunch: 11:00 AM - 3:00 PM
Dinner: 4:00 - 10:30 PM
Hotline and Grill

Breakfast: 6:30 - 10:00 AM
Lunch: 11:00 AM - 3:00 PM
Dinner: 4:00 - 8:00 PM
Weekends
Grab & Go and Pizza Station

Breakfast: 6:30 - 10:00 AM
Lunch: 11:00 AM - 3:00 PM
Dinner: 4:00 - 8:00 PM

Hotline and Grill

Breakfast: 6:30 - 10:00 AM
Lunch: 11:00 AM - 3:00 PM
Dinner: 4:00 - 6:00 PM
Estimate your cost of care
Baylor Scott & White Health is an advocate for greater healthcare pricing transparency and patient affordability. We provide a self-service price estimation tool to help you obtain accurate out-of-pocket expense estimates, along with other helpful resources to help you make more informed financial choices about your care.
Estimate your cost of care
Gift shops
A variety of items are available and can be delivered to patient rooms and/or departments. Those items include fresh flower arrangements, green plants, cards, balloons, stuffed animals, toiletries, jewelry, candy, magazines, Willowtree Angels and other gift items. Mastercard, Visa, and Discover are accepted.
Visitors should check with the nurse before bringing patients food or drinks to ensure they are appropriate for the patient. In intensive care units, please check with nurses regarding any gifts.
Main Baylor Scott & White – Hillcrest Gift Shop

Phone: 254.202.9570
Monday through Friday: 9:00 AM - 5:00 PM
Women's and Children's Gift Shop
Medical records
You can request copies of your medical records by completing an Authorization for Release of Information form and returning to the facility at which you received care.
Request your medical records
Nursing accomplishments
Our nurses are dedicated to the care of a diverse community of patients. As members of our front line care team, they take pride in seeking opportunities to provide a higher level of care.
View our nursing accomplishments
Patient and family adviser program
Patient and family advisers provide a voice that represents all patients and families who receive care at Baylor Scott & White Medical Center – Hillcrest. They partner with doctors, nurses, and administrators to help improve the quality of our care for all patients and family members.
Become a patient and family adviser
Recognize an employee
Because our staff cares so deeply for those we help, there are those who often go beyond the call to provide great care.
Nominate an employee
Security and Lost and Found
Security officers are available 24 hours a day.
To deposit valuables or find lost items, call Baylor Scott & White – Hillcrest Security at 254.202.5400.
Spiritual care
Robbins Chapels are in three locations on the Baylor Scott & White Medical Center – Hillcrest campus. The chapels and their beautiful stained glass windows are the gifts of "Uncle Bill" and Mary Jo Robbins of Houston, Texas.
The hospital's main chapel is just off the main lobby on the hospital's second floor. The adjoining Women's & Children's Center facility has its chapel located on the first floor, inside the main lobby. The third chapel is inside the Baylor Scott & White McClinton Cancer Center, which is a freestanding, two-story facility providing the area's most comprehensive array of cancer services.
For more information about the Robbins Chapels, a schedule of services and chaplaincy services, please call 254.202.9530.
Visitor guidelines
Visits from relatives and friends can play an important part in your recovery; however, they can also be tiring. It is in your best interest that you get all of the rest that you can while in the hospital. If you feel uncomfortable asking people to limit their visits, you might ask a family member or friend to coordinate your visits for you. We do have some requests of our visitors:
Critical care units
Please limit visitors to only two at the bedside for 15 minutes at a time. Children under 12 are not allowed to visit.
In times of a crisis, visitors may be asked to leave in order to devote Baylor Scott & White – Hillcrest staff members' full attention to the care for the patient.
Non-critical care units
Children under 14 are welcome but should be accompanied by a parent. Overnight visitors should be limited to one adult caregiver or family member.
Women's & children's visitation guidelines
Labor & Delivery/Mother Baby/Pediatrics:

Two designated support persons over the age of 16 may be at bedside during stay, following the maternal/pediatric patient has a resulted negative COVID test.
The two designated support persons will remain the same throughout the maternal admission.

NICU:

No current updates or changes to visitation at this time. Mother and Father (or designated support person)
Any exceptions to visitation guideline should be elevated to leadership for case-by-case approval.
Visitor lounges
There are designated lounges for visitors on patient floors. Specific areas have been designated for guests in other areas. If you are in a large group, we ask for your consideration of other patients' families when seating is limited. Wireless laptops can be used in most areas by connecting to our visitor wireless network. Charging stations and outlets are also available in select lounge areas.
The use of wireless communication devices, such as cell phones, notebooks and laptops, can interfere with medical equipment and is restricted in all patient care areas. Please restrict your use of these devices to visitor lounges and non-patient care areas.
Volunteer with us
We rely on our generous volunteers to provide several special services. Every volunteer enhances the patient experience in some way by supporting our culture of customer service. Join the ranks of our volunteers to get involved and make a difference.
Become a volunteer