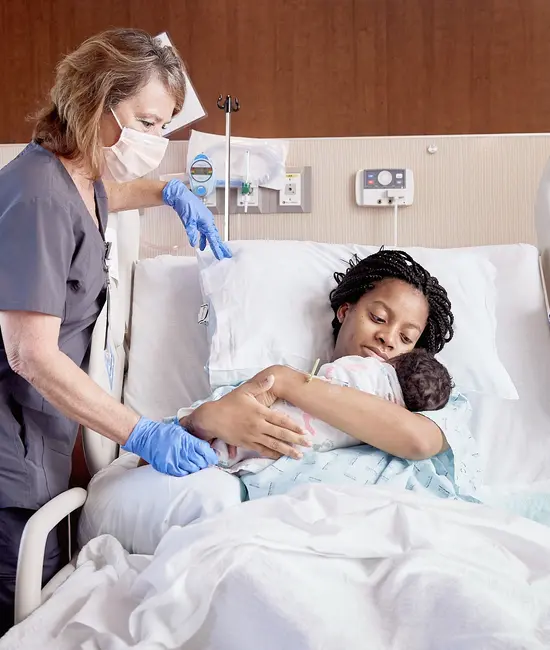 Let us help deliver your special moment
Whether you are planning for a precious baby girl or welcoming a bouncy baby boy, we are here to help you through your pregnancy with our maternity and childbirth services at Baylor Scott & White Medical Center – Lake Pointe.
The physicians on the medical staff offer a comprehensive range of personalized, high-risk obstetrical care in Rowlett and work closely with referring obstetrical care providers in a multidisciplinary approach that caters specifically to high-risk pregnancies.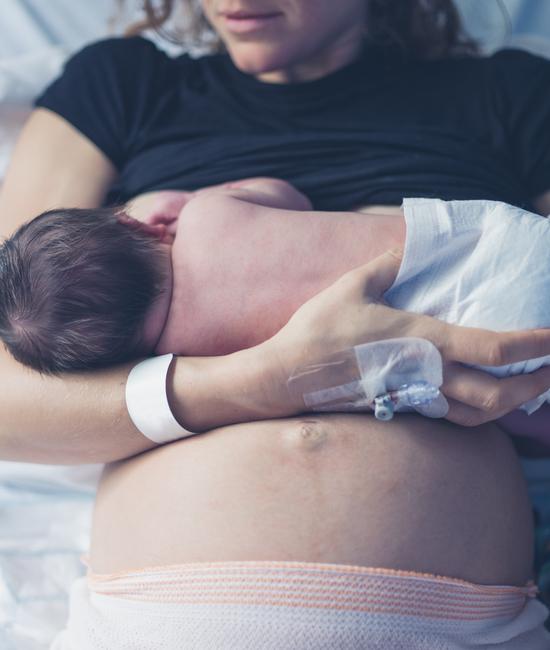 Texas Ten Step designation
Since 2015 Baylor Scott & White Medical Center – Lake Pointe has received Texas Ten Step Program facility designation from the Texas department of state health services for improving the health of newborns and infants.
The Texas Ten Step program encourages breastfeeding as the preferred method of feeding for newborns and infants, and designated facilities provide information and tools to support new mothers and their decision to breastfeed.
Seven labor/delivery/recovery rooms
Two surgical suites located within labor and delivery to accommodate cesarean births
15-bed level I nursery dedicated to the care of well newborns
17-bed level III Neonatal Intensive Care Unit (NICU) equipped to provide 24-­hour advanced care for infants born prematurely
15 postpartum beds
Secured unit for your safety and the safety of your baby
OB hospitalist program
Centralized fetal monitoring
Ultrasound and other diagnostic testing available within hospital
Space for birthing partner to relax with mother and baby
Wi-Fi access available throughout the hospital
2 visitors when mom and baby are in labor and delivery, and open visitation 24 hours a day when moved to the postpartum floor.
Complimentary take-home meal for two upon discharge from the hospital (lasagna, vegetable, bread sticks and cookies)
Safe, quality and compassionate care when your physician is delayed or unavailable
We respect the importance of the relationship you have built with your physician. When your physician is delayed or not available, the obstetric hospitalists on the medical staff will provide the skilled, compassionate care you expect for your delivery. A hospitalist is a physician who cares for patients exclusively in the hospital.
Hospital-based physicians on the medical staff are available 24 hours to provide safe, quality care.
If your physician is not available, the OB hospitalist can examine and evaluate you. If you need to be admitted, the OB hospitalist can manage your labor and even deliver your baby at the request of your physician.
Through cooperation and communication between your physician and the OB hospitalist, you and your baby will receive safe, quality and compassionate care throughout the childbirth experience.

Program advantages to you, the patient:
OB hospitalists can answer any questions you or a family member may have.
OB hospitalists are highly skilled in a variety of delivery techniques.
OB hospitalists are board-certified in obstetrics and gynecology and have additional specialized training in advanced fetal monitoring, operative delivery and advanced cardiac life support.
Parenting classes and resources
As an expectant parent, you already know there's much to be done before the arrival of your baby.
We're pleased and honored to offer a variety of services to help make these coming months as stress-free and productive as possible.
Call 1.844.BSW.DOCS (279.3627) for a complete schedule or to make a reservation.
Classes are free of charge.
Supporting your every moment
Our experienced care team is here to help you prepare for your big moment — and every little moment along the way. Get the answers you need for a safe pregnancy and delivery.
Helping you prepare every step of the way at our labor and delivery hospitals
If you find yourself asking, "what is the best labor and delivery hospital near me?" our experienced care teams are here to help you prepare for your big moment—and every little moment along the way, including all the stages of labor. Tell us a little about where you are in your journey and get the answers you need for a safe pregnancy, labor and delivery near you.