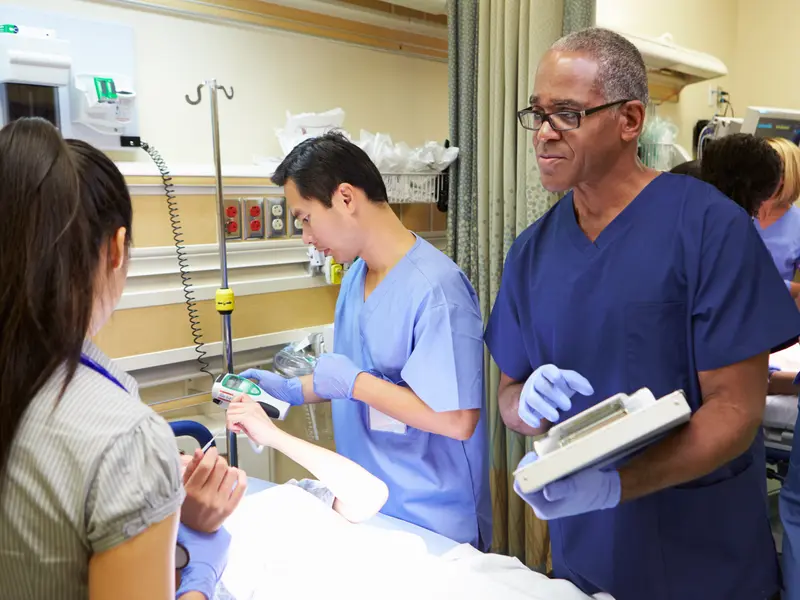 We're here for you 24/7 with full trauma services in Temple
Baylor Scott & White Medical Center – Temple is the only designated Level I Trauma Center between Dallas and Austin.
Level I Trauma Centers provide the highest level of specialty care available and meet stringent national standards of performance.
Our trauma center near you utilizes the services of many specialties, including orthopedics, general surgery, rehabilitation and plastic surgery, and it is supported by a staff of nurses, therapists, social workers and injury prevention specialists. These specialists are available 24/7 to provide care to you close to home in Temple.
The trauma center is verified by the American College of Surgeons (ACS) and is part of the Central Texas Regional Advisory Council (CTRAC) Service Area-L Trauma Council.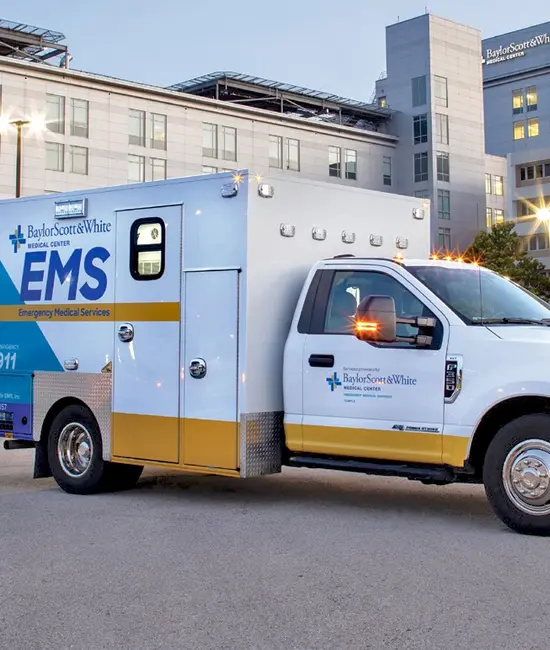 Baylor Scott & White Emergency Medical Services (BSWEMS)
Baylor Scott & White EMS has been serving Central Texas communities since 1985. We specialize in the timely and efficient transport of emergency and non-emergency patients.
Emergency medical assistance and transportation
Please dial 911 if you have a medical emergency.
Non-emergency transportation
Schedule EMS for an event or general inquires
More about Baylor Scott & White EMS
Fleet of 15 ambulances and three wheelchair vans
State-of-the-art communications center
Serving approximately 1,100 square miles, including most of Bell County
The exclusive ambulance provider for the city of Temple, Texas
Also providing non-emergency transportation for patients of Baylor Scott & White Medical Center – Temple and surrounding nursing facilities.
We serve the following Central Texas areas:
Bartlett
Bruceville-Eddy*
Holland
Little River-Academy
Moody*
Morgan's Point Resort
Nolanville
Rogers
Salado
Temple
Troy
* in McLennan County
Baylor Scott & White EMS offerings
​​​​​​​​​​​​​
Dispatch
Our state-of-the-art communications center is staffed by a team of highly trained emergency medical dispatchers. We are able to quickly and efficiently assign the closest, most appropriate vehicle to respond to your needs.
Baylor Scott & White EMS emergency medical dispatchers are trained and certified by the National Academies of Emergency Medical Dispatch, a nationally-recognized course of study. Our dispatchers are also trained in customer service, system resource management and the National Academy of Emergency Medical Dispatch (NAEMD) protocols.
Specialty Care Transportation (SCT)
Baylor Scott & White EMS SCT units are the vehicle of choice for transporting critically ill or injured patients. Each unit is staffed with a critical care paramedic who follows advanced protocols for the management of critically ill patients.
Equipped with state-of-the-art technologies for long distance transports:
Ventilator
Cardiac monitoring with 12 lead EKG
External pacing
Three-channel IV medication pump
Continuous Positive Airway Pressure (CPAP)
ETCO 2 monitoring
Advanced Life Support (ALS)
Baylor Scott & White EMS ALS units are staffed with a paramedic and an emergency medical technician (EMT). ALS paramedics can perform:
Manual defibrillation
Synchronized cardioversion
Transcutaneous pacing
Cardiac monitoring and interpretation, including 12 lead EKG
Paramedics can also execute a host of advanced procedures in the field, including:
Advanced airway management
Medication monitoring and administration
Intraosseous needle placement
Advanced pharmacology and IV pump management
Multiple IV medication infusions
Basic Life Support (BLS)
Baylor Scott & White EMS BLS units are used for basic medical transportation of stabilized patients.
The vehicles are equipped with an automated external defibrillator (AED) and staffed by two basic emergency medical technicians who can perform basic airway management.
Bariatric patient transport
BSWEMS offers the only bariatric patient transport service from Dallas to South Austin.
Our Bariatric Unit is fully equipped with patient transfer devices and a true bariatric stretcher capable of handling up to 1,600 pounds. This enables us to provide obese patients with comfortable transportation that has their dignity and care in mind.
If your community group is interested in a demonstration, please contact BSWEMS at 254.724.7476.
Event standby services
Baylor Scott & White EMS is able to provide medical stand-by coverage and public service appearances for your special event, staffed at any level of service that we offer.
Our ambulances are especially popular at community events where our staff is pleased to educate the public about the roles of emergency medical personnel and the equipment that they use. BSWEMS is also actively involved in public safety education within local school districts.
Interested in scheduling our EMS team for an event? Call us at 254.724.8080, Monday-Friday, 8:00 AM - 5:00 PM CST for more information.
Education, research and outreach
Our trauma center near you here in Temple is committed education, research and outreach through:
Enhancing the skills of medical professionals involved in the care of injured patients through the training of medical students and residents
Being a leader in developing new technologies and treatments
Educating the community through outreach
Actively participating in the Texas Department of State Health Services Central Texas Regional Advisory Council
Providing support for facilities seeking trauma center designation
Providing continuing education course and seminars
Injury prevention
We have an injury prevention team that provides community outreach classes and events to promote injury prevention and safety.
They educate community leaders, work to impact legislation, and provide informational resources to the community.