Caring for you through prevention, detection and treatment of cardiovascular disease
For more than 25 years, Baylor Scott & White The Heart Group has had a strong commitment to offering advanced cardiac care and personal service to our patients, our referring physicians and our community. The skilled heart care physicians here stay on the forefront of medical breakthroughs, working hard to offer you effective and appropriate treatments to help you live a longer, healthier life.
We believe in partnering with our patients and their primary care physicians to facilitate open communication and well-informed medical decisions. We are dedicated to helping you take charge of your health through:
Prevention—medications, and lifestyles
Detection—advanced testing
Treatment—minimally invasive options
Insurances accepted
Baylor Scott & White has established agreements with several types of insurance to ensure your health needs are covered.
Insurance listings are subject to change without prior notice. Please call the hospital or health plan to verify coverage information before scheduling your visit/procedure.
Aetna Signature Administrators

Medicare Advantage Plans

Blue Cross Blue Shield - (9)

Blue Essentials

Blue Premier

ParPlan

Blue Advantage HMO

Blue Choice PPO

Blue Premier Open Access HMO

Medicare Advantage - Oncor

Traditional

Indemnity

LocalPlus

Open Access Plus

Children's Medical Center Employee Plan

City of Dallas Employee Plan

American Airlines Employee Benefit Plan

ACCEL Network

Preferred Network

ChoiceCare

Humana Preferred

National POS

Commercial PPO Plans

Superior Health Plan - (1)

Superior HealthPlan - (3)

STAR+PLUS

Medicare/Medicaid Dual Needs Plan: Advantage HMO SNP

Medicare/Medicaid Plan

DART ACO Flex

DART ACO Flex Plus

Parkland Community Health Plan - (2)

CHIP Medicaid

HealthFirst Medicaid

Scott & White Health Plan - (14)

HMO Network - Individual/Family

EPO Network - Individual/Family

SeniorCare Advantage HMO

SeniorCare Advantage PPO

HMO Network - Group

TRS - Active Care Participants Network

PPO Network - Group

PPO Choice Network

PPO Choice Preferred Network

Cigna PPO Network - Out-of-Area Member Plan

Texas Statewide PPO

PHCS/ARGUS - PPO Network - Out-of-Area Member Plan

EPO Network - Group

McLane Group Network

University Mary Hardin-Baylor - (1)
We're sorry!
We couldn't find any results for ""
Hospital services and procedures
We continually strive to improve the quality of life for our heart patients by providing recent diagnostic advances in technology and allowing for a less-invasive experience in the detection of cardiovascular disease.
Cardiac imaging
Transesophageal echocardiography (TEE)
CT angiography (CTA)
Cardiac MRI
PET scan
Cardiac diagnostics
Cardiac catheterization
Coronary artery imaging
Endomyocardial biopsy; post-cardiac Transplant
Coronary intravascular ultrasound
Cardiac interventions
Percutaneous coronary angioplasty and coronary artery stenting
Coronary artery atherectomy (laser and rotational)
Valvuloplasty
Congenital anomaly repairs
ASD closure
Left ventricular assist device (LVAD) insertion
IVC filter placement
Pericardiocentesis
Cardiac Rhythm Management
Permanent pacemaker implants
Biventricular pacemaker implants
Internal cardioverter-defibrillator implants
Vascular interventions
Aortic aneurysm stenting
Carotid artery stenting
Carotid angiography
Peripheral percutaneous transluminal angioplasty (PTA)
Renal percutaneous transluminal angioplasty (PTA)
Peripheral artery atherectomy (laser and rotational
Office services and procedures
We offer procedures that can be done right in the comfort of our office—like testing for carotid stenosis, abdominal aortic aneurysm and peripheral arterial diseases. Our goal is to develop a strategy of diagnosis and treatment that is right for each individual with the best possible outcome.
Cardiac
Echocardiogram
Stress echocardiogram
Exercise stress test
Pharmacological stress test
EKGs
Holter monitor/Event monitor
BioZ (evaluation of cardiac function)
Nuclear stress test
Adenosine nuclear test (Pharmacological)
Vein Treatment Center
EVLT (endovenous laser treatment) for varicose veins
Microphlebectomy
Sclerotherapy
Vascular
Carotid artery ultrasound
Vascular studies
Aortic aneurysm screening
Mobile makes it easy
Just like we make it easy to get care when your child is sick or injured, our top-rated app, MyBSWHealth, can simplify keeping them healthy. The app lets you book appointments, message your pediatrician, view your child's medical records and schedule virtual same-day care from your computer, smartphone or tablet.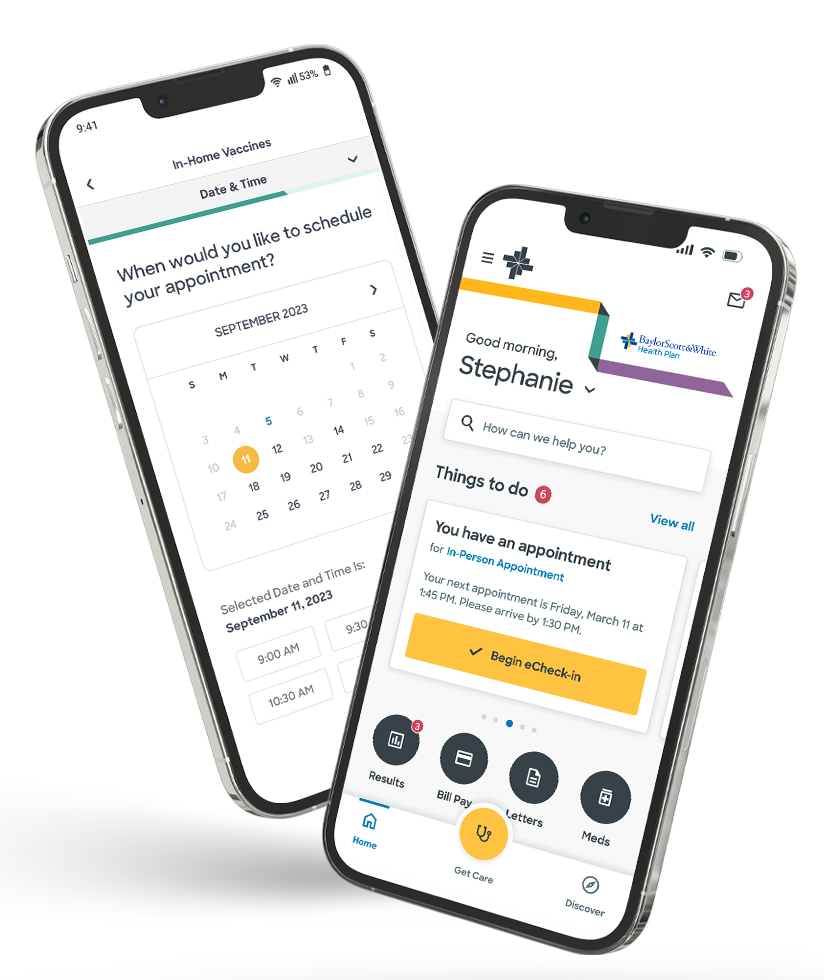 Patient forms
To ensure that your visit to our office is as convenient and efficient as possible, we are pleased to offer our registration forms online. The patient registration form may be completed electronically and printed for better legibility or completed manually.
Our philosophy
In clinic and hospital settings, research trials are performed with patients who generously give physicians, and those in the cardiovascular research and healthcare industry, the opportunity to further study cardiovascular disease. The cardiologists at Baylor Scott & White The Heart Group have been active in research for over 20 years, advancing new prevention and treatment options for our patients. These studies are vital and allow us to provide innovative treatments to our patients who are involved in these investigative trials. We are grateful to our patients who take part in them.
Why do we participate in clinical trials?
Our physicians believe that by studying new medications and treatment options for cardiovascular disease, they will be able to offer progressive medical care to their patients.
Participation Criteria
What criteria must the patient meet to participate in a trial?
Each clinical study has specific criteria which the patient must meet. These guidelines relate to the patient's condition and determine whether he/she is qualified to participate. If considering whether to participate in a study or not, it is best to speak with your physician about any concerns or questions you may have.
If you have a heart-related condition and would like to participate in a trial, speak with your Baylor Scott & White The Heart Group cardiologist first.
Research news
Current trials
Pioneer II - The Pioneer II study is an open-label, tandomized, controlled, multicenter study exploring two treatment strategies of Rivaroxaban and a dose-adjusted oral vitamin K antagonist treatment strategy in subjects with atrial fibrillation who undergo percutaneous coronary intervention: PIONEER AF-PCI.
Sur-TAVI - Study of the Medtronic CoreValve® System in the Treatment of Severe, Symptomatic Aortic Stenosis in Intermediate Risk Subjects Who Need Aortic Valve Replacement.
PVL in TAVR - A Novel Imaging Approach to Assess Paravalvular Leak for Transcatheter Valve Replacement.
Low Dose CT - A Novel Low-dose-contrast Cardiac Computed Tomography Method for Pre-Procedural Guidance in Transcatheter Aortic Valve Replacement.
ABSORB - Resorbable coronary stent-Brown
ISCHEMIA - To determine the best management strategy for patients with stable ischemic heart disease (SIHD) and moderate-to-severe ischemia; routine early invasive strategy (INV) with cardiac catheterization (cath) followed by revascularization plus optimal medical therapy (OMT) is superior to a conservative strategy (CON) of OMT.
SYMPLICITY - Renal denervation for uncontrolled hypertension.
STOP AF PAS - Sustained Treatment of Paroxysmal Atrial Fibrillation Post-Approval Study (STOP AF PAS)-Gopal
PARTNER II - Placement of Aortic Transcatheter Valves Trial. The Safety and Effectiveness of the SAPIEN XT™ Transcatheter Heart Valve with Novaflex and Ascendra 2 delivery systems (Transfemoral and Transapical) in Intermediate Risk for Aortic Valve Surgery and Patients Who Cannot Undergo Surgery.
Resolute Integrity - A Clinical Evaluation of the Medtronic Endeavor® Resolute Zotarolimus-Eluting Coronary Stent System in the Treatment of De Novo Lesions in Native Coronary Arteries with a Reference Vessel Diameter of 2.25 mm to 4.2 mm
EXCEL - Evaluation of XIENCE PRIME or XIENCE V versus Coronary Artery Bypass Surgery for Effectiveness of Left Main Revascularization.
COAPT - Clinical Outcomes Assessment of the MitraClip Percutaneous Therapy for High Surgical Risk Patients.
EVOLVE II Trial - The purpose of this study is to assess the safety and effectiveness of the SYNERGY Everolimus-Eluting Platinum Chromium Coronary Stent System for the treatment of subjects with atherosclerotic lesion(s) ≤ 34 mm in length (by visual estimate) in native coronary arteries ≥2.25 mm to ≤4.0 mm in diameter (by visual estimate).
CTOT II Trial - is an investigative consortium for conducting clinical and associated mechanistic studies that will lead to improved outcomes for transplant recipients. The purpose of these studies is to improve short and long-term graft and patient survival.
PORTICO - is a prospective, multi-center, randomized-controlled clinical study, designed to evaluate the safety and effectiveness of the St. Jude Medical (SJM) Portico Transcatheter Heart Valve and Delivery Systems (Portico) via the transfemoral and transapical delivery methods, in high and extreme risk cohorts.
Direct Flow - is a study to assess the safety and effectiveness of the Direct Flow Medical aortic valve system. This is for people with severe aortic stenosis who are not well enough to undergo a surgical repair.