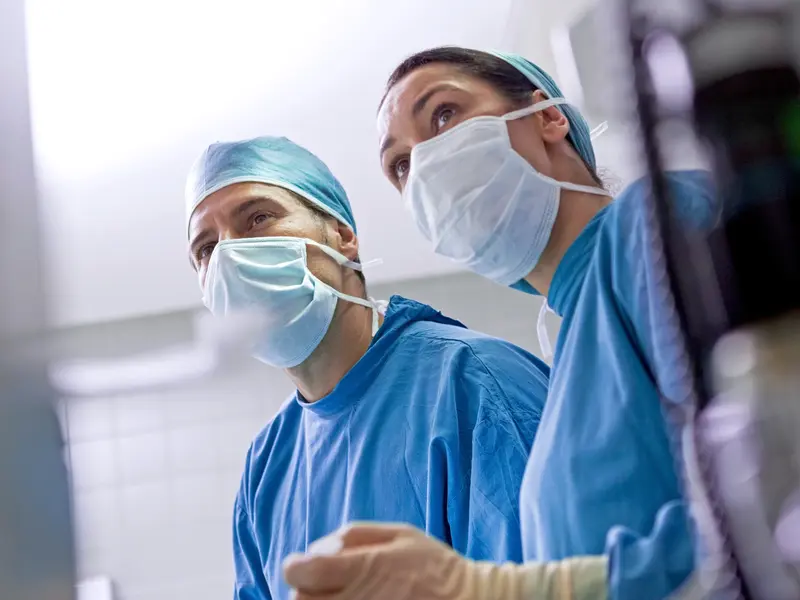 Quality outcomes and innovative treatment approaches
The interventional cardiologists on the Baylor Scott & White The Heart Hospital – Plano medical staff are highly skilled at diagnosing and treating heart problems with cardiac catheterization. Whether it is a diagnosis for a heart disorder or an emergency treatment for a guest experiencing chest pain or a heart attack, we can help with your treatment options.
Specialists here in Plano use catheterization to diagnose and treat many heart problems. Unlike surgery, which requires large incisions, cardiac catheterization involves inserting a catheter, a thin flexible tube, through a small nick in the groin or wrist and guiding it to the arteries of the heart. This usually means you have less discomfort, heal faster and get back to your life more quickly than with open heart surgery.
Safety and quality are carefully monitored by a panel of physicians who review every angioplasty procedure done in our hospital. All of these procedures are also reported to a national quality registry.
Our cardiac catheterization procedures:
The interventional cardiologists on our medical staff perform a variety of heart procedures in the cath lab to treat or manage your heart condition. Some of the cardiac catheterization procedures we provide in Plano include:
Angioplasty and stenting to treat coronary artery disease
Angioplasty and stenting for peripheral artery disease (PAD) affecting the legs or kidneys
Balloon dilation and stent placement to treat coarctation of the aorta
Balloon valvuloplasty and transcatheter aortic valve replacement (TAVR) to treat aortic valve stenosis and balloon valvuloplasty to treat mitral valve stenosis
Carotid angioplasty and stenting
Chronic total occlusion (CTO) coronary intervention
Closure of periprosthetic valve leaks
Clot removal with aspiration device (thrombectomy)
Treatment to repair a leaking mitral valve
Nonsurgical closure of ostium secundum atrial septal defect (ASD) or patent foramen ovale
Percutaneous mitral valve replacement and repair, a minimally invasive procedure to treat mitral valve disease
Plaque removal with a rotating device (atherectomy), laser device, and cutting balloon
Pulmonary artery angioplasty to open lung arteries blocked with chronic clots and help improve pulmonary hypertension
Pulmonary vein intervention to treat veins blocked after an ablation procedure
Robotic coronary angioplasty and stenting
Septal ablation to treat hypertrophic cardiomyopathy
Transcatheter insertion of coil or occluder to treat patent ductus arteriosus (PDA)
Transcatheter mitral valve repair (TMVR) to treat mitral regurgitation
Transcatheter pulmonary valve replacement (TPVR) for congenital heart problems with the pulmonary valve
Percutaneous ventricular assist devices
Heart conditions we treat
Procedures conducted in the cath lab to diagnose your condition may include:
Coronary, carotid, renal, peripheral and other forms of angiography
Coronary anatomy and physiology assessment with intravascular ultrasound (IVUS), optical coherence tomography (OCT), or fractional flow reserve (FFR)
Endomyocardial biopsy
Evaluation of complex valvular disease
Left and right heart hemodynamic assessment
Constriction and restriction studies
Explore Baylor Scott & White The Heart Hospital
Discover the resources that set us apart from other heart hospitals. Here's what choosing us can do for you and your loved ones.