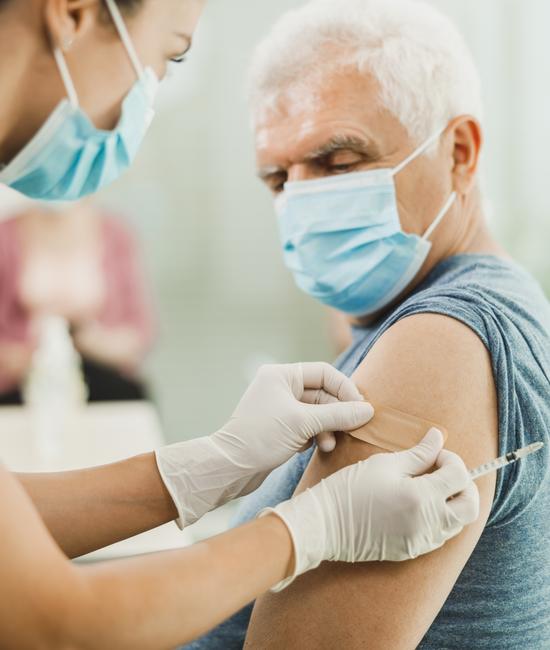 How we respond to community health needs
Baylor Scott & White Health hospitals provide access to care to the underserved and uninsured in collaboration with other affiliates across our system. Through innovative programs and services ranging from community outreach efforts to medical education and research trials, this system affiliation allows our hospitals to better address the identified health needs and to continue to do good works on behalf of the community.
Community outreach programs
​​​​​​​​​​​​​Browse this list to find out more about some of our leading community outreach efforts.
Adolescent wellness and sexual health
Scott & White Wellness and Sexual Health Program empowers teens with information necessary to develop healthy habits and relationships. Previously known as Scott & White Worth the Wait, the program continues with the all-inclusive, data-driven curriculum founded on the medical, legal, psychological and socioeconomic information regarding adolescent health risk behaviors.
Based on the probable consequences of adolescent risk behaviors, the safest and healthiest choice for teens is to promote risk avoidance by establishing healthy habits and relationships. The in-school intervention program is offered for middle and high school students, with components for parents, healthcare providers and the community.
Baylor Scott & White Health and Wellness Center
The Baylor Scott & White Health and Wellness Center (BSW HWC) at Juanita J. Craft Recreation Center offers comprehensive health and wellness services with an emphasis on access to care, health education, nutrition and physical activity. The Center is a model for population health, community collaboration and innovation all aimed at meeting the healthcare needs of our neighbors.
Canine Companions®
Baylor Scott & White has affiliated with Canine Companions, a leader in the development of service dogs, to provide highly-trained service dogs to people in the Southwest. This training center is the first in the nation connected with a healthcare system.
Central Texas Poison Center (CTPC)
Located at Baylor Scott & White Medical Center – Temple, the Central Texas Poison Center (CTPC) is a 24-hour poison emergency treatment and information resource for healthcare professionals and the public in Central Texas. The CTPC is supported by an intrastate long distance telephone tax and designated by the Texas legislature to provide poison information and prevention services to healthcare professionals and the public within Public Health Region 7.
The CTPC is part of the Texas Poison Center Network. This network consists of six regional poison centers located throughout the state, including Austin and Waco, east to College Station and west to San Saba.
Education materials are available to those within our service area by calling 1.800.222.1222. Emergency and consultative services to both the public and healthcare providers are available by calling 800.222.1222 or 9-1-1. This number accesses all Poison Centers within the State of Texas, when calling from within Texas, and will only access CTPC when calling within Public Health Region 7. For those who are not within our service area and have a non-poison related question, we can be reached through our administrative line at 254.724.7405. Please keep in mind our administrative line is not answered on a regular basis. Please leave a message and allow up to two business days for a return call.
Administrative line
Call 254.724.7405 and leave a message and allow two business days for a return call.
Nationwide toll-free number
Call 1.800.222.1222 with poison-related questions or possible exposure.
Community education specialist
Request a free presentations or materials:
Tommie Ferguson, BBA, CMA
Tommie.Ferguson@BSWHealth.org
254.724.7404
Mobile app
Connect with the Texas Poison Center Network through our free mobile app, which features first-aid treatment information, poison safety tips, games and more. To download, search for "poison help" in the app store and look for our logo.
Social media
Follow us on Facebook
Community care clinics
With the help of HealthTexas Provider Network physicians and clinicians, Baylor Scott & White serves the uninsured and underserved in North Texas through eight clinics that provide primary and specialty care.
Delivery System Reform Incentive Payment Projects (DSRIP)
Baylor Scott & White is improving the model of care to allow equal access to health services to all.
With the 1115 Medicaid Waiver, the placement of Upper Payment Limit monies previously available to hospitals to fund charity care initiatives changed significantly. This new five-year plan will be accomplished in two parts: funding through Uncompensated Care (UC) and Delivery System Reform Incentive Payment Projects (DSRIP). The UC dollars are a fixed amount determined by multiple factors. The DSRIP dollars are "at risk," and projects must be completed to receive payment from the State of Texas. The following plan accomplishes the accrual of DSRIP funds to expand access to care for Texas' uninsured and underserved populations. The projects will:
Expand existing primary care capacity and Baylor Scott & White clinic capacity.
Establish primary care clinics and open a new Baylor Community Care at Carrollton.
Improve access to specialty care.
Expand chronic care disease management and prevention programs.
Develop a care management function to integrate patients' primary care and behavioral health needs, including behavioral health counseling, screening and treatment.
Expand patient navigation through program Care Connect.
Implement one or more pilot interventions in care transition targeting one or more patient care units or defined patient populations, such as the Vulnerable Patient Network (Home Visit Program).
Ensure medication compliance and management through evidenced- based interventions, technology and processes.
These projects will be accomplished at the following hospitals: Baylor University Medical Center, part of Baylor Scott & White Health, Baylor Scott & White Medical Center – Irving and Baylor Scott & White All Saints Medical Center – Fort Worth. Also under consideration for participation in the DSRIP projects is Baylor Scott & White Medical Center – Waxahachie.
Faith in Action Initiatives (FIAI)
Through Faith in Action Initiatives (FIAI) we extend quality, compassionate care and innovation to additional communities in need. We are making an impact on health across our communities and the globe through the donation of medical supplies and equipment plus support for employees serving on international medical service programs.
Family food and fun
A free weekly wellness education program for families in Central Texas. Open to parents and children ages 9-15. Program includes: hands on cooking demonstrations, budget friendly recipes, cooking competition; fitness demonstrations for home, park and gym; and interactive technology that encourages family meal time and physical activity.
Farmers market
Baylor Scott & White hosts a weekly farmer's market from May to September each year at various hospital locations. More than 16 vendors bring their healthy fruits and vegetables. The Baylor Scott & White nutrition department occasionally does a healthy cooking demonstration and provides healthy recipe cards.
HealthSpeak
The Baylor Scott & White HealthSpeak Education Series provides free, monthly educational programs about health and wellness, disease prevention and current treatment options. Healthcare providers from Baylor Scott & White Health medical centers and clinics provide information in presentations designed to invoke questions and audience participation.
HealthTexas Provider Network (HTPN)
HealthTexas Provider Network (HTPN) and the system have been working together for the past nine years to improve access to care for residents of North Texas. HealthTexas is a multi-specialty medical group that employs over 920+ physicians and 250+ advanced practice providers practicing in more than 340 care delivery sites in the North Texas area. This medical group practice is composed of 101 primary care centers and 232 specialty care clinics. In FY15, HealthTexas reported more than 2.2 million patient visits. As a prominent medical group in the community, HTPN employs physicians in both primary and specialty care for the system. Together, we are able to leave a significant impact on the community.
An impact through patient centered medical homes
For 24 years, HTPN has grown to become a robust primary care enterprise capable of supporting a comprehensive care delivery system and responding to healthcare reform. HTPN has successfully implemented initiatives that promote quality, accessibility, affordability, chronic disease management, preventive health and coordinated care across the continuum. HTPNs growth in primary care allows the system to serve its communities and counteract the health professions shortage and lack of access to primary care. As of May 2016, 73 primary care clinics obtained National Committee for Quality Assurance recognition as Patient-Centered Medical Homes (PCMH). By creating a network of PCMHs, HTPN patients receive enhanced access to primary care services as well as improved coordination of care. HTPN also has 90 specialty centers and expanded its outreach presence to include heart, kidney and liver clinics in rural areas outside of DFW.
An impact through care coordination
HTPNs network of PCMHs lays a solid foundation for care coordination by allowing physicians and clinical staff to effectively and efficiently coordinate patient care and facilitate seamless transitions among multiple providers across care settings. HTPN helps the system coordinate care to address patients' needs at all stages of life from acute care to preventive care, chronic care transitional care and end-of-life care. The primary care physician is the hub of all relevant care needs of the patient and manages a team of care coordinators and other non-physician providers that not only coordinate care between HTPN offices, but also seamlessly transfer patients across multiple entities that may include community care, labs, specialists and hospitals. HTPNs transitional care program is a care coordination model that addresses the need to reduce hospital readmission rates and manage the growing number of chronically ill patients who are beginning to appear on patient panels, particularly those patients diagnosed with congestive heart failure.
An impact through geriatric care
Bringing quality care to frail and elderly patients is a significant issue too. The Elder HouseCalls program provides primary care to older adults who are homebound and unable to access healthcare through regular office visits with a physician. This multi-disciplinary approach includes staff on many levels to proactively coordinate care for patients in all settings and severity of illness. The program helps elderly patients maintain their quality of life and reduce emergency room visits and hospitalizations.
An impact through preventive care
HTPN also takes measures to ensure that adult preventive health measures are provided to their patients. Preventing illness and catching chronic disease early can save lives and reduce medical expenses for patients. Therefore, all HTPN primary care physicians are audited every three months for 11 adult preventive measures such as tobacco use, cholesterol, colorectal cancer screenings and breast cancer screenings. Through the electronic health record (EHR), physicians and their office staff are prompted to check for preventive health services at each patient visit. This, in turn, teaches patients health behaviors that will change their risk profile and help them maintain good health. If a patient does have a chronic disease, HTPN has established care standards and protocol measures for diabetes, asthma and heart failure, as well as disease management tool kits that use EHR data and functions to help physicians improve and coordinate the care delivered to chronic disease patients.
Health and wellness focus of care
In order to manage and coordinate the care of patients in populations across the spectrum of health, the system redesigned the way physicians and care teams work and adopted new tools to allow them to reach patients who need services and track these patients more efficiently. This raises the quality of care for all and institutes preventive health measures to avoid chronic conditions for those individuals at the highest level of risk. The system is committed to being a role model of health and wellness to its patients, visitors and the communities it serves.
Thrive for Wellness
The Thrive for Wellness Program promotes health and wellness among the employees of Baylor Scott & White Health. Thrive provides employees with health and wellness events at work and encourages support of events in their communities. Through events and wellness challenges managed by Thrive, employees and their spouses not only receive monetary rewards for healthy living, but they also receive a reduction on medical insurance premiums by enrolling in the program and participating in an annual preventive screening process and health questionnaire. These enrollment requirements help employees and their spouses acknowledge existing health conditions and encourage them to seek appropriate health management or treatment. Thrive influences the menu options and snacks and beverages in vending machines at hospital facilities in both employee and public areas. Beverages, snacks, and meals received a healthy overhaul to help improve employee and patient nutrition. Through Thrive, Baylor Scott & White is exemplifying a responsible approach to self-management of health and disease prevention in the communities we serve.
Tobacco-free hiring
The system strives to be an example for communities and other employers nationwide by instituting a tobacco-free hiring policy, designed to promote health and reduce insurance premiums. The policy prohibits the hiring of applicants whose urine tests positive for nicotine use, whether cigarettes, smokeless tobacco or patches.
Improving geriatric care
Baylor Scott & White is committed to improving the health and patient experience for elderly community members. Through Alzheimer's and dementia treatment to providing smooth transitions between care providers, we're creating new ways to meet the needs of seniors.
Deerbrook grant initiatives
Older adult patients face many more concerns when entering the hospital than a typical patient. They often have multiple chronic conditions (such as urinary tract infections and pressure ulcers), while also trying to manage heart failure, treat pneumonia and prevent occurrence of delirium. In addition, geriatric patients often access care at several levels and receive complex treatment plans from multiple providers. These frequent healthcare encounters may confuse the patient's interpretation of his or her treatment plan and may result the patient providing incomplete or incorrect information to another caregiver. To help elderly patients and to deter the onset of delirium, a stage of confusion often seen in hospitalized geriatric patients, nursing staff is developing best practices and partnerships so older community members are not caught in the unfortunate cycle of readmissions, which is disruptive to recovery. Baylor Scott & White Health recognized the need for improved geriatric care and sought opportunities to learn.
In 2012, Deerbrook Charitable Trust of Chevy Chase, MD, pledged more than $12.4 million over a three-year period to improve care for geriatric patients in hospitals, nursing homes and in their own homes. This initiative helps hospital caregivers meet the increasing need to enhance care for a rapidly growing elderly population by working through five strategies.
Creating specialized geriatric nursing education programs
Refining a comprehensive volunteer program for hospitalized older patients
Developing education and best practice partnerships with skilled nursing facilities
Bringing together a consortium of geriatric experts from regional universities
Assessing risk for chronically ill patients to refine a transitional care model the will reduce hospital readmissions and emergency room visits
The findings from these initiatives will be presented in research publications which could lead to improved care for geriatric patients. Baylor Scott & White will freely share best practices, educational programs and teaching tools with nursing schools, healthcare organizations and virtual learning centers throughout the country.
Alzheimer's and dementia care
Providing memory care is becoming increasingly difficult. Between one-third and one-half of all people with dementia live in costly residential or nursing home facilities. The lack of outpatient services for dementia patients derives from a national focus on research rather than patient care. The number of specialty-trained physicians in dementia is small, with clusters located in academic institutions and the Veterans Administration where there is salary support and insulation from Medicare reimbursement cuts. There are more than 5 million people in the United States with diagnosed Alzheimer's disease, and the supply/demand curve for physicians in private practice is daunting.
Despite these challenges, Baylor Scott & White is dedicated to meeting the need for elderly care by planning Alzheimer's and dementia care programs for both individuals of these diseases and their caregivers that provide educate on prevention, detection and treatment of this disease. Baylor Neuroscience Center's Memory Center opened in July 2011 and serves as a comprehensive neuroscience program diagnosing and treating all forms of cognitive dysfunction and dementia for patients referred from across the healthcare system. The memory center medical team uses medications and other therapies to help patients improve his/her participation in activities of daily living, behavior and cognition. They work closely with the Dallas chapter of the Alzheimer's Association to ensure caregiver support is available, in addition to resources on respite care, psychotherapy and local day programs. Pastoral care also provides chaplain support to conduct home follow-up visits with patients.
Injury prevention
Regular community outreach classes and events are conducted to provide educational materials and promote injury prevention and safety. Injury prevention tips on safe driving, biking, shopping safety and more for keeping children safe and healthy.
Impact Concussion Screenings—The new Concussion Center at Baylor Scott & White Medical Center – Round Rock offers ImPACT testing to help local athletes assess their risk and get medical treatment for concussions.
Injury Prevention Program—Accidents and illness happen, but they don't always need to be part of growing up. The more you know about helping your child avoid injury, the better your chance of preventing problems. From extreme weather precautions to driving, biking and shopping safety.
Safe Babies—Special information is given out to help new parents handle crying infants.
Safe Kids Mid-Texas—This locally formed coalition is dedicated to preventing childhood injury by helping raise awareness of problems and intervening on behalf of our kids.
Child Passenger Safety Center—This is a one-stop place for finding out all you need to know about protecting your child in the car.
Child Protection Team—This center is dedicated to supporting families and helping stop child neglect and abuse in Central Texas through prevention and education.
Medical education
As a health system with renowned teaching facilities, Baylor Scott & White Health attracts first-rate medical specialists who help improve the level of medical care for the entire community. Our teaching programs aid in establishing a robust healthcare workforce for Texas. While they are not required to work for Baylor Scott & White, many physicians remain in Texas upon completion of their education here.
Together, Baylor Scott & White and Texas A&M Health Science Center (TAMHSC) College of Medicine offer a clinical training program in Dallas and Temple. Through this program, students complete their first two years of medical education at TAMHSC College of Medicine campuses in either Bryan/College Station or Temple. During their last two years of medical school, students enrolled in the program complete clinical rotations in surgery, internal medicine, family medicine, psychiatry, pediatrics or obstetrics/gynecology at Baylor University Medical Center Dallas or Scott & White Medical Center – Temple, along with other clinical affiliates.
During a residency, a physician trains in a particular medical specialty, developing clinical skills and professional competencies while taking on increasing responsibility for patient care. Having one of the nation's largest private teaching hospitals, Baylor Scott & White annually trains residents and fellows in 50 specialties and subspecialties. Quality teaching programs add many dimensions to Baylor Scott & White's ability to serve patients. As the landscape of healthcare evolves nationally, the medical school curriculum is dynamic and continuously aligns with the needs of Texas citizens and the goals of the healthcare system. Residents graduate with demonstrated competence in population health management and quality improvement. They are also trained to develop a keen sense of the importance of patient satisfaction. They work with physician assistants and are active managers of the patient-centered medical home. Residents also assume leadership roles in clinic and hospital operations.
Baylor Scott & White is also committed to assisting with the preparation of future nurses at entry and advanced levels of the profession to establish a qualified workforce. Baylor Scott & White maintains strong affiliations with schools of nursing in Central and North Texas. Like residents, the nurses trained at Baylor Scott & White hospitals are not obligated to join the staff although many remain in Texas to provide top quality nursing services to many healthcare institutions.
Additionally, the A. Webb Roberts Center for Continuing Medical Education (AWRC) of Baylor Scott & White Health is a full-service CME provider offering strategic support services in the community to enhance the quality of educational offerings. Implementing CME, the AWRC's accredited activities deliver critical knowledge in support of best practices for the ultimate purpose of improving patient care. The AWRC is accredited by the Accreditation Council for Continuing Medical Education (ACCME) to provide continuing medical education for physicians. AWRC offers designation of AMA PRA Category 1 Credit™ for live courses, workshops and enduring materials, which include internet-based CME and printed materials activities.
Nurse family partnership
Nurse-Family Partnership is an evidence-based community healthcare program in Central Texas that empowers low-income, first-time mothers to become confident parents and strong women by partnering with nurse home visits. Nurse home visits begin early in the mother's pregnancy and continue visitation until the child's second birthday. Nurses provide support, resource connections, education and counseling on health, behavioral and self-sufficiency issues. NFP is one the most rigorously tested programs of its kind—randomized; controlled trials conducted over the past 30 years demonstrate positive multi-generational outcomes for families and their communities. These include improved prenatal health, fewer subsequent pregnancies, increased maternal employment, improved child school readiness, reduced criminal involvement, and less child abuse, neglect and injuries.
Office of mission and ministry
The Office of Mission and Ministry has a far reaching impact on patients, families, staff and the global community through pastoral care, clinical pastoral education and medical missions. See how Baylor Scott & White cares for the whole person through these initiatives.
Student engagement
Student Engagement is a service organized through the Community Outreach department with the goal of providing opportunities for K-12 schools to collaborate with Baylor Scott & White hospitals and clinics.

For service in the Austin/Round Rock region, including the Travis and Williamson Country areas, fill out the form below and email Carol.Collins@BSWHealth.org.

To connect with Baylor Scott & White in other regions, please email CommunityHealth@BSWHealth.org.
Supportive palliative care
The Baylor Scott & White Health supportive palliative care program is an area of healthcare that focuses on relieving and preventing the suffering of patients. Supportive palliative care provides consultation services to help patients and families face the complex physical, psychological, social and spiritual problems often accompanying advanced illness. These services are offered regardless of the patient's ability to pay.
Pediatric asthma outreach
Baylor Scott & White McLane Children's Hospital in Temple uses a full-time certified asthma educator to coordinate outreach and education for asthma within the System and in the community.
Asthma outreach is geared towards helping patients, their families, healthcare providers and even the community work together to better understand asthma and how to better manage it.
The goal is to improve the quality of life for these children and their families. The program's goal is reduce clinic, emergency department visits and hospitalizations due to asthma, and to reduce the number of missed school days and work days due to asthma symptoms.
The hospital hosts an annual camp during the summer "Camp Wheeze Away" for patients with asthma and provides free educational information classes and activities to parents and children throughout the year on the causes and treatment of asthma symptoms as well as the importance of inhalers.
Topics discussed include:
What is asthma?
How is it diagnosed?
Signs and symptoms
Triggers and trigger avoidance
Medications
Smoking cessation
Por tu familia
Presented by Baylor Scott & White, Por tu Familia, or "for your family", is the signature comprehensive diabetes prevention and management program of the American Diabetes Association's Latino initiatives. It is a comprehensive program developed for and targeted to Latinos. It is geared towards people who have been diagnosed with diabetes or pre-diabetes, caregivers of people with diabetes, as well as anyone who believes they might be at risk.
Project SEARCH
A school-to-work program designed for high school students with disabilities offered in cooperation between Baylor Scott & White Medical Center – College Station, College Station Independent School District, Texas Department of Assistive and Rehabilitative Services (DARS), Brazos Valley Center for Independent Living (BVCIL), MHMR Authority of Brazos Valley, Region 6 Education Service Center and Junction 505.
Project SEARCH, a post-secondary program, is designed for young adults with disabilities to gain employment skills. While participating in the program, students complete internships in a variety of departments at Baylor Scott & White Medical Center – College Station to develop employability skills with the ultimate goal of gaining and maintaining competitive integrated employment in the community. The students work with a team that includes their family, a special education teacher, skills trainers, hospital staff and vocational rehabilitation services to create an employment goal. This team supports the student during this important transition from school to work.
Project SEARCH in College Station is a collaboration between Baylor Scott & White Medical Center – College Station, College Station Independent School District, Brazos Valley Center for Independent Living (BVCIL), Texas Workforce Commission - Vocational Rehabilitation Services, and MHMR Authority of the Brazos Valley.
Research
Baylor Research Institute (BRI) focuses on finding prevention therapies and treatments for diseases and illnesses through translational medicine, which turns basic science discoveries into new therapies for patients. This kind of research – dubbed "bench to bed-side" – is at the core of BRI's commitment to implement evidenced-based medicine safely and effectively in as few steps as possible.
Walk With a Doc
Walk With a Doc is a year-round monthly walking program sponsored locally by Baylor Scott & White Health, Temple Mayor's Fitness Council and the Scott & White Health Plan. The goal is to encourage healthy physical activity in people of all ages, and reverse the consequences of a sedentary lifestyle, which will improve the health and well-being of the community. Each program starts with a volunteer physician hosting a short discussion on a popular health topic like heart health, women's health, screening tips, etc. Then, the conversation migrates into the 2-mile walk, all the way back to the meeting point, where walkers can have their blood pressure checked, get water and a light healthy snack.
Wellness programs – Brazos Valley
Baylor Scott & White Health offers several programs in Brenham and College Station for the Brazos Valley community.
Chronic disease self-management program
An ongoing program provided to help people manage various chronic health conditions. Subjects covered include:
Techniques to deal with problems such as frustration, fatigue, pain and isolation
Appropriate exercise for maintaining and improving strength, flexibility and endurance
Appropriate use of medications
Communicating effectively with family, friends and health professionals
Nutrition
Decision-making
How to evaluate new treatments
A Matter of Balance
Many older adults experience a fear of falling. People who develop this fear often limit their activities, which can result in physical weakness, making the risk of falling even greater. A Matter of Balance: Managing Concerns About Falls is a program designed to reduce the fear of falling and increase activity levels among older adults. A Matter of Balance includes eight two-hour sessions for a small group led by a trained facilitator.
During the class, participants learn to: view falls as controllable, set goals for increasing activity, make changes to reduce fall risk at home and exercise to increase strength and balance.
Better Breathers Club
Better Breathers Clubs meet regularly and feature educational presentations on a wide range of relevant topics, including: how COPD affects the lungs, breathing techniques, exercise, talking with your physician, medications and other treatment options, medical tests, supplemental oxygen, home healthcare, lung transplants and air pollution
Fit & Strong
Fit & Strong is an evidence-based, multiple component exercise program. It combines flexibility, strength training and aerobic walking with health education for sustained behavior change among older adults with lower extremity osteoarthritis (OA).
This eight-week program helps participants to improve: lower extremity stiffness, lower extremity pain, lower extremity strength, aerobic capacity, participation in exercise and caloric expenditure, self-efficacy for exercise
Seniorcise
This ongoing educational class for seniors includes stretching and strengthening in standing and sitting positions to improve flexibility, cardiovascular, balance and strength.
Texercise
A statewide health promotions program of the Texas Department of Aging and Disability Services (DADS) that encourages individuals and communities to adopt healthy lifestyle habits such as regular physical activities and good nutrition.