Baylor Scott & White Medical Center – Brenham is a 25-bed critical access hospital, providing medical and surgical care, delivered by a team of medical experts. We are accredited by The Joint Commission and are also designated as a Level IV Trauma Center, and a Support Level III Stroke Facility. Our Brenham hospital has also achieved the American Nurses Credentialing Center Pathway to Excellence Designation.
More about us
---
Enhanced visitor precautions

Learn more about our COVID-19 safety precautions.

Visiting hours vary on certain units so please check with your nurse for more specific information.
Medical services
​​​​​​​​​​​​​Baylor Scott & White Health offers expertise and treatment options conveniently located near you.
Insurances accepted
Baylor Scott & White has established agreements with several types of insurance to ensure your health needs are covered.
Insurance listings are subject to change without prior notice. Please call the hospital or health plan to verify coverage information before scheduling your visit/procedure.
Choice POS II

Open Access Elect Choice

Open Access Managed Choice

Select SM

Aetna Signature Administrators

Elect Choice

Health Network Option

HMO

Managed Choice

Open Access Select

Open Choice PPO

QPOS

Aetna Whole Health/BSWQA

Baylor Scott & White Health Plan - (16)

HMO Network-Individual/Family

EPO Network-Individual/Family

BSWH Employee Network - PPO & HSA

BSWH Employee Network - SEQA & EQA

BSW SeniorCare Advantage HMO

BSW SeniorCare Advantage PPO

HMO Network-Group

PPO Network-Group

PPO Choice Network

PPO Choice Preferred Network

Cigna PPO Network - Out of Area Member Plan

PHCS/OPTUM - PPO Network - Out-of-Area Member Plan

EPO Network-Group

McLane Group Network

BSW Preferred HMO Network - Group

BSW Preferred PPO Network

Blue Cross Blue Shield - (12)

Blue Advantage HMO

Blue Choice PPO

Blue Essentials

Blue Essentials Access HMO

Blue Premier

Blue Premier Open Access HMO

Medicare Advantage - EFH Retirees

Medicare Advantage - Oncor

ParPlan

Traditional

Indemnity

STAR Kids

Brookshire Brothers - (1)

Self-Insured Employee Plan

Cigna Choice Fund

EPO

HMO

HMO Open Access

HMO/POS

LocalPlus

LocalPlusIN

Network

Network Open Access

Network POS

Open Access Plus

POS

POS Open Access

PPO

Community Health Choice - (1)

Coventry Workers' Compensation - (1)

Coventry Workers' Compensation

American Airlines Employee Benefit Plan

Galaxy Health Network - (1)

ACCEL Network

Preferred Network

ChoiceCare

Humana Preferred

National POS

Commercial PPO Plans

Commercial HMO Plans

Medicare Advantage Plans (exclude Southwestern Health Resources Network)

Independent Medical Systems - (1)

Injury Management Organization (IMO) - (1)

Injury Management Organization (IMO)

Midland Memorial Hospital - (1)

Mother Frances Hospital Regional - (1)

Self-Insured Employee Plan

Occupational Networks of Texas, Inc.

Prime Health Services - (1)

Scott & White Health Plan - (1)

RightCare STAR Medicaid Network

Sedgwick Preferred Network f/k/a Southwest Medical - (1)

Superior Health Plan - (5)

STAR

STAR+PLUS

CHIP

CHIP Perinate

Foster Care

Superior HealthPlan - (4)

CHIP Perinate

Foster Care

STAR

STAR+PLUS

Texas Children's Health Plan - (2)

Three Rivers Network - (1)

Tricare Extra

Tricare Prime

Tricare Select

Charter HMO

Charter EPO

Charter POS

Choice HMO

Choice +HMO

Choice EPO

Choice Plus POS

Core HMO

Core EPO

Core Choice Plus POS

Navigate EPO

Navigate HMO

Navigate HMO+

Navigate POS

PPO

Options PPO

Select +

Select HMO

Select EPO

Select Plus POS

AARP Medicare Complete

Dual Complete Medicare Advantage

Medicare Complete

Medicare Gold

Medicare Silver

Group Medicare Advantage

STAR

STAR+PLUS

CHIP

STAR Kids

University Mary Hardin-Baylor - (1)
We're sorry!
We couldn't find any results for ""
Mobile makes it easy
Just like we make it easy to get care when your child is sick or injured, our top-rated app, MyBSWHealth, can simplify keeping them healthy. The app lets you book appointments, message your pediatrician, view your child's medical records and schedule virtual same-day care from your computer, smartphone or tablet.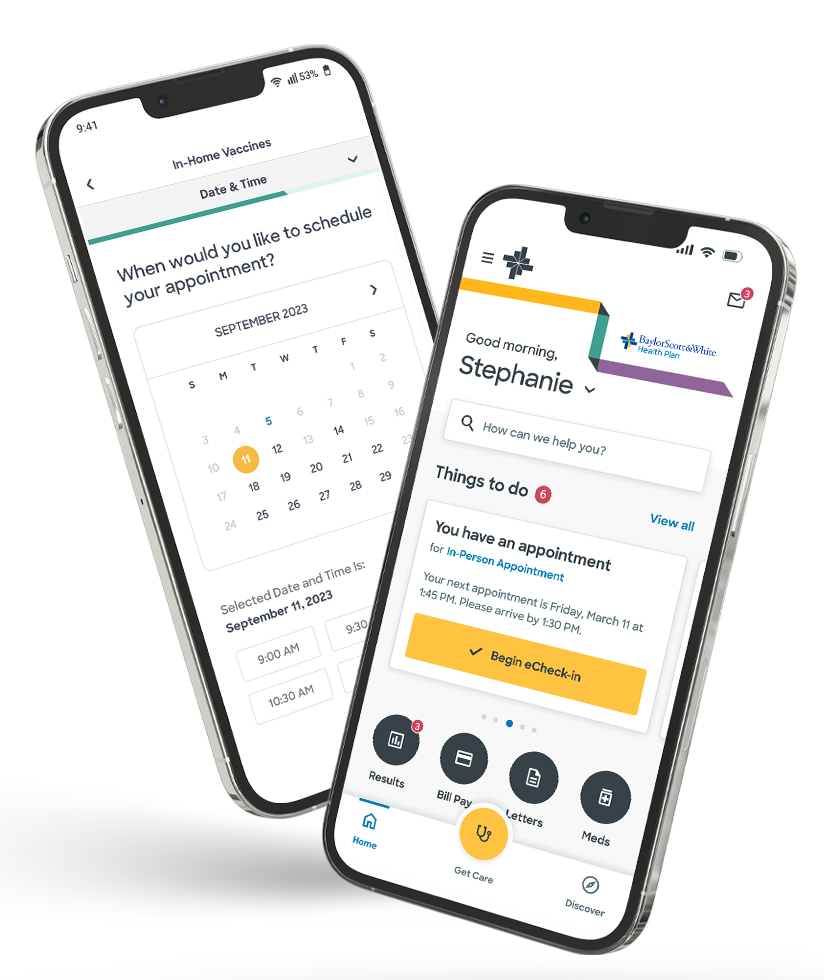 More helpful information
​​​​​​​​​​​​​Here's more information to help with your visit to our campus.
Concierge and information desk
Visitor information/concierge desks are located in the main entrance of the medical center, where staff can assist you with general information, maps, notary public services and local eateries/hotel listings.
Dining options
Complimentary coffee, tea and water are available throughout the day.
Cafeteria
Hours
Monday through Friday
Breakfast: 7:15 - 10:00 AM
Lunch: 11:00 AM - 1:30 PM
Vending machines
Vending machines with snacks and sodas are located just off the main entrance and in the emergency department lobby and are available 24 hours a day.
Inpatient room service
Visitors who must stay in the patient's room may purchase a guest tray from the cafeteria to be delivered at meal times.
Estimate your cost of care
Baylor Scott & White Health is an advocate for greater healthcare pricing transparency and patient affordability.
We provide a self-service price estimation tool to help you obtain accurate out-of-pocket expense estimates, along with other helpful resources to help you make more informed financial choices about your care.
Estimate your cost of care
Gift shop
The gift shop is located in the main hallway of the hospital, near the cafeteria.
Hours:
Monday through Friday
8:00 AM - 4:00 PM
The shop sells unique items and gifts (many hand crafted), candy, cards, personal care items and books.
The proceeds from sales in our gift shop goes to the hospital Auxiliary.
Medical records
You can request copies of your medical records by completing an Authorization for Release of Information form and returning to the facility at which you received care.
Request your records
Nursing accomplishments
Our nurses are dedicated to the care of a diverse community of patients. As members of our front line care team, they take pride in seeking opportunities to provide a higher level of care.
View nursing accomplishments
Recognize an employee
Because our staff cares so deeply for those we help, there are those who often go beyond the call to provide great care.
Nominate an employee
Spiritual care
Pastoral Care services are available to all Baylor Scott & White patients and families.
Our team of experienced chaplains and trained volunteers will respond to your spiritual needs professionally and confidentially.
Patients and family members may feel free to contact a staff member to request a chaplain. Your own priest, rabbi, minister or other spiritual leader is always welcome to visit you while you are here.
Bibles are available upon request through our chaplains. Please contact your nurse if you would like to receive a Bible.
Connect with a chaplain
Visitor lounges
There are designated lounges for visitors in the main lobby and on the second floor outside of the operating room. Specific areas have been designated for guests in other areas.
If you are in a large group, we ask for your consideration of other patients' families when seating is limited.
Wireless laptops can be used in most areas by connecting to our visitor wireless network. Charging stations and outlets are also available in select areas.
The use of wireless communication devices, such as cell phones, notebooks and laptops, can interfere with medical equipment and is restricted in all patient care areas. Please restrict your use of these devices to visitor lounges and non-patient care areas.
Visitor guidelines
Family and friends are welcome to visit our hospital in Brenham; however, patient care is our primary concern. In order to provide a high quality of care, general guidelines have been established.
You may have two visitors at the bedside at one time and visits should be kept brief.
Visitors should be considerate of patients by maintaining a quiet environment and avoiding unnecessary noise.
People with contagious diseases should not visit.
Visitors may be asked to leave the room during tests or treatments or when the doctor or nurse needs to see the patient.
Visitors should check with the nurse before bringing gifts of food or drink to patients.
Children are generally not allowed on patient care units. Please contact your nurse regarding your unit's policy.
All patients have the right to identify a support (visitor) or patient representative (decision-maker) of their choice. This designated person is a person who can visit a patient without limitation or restriction unless visitation would interfere with the care of the patient and or care of other patients. The patient has a right to withdraw or change this designation at any time during their hospitalization either verbally or in writing.
Members of the clergy may visit at any time.
Volunteer with us
We rely on our generous volunteers to provide several special services.
Every volunteer enhances the patient experience in some way by supporting our culture of customer service. Join the ranks of our volunteers to get involved and make a difference.
Become a volunteer