Nervous systems and spine treatment close to home
Baylor Scott & White Neurosurgery and Spine Associates was created in September 2004 to provide state-of-the-art neurosurgical care to patients in our community. The BSW Neuroscience Center, one of America's premiere Neuroscience facilities, has been recognized by U.S. News & World Report as one of the country's best.
Baylor Scott & White Neurosurgery and Spine Associates provides a full complement of surgical treatments for the central and peripheral nervous systems as well as the spine. We incorporate the latest in surgical advances and radiosurgical options.
Diseases and conditions treated include:
Epilepsy
Chiari malformation
Cerebrovascular disease (aneurysm, AVM, other malformations)
Brain tumors
Trigeminal neuralgia
Skull base tumors
Cervical disc disease
Lumbar disc disease
Insurances accepted
Baylor Scott & White has established agreements with several types of insurances in an effort to make sure your health needs are covered.
Insurance listings are subject to change without prior notice. Please call the hospital or health plan to verify coverage information prior to scheduling your visit/procedure.
Aetna Signature Administrators

Blue Cross Blue Shield - (3)

Blue Essentials

Blue Premier

ParPlan

LocalPlus

Open Access Plus

American Airlines Employee Benefit Plan

ACCEL Network

Preferred Network

ChoiceCare

Humana Preferred

National POS

Superior Health Plan - (1)

Superior HealthPlan - (1)
We're sorry!
We couldn't find any results for ""
Medical services
​​​​​​​​​​​​​
Baylor Scott & White Neurosurgery and Spine Associates offers expertise and treatment options conveniently located near you.
Brain tumor evaluation and treatment
There are several steps involved in diagnosing and treating brain and spine tumors.
Obtaining the diagnosis is the first step. Imaging studies such as CT or MRI usually provide the first view of the brain tumor. These studies give the exact location of the tumor and some general information about the brain tumor type.
There are many different types of tumors. Thus, to ensure the best treatment plan, the diagnosis must be specific and certain.
After a diagnosis is made, a brain tumor treatment plan can be formulated.
Treatment options may include surgical removal (sometimes combined with a biopsy procedure), radiation therapy and/or chemotherapy. Response to brain tumor treatment is monitored closely, and the plan modified as needed.
Cerebrovascular disease evaluation and treatment
We treat all vascular problems in the brain and spine, most commonly including aneurysms, arteriovenous malformations and cavernomas.
We work closely with interventional neuroradiologists and radiation oncologists to deliver the best possible care for these issues, whether that care includes surgery, endovascular treatment (minimally invasive treatment that avoids an open surgery) or radiation therapy.
Neck and lower back pain treatment
At Baylor Scott & White Neurosurgery and Spine Associates, we strive to attain the best possible healing and recovery for every patient.
Because every patient is unique, we formulate neck and lower back treatment based on a thorough evaluation, which we perform using the latest technological advancements available.
We believe in evaluating patients promptly and educating them on their diagnosis, so they can play an active role in the decision-making and treatment process to reduce their lower back and neck pain.
Our clinical experience has shown us that patients who participate in their own healthcare decisions are far more likely to achieve an optimal level of healing and recovery.
Skull base surgery
Skull base tumors present a unique set of challenges due to their deep location.
We offer our patients the very latest in minimally invasive techniques for skull base surgery, including endoscopic surgery through the nose, when appropriate, to treat these tumors.
We believe that skull base pathology requires a team approach to deliver the best care possible. As an integral arm of the Baylor Neuroscience Center Skull Base Center, we work in partnership with sub-specialized endocrinologists, otolaryngologists, radiation oncologists, neuro-oncologists and others to ensure our patients receive expert care for all facets of their skull base tumor treatment.
Radiosurgery
Radiosurgery, defined as treatment using powerful beams of precisely focused radiation, is a crucial tool in the fight against difficult tumors.
We work in conjunction with radiation oncologists to develop precise plans to deliver radiation to the tumor while sparing the important structures nearby as part of our radiosurgery treatment.
Patient forms
To ensure that your visit to our office is as convenient and efficient as possible, we are pleased to offer our registration forms online. The patient registration form may be completed electronically and printed for better legibility or completed manually.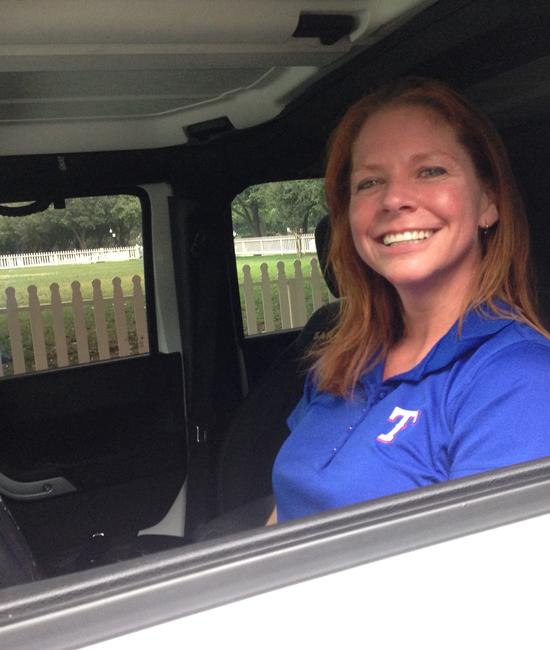 Life uninterrupted following epilepsy surgery
As a child, Megan Kidd remembers waking up in a daze, unsure of her surroundings. Sometimes she would find herself in another room. Other times trying to recall what she said a few moments before.
"I didn't understand what was happening, or why I would say or do weird things, then totally black out," said Megan, now 39, and living in Oklahoma City, OK.
Doctors believed Megan was suffering from mild seizures at the time but assured her she would grow out of them.
Read how Megan is enjoying a new life thanks to epilepsy surgery