What causes deep vein thrombosis?
Peripheral artery disease (PAD) may lead to leg pain or arm pain due to deep vein thrombosis, a condition caused by trauma, injury, limited mobility or a clotting disorder restricting blood supply. Deep vein thrombosis treatment could include drug therapy or surgery—or both.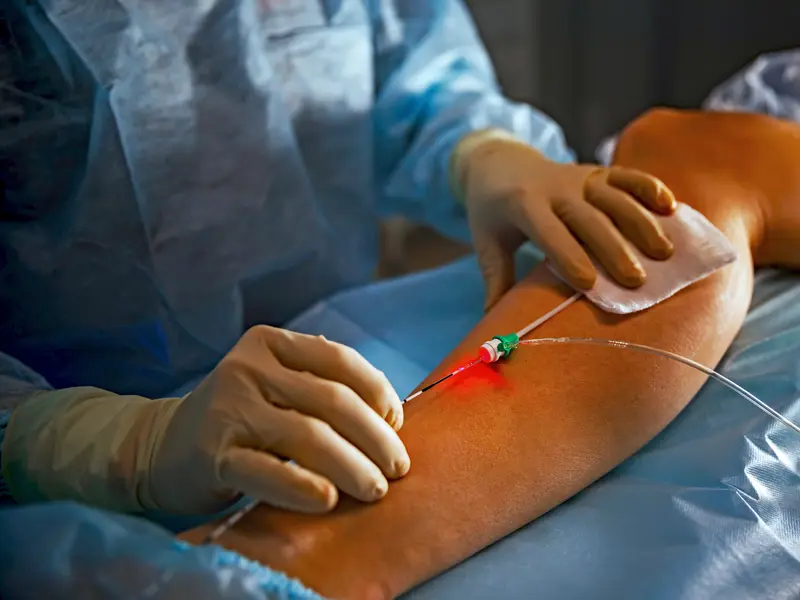 Mechanical thrombectomy
Vascular surgeons on the medical staff at Baylor Scott & White Heart and Vascular Hospital – Dallas perform a surgical procedure known as percutaneous mechanical thrombectomy.
This kind of deep vein thrombosis treatment involves inserting a guide wire through a sheath in the femoral vein, advancing the wire past the clot and passing a catheter over the wire to the blocked area. Antithrombotic drugs are administered through the catheter to dissolve any remaining clot fragments, and medical therapy is recommended for long-term anticoagulation following the procedure.
A related procedure to percutaneous mechanical thrombectomy is surgical venous thrombectomy. During this type of deep vein thrombosis treatment, vascular surgeons at our Dallas heart hospital remove a deep vein clot by inserting a catheter through a small incision in the affected vein for patients with a severe blockage.