Advanced heart and vascular services in Plano
Baylor Scott & White The Heart Hospital – Plano offers all the nationally recognized care and surgeries that our cardiac and vascular teams have become famous for. The physicians on our Plano heart hospital's medical staff and nearly 1,000 employees work tirelessly to deliver safe, quality and compassionate heart care.
We are one of the busiest and highest-rated heart hospitals in America, so you can trust both our expertise and experience. We regularly perform life-saving procedures and congestive heart failure treatments, including endovascular surgery, CABG surgery, heart valve surgery and ventricular assist device implanting.
More about us
---
Enhanced visitor precautions

Learn more about our COVID-19 safety precautions.

Self-parking

In addition to complimentary valet parking, you may also self-park in the visitor parking garage in front of the Pavilion II building.

Complimentary valet parking

We encourage you to use our complimentary valet parking, which is available from 5:00 PM - 12:00 AM every day, including weekends. The valet is located at the main entrance near the intersection of Allied Dr and Alliance Blvd.

Text-ahead valet service

Using your cell phone, send a text to our valet service at 214.643.8311 when you want them to retrieve your vehicle
For example, "Ticket number 12345, I'll be downstairs in 15 minutes." A confirmation text will be sent to your phone
The service is free of charge and is offered for your convenience

Call-ahead valet service

Or, you may call the Valet House Phone at 469.814.4788 and provide the valet ticket number and your pick-up time
Please be sure to have your valet ticket ready to expedite the vehicle retrieval process
Medical services
​​​​​​​​​​​​​We offer advanced diagnostic outpatient imaging services, consultations and treatment plans for complex heart and vascular conditions as an outpatient service of Baylor Scott & White The Heart Hospital – Plano.
Insurances accepted
Baylor Scott & White has established agreements with several types of insurance to ensure your health needs are covered.
Insurance listings are subject to change without prior notice. Please call the hospital or health plan to verify coverage information before scheduling your visit/procedure.
Choice POS II

Open Access Elect Choice

Open Access Managed Choice

Select SM

Aetna Signature Administrators

Elect Choice

Health Network Option

HMO

Managed Choice

Open Access Select

Open Choice PPO

QPOS

Medicare Advantage Plans

Aetna Whole Health/BSWQA

Aetna Medicare Choice Plan (PPO)

Group Retiree Medicare PPO - Limited to Exxon/Mobil

Aetna Medicare Eagle II (PPO)

Aetna Medicare Eagle Plan (PPO)

Aetna Medicare Value Plan (HMO)

Health Network Only

Aetna Medicare Freedom Preferred Plan (PPO)

Aetna Medicare Freedom Plan (PPO)

Aetna Medicare Prime Plan (HMO)

Aetna Medicare Choice II Plan (PPO)

Select

Blue Cross Blue Shield - (28)

Blue Advantage HMO

Blue Choice PPO

Blue Essentials

Blue Essentials Access HMO

Blue Premier

Blue Premier Open Access HMO

Medicare Advantage - EFH Retirees

Medicare Advantage - Oncor

ParPlan

Traditional

Indemnity

Blue Advantage - Gold

Blue Advantage - Bronze

TRS-Care Standard

TRS-ActiveCare Primary HD

TRS-ActiveCare Primary

TRS-ActiveCare 2

High Performance Network

Blue Advantage - Silver

Blue Essentials Access

Blue Premier Access

Federal Standard Option

Blue Choice

Blue Cross Medicare Advantage Dual Care Plus (HMO SNP)

Federal FEP Blue Focus

HealthSelect

Blue Cross Medicare Advantage (HMO)

Blue Advantage Plus - Bronze

Choctaw Nation Health Services Authority - (1)

Children's Medical Center Employee Plan

City of Dallas Employee Plan

Cigna Choice Fund

EPO

HMO

HMO Open Access

HMO/POS

LocalPlus

LocalPlusIN

Network

Network Open Access

Network POS

Open Access Plus

POS

POS Open Access

PPO

Cigna HealthSpring

American Airlines Employee Benefit Plan

ACCEL Network

Preferred Network

ChoiceCare

Humana Preferred

National POS

Commercial PPO Plans

Medicare Advantage Plans (exclude Southwestern Health Resources Network)

PPO

HumanaChoice (PPO)

Humana USAA Honor with Rx (PPO)

HumanaChoice (Regional PPO)

Hunt Memorial Hospital - (1)

EPN

Imagine Health Network

Midland Memorial Hospital - (1)

Nebraska Furniture Mart - (3)

PHCS Network

PHCS Primary PPO

Prime Health Services - (1)

Sedgwick Preferred Network f/k/a Southwest Medical - (1)

Superior Health Plan - (11)

Ambetter Essential Care - Bronze

Ambetter Balance Care - Silver

Ambetter Secure Care - Gold

Medicare/Medicaid Dual Needs Plan: Advantage HMO SNP

Medicare/Medicaid Plan

STAR+PLUS

Wellcare by Allwell

Wellcare

Ambetter Core EPO - Silver

Ambetter Core EPO - Bronze

Ambetter Core EPO - Gold

Superior HealthPlan - (1)

Texas Christian University - (1)

VA-PCCC

Community Care Network

Charter

EDGE

Navigate Balanced

AARP Medicare Advantage Walgreens (PPO)

Select

Select Plus

All Savers

Choice Plus

Core

Choice

Navigate

Charter Balanced

Charter HMO

Charter EPO

Charter POS

Choice HMO

Choice +HMO

Choice EPO

Choice Plus POS

Core HMO

Core EPO

Core Choice Plus POS

Navigate EPO

Navigate HMO

Navigate HMO+

Navigate POS

PPO

Options PPO

Select +

Select HMO

Select EPO

Select Plus POS

AARP Medicare Complete

Dual Complete Medicare Advantage

Medicare Complete

Medicare Gold

Medicare Silver

Group Medicare Advantage

Nexus ACO OA

NexusACO R

UnitedHealth WellMed Network - (6)

AARP Medicare Complete

Dual Complete Medicare Advantage

Medicare Complete

Medicare Gold

Medicare Silver

Group Medicare Advantage

University Mary Hardin-Baylor - (1)
We're sorry!
We couldn't find any results for ""
Mobile makes it easy
Just like we make it easy to get care when your child is sick or injured, our top-rated app, MyBSWHealth, can simplify keeping them healthy. The app lets you book appointments, message your pediatrician, view your child's medical records and schedule virtual same-day care from your computer, smartphone or tablet.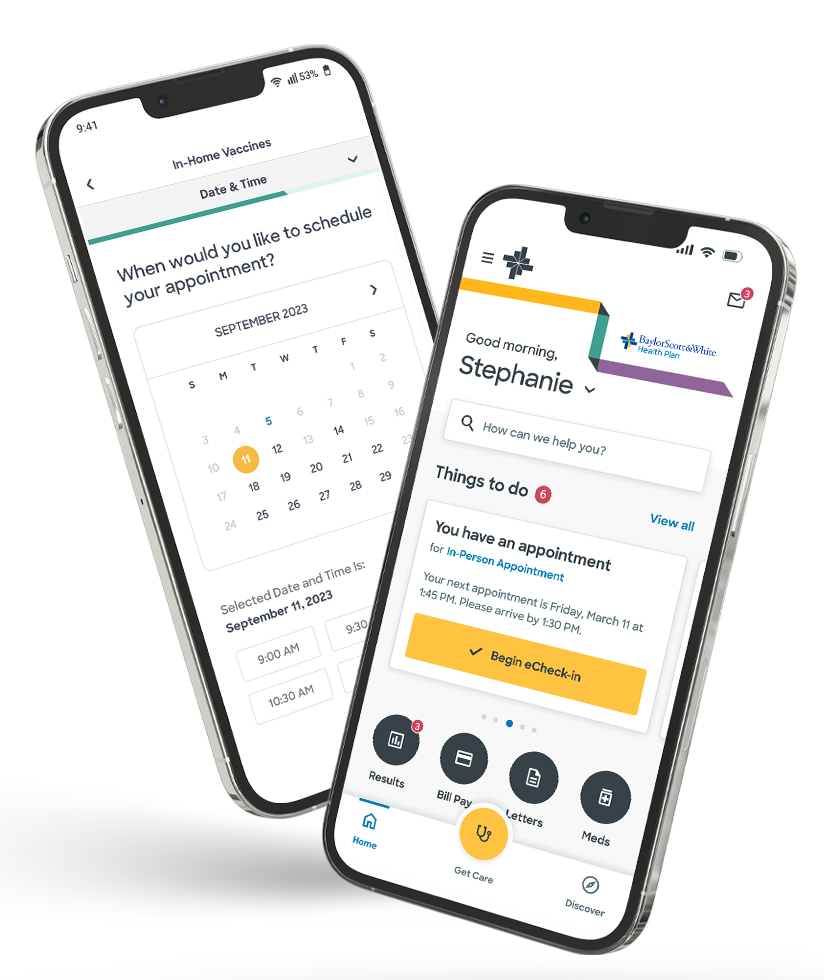 More helpful information
​​​​​​​​​​​​​Part of our focus on you and your health is a five-star hospitality experience in an advanced medical facility. We believe that a comfortable guest is a guest that heals more quickly.
Concierge and information desk
The hospital's concierge staff is ready to assist you with directions and answer questions about the hospital. They are also prepared to offer suggestions on dining and hotel accommodations in Plano and surrounding areas, and they can even provide maps to help you find your destination.
Concierge services are offered on floors one through five with varying hours. The main lobby concierge service hours of operation:
Monday-Friday: 5:00 AM - 9:00 PM
Saturday: 8:00 AM - 3:00 PM
Sunday: 10:00 AM - 6:00 PM
Dining options
The Heart Rock Café
The Heart Rock Café is located on the first floor, offering delicious dining options for breakfast and lunch. Guests may place dining orders from their suite; visitors may also order for a flat $10 charge. Call 469.814.4777 to place orders.
Weekday hours
Monday-Friday: 7:00 - 10:00 AM; 11:00 AM - 2:00 PM
La Madeleine
La Madeleine is located in the hospital lobby and offers traditional French products, including freshly baked pastries, assorted sandwiches, salads, soups and a variety of beverages ranging from tea and filtered coffee to cappuccinos, lattes, espresso and more.
Weekday hours
Monday-Friday: 7:00 AM - 6:00 PM
Weekend hours
Saturday-Sunday: 7:00 AM - 4:00 PM
Fresh Market Café
Our Fresh Market Café located in the main lobby has packaged meals and snacks which you can purchase 24/7 using an automated touch-screen kiosk. The Fresh Market Café accepts debit and credit cards (Amex®, MasterCard®, Visa®, Discover®). The Fresh Market Café does not accept cash.
Vending Machines
Vending machines are located on the first floor near the emergency entrance.
Estimate your cost of care
Baylor Scott & White Health is an advocate for greater healthcare pricing transparency and patient affordability. We provide a self-service price estimation tool to help you obtain accurate out-of-pocket expense estimates, along with other helpful resources to help you make more informed financial choices about your care.
Estimate your cost of care
Medical records
You can request copies of your medical records by completing an Authorization for Release of Information form and returning to the facility at which you received care.
Request your records
Nursing accomplishments
Our nurses are dedicated to the care of a diverse community of patients. As members of our front line care team, they take pride in seeking opportunities to provide a higher level of care.
View nursing accomplishments
Patient greetings
Brighten the day of a patient with an eGreeting—a personal message hand-delivered to your loved one.
Send patient greeting
Recognize an employee
Because our staff cares so deeply for those we help, there are those who often go beyond the call to provide great care.
Nominate an employee
Spiritual care
We believe total guest care includes attending to one's spiritual fulfillment.
Our Chapel is located on the first floor and is accessible from the main lobby. Beautiful and serene, it is a place for quiet reflection and prayer.
Our chaplain holds a weekly worship service at 3:30 PM on Sunday, 12:00 PM on Wednesday and 8:45 AM on Friday, as well as special events and seminars throughout the year.
Chaplain service is available 24 hours a day. However, your priest, minister, rabbi or other spiritual leader is always welcome to visit with you and your family at the hospital.
Call chaplain services at 469.814.3344
Visitor lounges
There are designated lounges for visitors on patient floors. Specific areas have been designated for guests in other areas. If you are in a large group, we ask for your consideration of other patients' families when seating is limited. Wireless laptops can be used in most areas by connecting to our visitor wireless network. Charging stations and outlets are also available in select lounge areas. The use of wireless communication devices, such as cell phones, notebooks and laptops, can interfere with medical equipment and is restricted in all patient care areas. Please restrict your use of these devices to visitor lounges and non-patient care areas.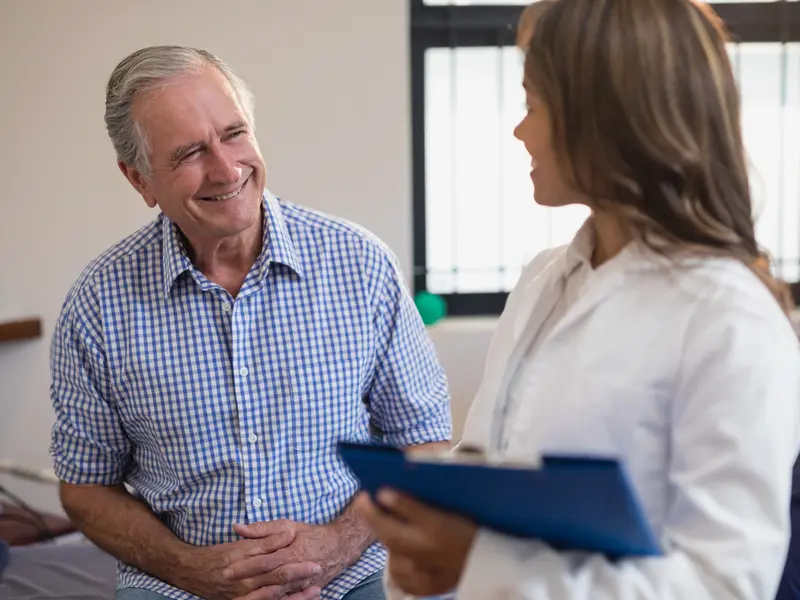 Clinical trials
Baylor Scott & White Research Institute (BSWRI) oversees a robust portfolio of cardiovascular trials and studies, in addition to leading research in oncology, transplant, trauma, and nearly 50 other specialty areas.
Baylor Scott & White The Heart Hospital – Plano offers more than 120 active clinical trials and we are the only community hospital in the U.S. News and World Report Top 100 that boasts this level of education and research.
Thank you for making us better
From conquering heart failure to thriving with a new heart, your fighting spirit is what drives us to deliver quality care. After all, our greatest achievement is seeing you beat every challenge that comes your way. We're here to help you face each of those challenges with quality, advanced heart treatments.
Explore Baylor Scott & White The Heart Hospital
Discover the resources that set us apart from other heart hospitals. Here's what choosing us can do for you and your loved ones.
Notice Regarding Physician Ownership: Baylor Scott & White The Heart Hospital Plano is a hospital in which physicians have an ownership or investment interest. The list of the physician owners or investors is available to you upon request.
Physicians provide clinical services as members of the medical staff at one of Baylor Scott & White Health's subsidiary, community or affiliated medical centers and do not provide clinical services as employees or agents of those medical centers or Baylor Scott & White Health.