Our full-service acute care hospital is dedicated to providing quality healthcare to our community. We're a not-for-profit hospital and have been caring for our community since 2004.
We have 160 licensed beds and offer a broad range of services, including oncology, digestive disease, weight loss surgery, scoliosis, gastroenterology, orthopedics, pulmonology, neurology, neurosurgery and interventional radiology.
More about us
---
Enhanced visitor precautions

Learn more about our COVID-19 safety precautions.

After-hours visitation

9:00 PM - 5:00 AM each day

To obtain visitor passes for after-hour periods, please contact your nurse. Those requiring entry after 9:00 PM can enter through the Emergency Department and must have nursing approval. You will need to sign-in at the security office in the Emergency Department waiting area. Security escorts are available 24 hours a day. To request a security escort to a parking area, or to request other police or security assistance call 469.814.4444 (4.4444 from in-house phones).

Free guest parking is available for patients and visitors 24 hours a day, seven days a week in the Guest Parking Garage or via the Free Valet Service located at the front entrance of the hospital, Medical Pavilion 1 and Medical Pavilion 2.

Medical Pavilion 1 hours

Monday-Friday: 8:00 AM - 6:00 PM

Medical Pavilion 2 hours

Monday-Friday: 7:30 AM - 5:30 PM

Hospital hours

Monday-Friday: 5:45 AM - 6:30 PM

Please call the operator at 469.814.2000 and they can assist with connecting you to the person or department you need at Baylor Scott & White Medical Center – Plano. Or view our full phone directory.
Medical services
​​​​​​​​​​​​​Baylor Scott & White Health offers expertise and treatment options conveniently located near you.
Quality and patient safety
​​​​​​​​​​​​​
The expectation to deliver high-quality, safe care guides our daily decisions and provides a roadmap to achieving excellence in what we do for patients and members.
Baylor Scott & White Health's quality and safety guiding principles
Achieve zero preventable harm
Achieve zero preventable harm through unwavering commitment to high reliability practices and procedures
Build a culture of safety
Reinvigorate a culture of safety as evidenced by top quartile results on standardized, benchmarkable survey instruments
Excel at patient experience
From the perspective of patients and members, be at least a top quartile performer on established experience surveys
Listen to the patient's perspective
Gather feedback on a regular basis from patient and family advisory boards as well as through routine surveillance of social media
Prioritize based on data
Use data-driven insights to determine improvement activities
Target select national rankings
Using the best available objective evidence from national ratings such as Centers for Medicare & Medicaid Services (CMS) and US News and World Report, target select rankings among the best performers while having no performers below the median
Develop standard performance/Process improvement method
Train the organization to continuously identify improvement opportunities, implement solutions, and track progress using a standard and proven methodology
Deploy an electronic health record across the continuum
Deploy an interoperable electronic health record to facilitate reductions in variation and hardwire delivery of evidence-based therapies across the System
Promote appropriate transparency
From the perspective of those we serve, share information on aspects of care so that informed patient decisions can be made and shared appropriately within our System to develop patient safety and quality solutions
Disrupt through digital technology
Deliberately disrupt the status quo processes and practices by incorporating innovations as available, including emerging digital technologies such as artificial intelligence
Maintain focus on outcomes and effective System standards
Strive to be a learning health system by scrutinizing outcomes, establishing standards and deviating where data suggests required for performance improvement
Enhance the resiliency of team members
Combat burnout and promote provider wellness and support to reduce detrimental impacts to safety, communication, quality, professionalism and experience
Quality and safety comparative data
For quality and safety performance metrics the links below provide comparative data for publicly reported data.
Accreditation, certification, and designations
Baylor Scott & White Medical Center at Plano seeks accreditation, certification, and designations from external regulatory agencies to demonstrate our commitment to providing continuous quality and safe care for the patients and communities we serve. These include:
The Joint Commission:

Hospital Accreditation
Palliative Care Advanced Certification Program
Hip & Knee Joint Replacement Core Certification Program

Det Norske Veritas (DNV):

Comprehensive Stroke Certification

American College of Radiology (ACR):

Breast Magnetic Resonance Accreditation
Magnetic Resonance Accreditation
Nuclear Medicine Accreditation
Ultrasound Accreditation

American College of Surgeons (ACS):

Bariatric Surgery Center Accreditation
Cancer Program Accreditation

American Nurses Credentialing Center (ANCC):

Magnet Designation
Practice Transition Accreditation Program, with Distinction

College of American Pathologist (CAP):
Intersocietal Accreditation Commission (IAC):

Echocardiography Accreditation

Blue Distinction Centers (BDC) Designation:

Bariatric Surgery Comprehensive Center

Aetna Institutes of Quality (IOQ):
Optum Bariatric Center of Excellence
---
Awards
At Baylor Scott & White Medical Center at Plano, we are proud of the national and local recognition we receive. It means our efforts toward healthcare excellence are not going unnoticed. But it's not about us. It's about you and the confidence you find in turning to an award-winning hospital for your family's care.
American Heart Association:

Get with the Guidelines – Stroke: Honor Roll Elite
Type 2 Diabetes Honor Roll

U.S. News and World Report:

High Performing rating in:

Chronic Obstructive Pulmonary Disease (COPD)
Kidney Failure
Pneumonia
Stroke

Leapfrog Hospital Safety Grade: A (Spring 2023)
CMS Star Rating: 5 Stars (July 2023)
Insurances accepted
Baylor Scott & White has established agreements with several types of insurance to ensure your health needs are covered.
Insurance listings are subject to change without prior notice. Please call the hospital or health plan to verify coverage information before scheduling your visit/procedure.
Choice POS II

Open Access Elect Choice

Open Access Managed Choice

Select SM

Aetna Signature Administrators

Elect Choice

Health Network Option

HMO

Managed Choice

Open Access Select

Open Choice PPO

QPOS

Medicare Advantage Plans

Aetna Whole Health/BSWQA

Baylor Scott & White Health Plan - (16)

HMO Network-Individual/Family

EPO Network-Individual/Family

BSWH Employee Network - PPO & HSA

BSWH Employee Network - SEQA & EQA

BSW SeniorCare Advantage HMO

BSW SeniorCare Advantage PPO

HMO Network-Group

PPO Network-Group

PPO Choice Network

PPO Choice Preferred Network

Cigna PPO Network - Out of Area Member Plan

PHCS/OPTUM - PPO Network - Out-of-Area Member Plan

EPO Network-Group

McLane Group Network

BSW Preferred HMO Network - Group

BSW Preferred PPO Network

Blue Cross Blue Shield - (11)

Blue Advantage HMO

Blue Choice PPO

Blue Essentials

Blue Essentials Access HMO

Blue Premier

Blue Premier Open Access HMO

Medicare Advantage - EFH Retirees

Medicare Advantage - Oncor

ParPlan

Traditional

Indemnity

Children's Medical Center Employee Plan

City of Dallas Employee Plan

Cigna Choice Fund

EPO

HMO

HMO Open Access

HMO/POS

LocalPlus

LocalPlusIN

Network

Network Open Access

Network POS

Open Access Plus

POS

POS Open Access

PPO

American Airlines Employee Benefit Plan

ACCEL Network

Preferred Network

ChoiceCare

Humana Preferred

National POS

Commercial PPO Plans

Medicare Advantage Plans (exclude Southwestern Health Resources Network)

Hunt Memorial Hospital - (1)

Midland Memorial Hospital - (1)

Prime Health Services - (1)

Sedgwick Preferred Network f/k/a Southwest Medical - (1)

Superior Health Plan - (6)

Ambetter Essential Care - Bronze

Ambetter Balance Care - Silver

Ambetter Secure Care - Gold

Medicare/Medicaid Dual Needs Plan: Advantage HMO SNP

Medicare/Medicaid Plan

STAR+PLUS

Superior HealthPlan - (1)

Texas Christian University - (1)

Charter HMO

Charter EPO

Charter POS

Choice HMO

Choice +HMO

Choice EPO

Choice Plus POS

Core HMO

Core EPO

Core Choice Plus POS

Navigate EPO

Navigate HMO

Navigate HMO+

Navigate POS

PPO

Options PPO

Select +

Select HMO

Select EPO

Select Plus POS

AARP Medicare Complete

Dual Complete Medicare Advantage

Medicare Complete

Medicare Gold

Medicare Silver

Group Medicare Advantage

Nexus ACO OA

NexusACO R

UnitedHealth WellMed Network - (6)

AARP Medicare Complete

Dual Complete Medicare Advantage

Medicare Complete

Medicare Gold

Medicare Silver

Group Medicare Advantage

University Mary Hardin-Baylor - (1)
We're sorry!
We couldn't find any results for ""
Mobile makes it easy
Just like we make it easy to get care when your child is sick or injured, our top-rated app, MyBSWHealth, can simplify keeping them healthy. The app lets you book appointments, message your pediatrician, view your child's medical records and schedule virtual same-day care from your computer, smartphone or tablet.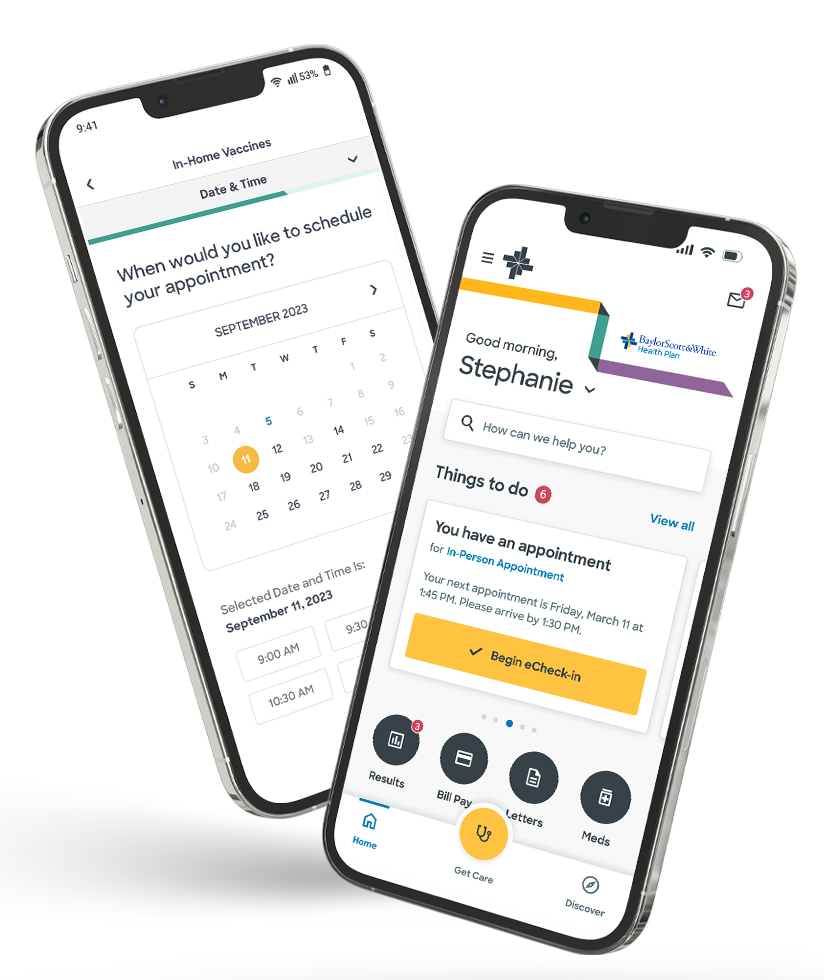 More helpful information
​​​​​​​​​​​​​
​​​​​​​​​​​​​Here's more information to help with your visit to our campus.
ATMs
An automatic teller machine (ATM) is available on the first floor across from the registration desk.
Community involvement
At Baylor Scott & White Medical Center – Plano, we not only serve our patients, we go beyond the walls of the hospital to make a difference in our community at health fairs, community events and at local employers. Lending a hand to meet the needs of our community shows Baylor Scott & White – Plano's commitment to quality, compassionate care.
View our community benefit report
Community outreach program
To learn more about our community outreach program or if you would like Baylor Scott & White – Plano to be at your next event, contact our marketing manager via email or at 469.814.2109.
Community support application
If you are looking for financial support from Baylor Scott & White – Plano for your non-profit organization, please fill out our online community support application.
Concierge and information desk
At the Concierge Desk you will find volunteers available Monday-Friday, 6:00 AM - 6:00 PM, and Saturday-Sunday, 9:00 AM - 3:00 PM, to answer questions or assist you with any needs you may have.
In addition, the following are available upon request at the Concierge Desk:
Listings of area restaurants and hotels
Coloring books
Playing cards
Crossword puzzles
Magazines
Dining options
Vista Café
Located on the Garden level.
Hours
Monday-Friday: 6:30 AM - 6:30 PM
Saturday and Sunday: 6:30 AM - 2:30 PM
Alliance Bistro
Located near the Gift Shop on the first floor, serves light snacks and proudly brews Starbucks® coffee.
Hours
Monday-Friday: 6:30 AM - 7:00 PM
Room service
Wholesome, nourishing and well-balanced meals are an important part of your treatment and recovery. An executive chef trained in the dietary needs of patients strives to prepare foods that are pleasing to the eyes and the taste buds.
Meals are served to patients between 7:00 AM - 7:00 PM. You may select your own menu items from the menu and then dial 44.6777 to place your order with the room service assistant.
Family members or friends may have a guest meal tray delivered to the patient's room for $10.
Vending machines
Vending machines for snacks and beverages are located in the Emergency Department lobby and on the Garden Level. They are available 24 hours a day.
Estimate your cost of care
Baylor Scott & White Health is an advocate for greater healthcare pricing transparency and patient affordability. We provide a self-service price estimation tool to help you obtain accurate out-of-pocket expense estimates, along with other helpful resources to help you make more informed financial choices about your care.
Estimate your cost of care
Gift shop
The Inspirations Gift Shop
Located on the first floor, the shop has gift items, jewelry, greeting cards, candy, toiletries and balloons.
Please call the Inspirations Gift Shop at 469.814.6798 for additional information or to place an order.
Medical records
You can request copies of your medical records by completing an Authorization for Release of Information form and returning to the facility at which you received care.
Nursing accomplishments
Our nurses are dedicated to the care of a diverse community of patients. As members of our front line care team, they take pride in seeking opportunities to provide a higher level of care.
Patient greetings
Brighten the day of a patient with an eGreeting—a personal message hand-delivered to your loved one.
Recognize an employee
Because our staff cares so deeply for those we help, there are those who often go beyond the call to provide great care.
Spiritual care
We believe that total patient care includes care for the spiritual health as well as the physical and emotional health of each patient. Pastoral Services staff (call 469.814.2700) are available to assist patients and families. Your priest, minister, rabbi, or faith community leader is also welcome to visit you while you are here. There is a chapel on campus that is open during the day and is available to you anytime for prayer and contemplation. Chaplains are available during normal business hours Monday through Friday and for emergent concerns after hours and on weekends. Please ask your nurse to contact the Chaplain for you after normal business hours.
Visitor guidelines
Visits from relatives and friends can play an important part in your recovery; however, they can also be tiring. It is in your best interest that you get all of the rest that you can while in the hospital. If you feel uncomfortable asking people to limit their visits, you might ask a family member or friend to coordinate your visits for you. We do have some requests of our visitors:
Visiting regulations
Following are general guidelines for visitors:
Visitors may not smoke on the Baylor Scott & White – Plano campus.
Visitors should dress appropriately and must wear shirts and shoes.
No more than two visitors are allowed at the bedside at one time.
People with colds, sore throats or any contagious diseases should not visit patients.
For the comfort of all our patients, visitors should maintain a quiet environment and avoid unnecessary noise. Please limit cell phone usage to family lounge areas only.
Visitors may be asked to leave the room during tests or treatments or when the doctor or nurse needs to see the patient.
Liberal visiting arrangements may be made for families of surgical patients on the day of surgery.
Children under the age of 12 should be supervised by an adult when visiting.
FAQ
Where will I sleep?
Patient rooms on our medical/surgical, progressive care and oncology units are equipped with chairs or couches that fold into beds for guests to sleep on.
For guests staying overnight with a patient in the ICU, guests may utilize the ICU family lounge, which is equipped with chairs that fold into beds.
What gifts am I allowed to bring my patient?
Visitors should check with the patient's nurse before bringing gifts of food or drink to patients to ensure it is appropriate.
Fresh flowers and plants are not allowed in the ICU or the oncology unit.
Balloons are not allowed in the ICU unit.
Is there a refrigerator I can use?
A Visitors' Lounge, equipped with a refrigerator and microwave, is available on each patient floor, allowing family members to accept visitors and stay close without compromising the patient during their recovery.
Where should I park?
Upon arrival at Baylor Scott & White – Plano, please use the free parking garage located west of the main entrance or free valet service and enter the facility through the front door.
Where can I pray or visit with a chaplain?
The chapel is located on the first floor across from the Gift Shop and is open 24 hours a day to patients and guests, seven days a week for prayer and reflection.
Members of the Pastoral Care team are available to assist you, whatever your religious persuasion. To request a visit by a member of the Pastoral Care team, please contact your nurse or call 469.814.2700.
Your priest, minister or rabbi is always welcome to visit you while you are a patient at Baylor Scott & White – Plano.
Visitor lounges
The day surgery family lounge and waiting area is located on the second floor.
The ICU family lounge is located on the third floor.
A lounge is available on each patient floor, allowing family members to accept visitors and stay close without compromising the patient during their recovery.
Designated waiting areas are available for families of patients in the critical care units, the Emergency Department and Day Surgery.
Volunteer with us
We rely on our generous volunteers to provide several special services. Every volunteer enhances the patient experience in some way by supporting our culture of customer service. Join the ranks of our volunteers to get involved and make a difference.