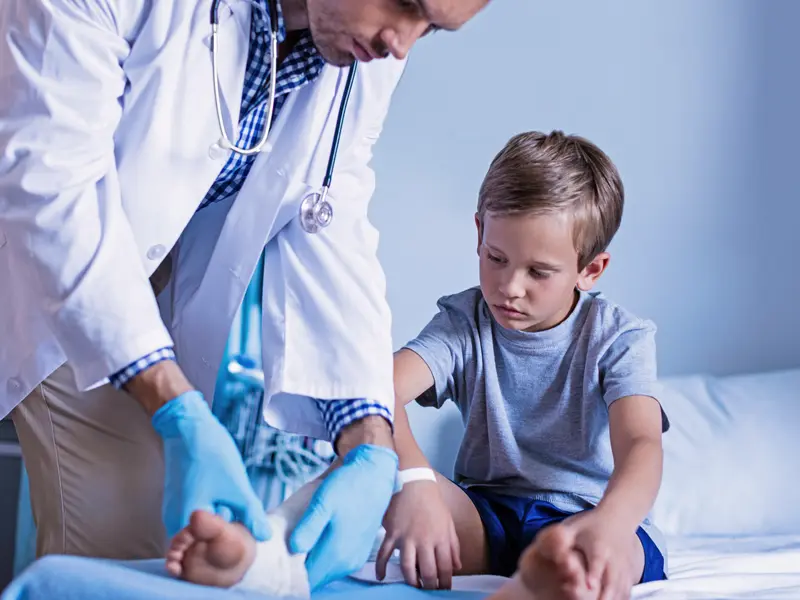 Emergency and trauma services specially designed just for children
Baylor Scott & White McLane Children's Medical Center – Temple has an emergency room to address the unique needs of infants, children and adolescents. The emergency department is equipped to handle all types of emergencies – from minor sprains and strains to major trauma.
American College of Surgeons (ACS) Committee on Trauma has verified Baylor Scott & White McLane Children's as a Level II pediatric trauma center, making it the only pediatric trauma center between Dallas and Austin.
Benefits of a pediatric emergency care
Our emergency department is equipped to treat all pediatric medical emergencies in children 17 and under. Children have special age-specific equipment, medication and environmental needs.
Specialized equipment—from beds to blood pressure cuffs—designed just for children
A new "Flash" CT scanner, one of only three in the country, takes images at twice the speed and a lower dose of radiation than other CT units
Spacious family-friendly rooms designed to accommodate parents and siblings better
A Child Life team to help children and their families cope with the stress and anxiety of medical treatment in a positive way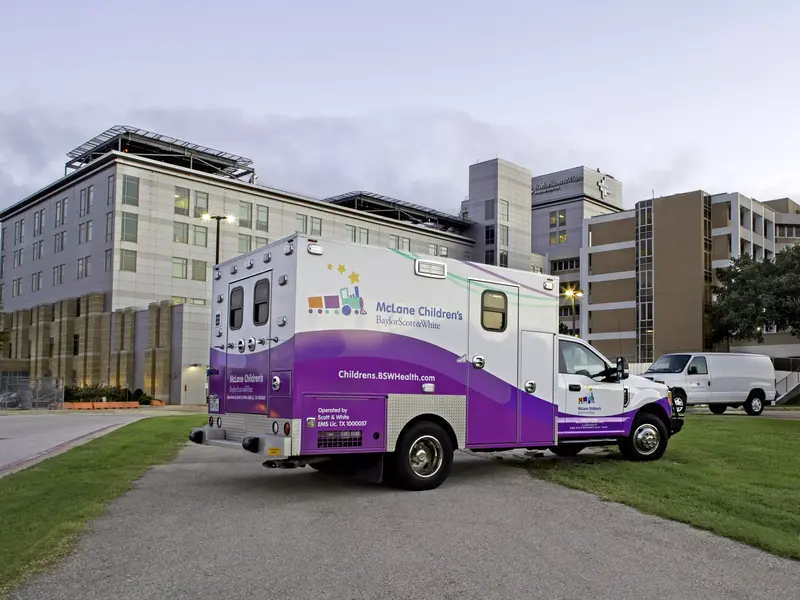 By ground or air, we are ready at a moment's notice
Children who have sustained a traumatic injury, were born prematurely or may be suffering from respiratory distress benefit from our ability to bring rapid, high-quality transport to the bedside. The Baylor Scott & White McLane Children's Transport Team is also ready to transport children with surgical emergencies, cardiac issues or medical conditions that require transfer to Baylor Scott & White McLane Children's Medical Center in Temple, Texas.
McLane Children's has an air ambulance and a king-sized, custom-made transport ambulance. The transport team features highly trained and experienced individuals who provide specialized expert care for ill or injured children. Our dedicated team of registered nurses, respiratory therapists and emergency medical technicians (EMTs) has advanced training in stabilizing, treating, and transporting pediatric and neonatal patients from area hospitals and emergency departments.
For referrals for pediatric transfer from an area hospital to Baylor Scott & White McLane Children's, physicians can call our transport team at 254.935.KIDS (5437). The transport team is immediately available and ready for deployment once the decision is made to transfer the patient.