Doctor's Office: A visit with Michael Ramsay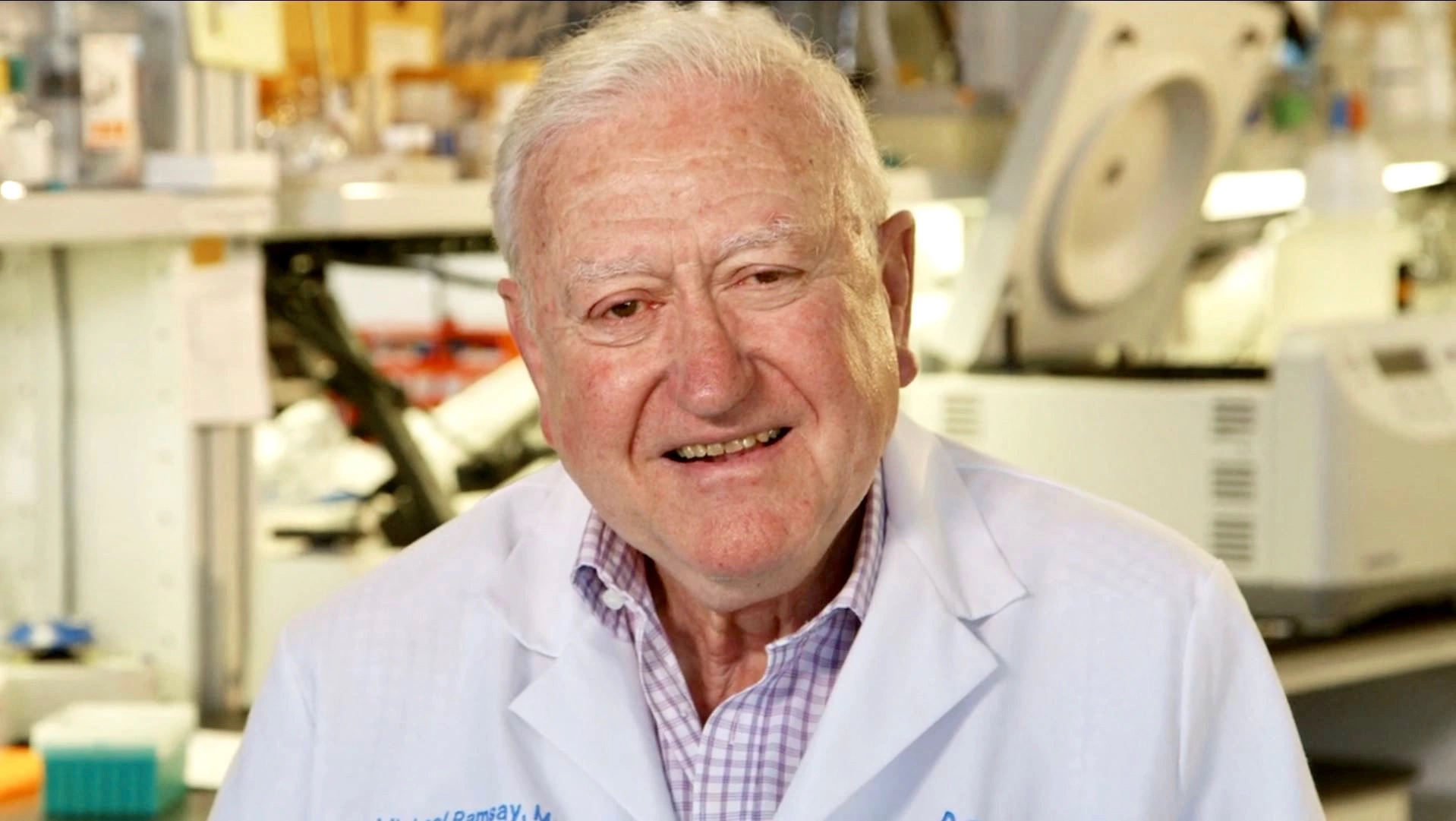 As it should be, a visit to the doctor is all about you, when the physician leads the question-asking. "Doctor's Office" turns the tables so we can get to know our Baylor Scott & White Health doctors better — as people.
The doctor
Michael A.E. Ramsay, MD, FRCA, is chairman of the department of anesthesiology and pain management at Baylor University Medical Center, and president of Baylor Scott & White Research Institute.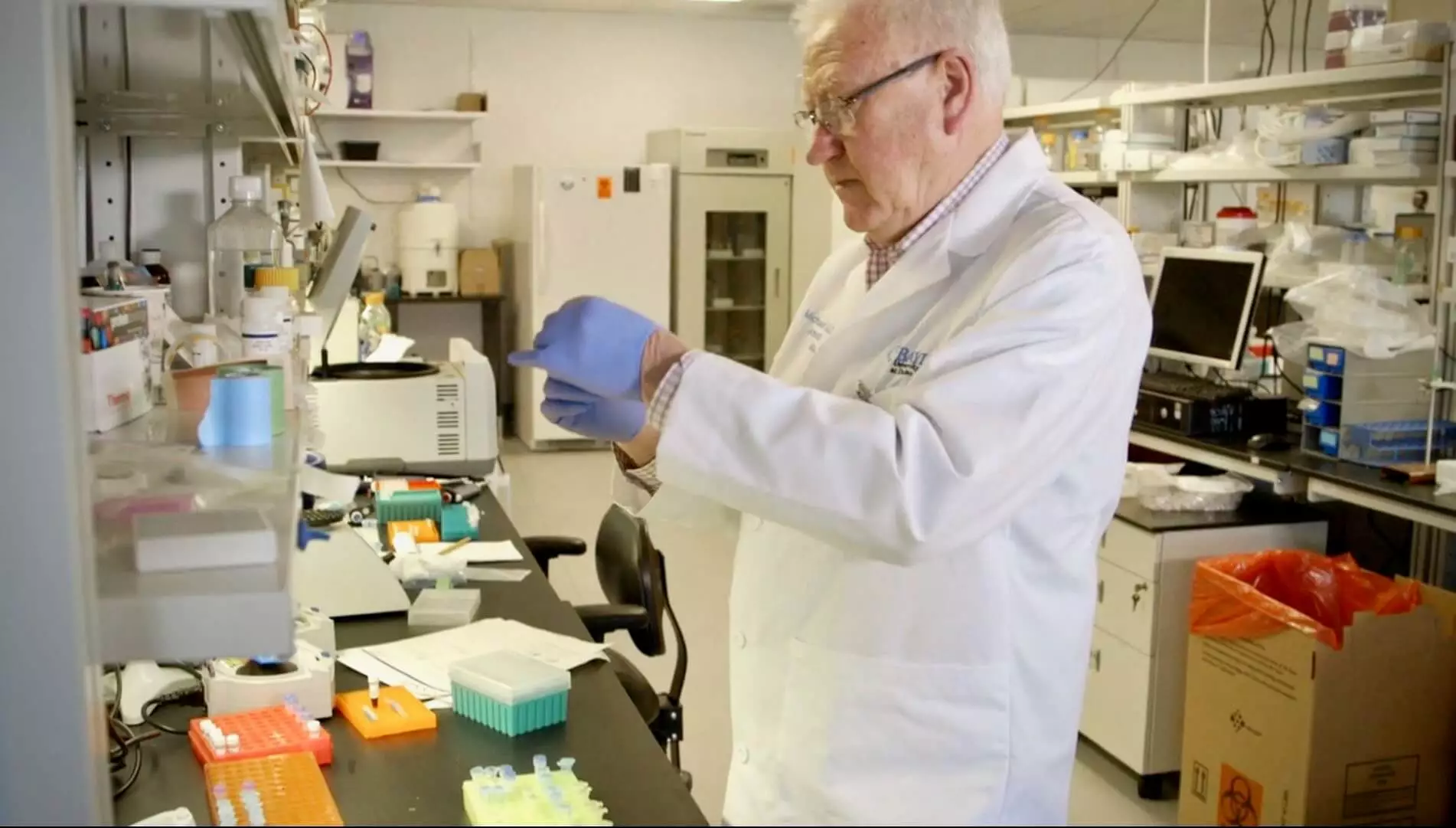 How I got in the door
I made sure to name drop. My first "Doctor's Office" interview featured Giuliano Testa, MD, and the last question I asked him was who I should spring my ridiculous amount of questions on next. He said I should visit Dr. Ramsay. This made me think he doesn't like him, or needs to get him back for something, but then he waxed poetic about Dr. Ramsay's accomplishments and what he means to Baylor Scott & White. So, I realized Dr. Testa highly respects him, even if he did send me and my questions his way.
Even sitting perfectly still while thoughtfully answering questions, Dr. Ramsay somehow conveys movement, as if he were in more than one place doing more than one thing.
Dr. Ramsay politely pretended to fall for the "Dr. Testa sent me" routine. It's not that he'd try to be unavailable, but what a schedule to wedge something else into — I caught Dr. Ramsay between his regular multi-disciplinary gigs and delivering lectures in China and Mexico. Or was it Abu Dhabi and Orlando? …but wait, I think he came home between each lecture? I can't keep up — literally and figuratively.
Even sitting perfectly still while thoughtfully answering questions, Dr. Ramsay somehow conveys movement, as if he were in more than one place doing more than one thing.
"How do you keep a wave upon the sand?" sang the nuns in "The Sound of Music." That wave has nothing on the constantly-in-motion Dr. Ramsay. This guy has had a lot going on for a long time and shows zero signs of slowing. 
The office
"Hiding in plain sight" applies here. His third-floor office on the campus of Baylor University Medical Center is in a big building I'd somehow never noticed. I'm thinking that's an ongoing theme, as his assistant had emailed me a page full of on-campus navigational steps prior to our meeting.
On my neatness scale ranging from "serious-OCD" to "absent-minded-professor," the needle would be pointing beyond absent-minded-professor. Yet, there's nothing absent-minded about this professor. (Yes, he's also an actual professor.) 
Even as a direct descendant of a champion paper-piler (my mom), I'd never seen so many sheets of paper in one place, nor stacks of paper so high. Skyscrapers of paper! Making up their own metropolis! All over his large desk and one table. (Before I left, I asked him if he knew what was in each pile, and approximately at what height. He proudly shared that, in fact, he did. Somehow, that wasn't a surprise. What was surprising — he wasn't insulted by my marveling at the mounds of paper. I guess he knows they behold, and will likely begat, wonderful stuff. Piles are a sign of his progress.)
Time together
After foolishly wandering, then running, around campus despite my familiarity and amazing directions in-hand, I finally managed to find and land in his department exactly on time and in time to hear him exclaim my name in a friendly fashion from his office. So, I strolled right in without pause — right into easy, interesting conversation and the charm of Dr. Ramsay.
He's one of those people who charms without trying and makes you feel like you've known each other for ages, even when you've just met and have nothing in common, well, except feelings about algebra.
I hope you'll enjoy this visit with Dr. Ramsay.
Get to know Dr. Ramsay
When you were a kid…
What you wanted to be when you grew up? Physician, right from the get-go, which saved me some time (He explained that in England where he went to school, if early on you are focused on one field, it speeds up the process of getting the degree(s) you want.)
Favorite game? Rugby 
Least favorite subject in school? Algebra — I didn't see the sense of it
First job? Hauling bricks in a wheelbarrow at a building site
What your parents did (occupations)? Mom was a radiographer, the equivalent of an X-ray tech today; and my dad was in business
About your family…
Married? Yes, Zöe and I will celebrate our 50th anniversary in late November 2019!
Kids? Four — all very close in age. When we moved to Texas from England, we had four kids under the age of four
Pets? Two Irish Wolfhounds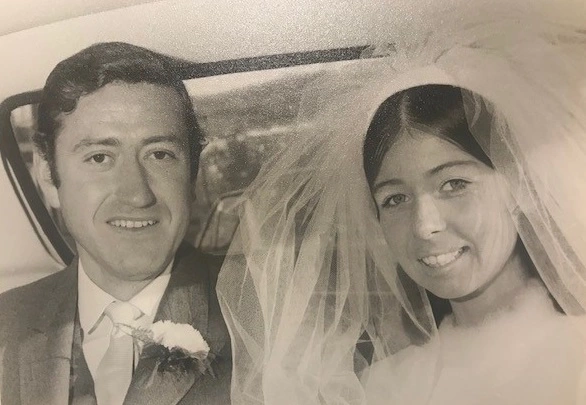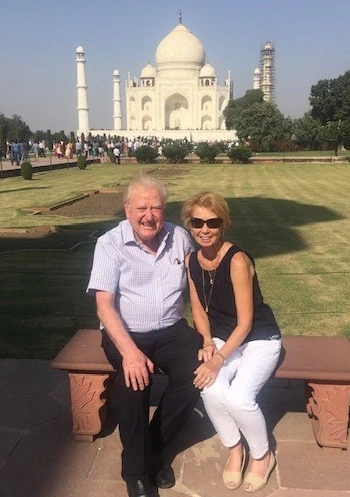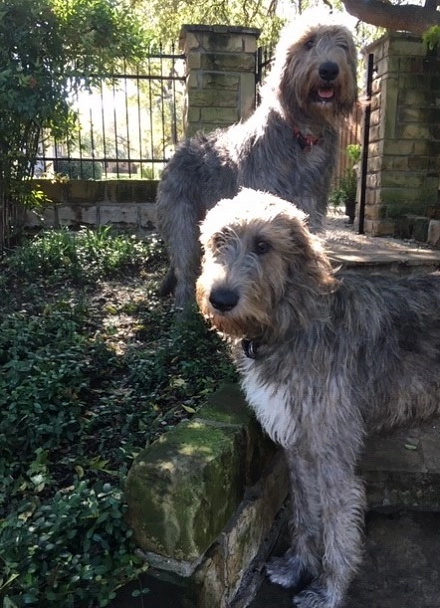 Last time you…
Rode a bicycle? So long ago, I have no idea
Cried? As chairman of the Patient Safety Movement Foundation, there are many opportunities due to the moving stories I hear from loved ones about preventable deaths — and I'm motivated to do what I can, personally and professionally, to further our movement
Ate chocolate? It's been years
Rode a horse? A long time ago in Spain when I realized I don't like horses, and then understood they realize that, so the feeling is mutual… but they actually do something about it, like throw me
Roller or ice skated? When my kids were small
Ran? It's been a while, but I used to run marathons. I've run about 20 marathons, all in Texas except for one in New Orleans with my daughter when she was in school there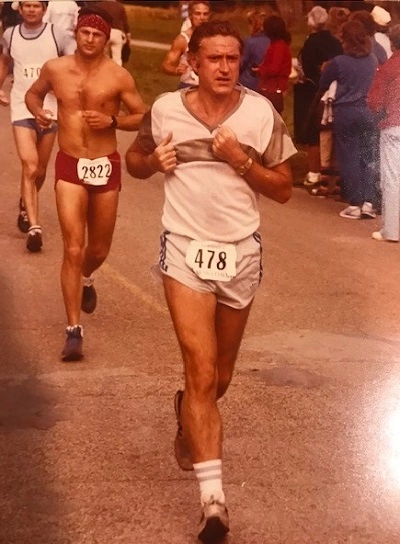 Played golf? Never, but it's on my to-do-at-some-point list. I do fly fish and my favorite spot is in the Alaskan wilderness, where you have to compete with the grizzlies and eagles for the fish
Watched TV? Last night I saw part of something…
Your favorite…
Color? Maybe it's my Irish background, but I have to say green
Book? "Don Quixote"
Movie? The last movie I went to, which was "Dr. Zhivago" in 1965 — [silence] — [more silence] — seriously, I can't sit still to watch an entire movie, but I do see pieces of them on TV
Holiday? Christmas
More about you…
Right- or left-handed? Right-handed
How long is your commute to work? 12 minutes
Do you play a musical instrument? No
How many hours do you sleep? Three hours is a good night's sleep for me
Longest surgery you've taken part in? A hand re-implant that took about 20 hours. Unfortunately, that impacted my ability to qualify for the Boston Marathon when I was the fittest I'd ever been, as I was in the operating room until 9 a.m. when the marathon started. It was close by, so I did get underway 15 minutes late and finished in 3 hours, but my official time was 3 hours and 15 minutes, which meant I didn't qualify. (Back then, runners all clocked the same start time.)
What's at the top of your bucket list? For my family to stay healthy
Any recurring dreams/nightmares? No, but maybe there isn't time for me to have any — I don't sleep much
If your office was on fire and you could grab two things on your way out, what would they be? A lot of things in this office are special to me, but I've got copies of all my pictures, so I'd have to say my computer and the plaque a surgeon put together for me years ago to commemorate some of our surgical "firsts"
Question you get asked the most? What I think about Brexit (Dr. Ramsay is Irish and went to school and worked in England before coming to the United States)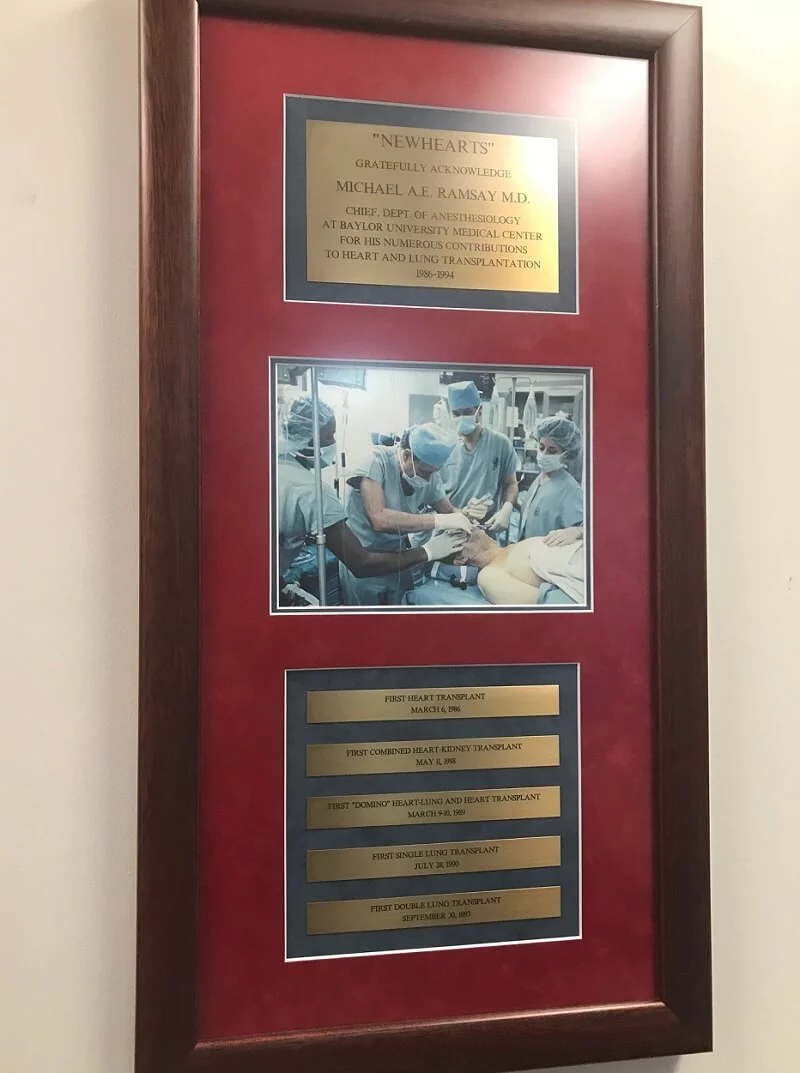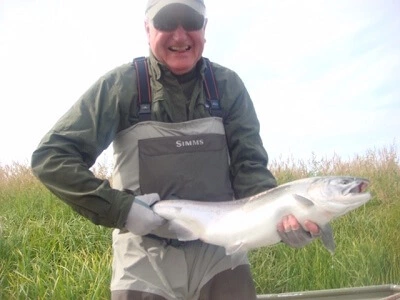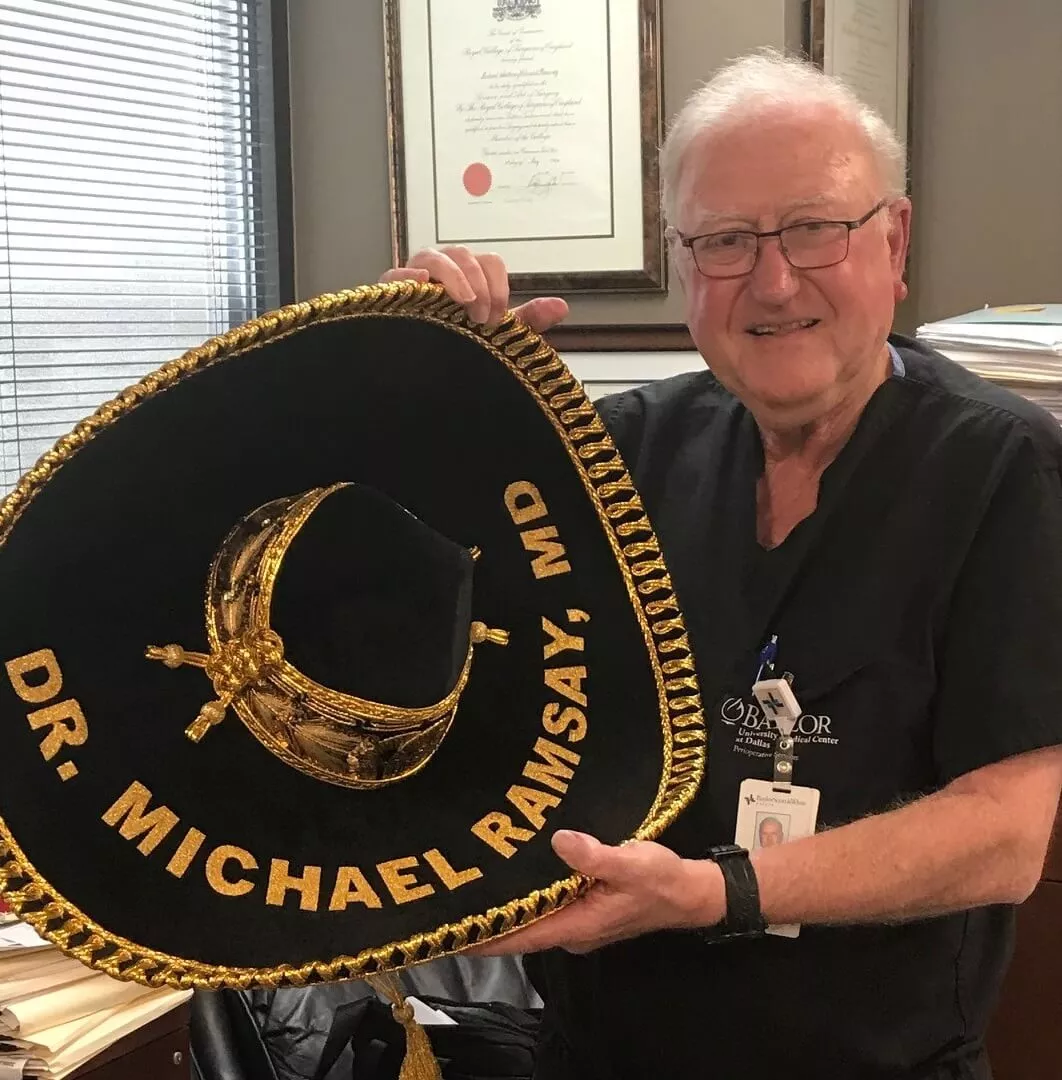 What do you hope people say about you behind your back? That I'm honest and hardworking
What do you think they are actually saying? [Laughs]  THAT is a good question — you'd have to ask them
If you could fix one thing about healthcare, what would it be? For all children to have health insurance. Adults can make that decision, but children can't sign themselves up for insurance
What's the most important thing you've done? Gotten married and had a family
Are you a U.S. citizen? Yes! And funny enough, the famous judge, Barefoot Sanders, led the citizenship ceremony I was part of — and many years later when our paths crossed, he insisted he remembered me because I was the only one with Irish citizenship at that event
Michael A.E. Ramsay — what do the "A" and the "E" represent? Anthony and Edward
Why Baylor Scott & White? Oh, so many reasons… mainly, I like that we lead — so much innovation and so many firsts, and we've got the right focus on patient safety — our Zero Harm campaign will make us the safest healthcare system 
The last real question: Opioids? My final question (except for one about paper piles) was to ask the anesthesiologist about the opioid crisis. He had so many interesting things to share. I found the most intriguing to be how pain scoring has changed. Formerly, "zero" was desirable and now a rating of 3 or 4 is the target, as a zero pain score can actually be dangerous.
The best part was about the crisis sparking a re-thinking of how pain is managed intra- and post-operatively, and that major surgeries are now being done without opioids. I love when a visit to the doctor is to get good news. Thank you, Dr. Ramsay.
More about our doctor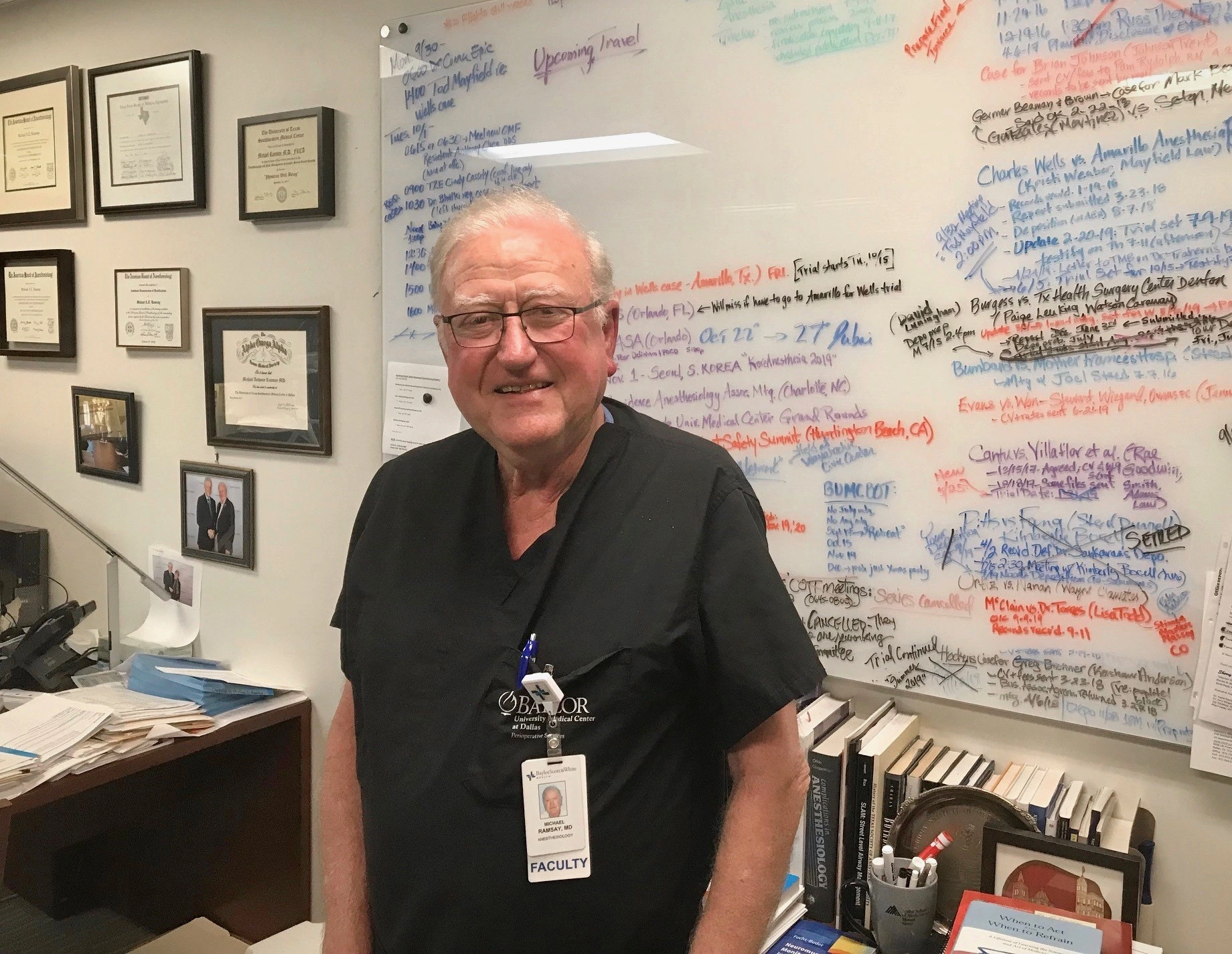 A native of Ireland, Dr. Ramsay was educated and spent the early part of his career in London before coming to Baylor University Medical Center in the mid-1970s.
Director of anesthesia for the liver transplant program, Dr. Ramsay has delivered anesthesia during more than 1,000 liver transplant surgeries. He is the developer of what he called the Controlled Sedation Scale, that was later named in his honor as the Ramsay Sedation Scale. Designed to measure and interpret the depth of sedation for patients in the critical care unit, this scale was one of the most commonly used measures of sedation around the world for decades.
Since joining Baylor Scott & White Research Institute, he has developed infrastructure to increase the number of active clinical trials from 250 to more than 2,000 today…
Since joining Baylor Scott & White Research Institute, he has developed infrastructure to increase the number of active clinical trials from 250 to more than 2,000 today and has supported investigators in obtaining significant funding, including National Institutes of Health Grants. Currently, he is principal investigator of several trials.
Believing it is imperative for practicing physicians to share their experiences and findings, he has authored nearly 350 publications. Dr. Ramsay holds professorships at Texas A&M Health Science Center, the University of Texas Southwestern Medical School and Texas A&M Health Science Center Baylor College of Dentistry.
A member and leader of numerous boards, both past and present, Dr. Ramsay is honored by his 20-plus year membership on the Baylor University Medical Center Board of Trustees as its first physician member. His most recent appointment is to the Board of Trustees of the Patient Safety Movement Foundation as its chairman.
Discover your calling working alongside changemakers like Dr. Ramsay.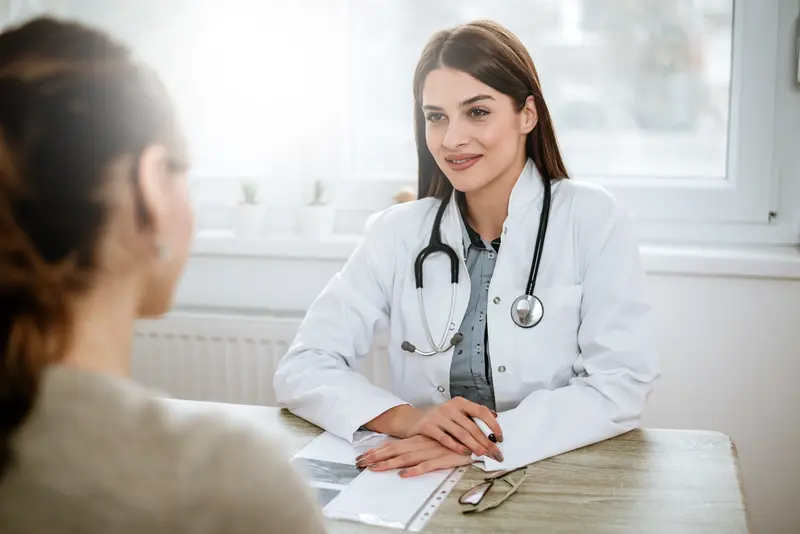 We make it easy.
Healthcare doesn't have to be difficult. We're constantly finding ways to make it easy so that you can get Better and stay that way.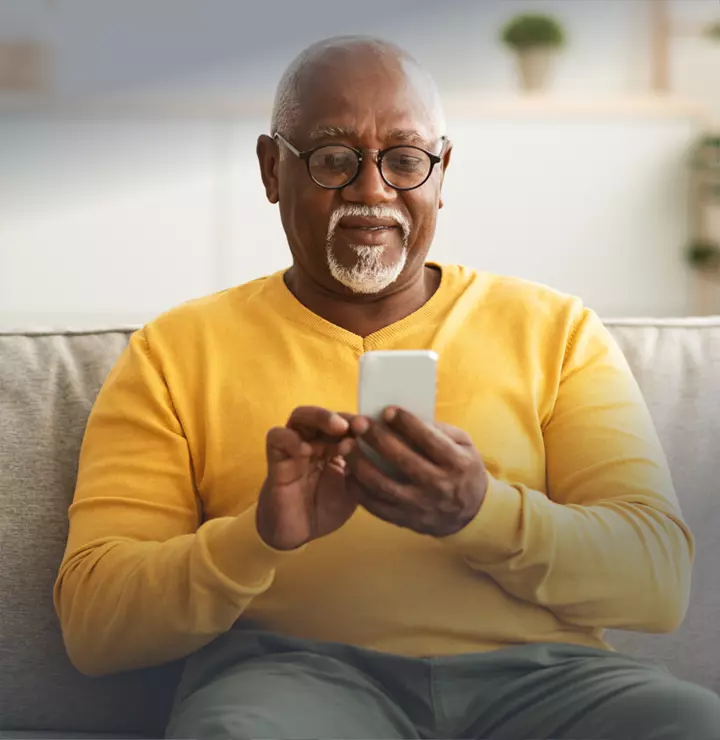 Better

tools make it easier
We all have different healthcare needs. Handle them your way with the MyBSWHealth app. Download the app today and take a hands-on approach to your healthcare.