Pancreatic cancer: New research opens door to groundbreaking early detection system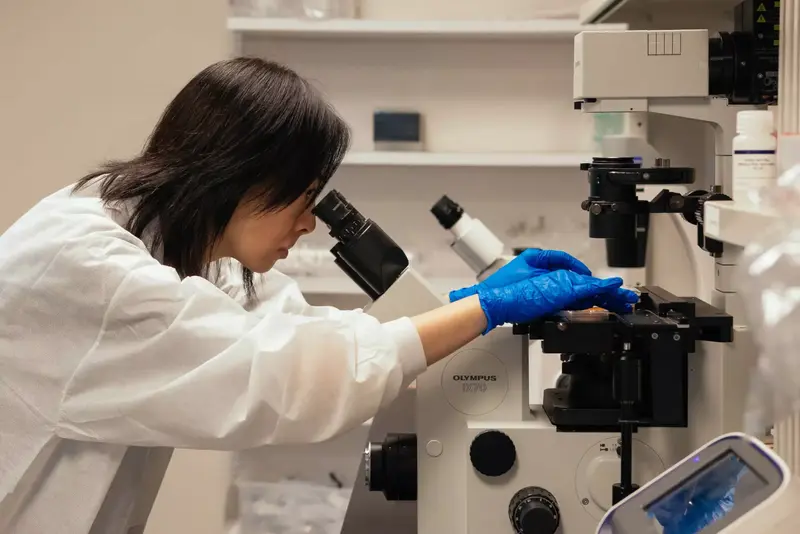 Baylor Scott & White Research Institute (BSWRI) unveiled its latest endeavor aimed at taking the fight against pancreatic cancer to a new level. BSWRI received a $5.13 million federal grant from the NIH to continue its work to develop an early detection system for pancreatic cancer, the nation's third-leading cause of cancer-related death.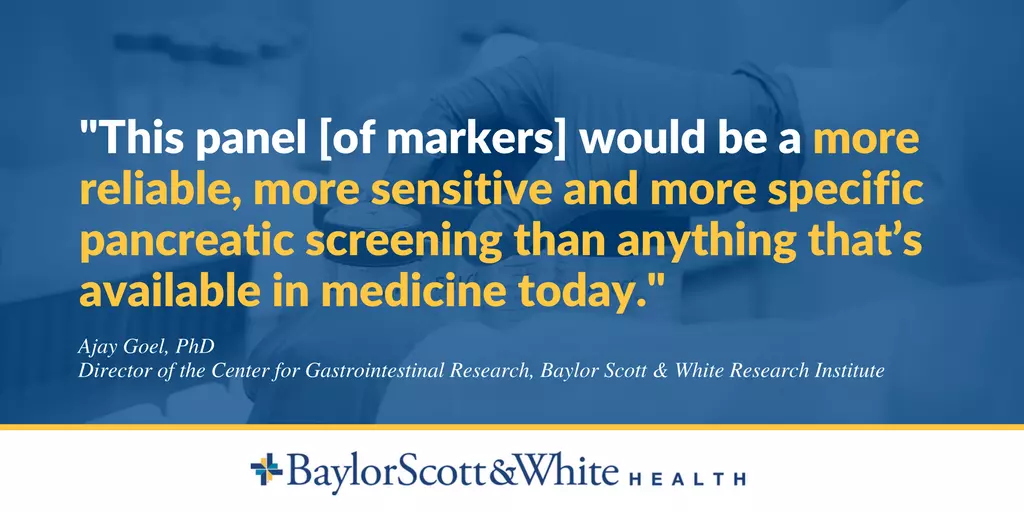 As more efforts than ever are focused on finding cures to some of the deadliest forms of cancer, BSWRI is also pushing the limits for what is presently available in terms of early detection methods.
"Early detection of this disease is essential to reducing its mortality rate," said Ajay Goel, Ph.D., BSWRI's director of the Center for Gastrointestinal Research, and the Center for Epigenetics, Cancer Prevention and Cancer Genomics, and the study's principal investigator.
Together with Translational Genomics Research Institute (TGen), the research team has started a five-year study around the use of microRNA in blood that could profoundly transform early detection of pancreatic cancer by creating a non-invasive, rapid, accurate and inexpensive test.
Pancreatic cancer often is undetected until late in the disease process because it displays no overt symptoms early on. The pancreas is positioned between the spine and stomach and closely surrounded by other organs, making clear screening and testing nearly impossible. In most cases, when cancer is detected it has already spread to other organs, such as the lungs and liver — reaching a point where surgical removal, particularly without the secondary partial removal of adjoining organs, is no longer an option.
Median survival for those with advanced pancreatic cancer was, until recently, less than six months, and the five-year survival rate was less than 10 percent. Survival rates are improving with the development of new therapeutics.
Still, more than 43,000 Americans will succumb this year to this aggressive disease, a number eclipsed only by lung and colon cancers.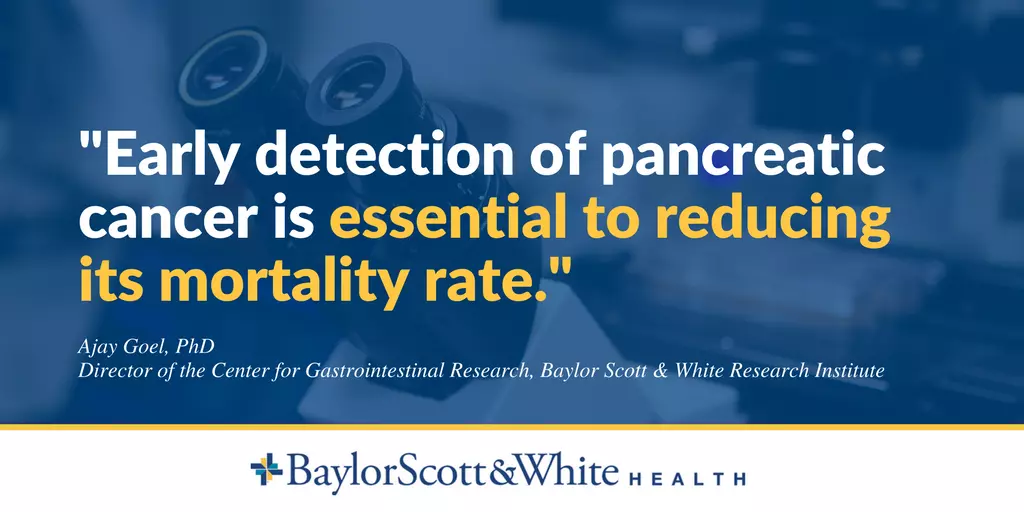 The BSWRI-TGen early-warning system for pancreatic cancer will consist of a test that would require only a small blood sample — a liquid biopsy, rather than an invasive tissue biopsy — to detect pancreatic cancer.
Successful development of a liquid biopsy for pancreatic cancer would allow physicians to monitor their patients consistently and safely every month, every week or even every day. A test such as this could also alert a physician to recurrence of cancer before it would be detectable otherwise.
"What we are working on here, it's not going to be one or two markers, but a panel of markers — a full mixture of DNA, proteins, RNA, microRNA, DNA methylation markers," Dr. Goel said. "This panel would be a more reliable, more sensitive and more specific pancreatic screening than anything that's available in medicine today."

But the implications for this research could extend beyond pancreatic cancer.
As study around this screening method continues, researcher are also aware of possible applications to the early detection and risk screening capabilities of the model. Most recently, a study published in Gastroenterology chronicled Dr. Goel's research using a similar liquid biopsy test to screen high-risk colon cancer patients prior to surgical colectomies.
As we search for ways to better diagnose and care for patients with these aggressive, often deadly diseases, this research brings new hope to the fight.
Learn more about pancreatic cancer care at Baylor Scott & White Health.
Baylor Health Care System Foundation's support of BSWRI's pancreatic cancer initiative, including its initial seed funding, helped make early research in this area possible. Learn how you can help support research efforts like these.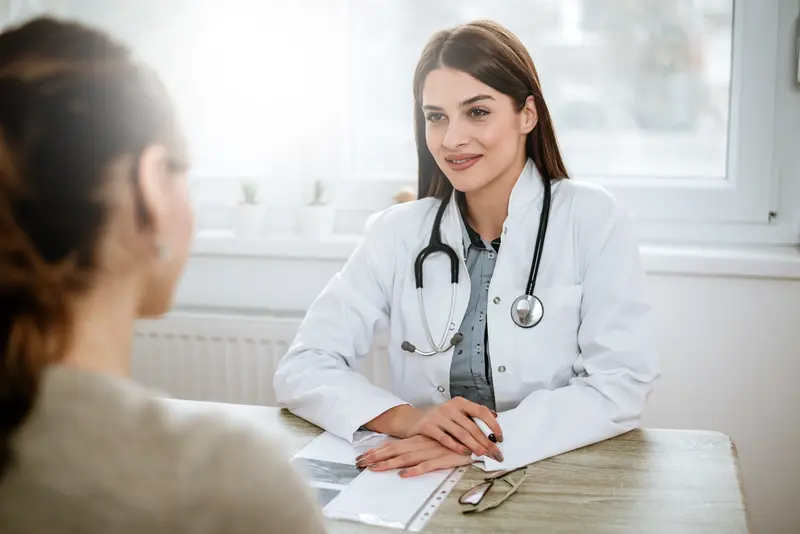 We make it easy.
Healthcare doesn't have to be difficult. We're constantly finding ways to make it easy so that you can get Better and stay that way.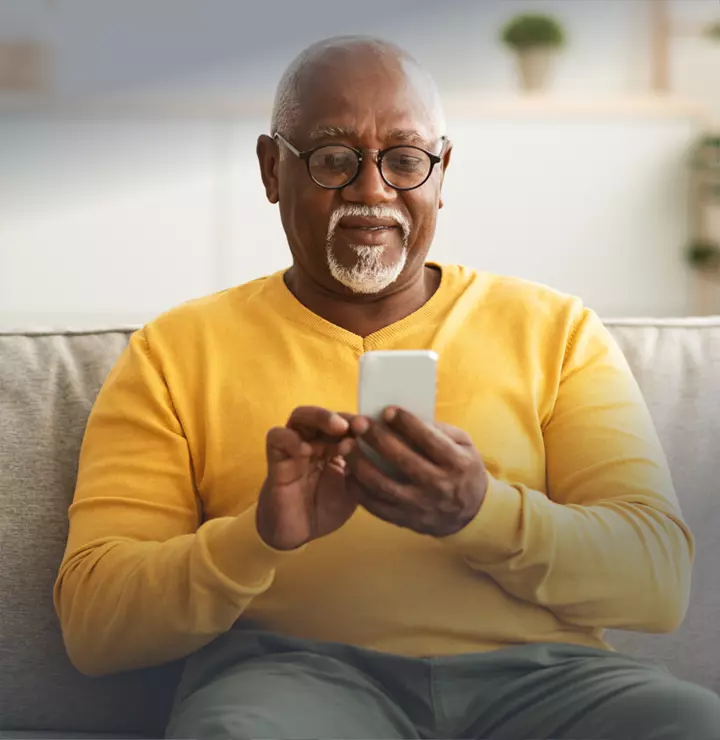 Better

tools make it easier
We all have different healthcare needs. Handle them your way with the MyBSWHealth app. Download the app today and take a hands-on approach to your healthcare.