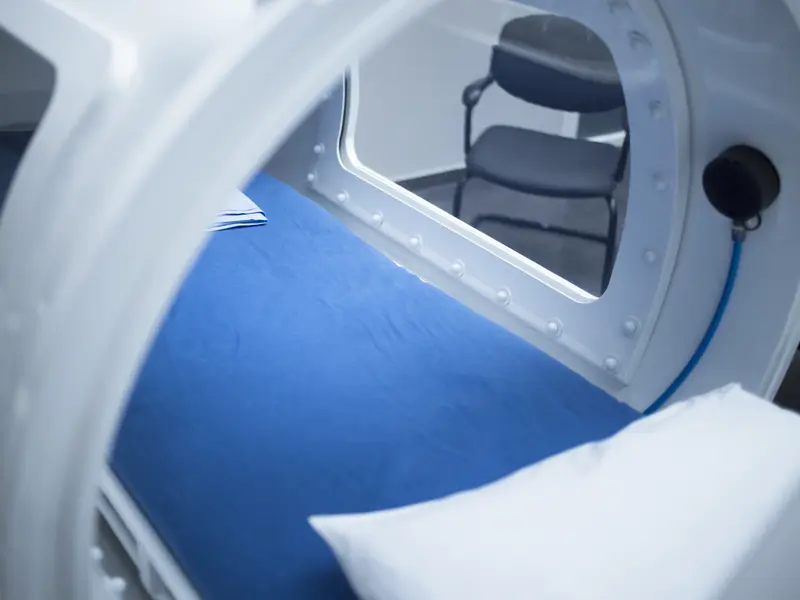 Comprehensive care for complex and chronic wounds
The Comprehensive Wound & Vascular Center at Baylor Scott & White The Heart Hospital – Denton offers four single-person hyperbaric chambers to promote healthy wound healing in our advanced outpatient facility.
Hyperbaric oxygen therapy (HBO therapy) uses a clear, acrylic chamber that supplies 100% pure oxygen while increasing the atmospheric pressure by two to two and a half times that at sea level.
Hyperbaric oxygen therapy enhances the body's natural healing by increasing the oxygen level of the tissue and stimulating new blood vessel growth and strengthening the immune system to kill bacteria in wounds.
What we treat
Diabetic wounds in the foot/lower extremity
Radiation-related wounds
Chronic osteomyelitis (bone infections)
Compromised skin grafts
Peripheral arterial insufficiency
Crush injuries of the extremities
Necrotizing infections
Our services
The typical hyperbaric treatment lasts for approximately two hours. The number of treatments depends on the wound and can average between 30 and 60 treatments. Guests can watch DVDs or television during the treatment.
Hyperbaric oxygen therapy (HBO therapy)
Wound dressings
Negative pressure wound therapy
Debridement
Bioengineered skin substitutes
Pulsatile lavage
Growth factors
Total contact casting
Compression therapy
Support surface recommendations
Transcutaneous oxygen testing
Diabetic limb salvage
Assistance with home healthcare coordination
Explore Baylor Scott & White The Heart Hospital
Discover the resources that set us apart from other heart hospitals. Here's what choosing us can do for you and your loved ones.