Baylor University Medical Center performs first living-donor uterus transplants in the U.S.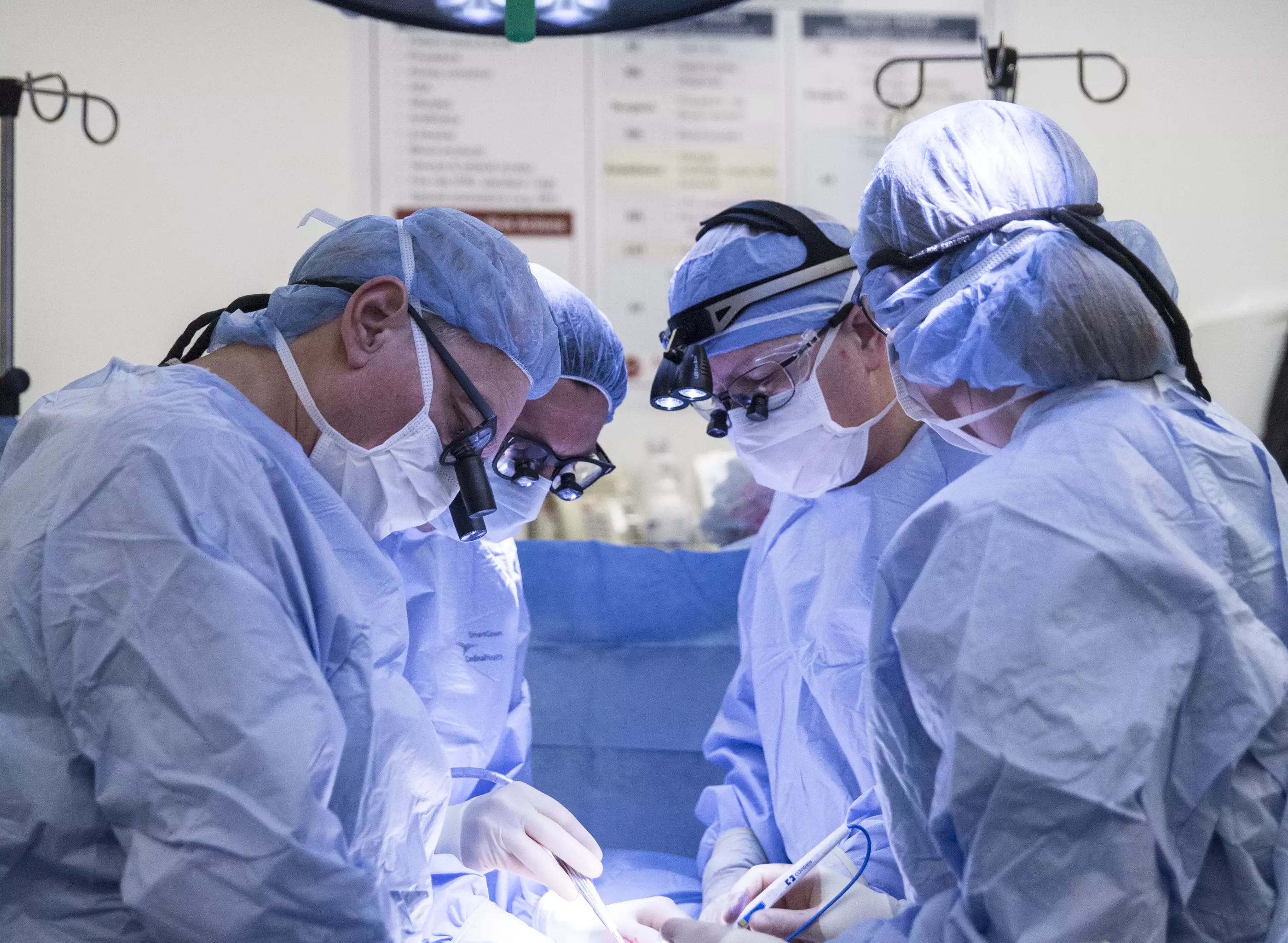 Today, Baylor University Medical Center at Dallas released details on the first four living-donor uterine transplants performed in the United States as part of a clinical trial under Institutional Review Board approval. These first four surgeries were performed in September.
This announcement comes after two years of preparation and a careful review of all 16 previous uterine transplants performed across the world, led by the passion and dedication of the Baylor University Medical Center surgical team.
"The implication going from an organ that saves lives to an organ that produces lives is simply fascinating to me, and I became infected with this idea," said Giuliano Testa, MD, principal investigator and surgical chief of abdominal transplantation at Baylor University Medical Center at Dallas.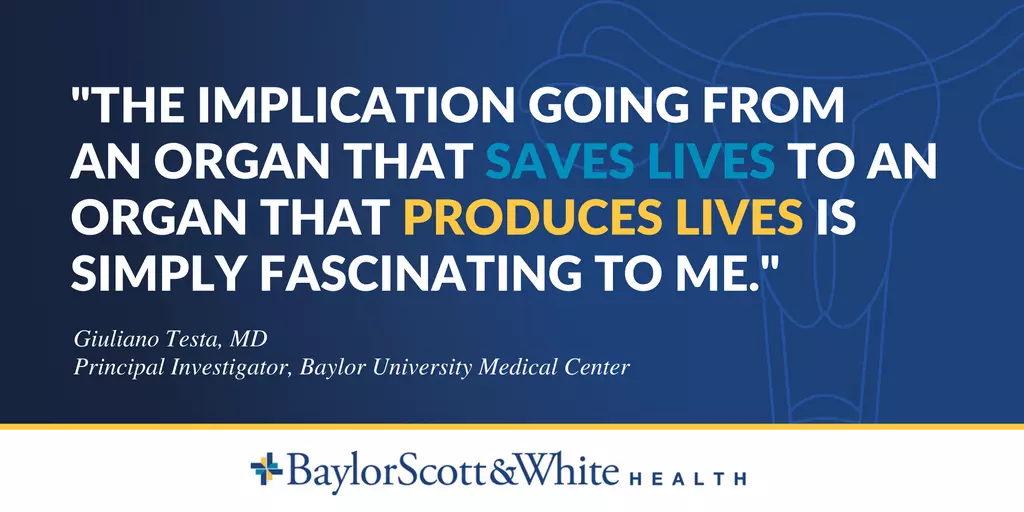 Since Baylor University Medical Center first announced the clinical trial in January, the team has received an overwhelming amount of interest from potential participants.
"The support and the response we have had is amazing," Dr. Testa said. "People really want to believe in this, and, to me, that is very important."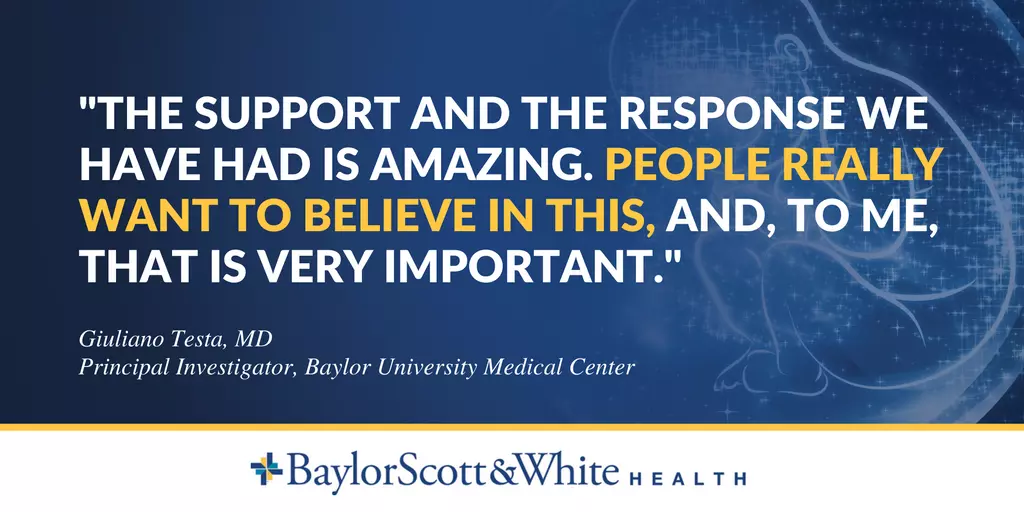 Baylor University Medical Center worked hand-in-hand with the Swedish surgical team, widely considered the world's experts in uterine transplant. The transplants they performed have resulted in five births.
"This is an incredibly important trial," said Liza Johannesson, OB/Gyn at Sahlgrenska University Hospital in Gothenburg, Sweden. "We know firsthand that this can work, and it has the potential to help thousands of women worldwide born without a functioning uterus."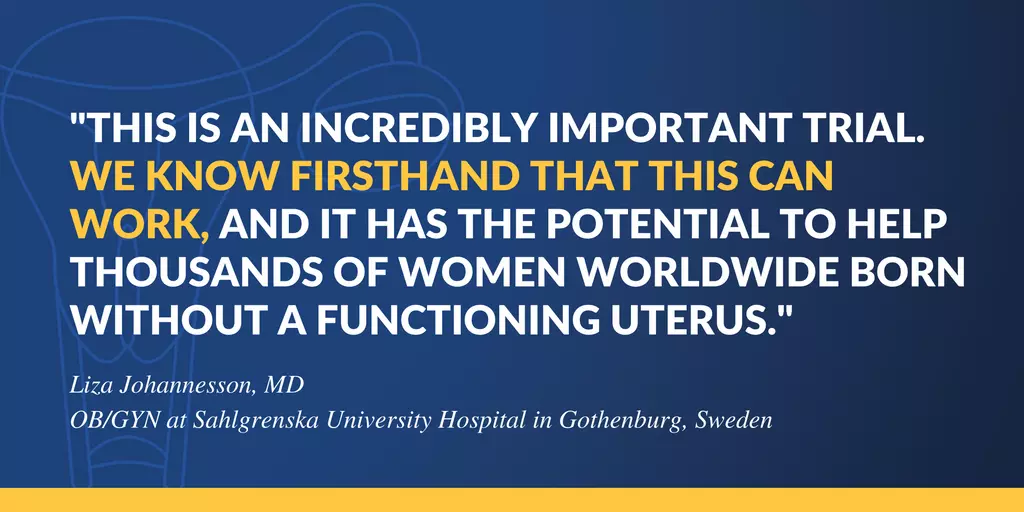 Since the first surgeries, the Baylor University Medical Center team has performed routine follow-up testing as part of the trial protocol on all four patients. In three patients, they determined after several tests that the transplanted organs were not receiving viable blood flow, and the uteri were removed. Those patients are now doing well and will soon be back to normal activity.
However, the fourth patient's follow-up tests currently indicate a much different result.
Her tests show good blood flow to the uterus. There are also no signs of rejection or infection at this time. Our surgical team is cautiously optimistic that she could ultimately become the first uterine transplant recipient in the U.S. to make it to the milestone of uterine functionality.
Throughout this process, the donors and patients who have taken part in this clinical trial have been an inspiration to our surgical team.
"These women are just phenomenal, brilliant, fantastic women who stepped forward and understood 100 percent that this is research," Dr. Testa said. "To be honest, they were the ones lifting our spirits."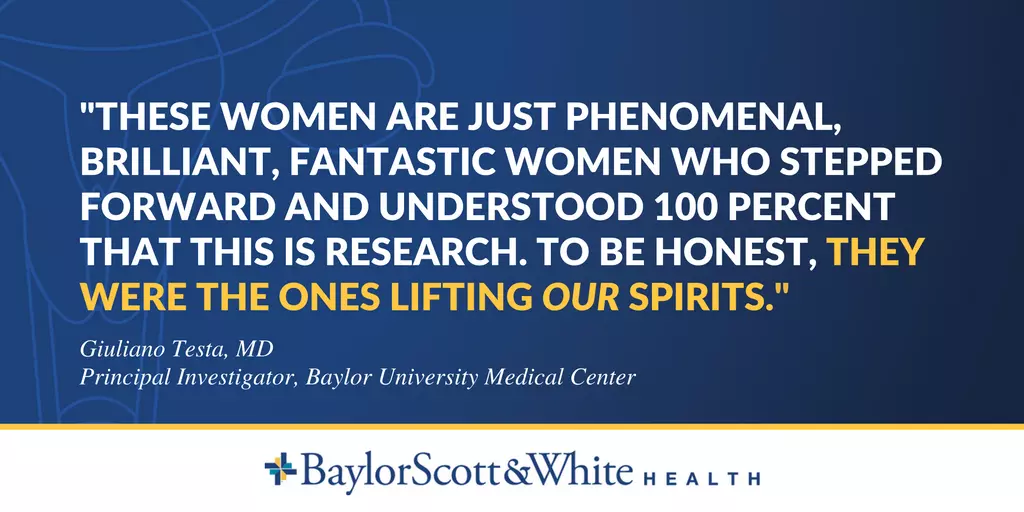 The three patients who have been explanted continue to support the trial and the Baylor University Medical Center and Swedish surgical teams.
"I know that all three patients that had to have their uterus taken out have asked us to go on with the trial — not to give up — and that is very important for us," Dr. Johannesson said. "We owe it to the patients and staff to continue to learn from what happened in this trial and continue to do more surgeries."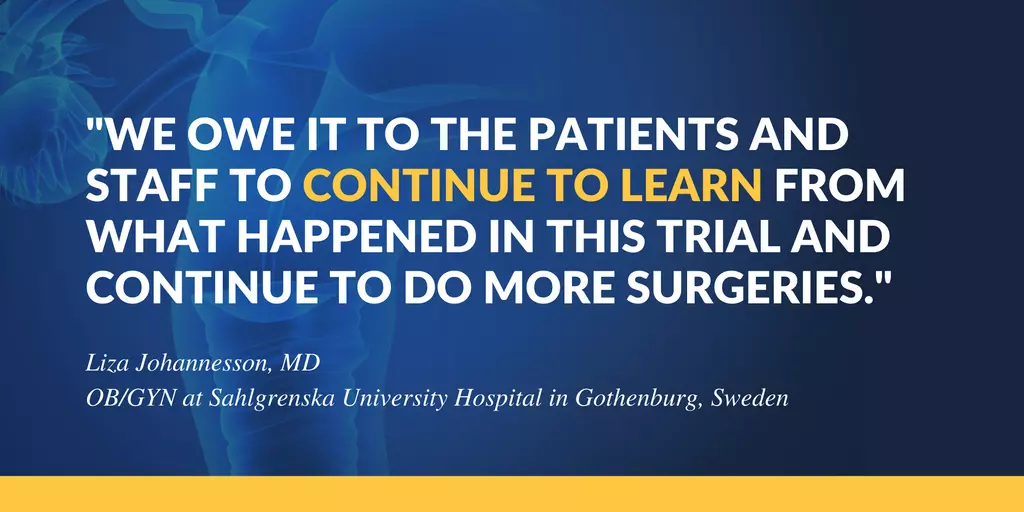 While we still have a journey ahead, Baylor Scott & White Health is committed to sharing all of our learnings in this research with the scientific community and the world, as it is the best way to honor our patients – donors and recipients – and our colleagues' work in helping find a solution to uterine-factor infertility.
"This is the beginning of what we hope to be a great history for medicine, but it really is the beginning," Dr. Testa said.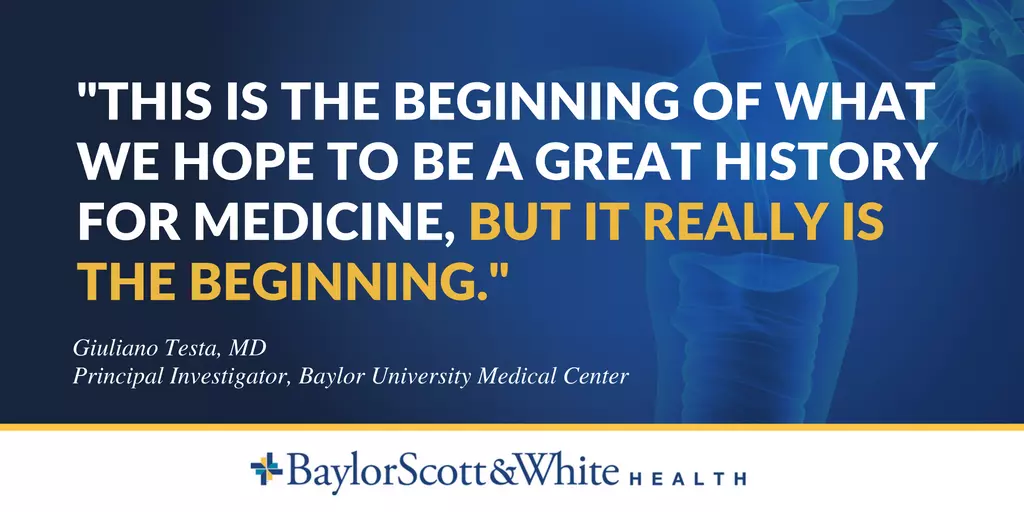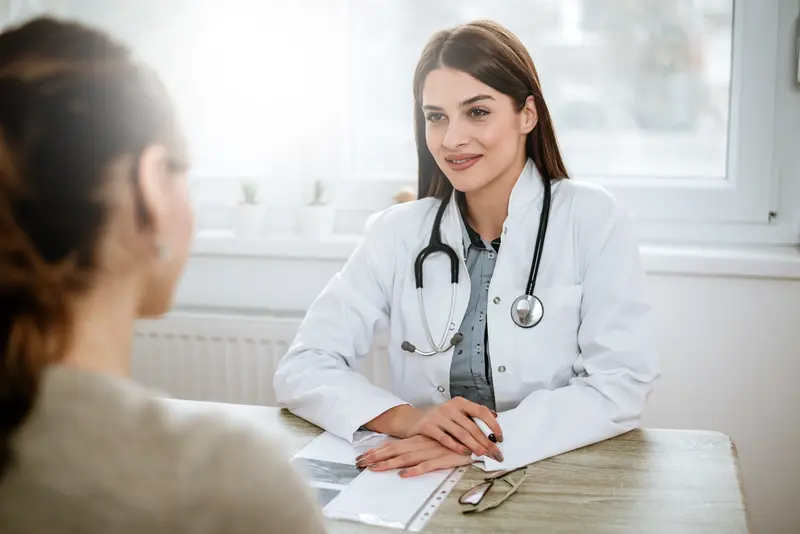 We make it easy.
Healthcare doesn't have to be difficult. We're constantly finding ways to make it easy so that you can get Better and stay that way.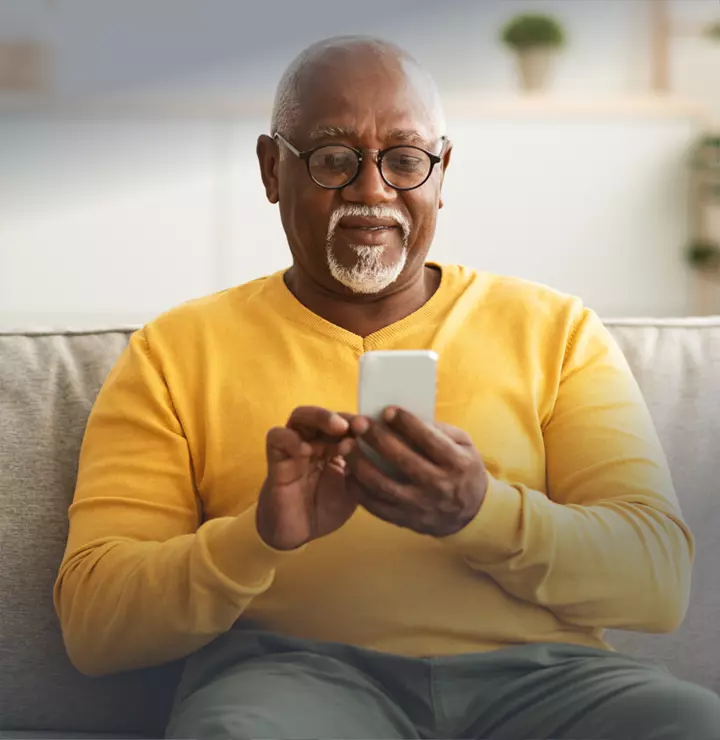 Better

tools make it easier
We all have different healthcare needs. Handle them your way with the MyBSWHealth app. Download the app today and take a hands-on approach to your healthcare.