Casting your ballot? How to vote safely in person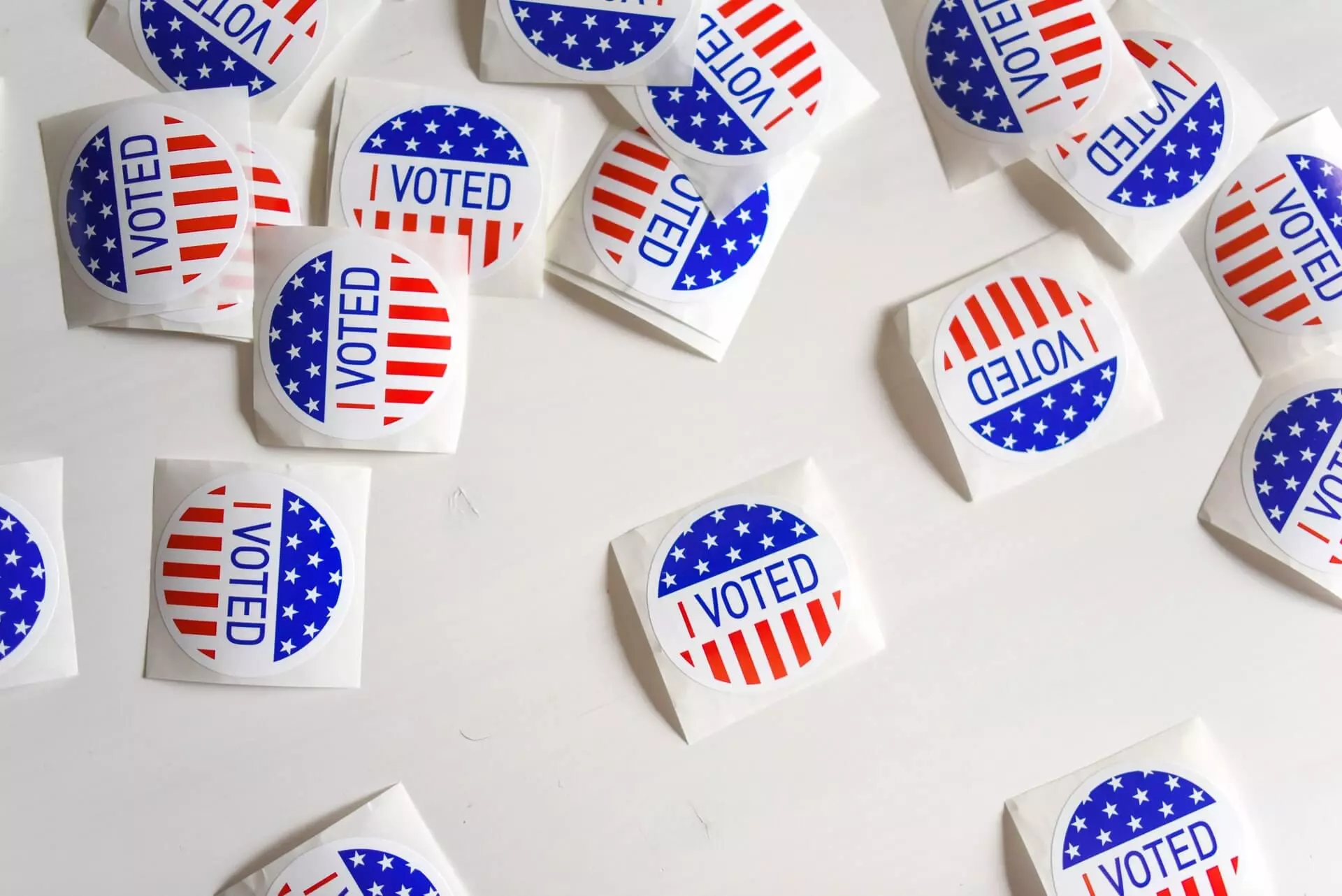 With Election Day fast approaching and early voting already begun in Texas, it's time to make your plans to cast your vote. But in light of COVID-19, many people have questions — Is it safe to vote in person? When is the best time for me to go? What can I expect when I head to the polls?
Here are a few practical steps to take as you head to the polls in the coming days.
Vote early.
Early voting is key to cutting down on crowding at the polling centers. Take advantage of early voting, which runs from October 13-30th in Texas. If you choose to go to the polls early, crowds should be thinner and more socially distanced than they will be on Election Day.
"Reduce crowding at the polls by taking advantage of mail-in ballots, early voting and curbside voting," said Catherine Lacy Geralds, DO, internal medicine physician at Baylor Scott & White Clinic – Austin Circle C. "No one should have to choose between their health and their right to vote. By following safe voting practices and reducing crowding at the polls, you're protecting yourself as well as your fellow voters, poll workers and your entire community."
Choose your polling location and time carefully.
Consider going at off-peak times, such as mid-morning, to help avoid crowds and long lines. If you're driving to the polls and your schedule allows, you can also monitor the line from your car and join when you feel comfortable.
This election season, let's use common sense as we exercise our right to vote while also doing our part to take care of our fellow Americans.
"You will want to pick a location that does not have long lines," said David Winter, MD, internal medicine physician at Baylor University Medical Center. "Your timing can help. If lines appear long, another time of day may be easier and safer. You are not likely to experience others openly spreading germs at the polls, but do not hesitate to walk away if you witness those who appear ill."
In smaller counties, you may not have the luxury of choosing a polling location, so be smart about timing.
"In smaller counties like ours, we are assigned polling locations," said William Loesch, MD, internal medicine physician on the medical staff at Baylor Scott & White – The Brenham Clinic. "Some of these locations can be cramped, so consider waiting, taking turns and potentially waiting outside until the lines die down. But do not loiter — have your information ready, present it, vote and leave. Keep your distance."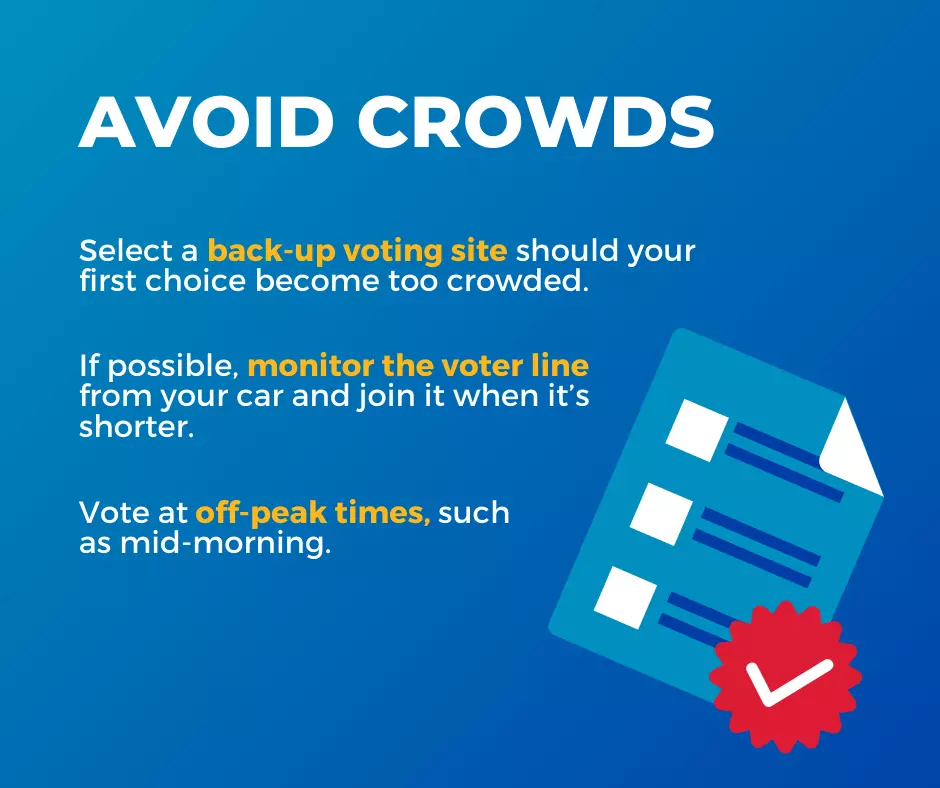 Know your risks.
Certain populations face an elevated risk of complications and hospitalization should they become infected with COVID-19.
It's important to know your own household's risk level when making decisions about how, where and when to vote — just like you already do for other activities.
The elderly, we know, are especially vulnerable to COVID-19 and face a greater risk of serious, life-threatening complications from the virus, as do many with chronic or immuno-compromising conditions. If you are considered "high risk" or live with someone who is, the safest option is to vote from home using a mail-in ballot.
"All the precautions mentioned above are doubly important for our 'mature citizens' and especially for those who also have chronic illnesses or may have suppression of their immune systems," Dr. Winter said. "For these groups, voting from home is certainly a risk-free way to cast your ballot."
If you missed the mail-in application deadline but still want to exercise your right to vote, be extra careful voting in person. Take advantage of early voting, avoid peak voting times and do not use public transportation to get to the polls.
"If mail-in is not an option, remember that the coronavirus is highly contagious," Dr. Winter said. "You will want to not get near anyone who may have the virus. Distancing and wearing a good fitting mask are the most important things that you can do. You should also wash or disinfect your hands if you touch anything that someone else might have touched."
Aval-Na'Ree Green, MD, CMD, geriatric medicine physician, shared the following additional tips for the elderly to keep in mind while heading to the polls:
Polls may make special accommodations for the elderly and disabled by allowing you to come to the front of the line.
Bring assistive devices you are accustomed to using (i.e. cane, walker, hearing aides, etc.)
Eat before going to the polls, pack a snack and stay hydrated.
Take medications as prescribed on the day you vote. Bring upcoming doses of medication with you in case the process takes longer than anticipated.
If you're worried about incontinence issues, play it safe and use an adult brief so you can avoid using public restrooms.
Obviously, mask up.
The good news is, in-person voting carries no more inherent risk than going to the grocery store or running another errand around town. That being said, the "big three" safety precautions — face masks, social distancing and hand hygiene — are critical to making sure everyone is able to vote safely.
At this point, it's probably second nature, but remember to wear a mask and make sure it meets face mask recommendations from the Centers for Disease Control and Prevention (CDC).
"Any mask is better than no mask, but some masks are better than others," Dr. Winter said. "Those at higher risk should consider a mask that has minimal leakage around the sides. The air you breathe should be filtered through the mask. Wearing one mask on top of another is a technique that can offer added protection."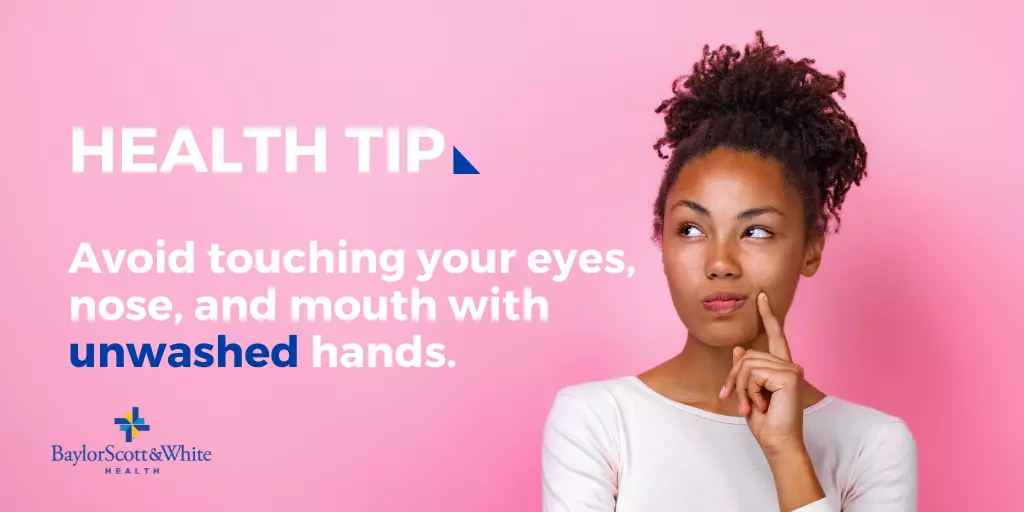 Come prepared.
Prepare before you leave home by washing your hands. Bring hand sanitizer (with at least 60% alcohol) and use it frequently, especially after you touch high-touch surface like door handles or voting machines. Be sure to wash your hands immediately after you get home.
"As doctors, we want to do what we can to help enable everyone to exercise their right to vote and protect their health," Dr. Geralds said. "Stay safe with these practices: vote before election day if possible, wear a mask, keep space between yourself and others, and clean your hands frequently."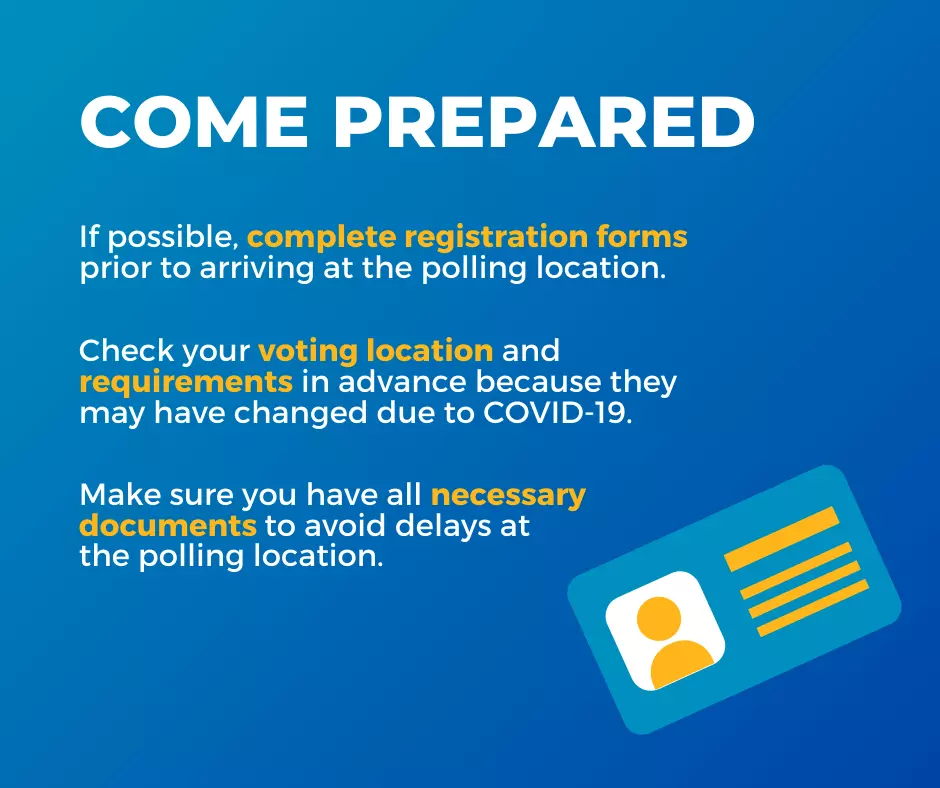 Think twice before bringing children.
"Leave children at home if at all possible," Dr. Winter said. "You do not want to be distracted from your two-fold purpose: 1) voting and 2) staying safe while you in a public setting."
If you can't find childcare or decide to bring children with you to the polls, make sure they follow all the same safety precautions that they would in any other public place.
"Taking your children to the polls exposes them to the same risk as taking them to the store," said George Dubrocq, MD, pediatric infectious disease specialist at Baylor Scott & White McLane Children's Specialty Clinic – Temple. "If proper precautions are taken such as wearing a mask, social distancing and washing your hands, it considerably decreases the likelihood of your or your child being infected with COVID-19."
If your child does accompany you to the polls, make the most of it by turning the experience into a powerful teaching moment.
"Coach your children on the importance of what you are doing," Dr. Winter said. "Teach them to be respectful of your purpose while voting and of others around you."
Practice personal safety
In addition to these COVID-19 safety measures, it's important to stay aware of your surroundings while you vote. Don't be afraid to speak up if you notice any suspicious activity at or around your polling location.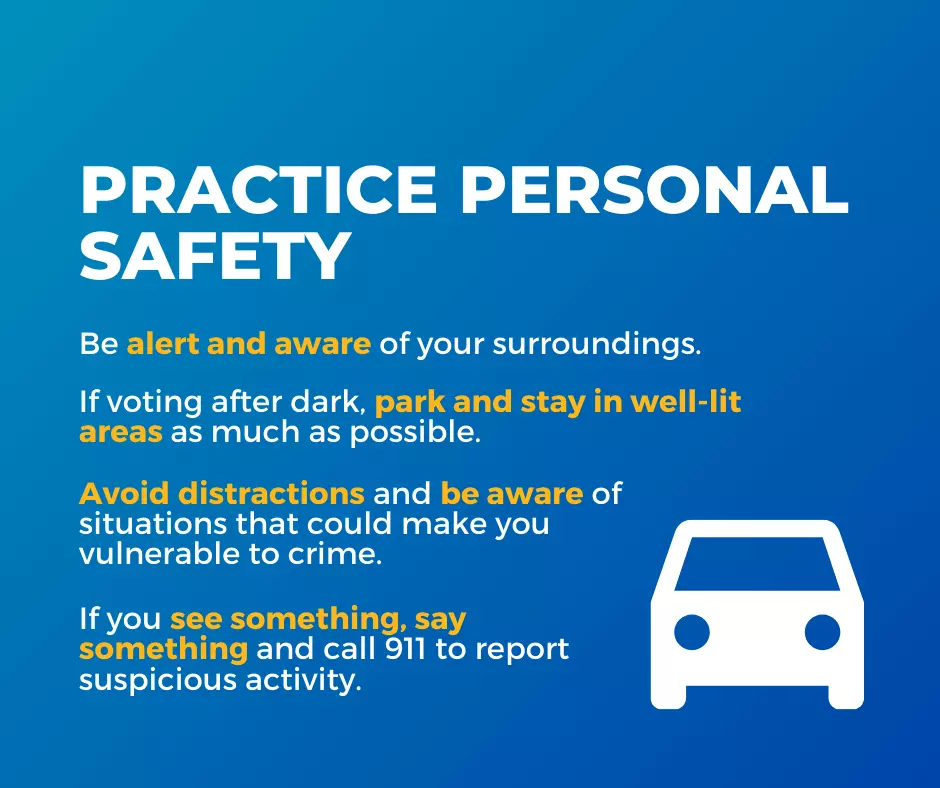 This election season, let's use common sense as we exercise our right to vote while also doing our part to take care of our fellow Americans. For more voting safety tips, refer to the CDC's recommendations for voters.
Questions about how to live life during COVID-19? Subscribe to the Scrubbing In newsletter for more practical ways to stay safe.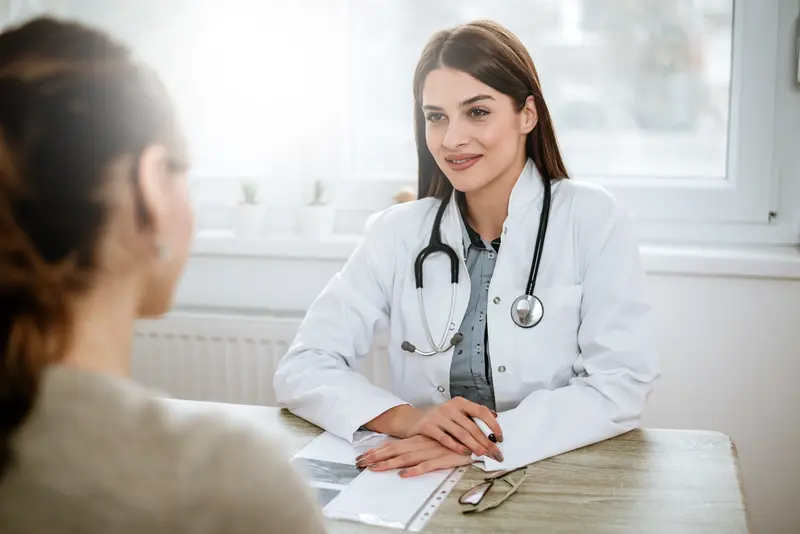 We make it easy.
Healthcare doesn't have to be difficult. We're constantly finding ways to make it easy so that you can get Better and stay that way.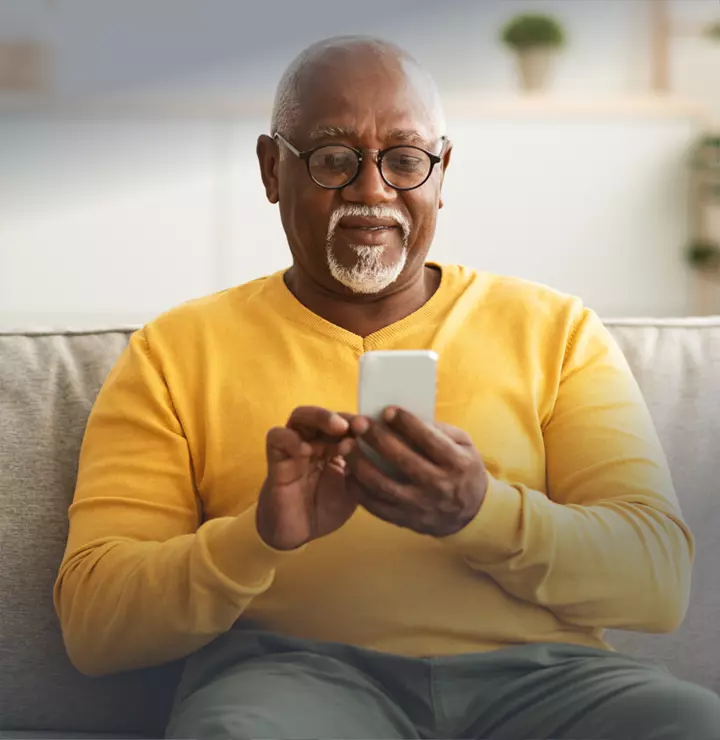 Better

tools make it easier
We all have different healthcare needs. Handle them your way with the MyBSWHealth app. Download the app today and take a hands-on approach to your healthcare.