Patient turned volunteer brings joy to ICU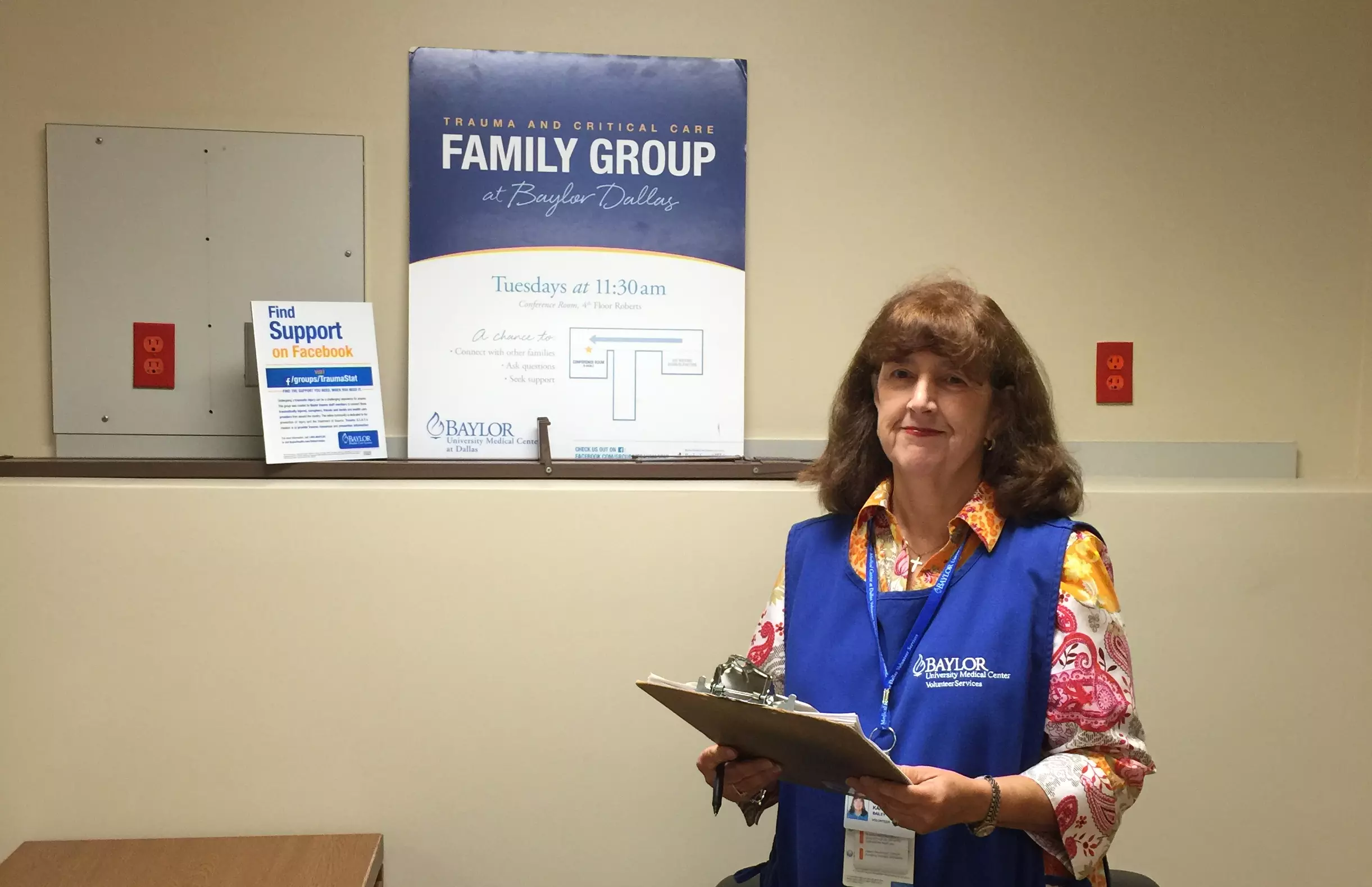 In 2009, Karen Bailey was admitted to Baylor University Medical Center at Dallas with a severe case of pneumonia. After weeks of additional testing, it was confirmed that she had contracted the H1N1 virus, more commonly referred to as swine flu. After spending 101 days in the hospital, Karen was finally discharged home to her family, who had been by her side throughout the entire journey.
Her family, friends and coworkers documented her entire admission, keeping track of medication, treatments, doctors, nurses, visitors and major events, such as getting weaned from the ventilator. To this day, Karen still has their notebooks to look back and reflect on her stay.
"Going back and reading all of these notes is glorifying. They remind me of all that I went through and how wonderful and supportive all of my doctors, nurses, family members, friends, and coworkers were," Karen said. "They remind and show me all of what God can do. It was a true miracle."
These notebooks serve another purpose for Karen. When asked about her memories of her stay in the Intensive Care Unit (ICU), while few, the one that sticks out the most is during the week before her official H1N1 diagnosis, when her visitors had to wear duck bill-like surgical masks. She said that she would have dreams of her family members as ducks coming to visit her.
Hallucinations, dreams, or memories such as this, are common in patients admitted to the ICU and are part of a group of symptoms referred to as post intensive care syndrome. Karen's notebooks and CaringBridge account helped her piece together her ICU stay and make sense of such dreams.
"There is a growing body of evidence that suggests these patient diaries help with the symptoms of post intensive care syndrome," said Ann Marie Warren, MD, a clinical psychologist on the medical staff at Baylor University Medical Center at Dallas.
Dr. Warren is also conducting novel research in the ICU to examine outcomes among family members and friends in order to learn more about the experiences that caregivers have during a patient's ICU stay after discharge from the hospital.
Karen's family spent a significant amount of time in the waiting room during the five weeks that she was in the Intensive Care Unit and wrote about their experience in her notebooks. They documented the families that they met and patients whom they prayed for. Karen said they bonded and became close with the other families in the waiting room, which helped them get through the trying times of her admission.
She said it was comforting for them to know that they weren't the only ones going through this.
In the diary, they recount a family who brought Christmas goodies to the entire waiting room, a gesture that moved them so much that Karen now does the same each Christmas. Her family recounted a volunteer who would bring them bottles of water and talk with them while they sat in the waiting room.
"He [the volunteer] came and talked to us just about every day," Karen's brother Bill said.
"I knew what this volunteer had done for my family. He was the first one I contacted about becoming a volunteer," Karen said.
Karen remembers several of her doctors during her stay. She accredits her pulmonologist, Dr. Kenneth Ausloos and her infectious disease physician, Dr. Daniel Scheurich for saving her life and recalls them both coming to visit her in the evenings, oftentimes as late as 9 p.m.
"It meant so much to me for them to come. It showed me that they cared," Karen said.
Her physician also left a lasting impression on her.
"I wish everyone in this hospital had the attitude Karen has," said Dr. Steven Bray, an internal medicine specialist on the medical staff at Baylor University Medical Center at Dallas. "If every patient did, we would have such tremendous results."
Karen also remembers her amazing nurses. One took the time to comb through her hair and brush out the knots. Another changed out the nurse call button so that Karen, who had very little strength after so many weeks in the ICU, could slide her hand over the device instead of lifting her hand to push it.
These small gestures of kindness provided Karen the hope she needed on her road to recovery.
She returned to work shortly after completing outpatient rehabilitation at Baylor Institute for Rehabilitation. Almost a year after, Karen' husband became ill and passed away.
"When he died, I needed to figure out what my new norm was," Karen said. "I realized that I wanted to volunteer because of what I had gone through during my experience at Baylor Scott & White."
"When I retired, I started volunteering," Karen said. "I feel like God led me here. I can relate to the ICU and can share my story with the family members here to give them hope. I let them know that their loved ones can fully recover from what they are going through."
On any given day, the ICU waiting room is a medley of different people and circumstances brought together by a common thread. It can be stressful, overwhelming, heartbreaking, tearful, joyful and hopeful all in a matter of minutes. The individuals in that waiting room are going through something that very few of us ever have and all of us pray we never will.
Through her story, Karen is able to connect with families in a way that not many can. We are so fortunate to have Karen, who is one of many volunteers here at Baylor Scott & White who have chosen to give back because of past experiences. Her remarkable story gives hope, but what she has been able to do and whom she has been able to touch because of her story is what is truly extraordinary.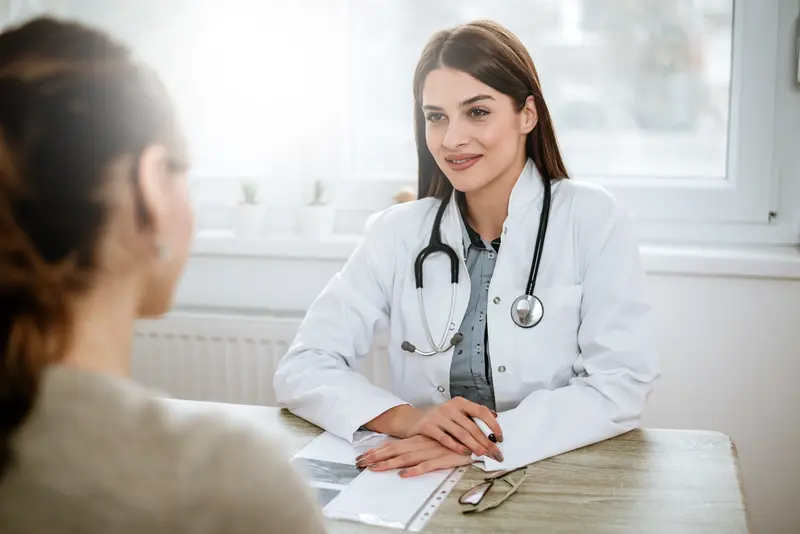 We make it easy.
Healthcare doesn't have to be difficult. We're constantly finding ways to make it easy so that you can get Better and stay that way.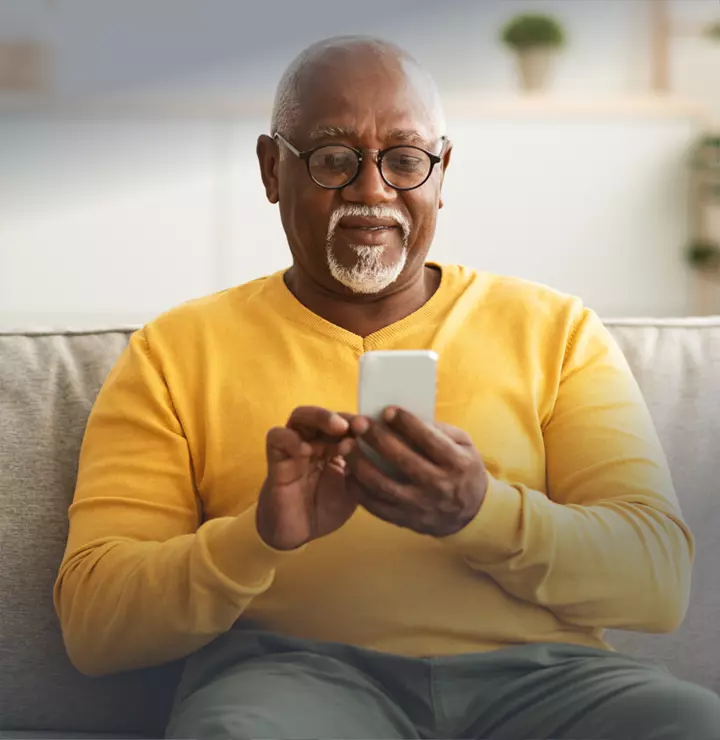 Better

tools make it easier
We all have different healthcare needs. Handle them your way with the MyBSWHealth app. Download the app today and take a hands-on approach to your healthcare.