Say 'no' to distracted driving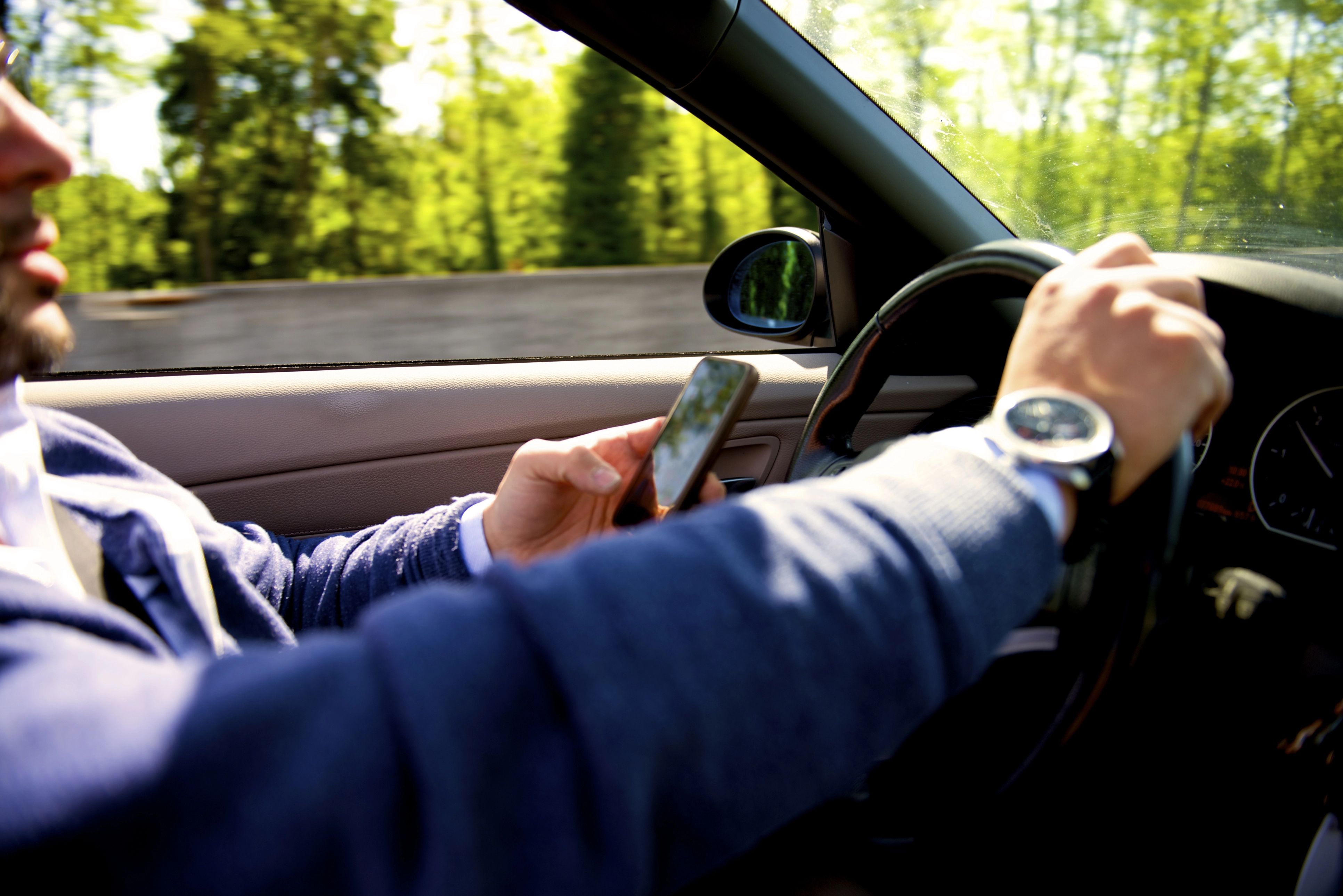 For Drew Seelman, evangelizing against distracted driving is personal.
Drew Seelman, the manager of trauma services and orthopedics at Baylor Medical Center at McKinney, suffered a broken leg in an auto accident caused by a distracted driver.
Nearly everyone admits texting and driving is dangerous. However, that does not stop people from doing it anyway.
According to an AT&T-sponsored survey, more than 90 percent of frequent drivers are aware of the danger. However, one out of three believe they easily can multitask while driving–which includes texting. About three out of four admit glancing at their phone while driving.
"It's a huge problem that people are willing to ignore out of convenience. Distracted driving is killing people," Seelman said.
The National Safety Council (NSC) has established April as Distracted Driving Awareness Month. Distracted driving extends beyond cell phone use to common freeway driver habits: eating, grooming, reading, fiddling with a navigation system and even watching a video. About one out of ten fatal crashes in 2013 were the result of distracted driving, according to the National Highway Traffic Safety Administration. That translates to more than 3,000 deaths and 424,000 injuries.
According to the National Highway Transportation Safety Administration, texting while driving is the equivalent of driving blind five seconds at a time.
"Drinking and driving is wrong. If [texting] is worse, why are we not sending that message out as forcefully?" Seelman said.
Texas law bans the use of handheld cell phones by drivers in school zones. It also bans all cell phone use by bus drivers with passengers younger than 17 years old, and by novice drivers.
Last month, the Texas House of Representatives tentatively approved a ban on texting while driving. Offenders would face a fine of up to $99 for the first offense and $200 for each additional infraction.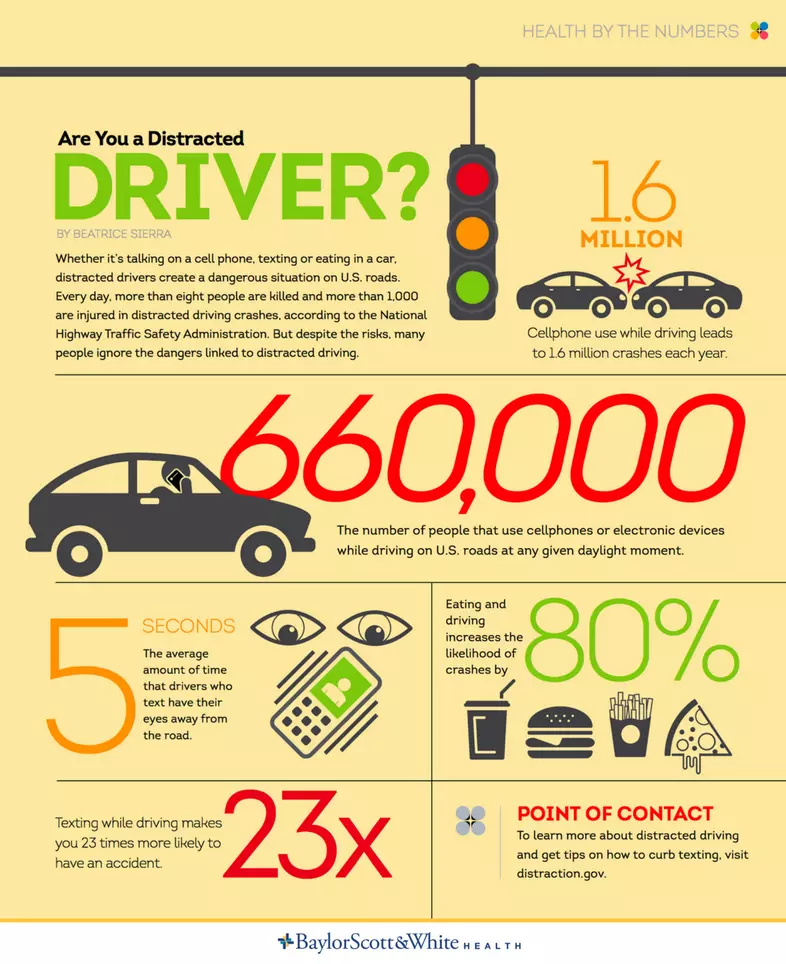 State legislature passed a similar measure in 2011, which was vetoed by then-Gov. Rick Perry. Forty Texas cities–including Arlington, Denton and Grand Prairie—and 44 states have bans on texting while driving.
A recent NSC poll found that 80 percent of U.S. drivers believe hands-free cell phones are safer than using handheld. However, more than 30 studies show that using hands-free systems provide drivers no safety benefit. Even with both hands on the wheel and your eyes on the road, your mind can be distracted from driving.
Hands-free features in dashboards actually increase mental distraction. According to the Texas A&M Transportation Institute, using voice-to-text is more distracting than typing texts while driving. Drivers who text with their hands or voice (using speech-to-text systems) keep their eyes on the road less often and have reaction times twice as slow.
Another myth is that teens are the most frequently distracted drivers. A survey by the AAA Foundation for Traffic Survey found that more than four out of ten adults ages 25-39 said they used their cell phones "fairly often," which was more than twice the rate of teen drivers.
Vickey Thompson, trauma process improvement and injury prevention coordinator at Baylor University Medical Center at Dallas, points out that impaired driving is multifaceted.
"We often just think of physical distractions. But alcohol and drugs are chemical distractions, and there are circumstantial distractions such as fatigue," she said.
The Cellular Telecommunications Industry Association urges parents to give their teens clear and simple instructions: "On the road, off the phone." Parents also are urged to set a good example by pulling over to a safe place when they need to talk or text on the phone.
"Pledge to be a role model for friends, family or children," Thompson said. "People will model your behavior. Make sure you are the one being the role model. If you are not walking the walk, people don't see you as a credible source."
There are several effective videos online, including graphic illustrations of accidents caused by texting, and a heart-wrenching scene of a young boy as a pallbearer at his father's funeral caused by distracted driving.
Watch our 'DRV NOW, TXT L8TR' public service announcement below.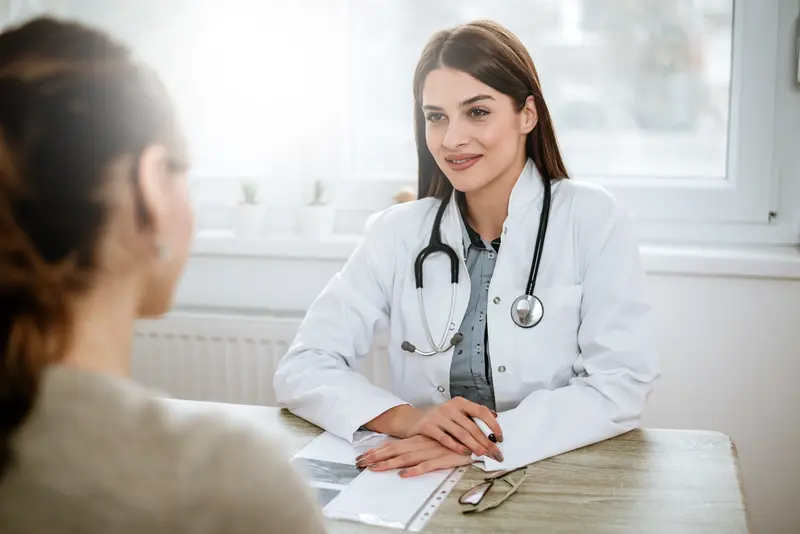 We make it easy.
Healthcare doesn't have to be difficult. We're constantly finding ways to make it easy so that you can get Better and stay that way.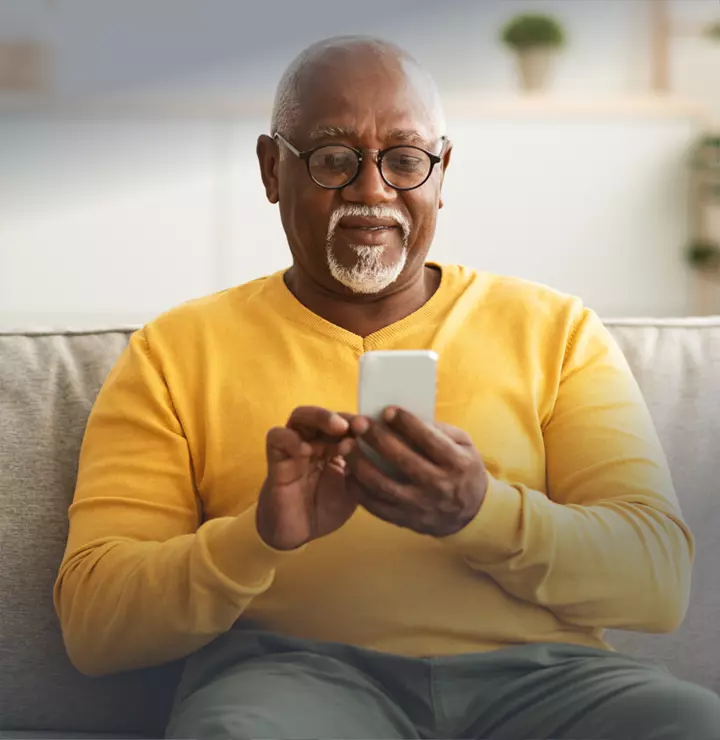 Better

tools make it easier
We all have different healthcare needs. Handle them your way with the MyBSWHealth app. Download the app today and take a hands-on approach to your healthcare.