Baylor Scott & White Medical Center – Centennial is a 118-bed hospital proudly serving residents of Frisco, Texas, and those in Collin and Denton County. Our full-service hospital in Frisco offers an array of services ranging from cardiovascular care and women's health, to orthopedics and spine surgery.
More about us
---
Enhanced visitor precautions

Learn more about our COVID-19 safety precautions.

Visitor parking at our hospital is free. We also provide valet parking at no charge at the main entrance.
Medical services
​​​​​​​​​​​​​ Baylor Scott & White Health offers expertise and treatment options conveniently located near you.  
Insurances accepted
Baylor Scott & White has established agreements with several types of insurance to ensure your health needs are covered.
Insurance listings are subject to change without prior notice. Please call the hospital or health plan to verify coverage information before scheduling your visit/procedure.
Choice POS II

Open Access Elect Choice

Open Access Managed Choice

Select SM

Aetna Signature Administrators

Elect Choice

Health Network Option

HMO

Managed Choice

Open Access Select

Open Choice PPO

QPOS

Medicare Advantage Plans

Aetna Whole Health/BSWQA

Aetna Medicare Choice Plan (PPO)

Aetna Medicare Prime Plan (HMO)

Aetna Medicare Value Plan (HMO)

Aetna Medicare Eagle II (PPO)

Aetna Medicare Dual Complete Plan (HMO D-SNP)

Select

Group Retiree Medicare PPO - Limited to Exxon/Mobil

Aetna Medicare Choice II Plan (PPO)

Health Network Only

Aetna Medicare Freedom Preferred Plan (PPO)

Aetna Medicare Freedom Plan (PPO)

American Health Advantage of Texas - (1)

American Health Advantage of Texas HMO I-SNP

Amerivantage Medicare

CHIP Medicaid

STAR Medicaid

Amerivantage Dual Coordination Plus HMO D-SNP

Perinate

Amerivantage Diabetes Care Plus HMO C-SNP

STAR

StarKids

StarPlus

Amerivantage Choice PPO

Amerivantage Classic HMO

Amerivantage Classic Plus HMO

CHIP

Amerivantage ESRD Care Plus HMO C-SNP

Amerivantage Lung Care Plus HMO C-SNP

Blue Cross Blue Shield - (28)

Blue Advantage HMO

Blue Choice PPO

Blue Essentials

Blue Essentials Access HMO

Blue Premier

Blue Premier Open Access HMO

Medicare Advantage - EFH Retirees

Medicare Advantage - Oncor

ParPlan

Traditional

Indemnity

Blue Essentials Access

Consumer Directed HealthSelect

Blue Cross Group Medicare Advantage (PPO)

Blue Advantage - Bronze

TRS-ActiveCare Primary HD

High Performance Network

HealthSelect

Blue Cross Medicare Advantage Dual Care Plus (HMO SNP)

Federal Basic Option

Blue Premier Access

TRS-Care Standard

Blue Advantage - Silver

TRS-ActiveCare Primary+

Blue Choice

TRS-ActiveCare Primary

Blue Advantage Plus - Silver

Blue Cross Medicare Advantage (HMO)

Children's Medical Center Employee Plan

City of Dallas Employee Plan

Cigna Choice Fund

EPO

HMO

HMO Open Access

HMO/POS

LocalPlus

LocalPlusIN

Network

Network Open Access

Network POS

Open Access Plus

POS

POS Open Access

PPO

HealthSpring

Medicare Advantage Plans

TotalCare HMO SNP

Point of Service Open Access

BSW Extended PPO

Open Access

LocalPlus In-Network

Choice Fund

Cigna HealthSpring

Open Access Plus In-Network

Cigna Medicare Advantage

American Airlines Employee Benefit Plan

ACCEL Network

Preferred Network

ChoiceCare

Humana Preferred

National POS

Commercial PPO Plans

Medicare Advantage Plans (exclude Southwestern Health Resources Network)

HumanaChoice (PPO)

Humana Honor (PPO)

Humana Gold Plus SNP-DE (HMO D-SNP)

Humana Gold Plus (HMO)

Humana Gold Choice (PFFS)

PPO

Humana USAA Honor with Rx (PPO)

Hunt Memorial Hospital - (1)

EPN

Imagine Health Network

Midland Memorial Hospital - (1)

CHIP

STAR

STAR+PLUS

Options

Parkland Community Health Plan - (3)

CHIP Medicaid

HealthFirst Medicaid

STAR - HealthFirst

Prime Health Services - (1)

Sedgwick Preferred Network f/k/a Southwest Medical - (1)

Superior Health Plan - (6)

Ambetter Essential Care - Bronze

Ambetter Balance Care - Silver

Ambetter Secure Care - Gold

Medicare/Medicaid Dual Needs Plan: Advantage HMO SNP

Medicare/Medicaid Plan

STAR+PLUS

Superior HealthPlan - (1)

Texas Christian University - (1)

All Savers

Nexus ACO - Referral Required

Navigate Balanced

Navigate

Navigate Plus

Nexus ACO - Open Access

Surest

Charter HMO

Charter EPO

Charter POS

Choice HMO

Choice +HMO

Choice EPO

Choice Plus POS

Core HMO

Core EPO

Core Choice Plus POS

Navigate EPO

Navigate HMO

Navigate HMO+

Navigate POS

PPO

Options PPO

Select +

Select HMO

Select EPO

Select Plus POS

AARP Medicare Complete

Dual Complete Medicare Advantage

Medicare Complete

Medicare Gold

Medicare Silver

Group Medicare Advantage

Nexus ACO OA

NexusACO R

UnitedHealth WellMed Network - (6)

AARP Medicare Complete

Dual Complete Medicare Advantage

Medicare Complete

Medicare Gold

Medicare Silver

Group Medicare Advantage

University Mary Hardin-Baylor - (1)
We're sorry!
We couldn't find any results for ""
Mobile makes it easy
Just like we make it easy to get care when your child is sick or injured, our top-rated app, MyBSWHealth, can simplify keeping them healthy. The app lets you book appointments, message your pediatrician, view your child's medical records and schedule virtual same-day care from your computer, smartphone or tablet.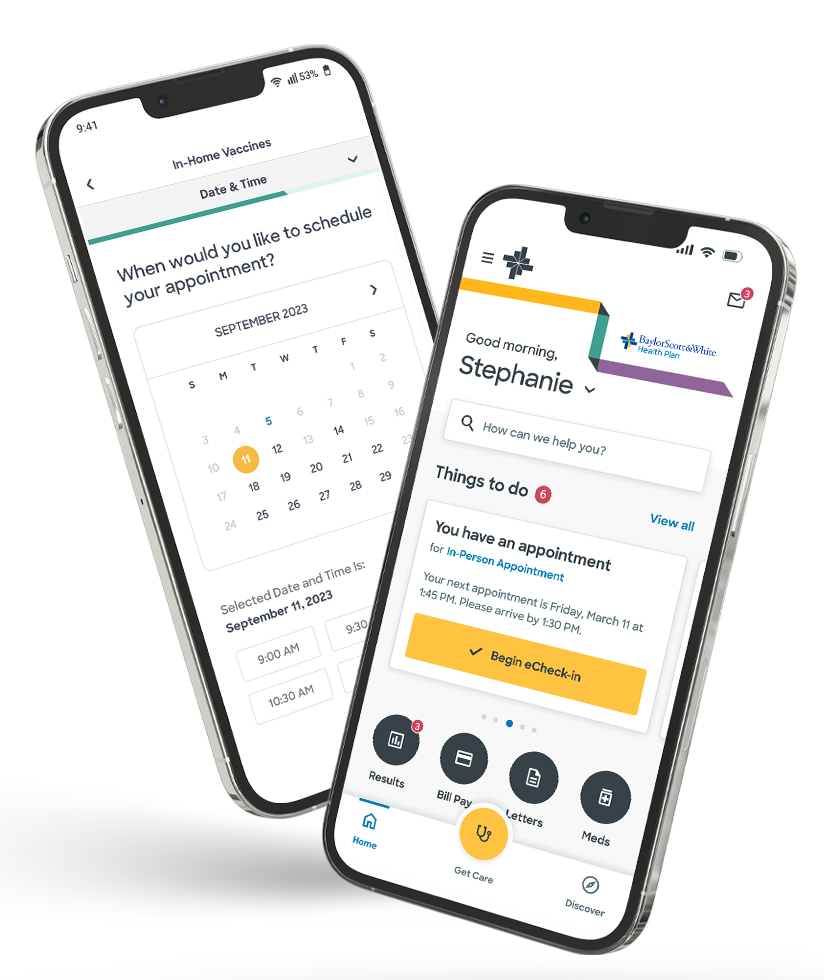 More helpful information
​​​​​​​​​​​​​Here's more information to help with your visit to our campus.
ATMs
An automated teller machine (ATM) is available on the first floor in the emergency department waiting room.
Community involvement
We are proud to be a part of Baylor Scott & White Health, a system invested in improving community health by addressing identified community health needs. We invite you to read our hospitals' reports on community benefit to find out more about our financial stewardship and how we fulfill community needs as part of this exceptional network of hospitals.
View our community benefit report
Dining options
Cafeteria
Spice Café offers a wide variety of hot and cold meals, snacks and drinks. The cafeteria is located on the basement level and is open to all employees, physicians, guests and visitors.
Hours
Full-service breakfast available 6:30-10:00 AM
Full service lunch available 11:00 AM - 1:30 PM
Self-service dinner available 1:30-4:30 PM (Closed on Fridays)
Full-service grill available 4:30-7 PM
Vending Machines
Vending machines are available 24 hours a day in the waiting room of the emergency department and also in the cafeteria on the basement level.
Estimate your cost of care
Baylor Scott & White Health is an advocate for greater healthcare pricing transparency and patient affordability. We provide a self-service price estimation tool to help you obtain accurate out-of-pocket expense estimates, along with other helpful resources to help you make more informed financial choices about your care.
Estimate your cost of care
Gift shop
Mothers' Express
The Mothers' Express store offers breast pump rentals and sales of breast pumps and breast pump accessories. There also are boutique items for sale for the new additions to the families born at our hospital.
Medical records
You can request copies of your medical records by completing an Authorization for Release of Information form and returning to the facility at which you received care.
Request your records
Patient greetings
Brighten the day of a patient with an eGreeting — a personal message hand-delivered to your loved one.
Send patient greeting
Recognize an employee
Because our staff cares so deeply for those we help, there are those who often go beyond the call to provide great care.
Nominate an employee
Spiritual care
The chapel is located on the first floor near the main entrance. Available for meditation and prayer all hours of the day, every day of the week.
We also offer 24/7 on-call chaplain service. Ask a nurse for more information. Please speak with your nurse if you or a family member needs to speak with a chaplain.
Visitor guidelines
In order to provide an atmosphere conducive to quality patient care, Baylor Scott & White Medical Center – Centennial has established the following visitation guidelines:
During patient surgery, family and guests may wait in the main lobby area.
All children must be accompanied by an adult. Children should not be left unattended.
Out of courtesy for the patients, please limit cell phone usage in patient care areas.
Children of adult patients are not allowed to stay overnight.
We are a smoke free facility.
Please enter the hospital through the main entrance.
Parking is free.
Vending machines are located on the first floor in the hallway between the main lobby and the emergency department.
Our cafeteria is open to all guests, and guest trays are available to purchase during all meal periods.
Maternity services
Fathers or birthing partner may visit at any time, and a lounge chair is provided should they decide to stay the night.
For all others, visiting hours are 9:00 AM - 9:00 PM Please note siblings and children are not permitted to stay overnight.
Surgery services
Before surgery: families may visit you in your room.
During surgery: family members are requested to wait in the Surgery Waiting Room on the first floor.
After surgery: the doctor will advise relatives when you are in the Recovery Room and of your condition. Relatives will be informed when you are ready to return to your room.
Critical care units
When ICU activity permits, there is open visitation EXCEPT between 6:00 - 8:00 AM and 6:00 - 8:00 PM
Visitation is limited to adults, two visitors at a time, and at the discretion of the nurse caring for the patient.
Volunteer with us
We rely on our generous volunteers to provide several special services. Every volunteer enhances the patient experience in some way by supporting our culture of customer service. Join the ranks of our volunteers to get involved and make a difference.
Become a volunteer